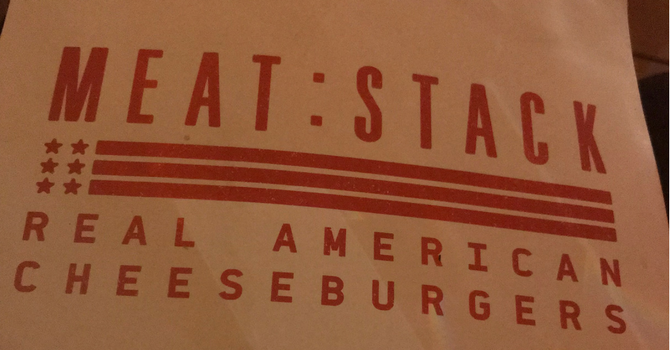 When is The Grind not The Grind?
Update: The MeatStack/Grind boys have moved out of 28 into a permanent home in the Grainger Market, as well as a new pop up at The Dog & Parrot (…for now!).
When it's Meat:Stack. Following a recent legal back-and-forth, The Grind lads have had to give up their name to a similarly named London coffee shop (LAME) which now makes them the slightly more to-the-point Meat:Stack. "The Grind at No. 28" always did have a bit of a funky ring to it anyway…
We went along to No. 28 who have launched a new cocktail menu in tandem with the rebrand to celebrate. Any excuse for a piss up!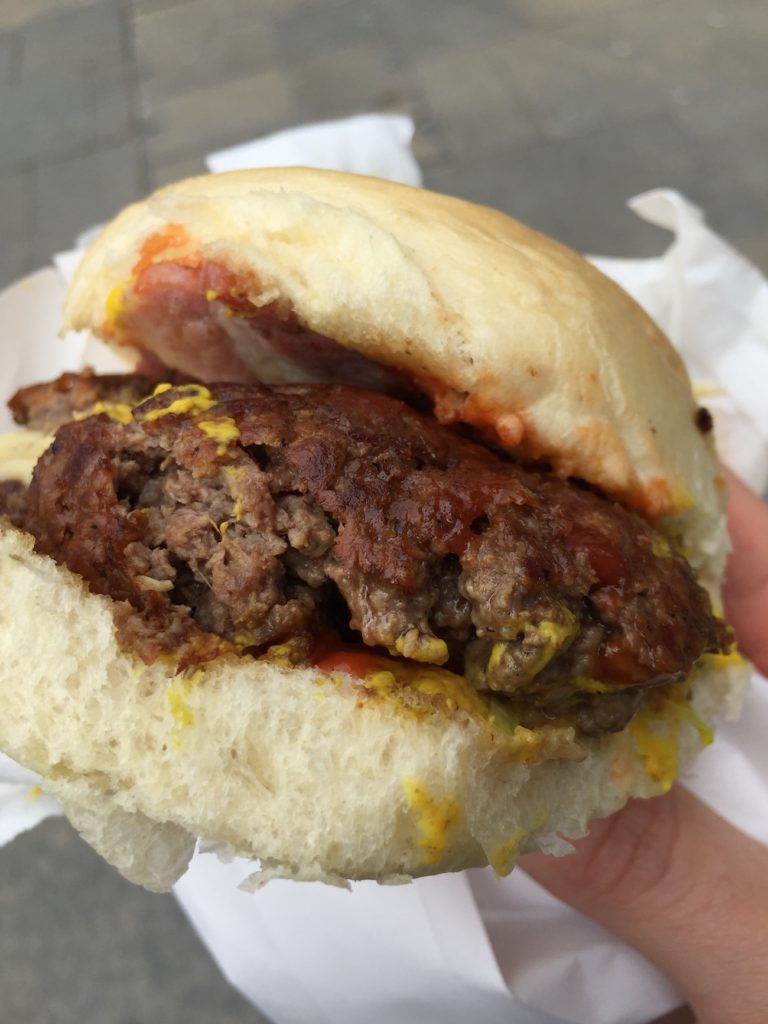 It's awesome to see how these guys are getting on. Since following them from day one, they're going stratospheric, doing every single food event you can think of, going from strength to strength at their No. 28 home, a stint at very solid Edinburgh beer house Salt Horse, and even working on a soon-to-be-completed Grainger Market unit. And fair play to them, because the core product is excellent.
We've had their burgers a number of times, and if anything they're just getting better and better. They're more consistent, there's a bit more going on, and they've stepped up some of their core offerings – the addicting chicken wings are now way better than before – we devoured about a kilo of them here, as well as some new things like these hot dog fries.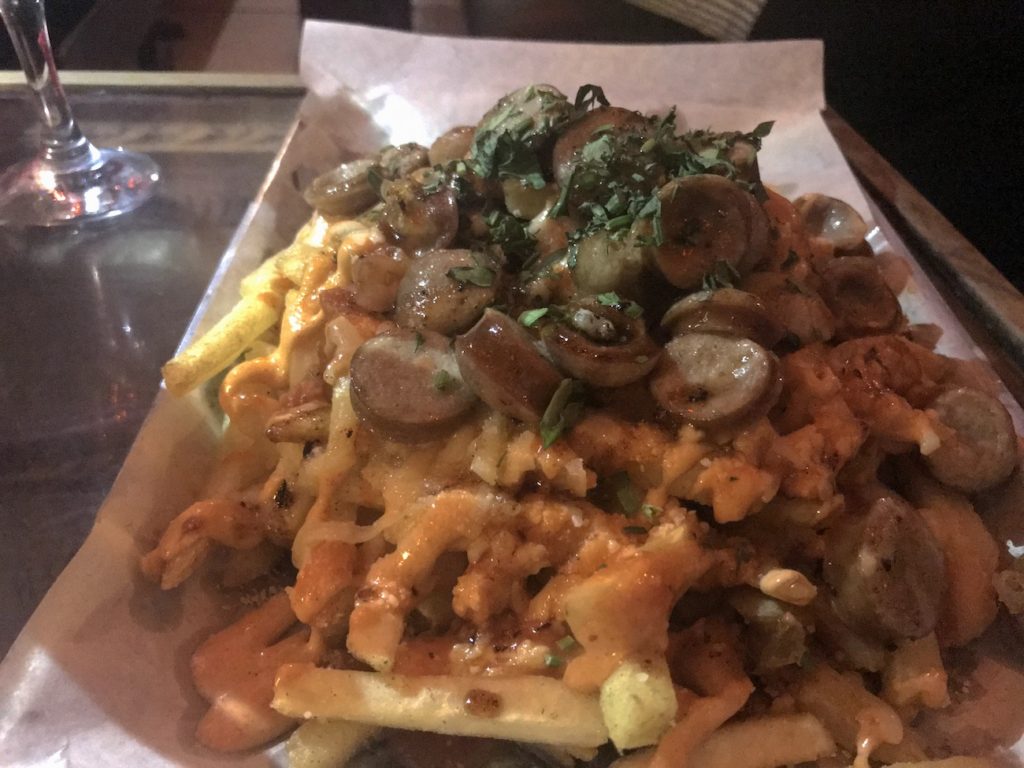 The burgers remain are unchanged except in name – that is relatively low on cost, big on flavour, really simple, and juice-dribbling-all-over good. But for me, the real clincher is the chips which are – to coin a blogger phrase – amazing.
Cooked in beef dripping, they're just The Absolute Best. They smack you with a huge hit of salty umami flavour, perfectly crisp and you yearn for more. In a world of mediocre fries, these are totally top drawer. I want some now just thinking about them.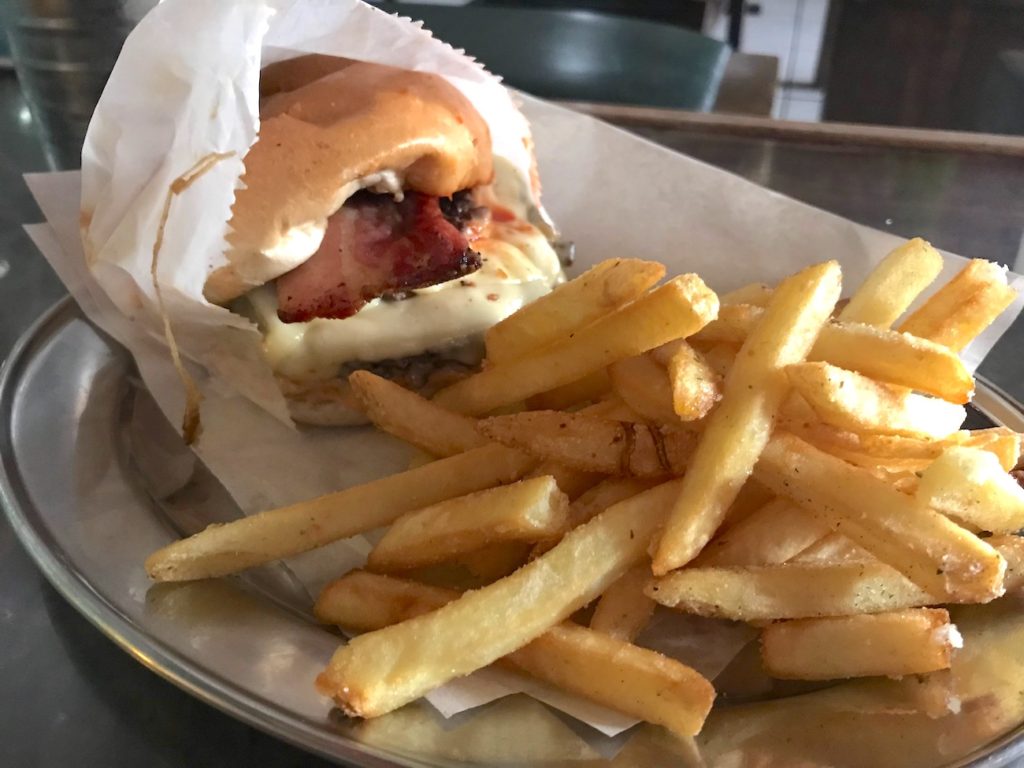 So it looks like they're staying at No. 28 for the foreseeable. And I've grown to really like No. 28 – few good beers, and its usually a good place to avoid the multitude of dickheads in town. And if you can bag one of the good tables, it's a great spot to end a night out (one of the only decent places in town open 'til 3AM). The cocktail menu – £8ish – offers some winners, and they're 'proper' cocktails – that is strong as opposed to sickly sweet, and zero gimmicks. *Laundrette*… Then there's the ever-popular prosecco brunch – I've still not done it, but all you can drink for £25 + Meat:Stack scran sounds good to me…
If you haven't yet been, you're missing out. Go for burgers, fall in love with the chips, and stay for drinks. Stay tuned for Meat:Stack Grainger Market, coming very soon.
Contact: no28.co.uk
*Invited along to celebrate the re-brand of The Grind to Meat:Stack and plied with copious amounts of free drink and burgers. Still supporting the lads at No. 28 & food festivals, and helping promote them whenever I can.