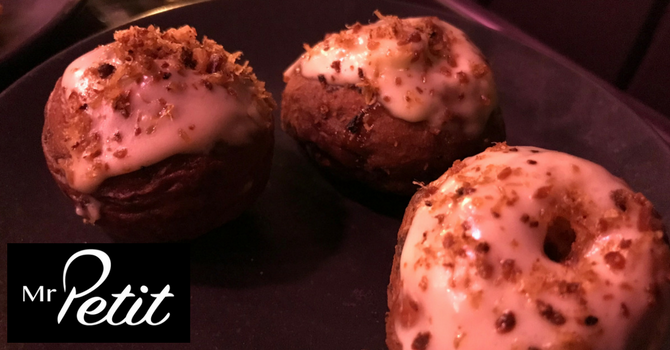 Petit just in name or in flavour?
Update: As predicted, Mr. Petit lasted just a few short months here. They have opened under the same name in Whitley Bay.
It's amazing the speed that restaurants sometimes come and go in Newcastle. Mr. Petit (4 Old Eldon Square, NE1 7JG) lives in the old Al Buco building which sadly didn't last a year in the premises. It's a shame as it was canny, but didn't hang around long enough for me to even finish my post about it.
It is a strange location – one of the downstairs units in the old "hippy green" – and I'd imagine pulling passing trade is very difficult. But exec. chef Matty Stephenson comes from a history of decent places – most recently in the also-not-around-for-long Shilling which also closed prematurely. I don't know quite what happened with that one, as we had some cracking scran there.
Mr. Petit falls under the St. Camillus Leisure Group, which has also taken on Giraffe Lounge, formerly Bottle Shop, which was another sound little place. Complicated! Anyway, once you're in they've gutted the old restaurant which had an odd semi-open kitchen/till area, and it's got this moody purple lighting as you can see, but otherwise pretty no-frills.
It's "world tapas" so small plates with a general theme of 4 dishes each from Asia/Europe/Central America/Australia, at a fiver-is each. Best of all is an early menu with 3 tapas dishes and a drink for £15 which you really can't grumble about. We had six dishes + bread and couldn't manage desserts.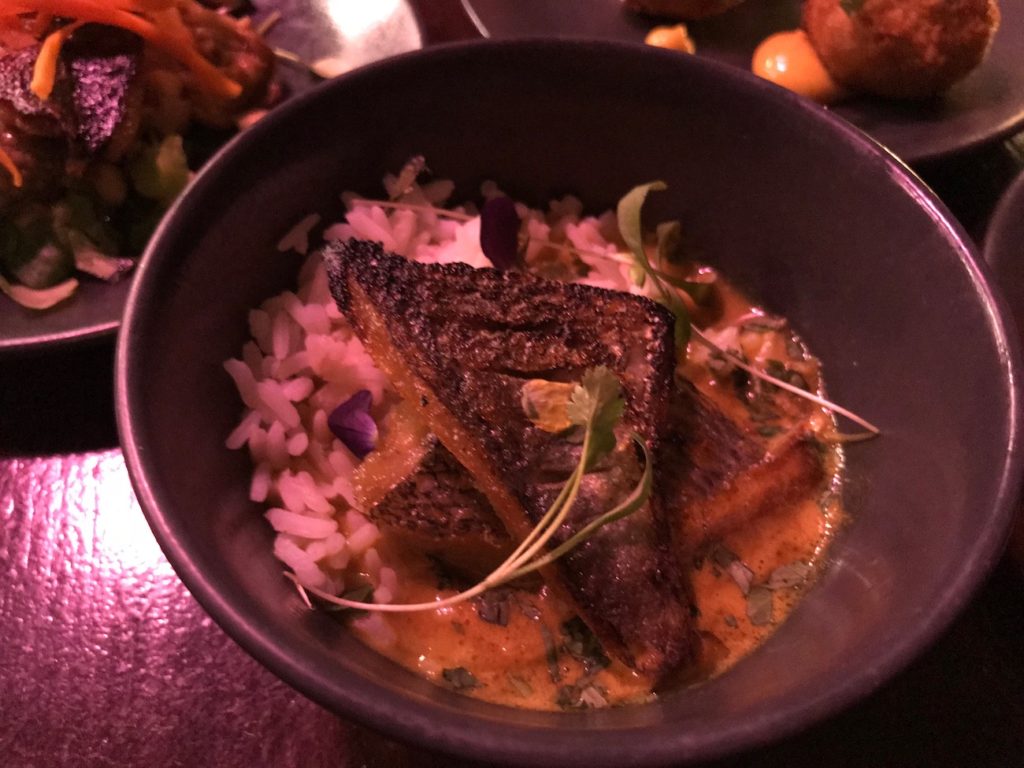 As with anything of this ilk, there's hits and misses – we loved the sea bream, mostly for its lovely light fragrant and delicate curry, and the kind of thing you wish was a "big plate" as opposed to a small plate.
Bacon & cheese doughnuts (top) would be hard to skip over on any menu, and these had that intriguing meld of sweet and savoury but were pretty heavy to be called doughnuts. Being filled with maple syrup pushes them more to the dessert side, but y'know, it's bacon, cheese and maple doughnuts, what's not to like?
See also: kedgeree arancini – exactly what you think they'll be like – curry, quails eggs, rice. Bit light on smoked haddock, and really more bar snack than tapas, but little mouthfuls of joy all the same.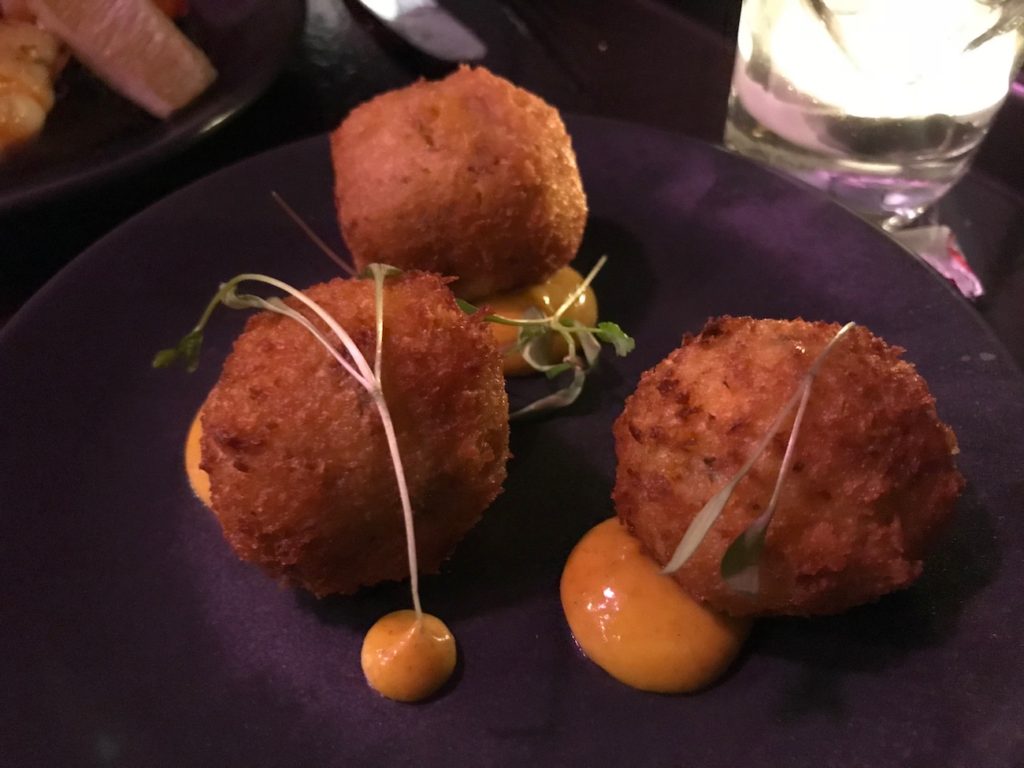 Bread was obviously homemade, so pretty good. Smoked salt on the side was moreish to say the least/probably not great for my heart having smashed the lot of it. I wish we'd kept some for mopping up various mayos, sauces and creams which were generally tasty.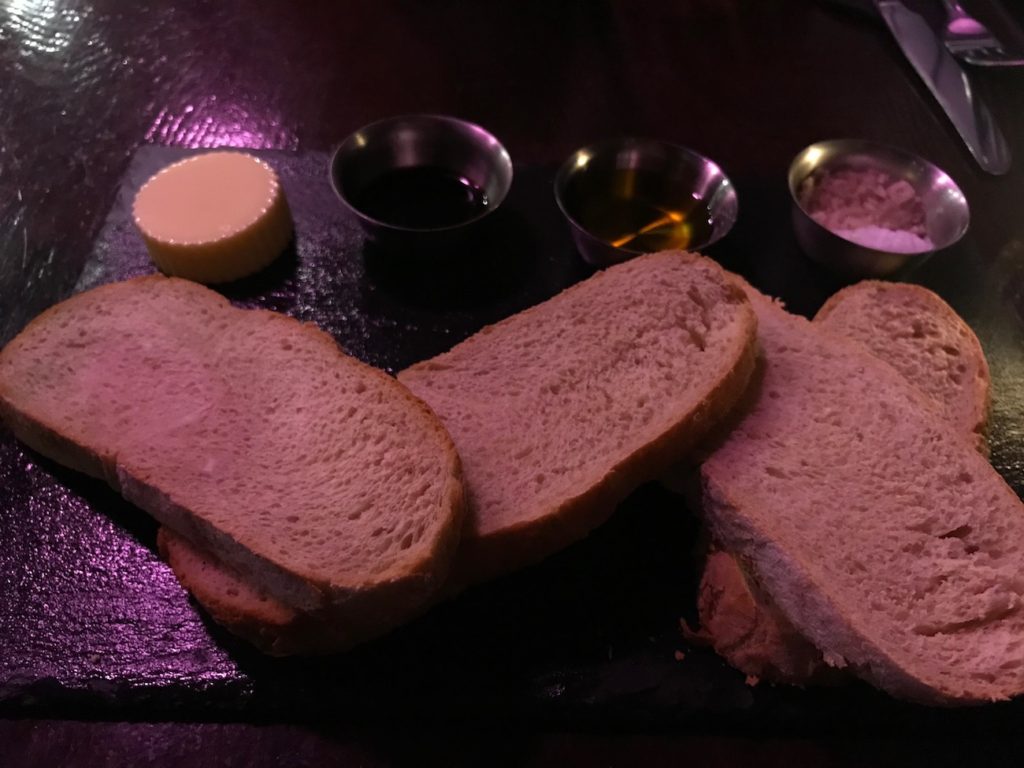 We both agreed our favourite was this lamb brik – some fatty lamb slow cooked until like jam-like, spiced with cinnamon and a waft of sweetness, and wrapped in crispy filo. The kind of thing you could eat a pile of and indeed, I wish I could grab a pile of these to take out on a lunch break. Really good.
Mackerel escabeche salad has cooked mackerel on salad of chickpeas and aubergine and for me, could have done with a bit of sauce to bring it all together. Quite (too?) delicate for me.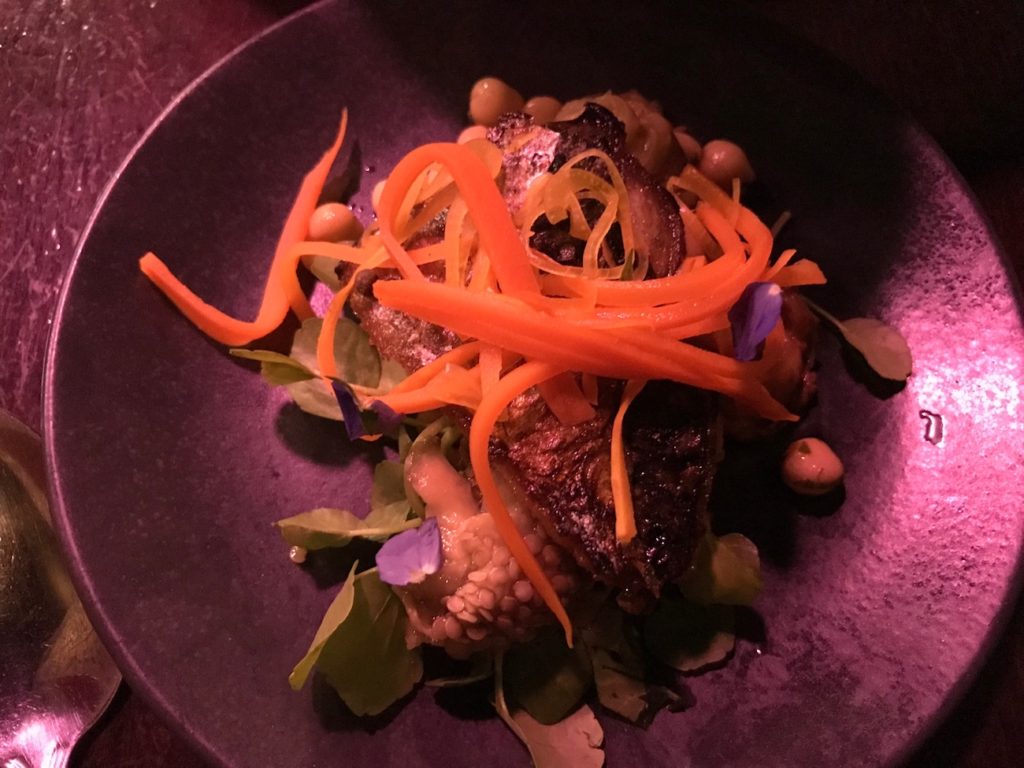 Prawns – plump and soft though they were, were one of the weaker dishes. It's be easy to say they're "just prawns" but after having had these whoppers at Caffe Vivo recently, I'm looking for something with a bit more oomph, and they could have done with a much heavier punch of garlic/chilli oil, never mint he smoke of a BBQ.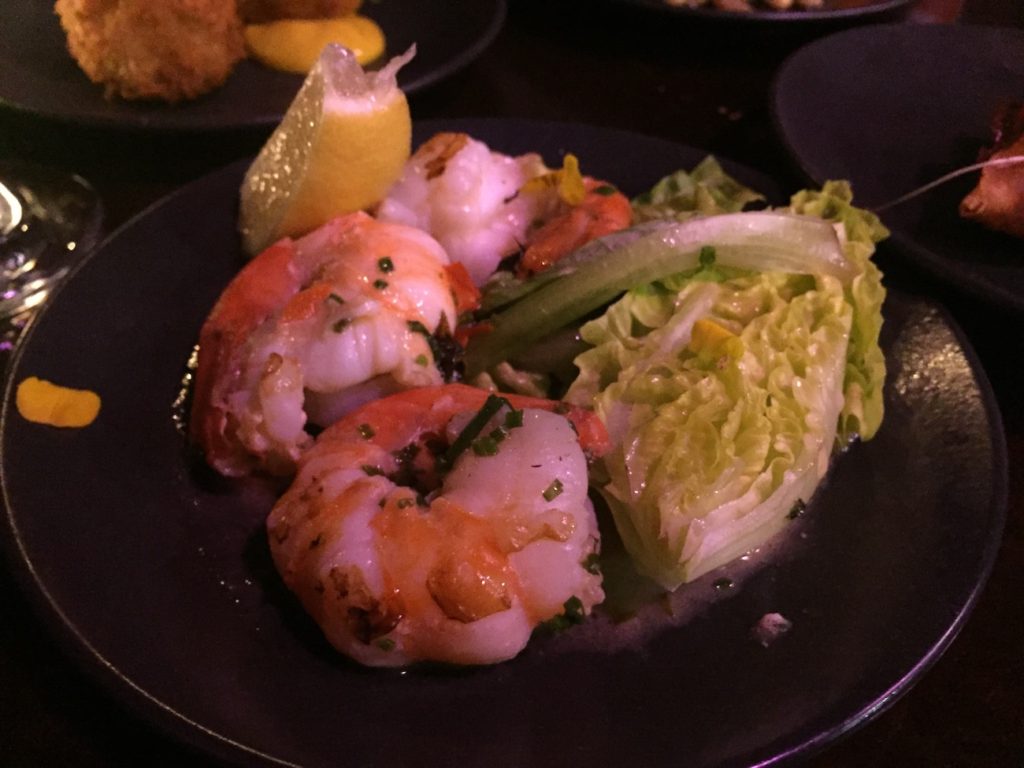 The drinks menu is pretty forgettable, though service came with a big smile from hello to goodnight. I'd fancy a revisit to tackle some of the other bits and bobs – there's chicken skin & pork crackling, bombay aloo, jerk chicken and West African spiced squid which would be a good start next time round.
Despite the tricky location, it was pretty busy when we went which is a good sign, and hopefully trade booms for them. Ditto the Giraffe Lounge which we haven't been to yet, but I guess has the same predicament as Mr. Petit – funky location that is probably always going to be referenced as a "hidden gem". If you're quick you can grab a taste of Mr. Petit for about as low as you'll get it – they're on itison with 6 dishes and 2 drinks for £24, so stick it to the chain factory in Eldon Square across the road and try something different instead.
Contact: mrpetit.co.uk
Food hygiene rating: Not yet rated
* Food and drinks were complimentary in exchange for this promotion.