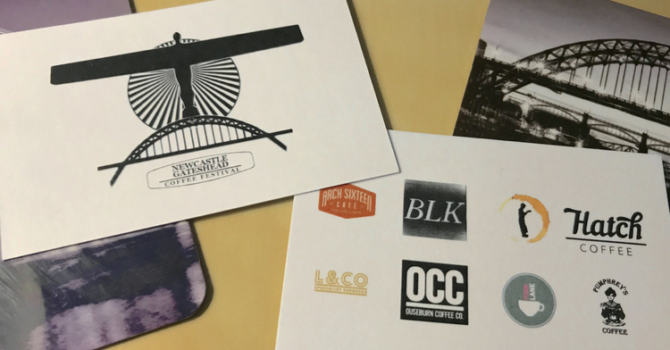 The easiest way to tasting 8 of Newcastle's best coffees
Thought this was an interesting idea – and an easy way to big up the very best coffee shops in Newcastle.
Newcastle Gateshead Coffee Festival celebrates the best of the city over the month of June by offering a "disloyalty" card to claim a coffee at eight of the best independent coffee shops across NCL. While disloyalty cards aren't a new idea, having originated in the states a few years back – they're a handy way to stick it to the big chains by staying loyal to your local independents and keeping money in the region. All money from the disloyalty card (which is £15) goes to two charities – Newcastle Carers and Chicchi di Caffe, and if that isn't enough of a reason for you to stop your "Starbz" addition for just a month, there's no hope.
Even if you're not the biggest coffee wanker (myself included) it's eight premium coffees for fifteen quid, which is frankly excellent value, and it's a similar value NOT going in the CafeStarbuCosta till which is what this is all about.
The event culminates at the end of the June with a few of the venues putting on some gigs like a natural wine tasting at Flat Caps, and a food & coffee pairing event at Laneway, with more to come. There's only about 50 of the 100 cards left, so hurry up and here's the eight shops where you'll get your cuppa. Enjoy.
Arch Sixteen Cafe
?? Wellington St, Gateshead NE8 2AB // Lovely coffee from Colour Coffee, part art-room, part café with scran, and host of occasional curry pop-ups from Ashiyana Cafe. Seeing as you're over in NE8, pop next door to Block & Bottle too for some meat & beers.
BLK Coffee
?? 214 Chillingham Rd, NE6 5LJ // Canny owner Alison set up BLK Coffee four years ago and it's widely regarded as one of the best spots to get a serious brew, espesh given that she's off winning barista comps the world over. Get the filter, try something stronger than you normally would, and see what it's all about. See also: regular deliveries of ace cakes from Beat Boutique Bakery.
Flat Caps Coffee
?? 11 Carliol Square, NE1 6UF // Joe of Flat Caps loves the coffee so much, he's put on this event for us all, so make sure if you visit one of the joints after the event, it's here. And you'll not have to go to the old love it/hate it shop downstairs on Ridley Place – he's crowdfunded and decked out his new place in Carliol Square and is serving multiple-award winning coffee in one of the coolest spaces in town. Watch out for various pop ups, and a canny breakfast an' all.
Hatch Coffee
?? Ellison Pl, NE1 8ST // Blink and you'd miss it Hatch Coffee can be found just off John Dobson Street in the University car park – so it's not a place for a sit down and a catch-up, being probably the most micro of NCL's micro-businesses. Definitely grab and go. That's not to discredit it, as the coffee is serious, as are the treats (again, from the Pet Lamb lasses)
Laneway & Co.
?? 17-19 High Bridge, NE1 1EW // Only opened last year (happy birthday today, in fact!), Laneway & Co. fits right in with the hipster vibe of High Bridge – white metro tiles, high-brow mags, and above all, a solid cup of coffee make it one that's central and worth coming back to. Outside of the festival, the £5.50 meal deal for coffee with a toast is great value too. Or check out the doughnuts from Proven Goods Co. (also now at Pink Lane, below)
Ouseburn Coffee Co. at Harvest Canteen
?? 91 St George's Terrace, NE2 2DN // An outlet for the seminal local coffee roaster Ouseburn Coffee Co. to pedal their wares, Harvest Canteen is a bit of an Instagrammers dream. If you haven't had one of Ouseburn Coffee's blends – just where have you been. They've swept the North East with their excellent coffee, and they just happen to be doing ace brunches here, and in a place where coffee shops come and go, Harvest is one that will remain.
Pink Lane Coffee
?? 1 Pink Ln, NE1 5DW // As central Newcastle as you can get, and my personal favourite, Pink Lane ticks the hipster vibe box ten times over, but above all, puts out consistently quality coffee. While you're here, and supporting the indie cause, get up the road to Pink Lane Bakery too for some crack pie. ?? This flat white last week was seriously the best I've had in years.
Pumphrey's Coffee
?? 50, 53 Grainger Market, NE1 5JE // Pumphrey's has been in the Grainger Market since what seems like the beginning of time, and is perfect for a city-centre time-out when shopping just gets to be too much of a drag. Grab coffee made however you like it really, and though it's gonna be Pumphrey's own coffee, it's good localy roasted stuff. The snacking quotient is low, but seeing as you're in the Grainger Market, grab some Pet Lamb Patisserie treats direct from source, and a slice of pizza too. Head over to Curious Leaves at the other side of the market for some decent tea to go, and remember to VISIT ALL OF THESE PLACES AGAIN!
---
The Newcastle Gateshead Coffee Festival runs from June 1st – June 30th across the city so buy your card here before they run out.
Contact: newcastlecoffeefestival.com
SaveSaveSaveSave
SaveSave
SaveSave
SaveSaveSaveSaveSaveSaveSaveSaveSaveSave
SaveSaveSaveSaveSaveSave
SaveSave
SaveSave