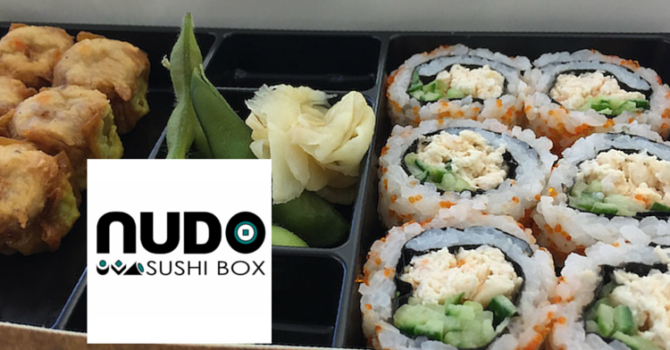 The sushi train still hasn't really stopped at Newcastle station.
Nudo Sushi Box was born of long-standing restaurant Nudo, which opened just off Stowell St. in 2009. It's been pretty successful, though I think their offshoot takeaway business must now be bringing in more dollar than the restaurant – they've expanded out to five branches in the North East, and recently into Manchester's Spinningfields.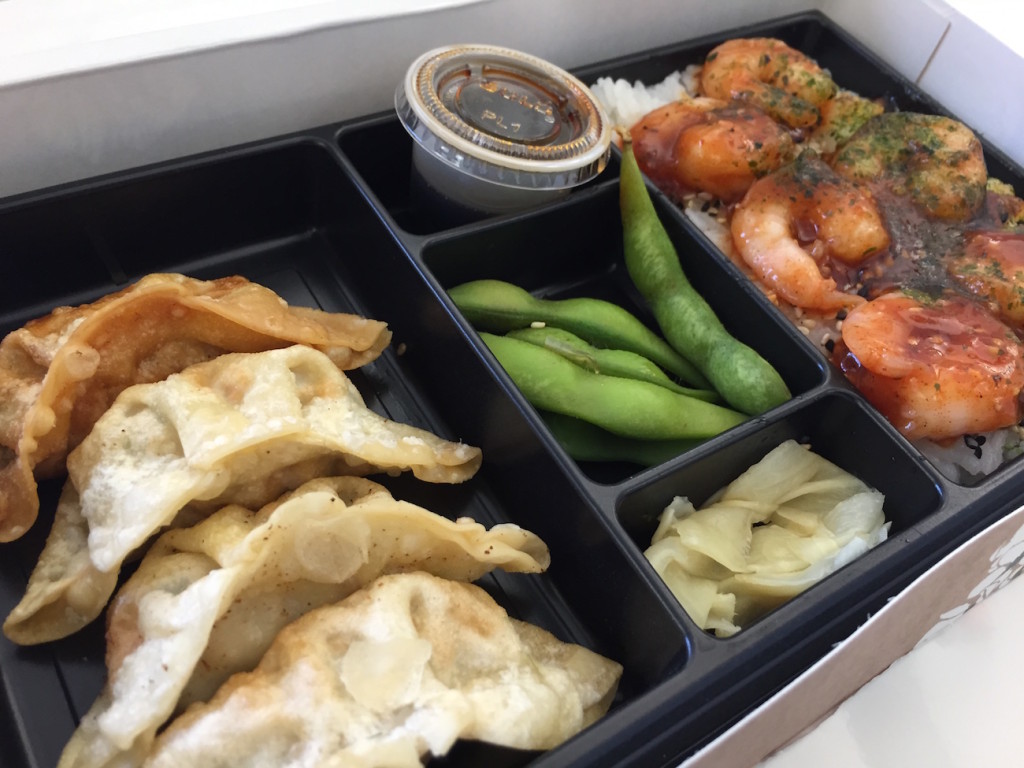 If you've been to Nudo, you'll have no doubt enjoyed it. They don't get big for nothing. Here, it's all really tasty too. Compared to your average – very grim – supermarket sushi – it's all pretty good, and you don't mind paying the fiver or so for a satisfying lunch. If you can get a perch, you can sit in, too.
You know the drill: nigiri, futomaki, some sashimi (I've never really thought it'd be fresh enough), pickled ginger, edamame. Bite sized nuggets of loveliness that are surprisingly filling.
The "big box sets" are your best bet for average scranning, like this salmon sakura set (£5.05) which has six futomaki, four nigiri, edamame, and accoutrements including a decent soy sauce. You can, of course, get it with chicken, tuna, or various veggies.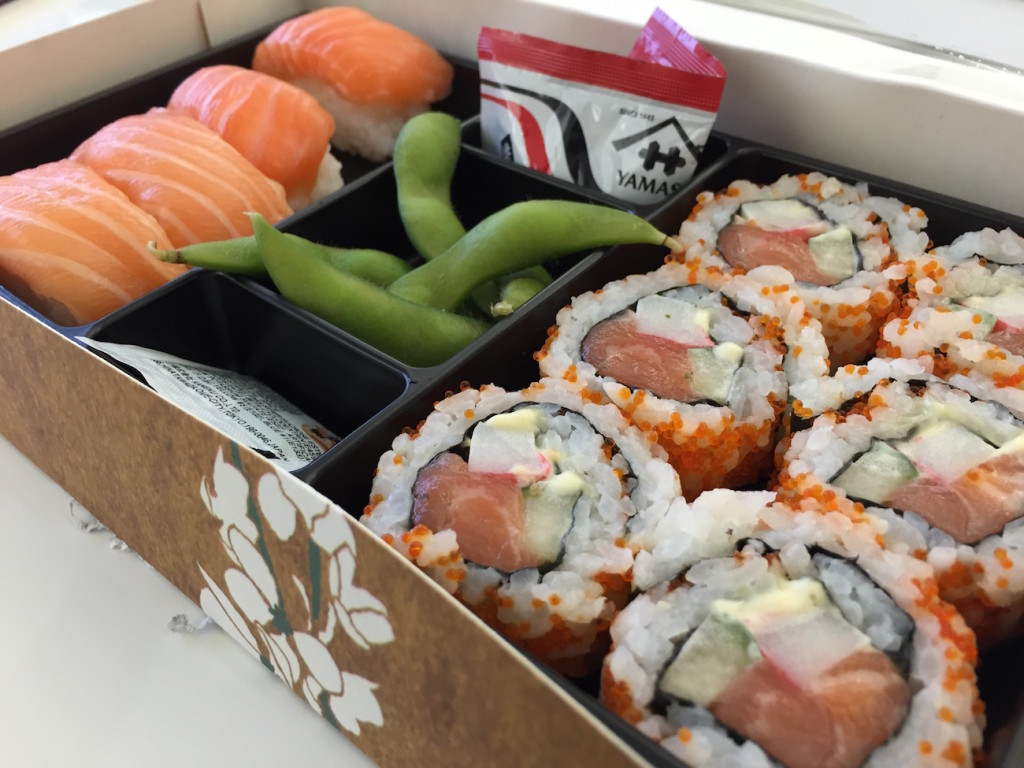 It's not Jiro Dreams of Sushi, but it's great to eat. Most of the takeaway options are twists on this, though I'm not too sure about the sushi sandwich, and the "Nudo salmon sauce" on those prawns above is just gloopy unpleasantness. It's interesting to read that they are downplaying the craft of sushi for us NE-commoners: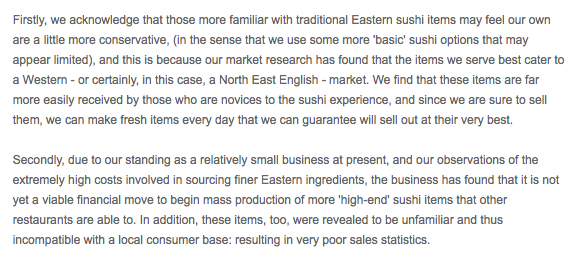 Other favourites – well I haven't met anyone in Newcastle who doesn't like the dumplings. That teriyaki sauce is quite irresistible. Then try a side dish that tickles your fancy – seaweed and preserved veg, konjac salad, cucumber with garlic, but for £2-3, their value varies wildly. Don't get stung 8p for chopsticks, but do lurk around 7pm for 50% off everything. There's desserts of sorts, but it's all twists on rice pudding and fruit.
So, all good? Well I think somewhere along the line, they've become predominantly a takeaway business, and that's more obvious when you start looking at what's IN your Nudo Sushi Box. To be fair, they're very up front nutritionally, and in the stores, and on the website, all ingredients are listed, though I think it might be more of a legal requirement than a candid notion. And here is where my beef with Nudo Sushi Box lies. It's not the healthiest choice on the menu, but consider the main ingredients of your japanese curry: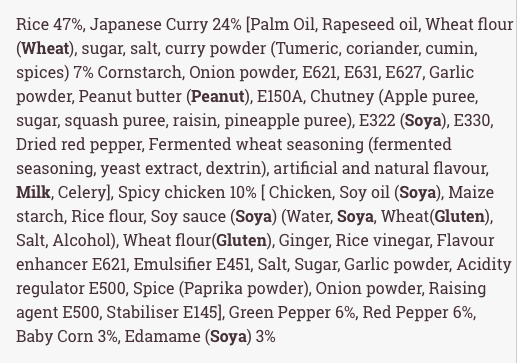 So, oil, oil, flour, sugar and salt then. Mmmm. I imagine they started out selling the same stuff as what the restaurant gets, and then had to give it a longer and longer shelf life. Bear in mind that many of the Instagram tags for Nudo are #cleaneating and shite like that ?.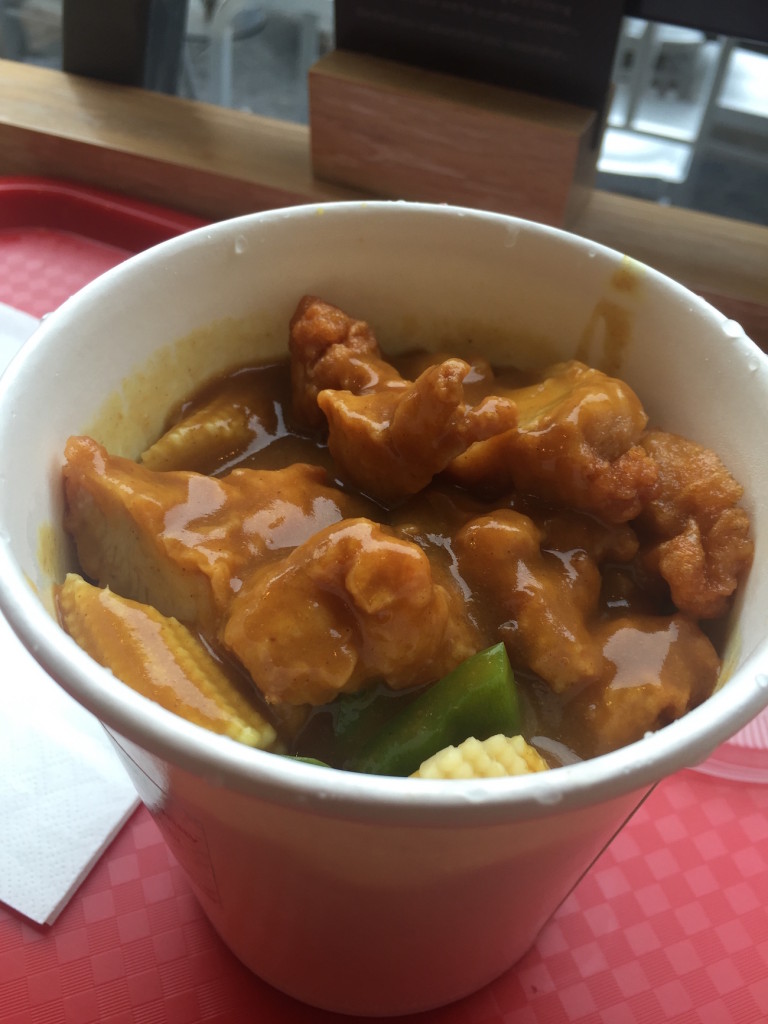 They say: "our aim is to make sushi a regular, healthy treat as opposed to an occasional luxury." I know MSG isn't the nasty it once was, but there are two additional flavour enhancers used on top of it. And though some of those E-xxxs are as harmless as bicarb, when your list of additives is this long, you've gotta start questioning why. Like would it really be any less of a product without the E150 caramel colour? The fact that the vegetables in the pot make up the least overall % tells a story.
So, on the outside it is all tasty stuff, but is Nudo Sushi Box really a healthy choice? I suppose the question is, do you even care? See, I would get something from here trying to be just a little bit holier-than-thou, and like many others at lunchtime, trying to be bit smarter than just opting for the massive carbilicious sandwich. I'm not so sure that's what we're getting anymore. What've you got, St. Sushi?
Contact: nudosushibox.com
Food hygiene rating: Northumberland St. (5) / Acorn Road (5) / Grainger Street (5)
Am I wrong about the prevalence of additives in independent takeaway food? Or should more takeaway food list what's actually in it? Let me know!