Why is the standalone indie bakery not a bigger deal in Newcastle?

UPDATE: Sugar Down Bakery rebranded to Pink Lane Bakery in September 2016
The Pink Lane Bakery (NE1 5DY) is one of a very small handful I can recall. Someone really needs to step up make a killing there. As the name suggests, it's the off-shoot bakery/supplier to the Sugar Down Cafe just round the corner.
It's run by a part-Frenchman, which I guess gives it a slightly romantic appeal, but it's basically a hole in the wall kind of place – what you see in the window is what you get. It's all baked fresh daily on-site, which is worth merit alone, especially when you've got 11 Greggs in town selling stuff for pennies. I think they actually supply a few restaurants in NCL – I saw an order for Bonbar ready to go out the other day.
Like nearby Breadpoint, it's off Clayton St. on one of Newcastle's hmm…less award-winning… streets, so you've probably missed it unless you were specifically hunting for it.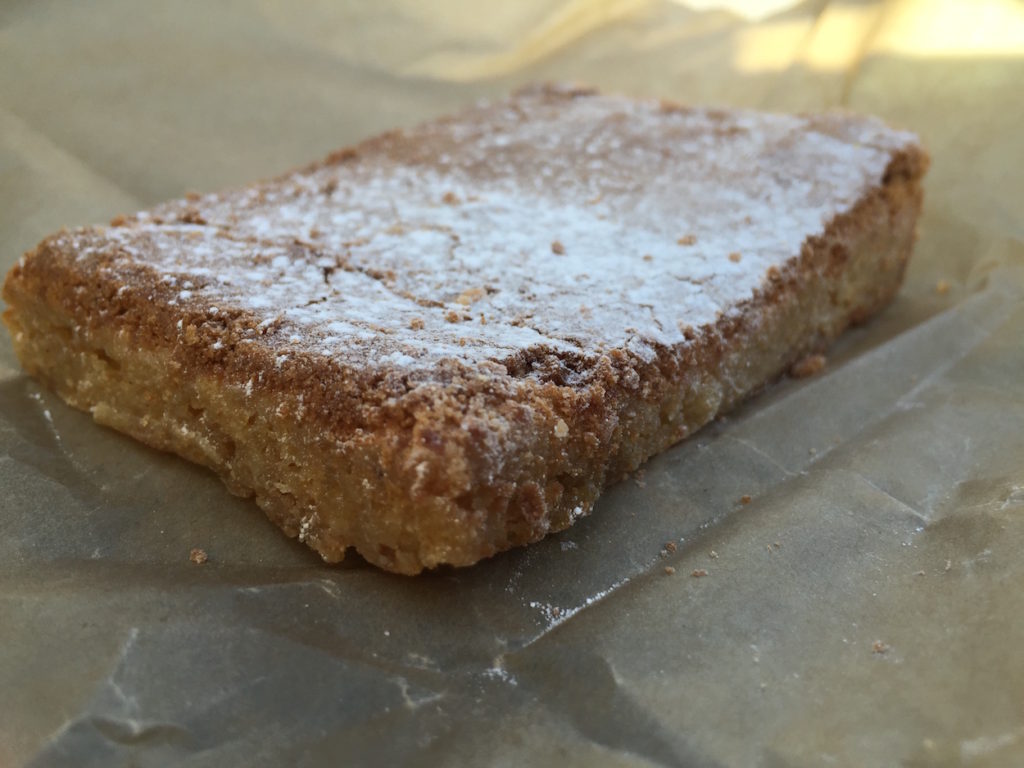 They do a few bits and bobs, and that's it. So a few of my favourites… the crack pie (£1.50/slice) is pretty damn good, the kind you could easily pack away two or three slice of, then want more. Sweet and oaty, chewy and crunchy at the edges, it's embarrassing how often I've been getting one of these.
Other sweet treats of note – a beast of a millionaire's shortbread (£2) – as gooey as you like, and a not-bad cinnamon bun (£1 ea/3 for £2.50). Why is it so hard to find a great cinnamon bun in town?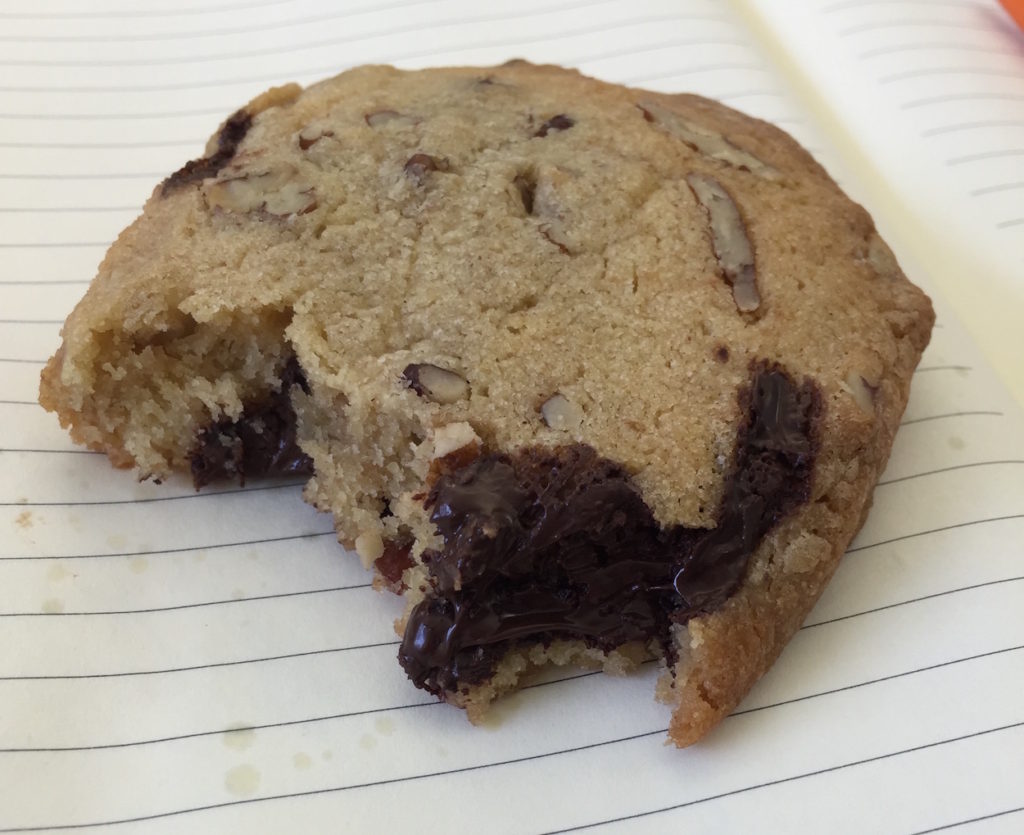 Things do tend to sell out, and they close around 3pm, so head over early enough and you can get something like these dark chocolate and walnut cookies with the chocolate still warm and melty from the oven.
The savoury bits aren't really helping me break my gluten addiction either – the pizza breads (£2.50) are an easy lunch, topped with goats cheese & onion, ham, or my best-in-class pepperoni and olive. There's decent bread loaves, and bread buns too – brown, white, rye, sourdough, and a smattering of GF/vegan bits too.
Pancetta sausage rolls are obviously inviting – packed with huge chunks of smoky bacon (and equally large bits of unrendered fat ?). For £2, you're best off asking when these were baked, as I've had good ones (below), and then some which must have been a day or two old, with disintegrating pastry. Still scoffed it, but y'know…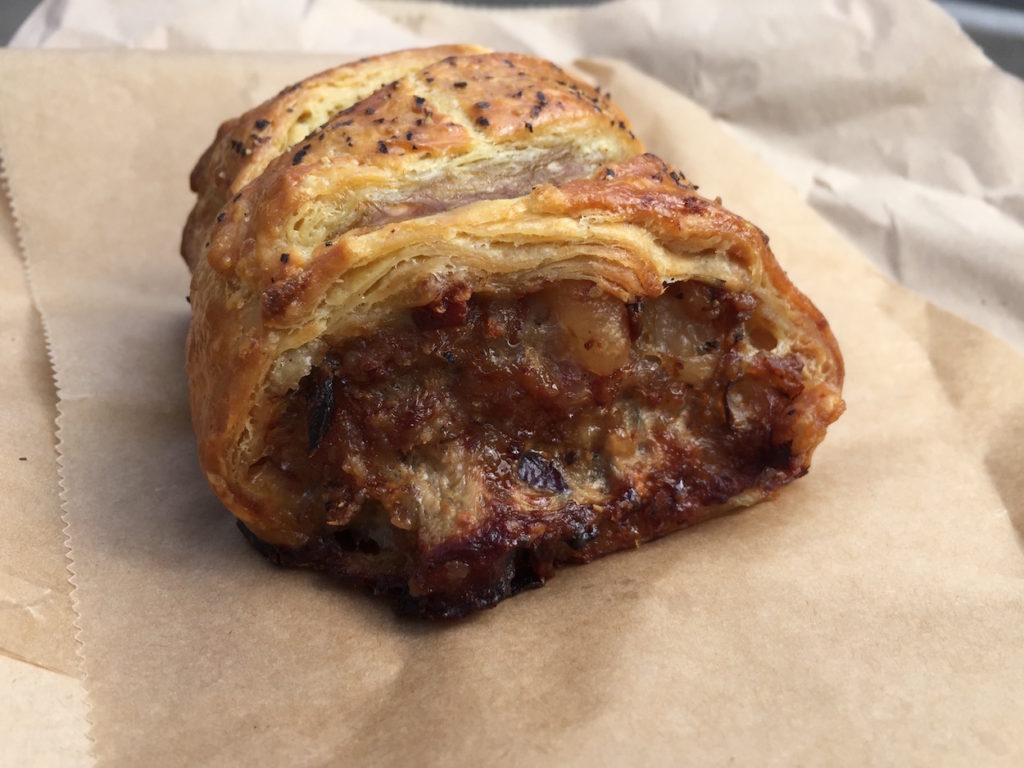 If you're passing by – and let's be honest, Clayton Street and beyond Central Station is a bit of a wasteland in Newcastle, the Pink Lane Bakery is worth a neb in the window to see what takes your fancy. Scran it on the train instead of a £5 Cornish Pasty Co.
Contact: via Facebook
Food hygiene rating: 5/5