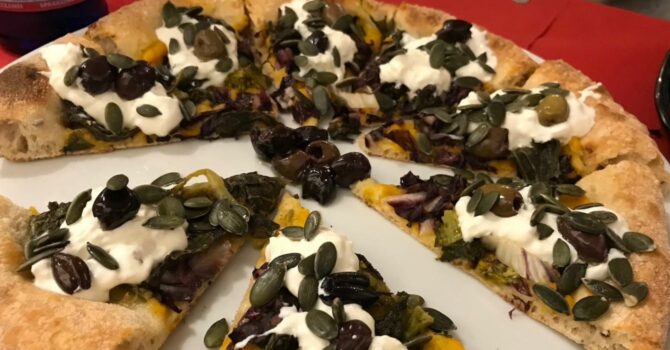 Feat. a liquorice & cabbage pizza ?
Pizzeria Italia has had a long and drawn out history. The restaurant, and its Grainger Market counterpart have (hopefully) changed hands for the final time. Original founders Lisa & Roberto have headed back to Italy (seemingly for good ?), meaning a few slight changes in direction for the restaurant.
Events is one of these. One of which was a recent 'convivial sharing night, with Italian Pizza chef Valerio Valle' which I snagged an invite to. Guest chefs, five pizzas, unusual toppings. The guy seems to be fairly well regarded in Italian circles. I mean, he's no Cal like… ?
Come here on any given Saturday night, and you'll see the pizzas here have evolved a fair bit since the old Slice days. Honestly, I'm still undecided on whether I preferred it now or then. 
But things start off fairly straightforward with la margherita a modo mio 'margherita my way'. Apart from a wholemeal flour in the base, and some judicious use of oregano, it's a slightly more savoury take on the classic. Strong start.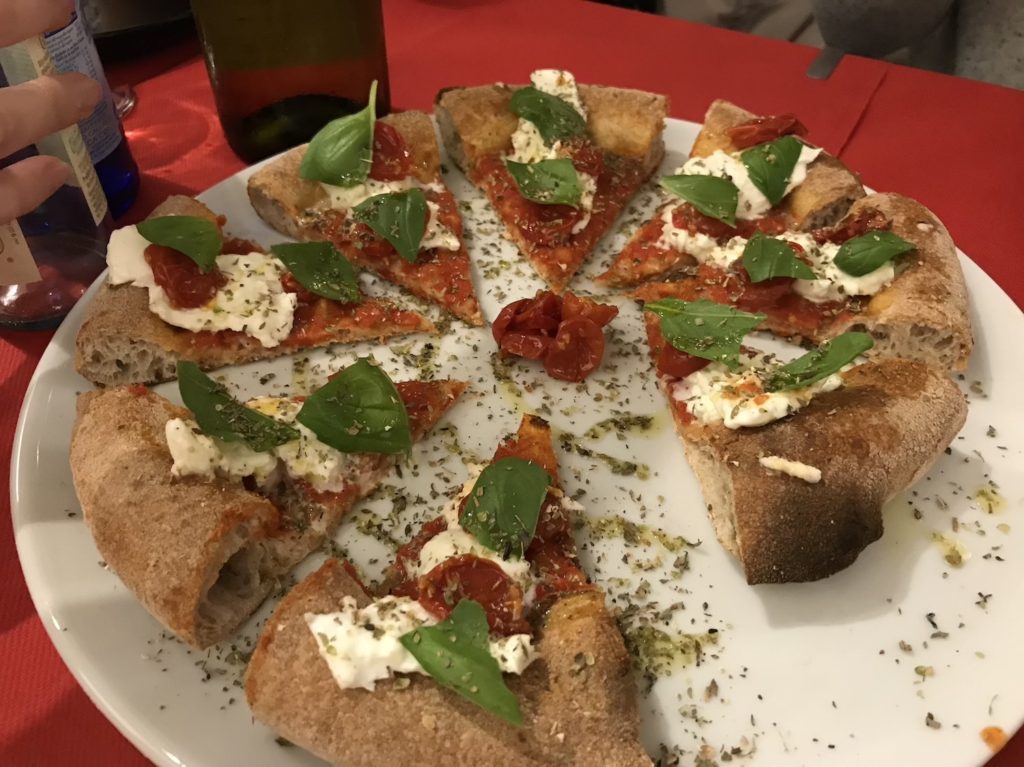 Things got funky with the collisioni d'inverno (top, literally "winter collision") which featured, wait for it… butternut squash cream, radicchio leaf, broccoli, stracciatella cheese, olives, and sunflower seeds. You won't see pizzas like this in many places in town. It's really interesting texturally, and in contrast of salty and creamy flavours, but whiffs of 'veggie special'. Good if that's your cup of tea. 
Probably my favourite of the night – thanks in part to an obscene amount of parmesan cheese, was this Francesco 2014. Parma ham & little 'baskets' of crispy parmesan made this a tangy winner. The only shame was that we couldn't consume this on the coast of the Adriatic with a dose of Italian sunshine. A frosty Thursday in Benton would have to do ?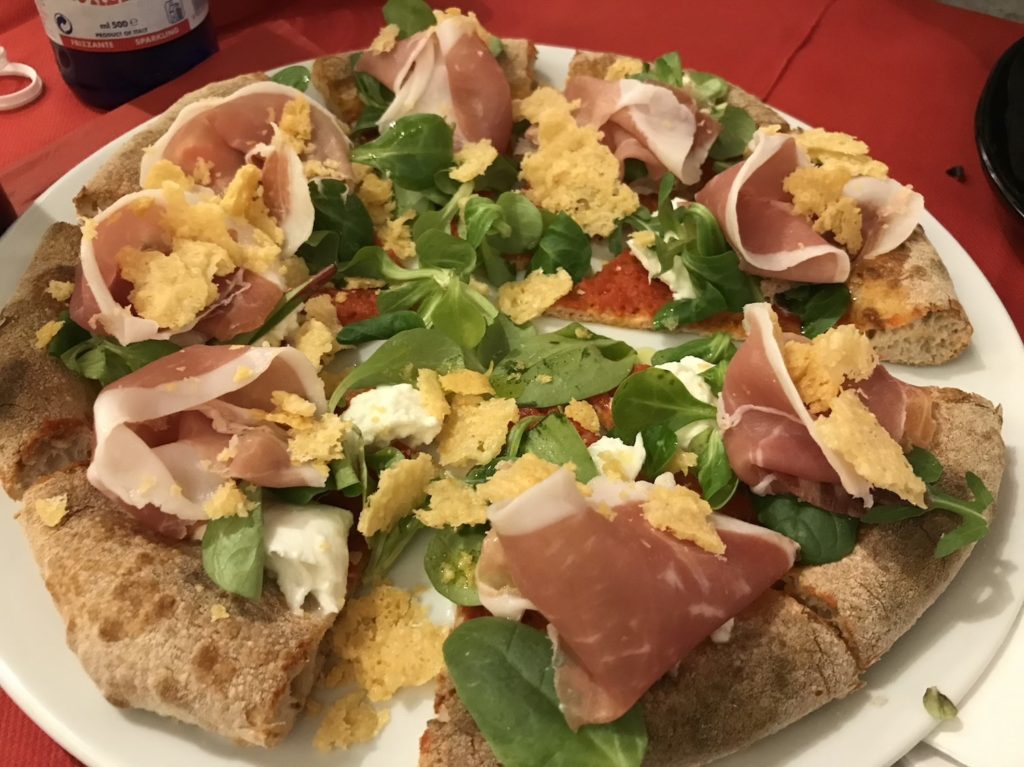 I hadn't realised that the guys running Pizzeria Italia, and indeed Little Italy, and Slice in the Grainger Market, hail from the Abzruzzo region of Italy, producers of one of my favourite wines. Which cannily, was on pour all night. Normally, I don't think there's alcohol available here, as per the 'old' Pizzeria Italia.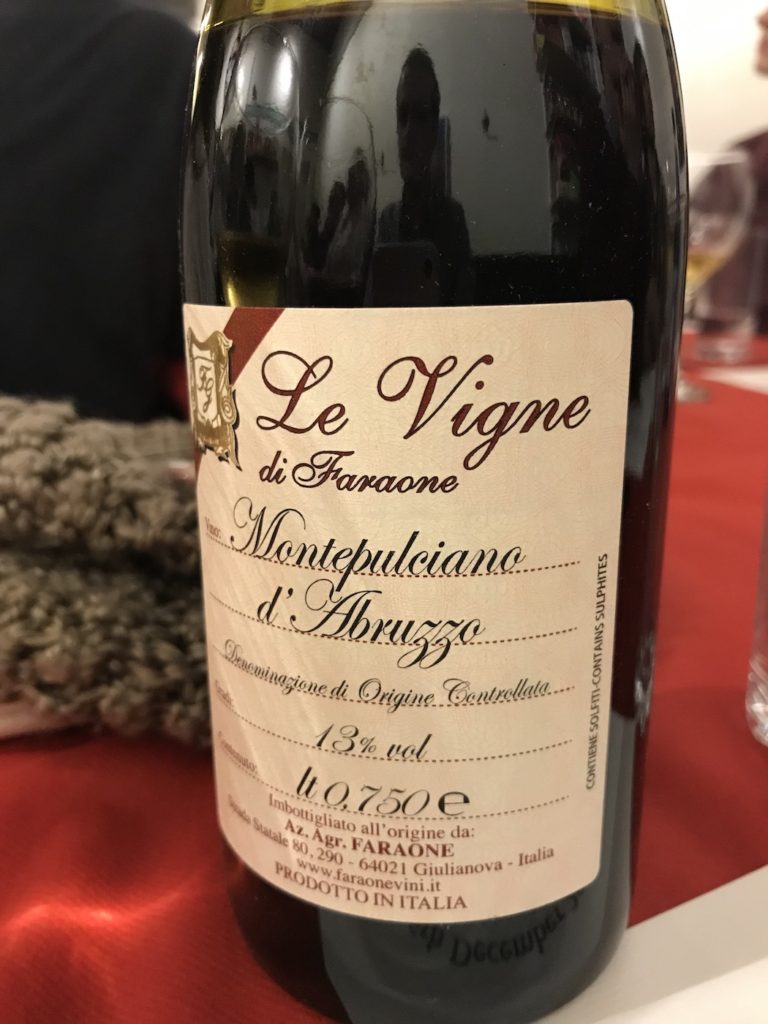 The final savoury, and most zany territory pizza, i calanchi featured a saffron-tinged base, with liquorice red cabbage, and guanciale. You know what, it works beautifully. Salty, savoury, and quite unlike any pizza I can really remember. It's easy for me to be the Pizza Police sometimes and never stray much further than AVPN margherita, but it just goes to show why Pizza is Life. It's all good.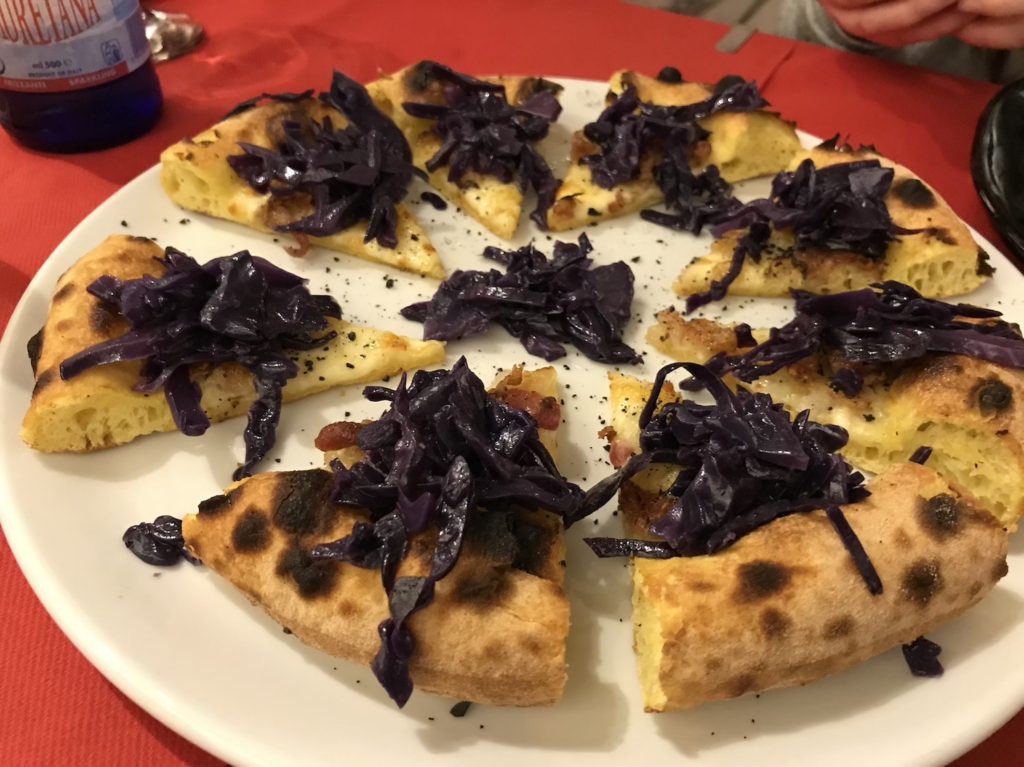 The whole event felt a little like gatecrashing an intimate Italian dinner, so wouldn't have been complete without a speech (entirely in Italian) from the chefs themselves, followed by – of course – some pizza spinning. Stick on That's Amore and I'm done. With encouraged sharing, and one long table, they nailed the convivial feel of it all, and hopefully future events expand on this.
The night ended on ripiena ("stuffed"), essentially a light nutella calzone. Also containing cornflakes, coconut, and hazelnuts, it was a crispy and not-too-sweet end to the evening. If any, it should be this one which stays on the menu full-time.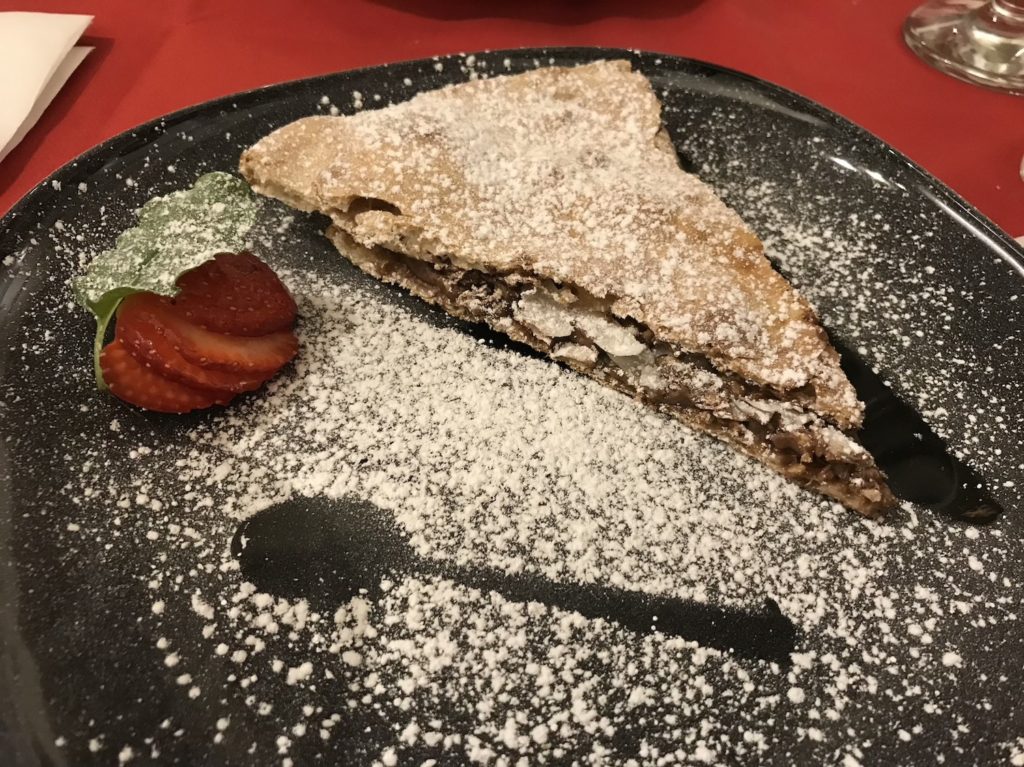 It's a shame the guys don't generally stray into territory like this more often, as the regular menu stops just past ham, pepperoni, tuna and olives. But I guess the general market isn't quite ready for liquorice cabbage on their pizza just yet…
That said, the plan is for further future events. Though there was no posted price for the evening, if you're at all into your pizza more than a casual Saturday afternoon Pizza Express, these are worth keeping an eye on.
So if you haven't been to Pizzeria Italia for a while, it's worth a re-visit to see what the changes are. You'll find really solid, affordable pizza, perhaps even better then you remember it. We'll be back a few times over the next few months to see if standards are as consistently high as when Lisa & Roberto were running the show. If a takeaway this weekend is anything to go by, they've deviated slightly – but in a good way. Cabbage or not, still easily on my 'Best Pizzas in Newcastle' list ??

Contact: via Facebook
Food hygiene rating: 5/5
* We were invited to the event free of charge, with no obligation to publish anything, however this is an independent restaurant I genuinely like. I'll be sharing updated views on the main restaurant once we've visited a few times over the next few weeks.