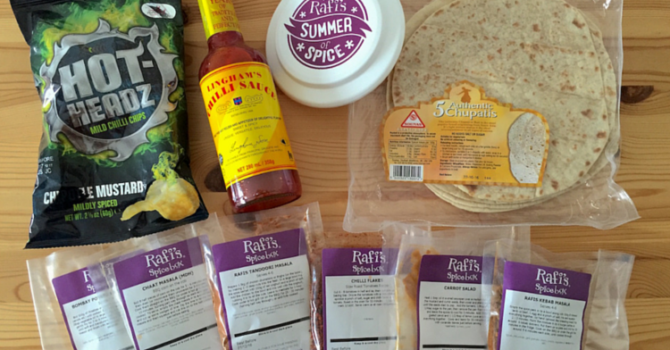 Imagine if we got a British summer and you could get out in the garden and have a BBQ? 🌥
You might remember seeing York-based Rafi's Spice Box in the revamped Fenwick food hall – selling freshly ground spice blends in packs for you to easily pimp up your curries.
They sent me their summer product (yeah, I don't remember the summer either) – the 'Summer of Spice' box.
The spice box contains six spice blends, and some other tasty bits and bobs, and I guess the idea is, you chuck the BBQ on, and in an hour or so, you've got enough spicy scran to feed five or six people. Excluding a bit or marinating time, this took me about forty minutes to knock up on my hot BBQ. In fact, this isn't even everything I made, as there was so damn much of it.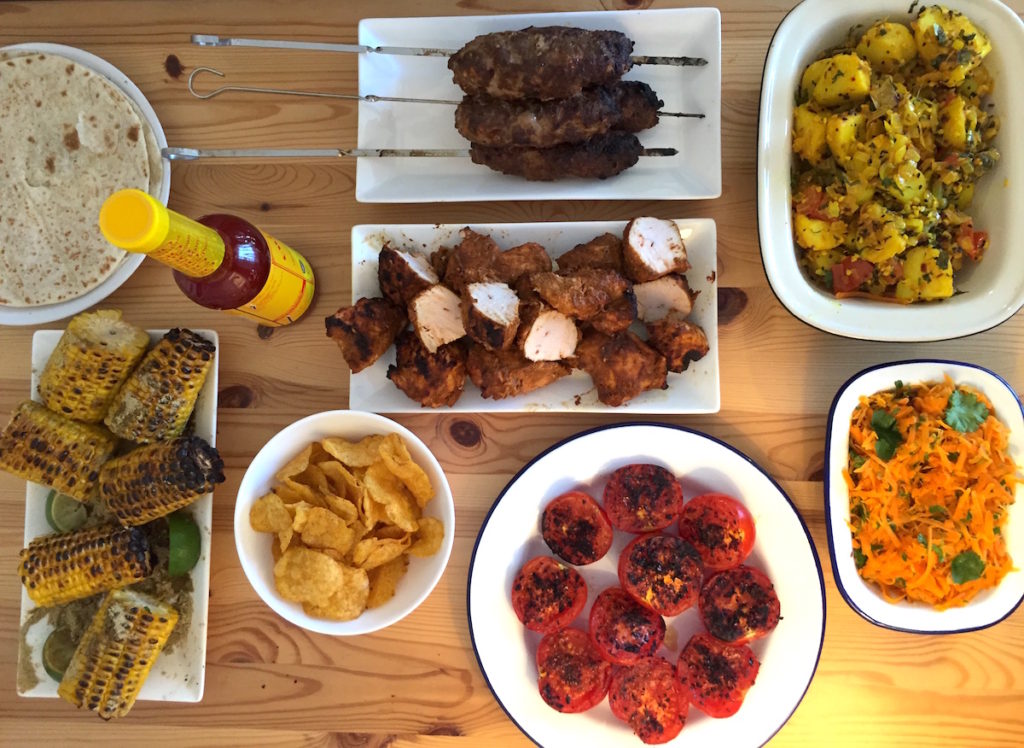 The box contains:
Bombay potato mix: a blend for bombay aloo – you host add some onion, tomato and coriander to some boiled and chopped potatoes, and you've got the quintessential Indian side dish. OK, it's not the most taxing dish to cook, but a bit of really fresh cumin makes all the difference, and that's what this is all about.
Rafi's kebab masala: blends here with 500g minced beef/lamb and is mushed onto a skewer to make six kofte. In a naan bread, with some salad and yoghurt, you've got yourself a crowd pleaser.
Chaat masala: this was my favourite, and one I probably wouldn't be able to match just using home ground spices. Chaat masala is a generic term for a spice blend which is generally used for sprinkling or dipping, so Rafi's suggest charring up some corn and dipping in lime juice and the chaat masala. Salty, sweet, a moreish-ness that you can't put your finger on, I can see why this is so popular, and it's the one you should be trying separately.
Rafi's tandoori masala: for marinating chicken before charring on the BBQ. This was really quite spicy, so I'd go easy if you're a wimp, but there's not much better than juicy grilled chicken.
Chilli flakes: these were sprinkled on halved tomatoes and roasted on the BBQ. I think they're from kashmiri chillies which are unlike any other, and again, what'll lift your meal from good to great.
Carrot salad: this mix of cumin and turmeric was mixed with lemon juice and shredded carrot to provide a lighter side to this feast – it needed it!
We ate this between the two of us and it fed us for three meals each. The box doesn't just contain spices, you also get some (spicy) crisps, some Lingham's sweet chili sauce, a pack of chapatis, and a frisbee, because why not? 🔴
If we ever get any more summer, Rafi's Summer of Spice box is great way to cook something you might not have otherwise, and to be fair, for £10.95, it'd would cost you more that in fresh spices – I know my amchoor is definitely about three years old.
Contact: spicebox.co.uk
Newcastle Eats no longer supports comments directly on posts, instead, why not fire up the discussion on Twitter, Instagram, or email me directly.