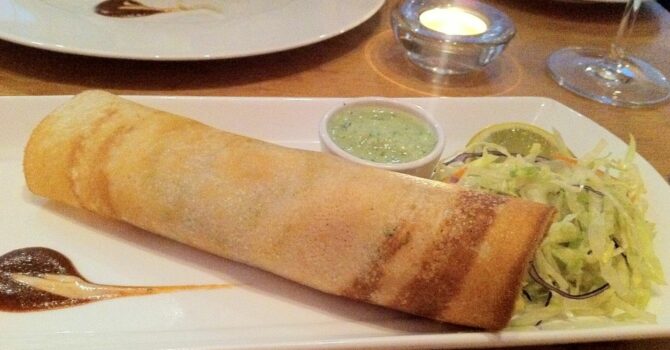 2 Hits, 1 Miss
Last week we lucky enough to be invited to the launch of a new menu at "luxury restaurant and bar" just over the Tyne, Raval (NE8 2AT). Only last August we ate at the launch of the same "new platter menu" – so whether this means the new menu has been a bit of a none-starter – you decide.
The platters are sold as a "unique concept based on the traditional Thali platter which reflects traditional Indian cookery, with a balance of nutrition of flavours, textures and colours to create a balanced meal". It surmounts to a three piece (lentil, side, main) Indian tapas meal with four components, plus bread and rice at a £15.95 (+10% service) price, promised to be cooked and served within the hour. Aimed at the pre-theatre crowd, and pretty good value considering that a couple of courses for two at Raval with wine can edge towards £100. We also came here one other time for a birthday last year, which was brilliant, so hopes were high coming into the evening.
Being launch night, we were treated to a glass of wine on arrival – a good and large one at that. Unfortunately, we were informed that we would only be receiving one complementary glass each, and any further drinks would have to be paid for. Not the way to handle a launch/party event, in our opinion. (See Electric East for tips!)
After wine, we were seated at our table, and had to wait an agonising 50 minutes before being asked if we wanted to order, or offered a further drink. Whether this was because the restaurant is not used to handling the volume of orders or we were just forgotten, we don't know, but no apology was ever made. What would have been nice was being served some poppadums to tide us over – none were offered, nor even the normal menu presented. After we did finally order, the food came out within about five minutes, which did make the whole delay a little more annoying, suggesting it was just sitting waiting in the kitchen.
The platters themselves have not changed since we last ate (see below for reference). This time we have a sort of aloo tikki potato cake, bombay potato side, tarka dahl, and a chicken tikka for me, and lamb main for Ms. Newcastle Eats. These are best guess descriptions, as on the night, we were not informed what we had actually been served.
Tackling the mysterious potato cake first, it was fairly bland, and though it sat on a bed of yellow sauce, this had the look and feel of margarine – not all that pleasant.
The lamb dish, looked, and indeed, was dry and lacking the deep meaty punch you expect, and having come use to "shred it with your fork" lamb from Sachins etc. – ultimately disappointing. Would have to assume the platter was sitting under the hot plate for a while, explaining the wait, the dryness, and a couple of missing garnishes  The chicken tikka fared better, being quite sweet though rich in flavour, and having really quite smokey chicken.
The lentil dish was a high point, and the pilau rice was fine, if not anything different. The potato side suffered the same dried out fate as the lamb – and at this price point, one would expect things to be spot on every time. Not to sound like we're beating up on this – the dishes themselves were OK, but the overall experience a world away from the à la carte meal we had in July last year, and even the previous platter "launch" from last August.
Rounding off the disappointment was the naan bread. Frequent readers might have guessed that bread is the key to our hearts, and at our last visit here we deemed Raval's naan as one of the best ever. This time around: soggy, flaccid, uninspiring. Sadface.
So ultimately hit and miss from one of  Newcastle's biggest names. While this may sound damning we did have one of the best curry experiences of all time last year, so we may have to put this one down to just being an oversubscribed bad night. Will visit again and see if this was the case, but at the end of the day, if you can't be a good night on your media/launch night, when can you be?
Bill plus drinks would have been £44 – comped for launch night.
Contact: ravaluk.com / 0191 477 1700
Better than: paying à la carte prices if a first time visitor.
Worse than: anything from Sachins.
(Above: sea bass platter, August 2011)