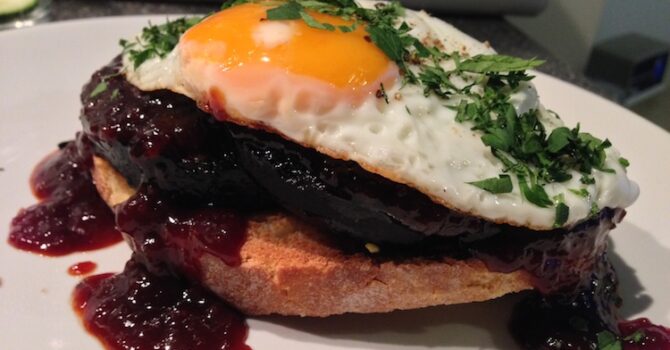 I am going to stick my neck out and call this the best satisfying brunch ever. It ticks all the boxes you need when suffering the effects of a big night out – bread, meat, eggs and something spicy. It's a dirty version of eggs Benedict really, which glorious as it is, has been done to death on the recipe blogs.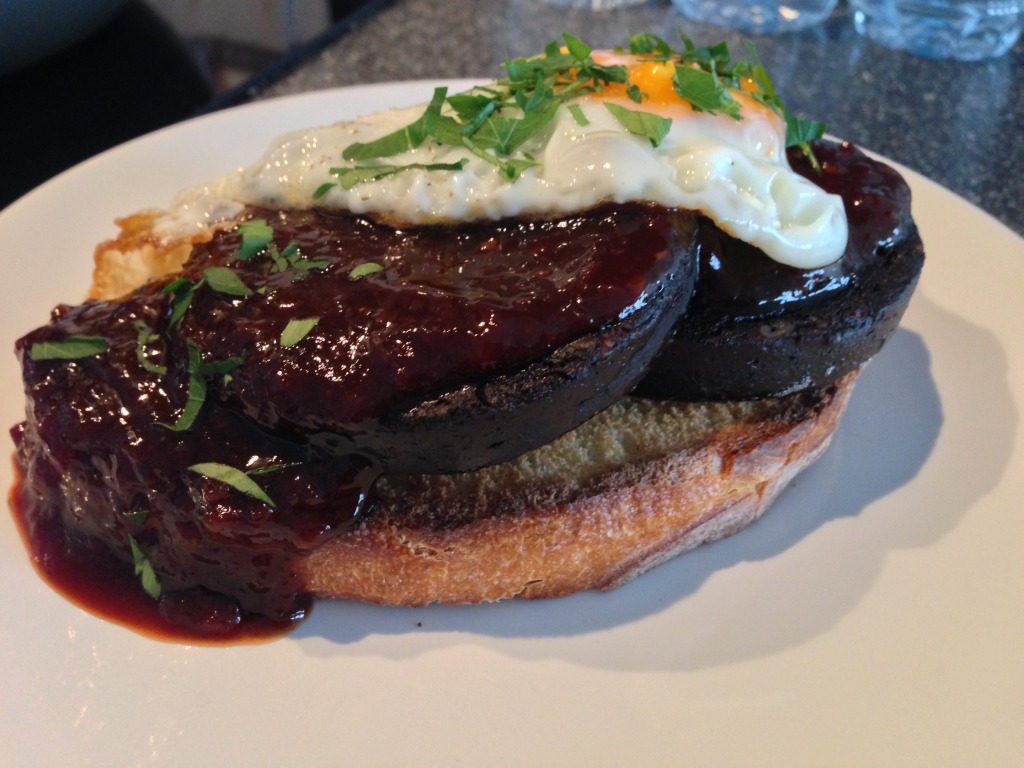 Devilled black pudding (serves one)
120g best quality black pudding you can get
1 or 2 large, free-range eggs
Good sourdough bread
Chopped parsley
For the sauce:
1 medium onion/large shallot
1 clove of garlic
3tb brown sugar
2tb red wine vinegar
4tb tomato ketchup
1ts english mustard
4tb worcestershire sauce
Tabasco sauce
Pinch of salt and pepper
Chop your onion, and add to a medium-hot pan with a pinch of salt, and your smashed garlic, and get it softened.
Throw in the the brown sugar, and stir, you will have a thick paste. Smells good, right?
Turn up the heat and add the red wine vinegar, and reduce it ever so slightly. Now you can add the rest of the ingredients and stir them in. Remember tabasco can be canny hot, so add less if you're a wimp. It is supposed to be "devilled" though.
Let it blip over for a while. Get your black pudding grilling, or let's not pretend this is a health dish, frying in some lovely butter. Get your toast grilling, making sure to use a good sourdough, or other robust bread.
Check the thickness of your sauce – you want a bit thicker than coating the back of a spoon, but not "gloopy". If you can be bothered, blend it smooth. That's too much work for the morning though, surely?
Poach or fry your egg. Have two if you're greedy.
Black pudding on toast, sauce on black pudding, egg on top. Sprinkle with parsley. Get a good strong brew on, or as I've done today, a gin & tonic. Enjoy!
Thanks to Lea and Perrins Worcestershire Sauce for sending over a couple of bottles! They also suggest this recipe for lasagne but really, adding Worcestershire sauce to anything is usually a pretty good idea.