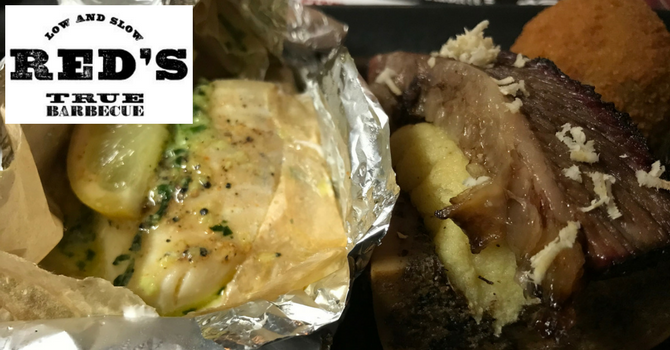 Red's goes upmarket?
I've still got kinda mixed feelings on Red's True Barbecue (Grey's Quarter, Eldon Square, NE1 7AP), having visited on a number of occasions and had scran varying from ? to ???. For the Red's newbie – see lots of words and pics on prior experiences here, but for anyone vaguely interested in this type of food, I'd still 100% give it the thumbs up as nothing else comes close in NCL.
That said, I'm sure everyone across the UK is a little jaded with the "throw two fistfuls of meat with some fries and beans/slaw" approach to BBQ. And in light of chain restaurants having a bad start to 2018 – this thing closed recently, and both Jamies and Byron are closing branches all owa the place, it's good to see Red's at least trying some new ideas.
Step forward Red's 'Pitmaster Experience'.
It's a 'higher-end' taken on their BBQ – plated food, showcasing the best of what Red's does, and is pitched as "storytelling through the medium of bourbon, beer, and bbq. Amen!" While storytelling it is not – it's an interesting and fresh-ish take on the Red's formula. It's a hell of a lot better sounding than your typical PR pitch of 'plz come and have a pizza and blog about it' hence we jumped at the chance.
Things kick off with a bourbon bloody mary made with beef stock. Sounds like it makes sense, and looks like this.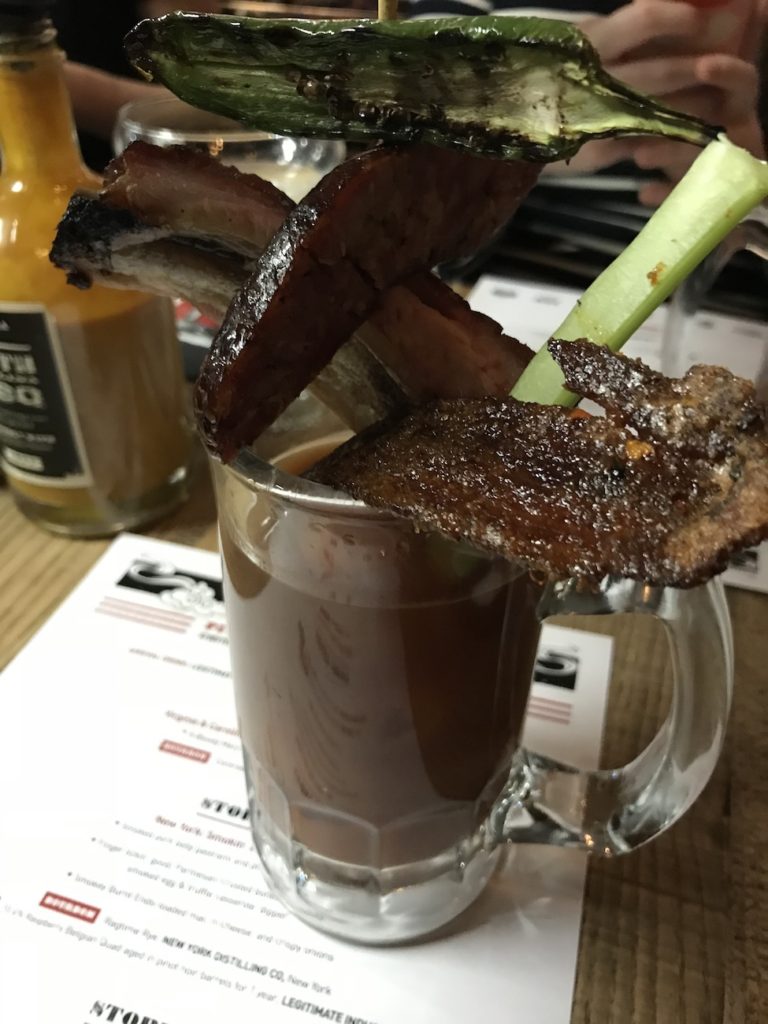 Yeah. So I don't think bourbon is gonna replace vodka in a Mary anytime soon, but it was an enjoyable take on the classic that became more moreish with every sip, or at least once you're past the pile of pig. Red's own crack-like candied bacon, sausage, and rib are all to be fair, excellent, and you'll not see an aperitif like this again for a while.
I mentioned in my original post about the internal debate about whether it's all just a strong marketing game by Red's, but from just 2 minutes of listening to founder Scott Munro, you can tell he just loves it. Some restauranteurs will give you the spiel about their 'concept' and you're like ???. This guy just loves BBQ.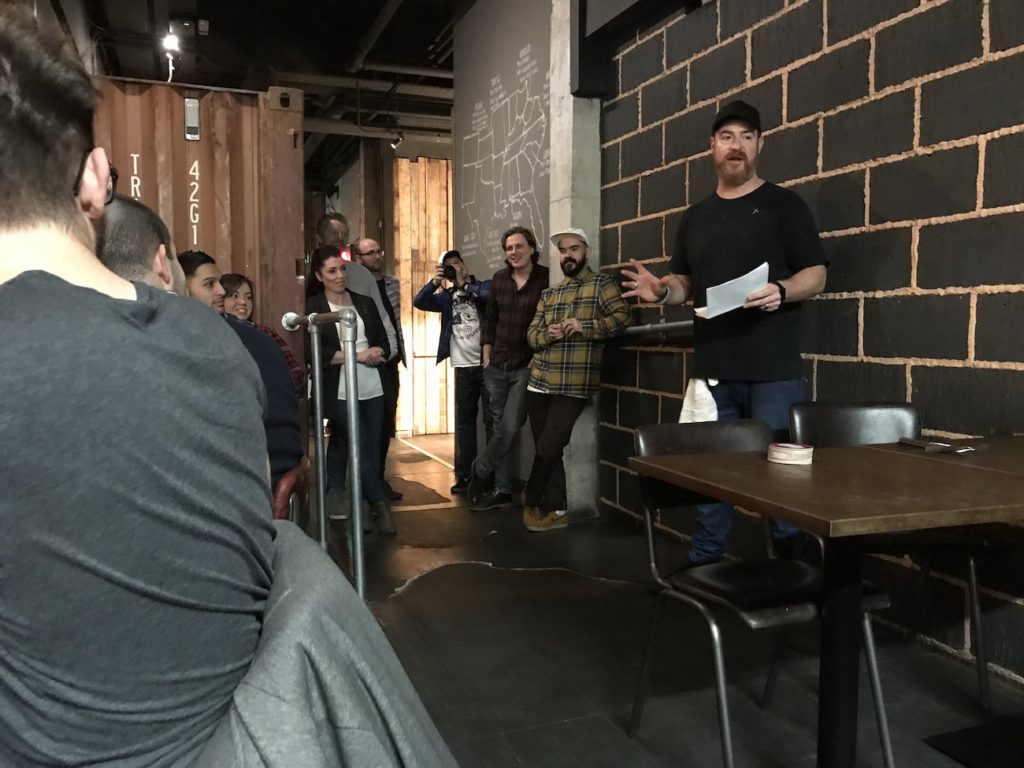 Expect to get tipsy, which is in the name of what Red's does – they've managed to score partnerships with class breweries like Northern Monk, as well as some US-breweries and distilleries, who provide matched drinks here. Legitimate Industries IPA is very decent, and bourbons here from Texas-based Balcones are ideal for Red's bold and fatty flavours.
And really, it's the drinks that push this from gimmick to great value. From the daft bloody Mary to the 11% Belgian Quad, you feel like you're getting something new-ish, and it makes the price a lot easier to stomach. I mean, it's v rare that I end up triple-parked.
The first 'story' features smoked belly pastrami (more like awesome gammon, 7/10), burnt end mac & cheese, and a egg & truffle 'casserole'. Burnt ends – the heavenly nuggets of brisket anyone familiar with Red's will know and love, comes with a just-OK mac & cheese but those little bovine hunks always delight. The egg-topped casserole, like a truffled version of the inside of a Gregg's cheese & onion pasty, was a welcome meat-free distraction.
There's also a – ready – huge, duck-fat confited, parmesan-crusted smoked chicken wing which is de-boned without breaking the skin.  It's probs the best chicken wing I've ever had and it's what you're coming to Red's for – you just don't get stuff like this anywhere else.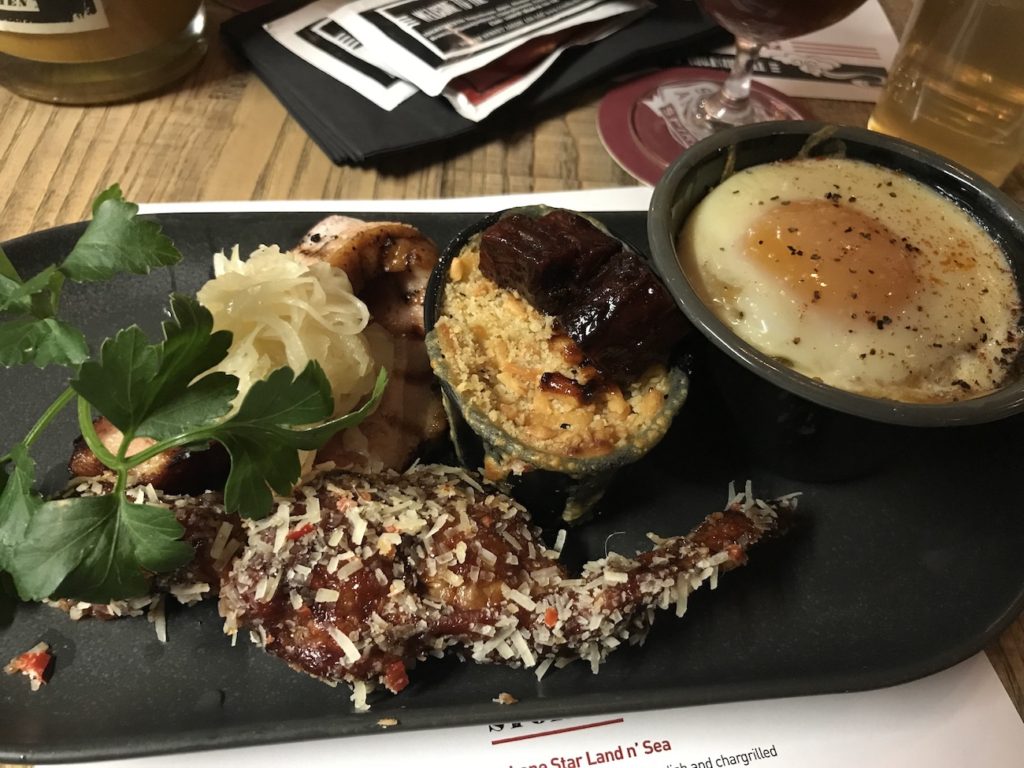 I ate two, and I could have had ten more. Close up perv on it because it was really that good. I I had wings twice again later that week ? and they really were a million years away from this beast.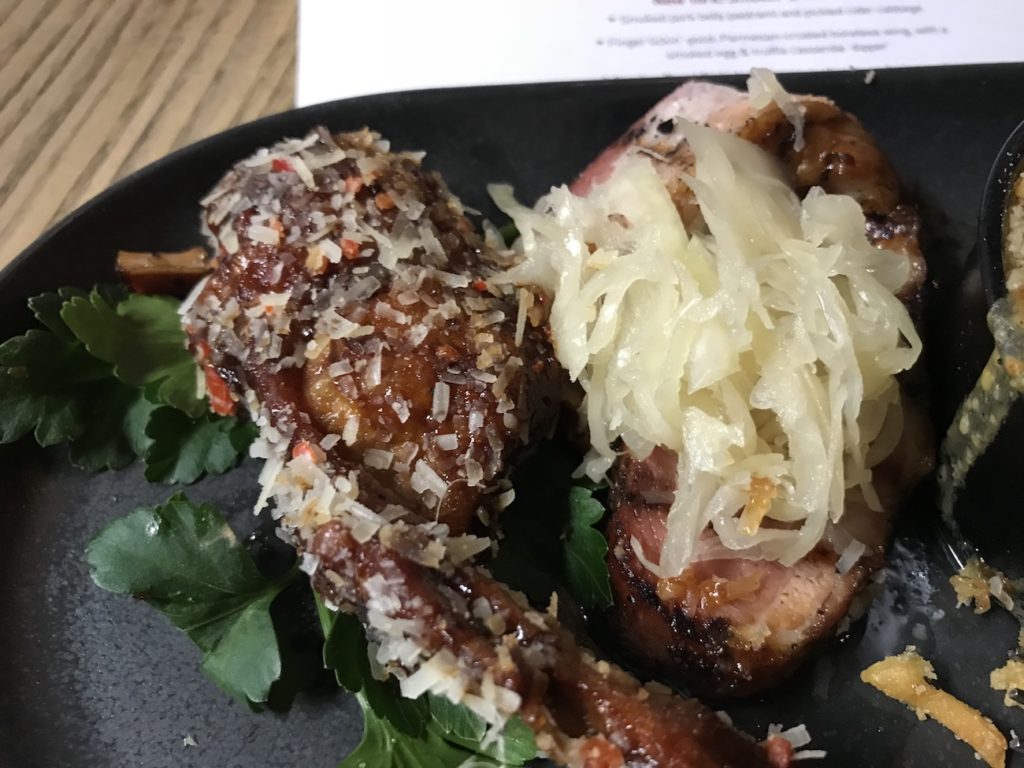 Your second 'story' is cod en papillote, just-cooked and kept from being a drab piece of fish via a lick from the smoker and plenty of butter. It's the surprise hit, in a place where meat dominates and the should-have-been-the-best short rib is just beefy, not necessarily the smoke bomb you hoped for. Bone marrow mash helps, but brisket should be Red's safe bet, so a bit of a shame. Still shits on anything Longhorns etc. are doing mind you.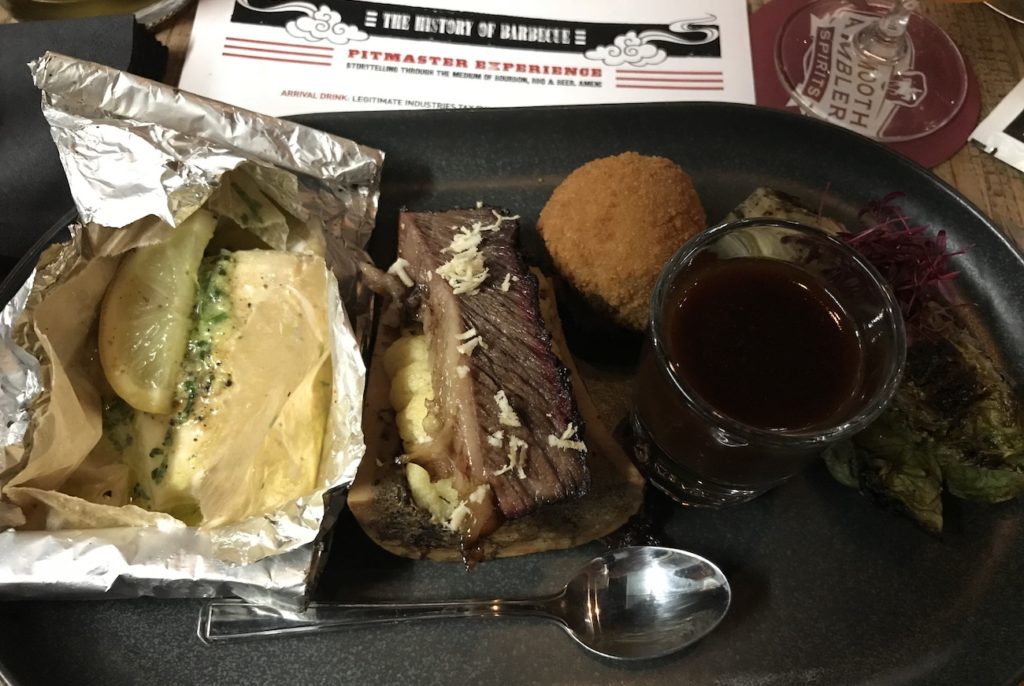 The fried 'tater' didn't bring too much to the table, maybe it's because it's right about now that meat fatigue sets in, just as you get the experiences's first and solitary vegetable – a smokey, watery, crunchy piece of baby gem. Hmm.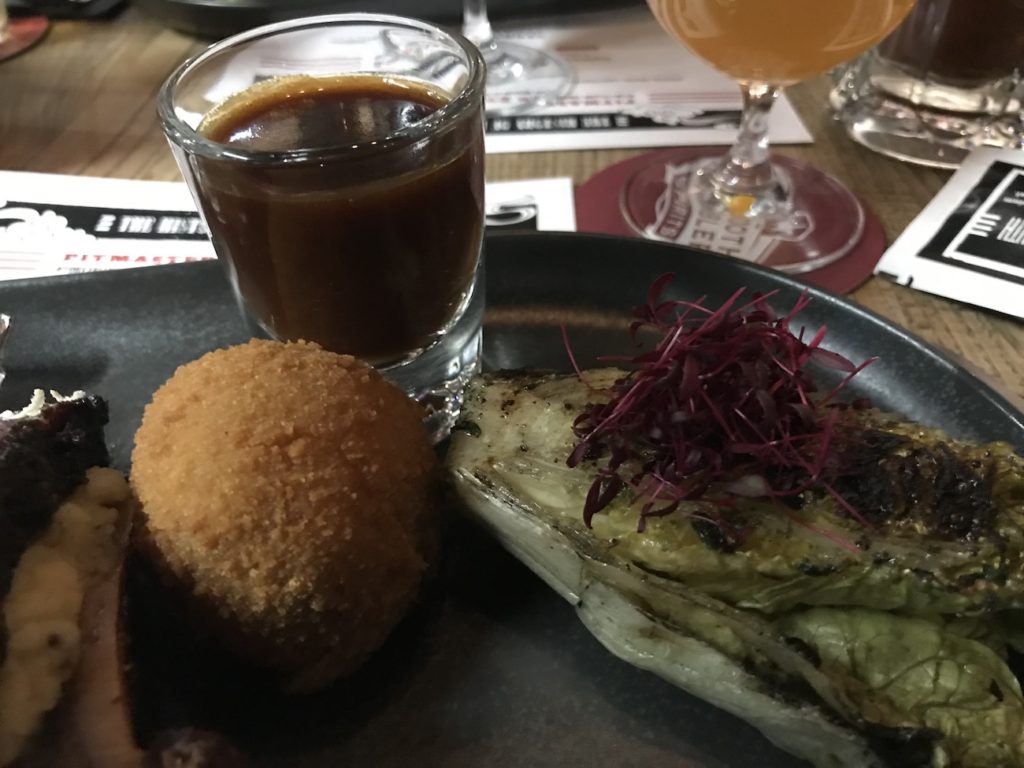 Dessert is so often a misstep at this type of place, and was by far the weakest part here. Strong gimmick – poke a well into your fruit salad and tip in your mini-old fashioned. Sounds alright, but fruit salad amounts to a lot of grated apple and not much else. Bit of a shame as its bourbon-soaked cherries were a great first bite. We talked a couple of days earlier about why restaurants aren't confident enough to just do stuff like really great doughnuts, fresh out of the fryer, or a really exceptional wedge of brownie, both of which I would have vastly preferred. Quite pissed at this point though, so hey ho ??‍♂️
Red's offers a very specific type of crotch-grabbing macho bravado, with it's AMEN's, 'places of worship', and 'manly' meat-based demographic which has more than a whiff of 2007/8 about it. But as long as the food remains incomparable, it'll keep people coming back. I think the Pitmaster Experience is an interesting and largely successful extension of what they do, and at the end of the day, that's still really good BBQ food that – for now – you still just can't get elsewhere in Newcastle.
 Contact: https://truebarbecue.com/news/the-pitmaster-experience/
We went along to the Red True BBQ Pitmaster Experience, normally £35ea for free, in exchange for this post. Here's that menu in full.