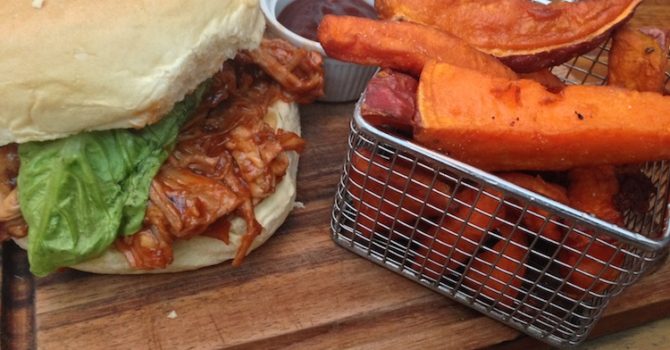 You can see the thinking behind burger night at Jam Jar – 2 burgers & fries for £14 guarantees that every Tuesday night, the place is going to be rammed – yes, with students. Osborne Road, though it continually tries, has never been the epicentre of Newcastle's culinary scene – is this new bar with tables any different?

It's run by three young graduates – and it shows. You can see the "ideas board" – shabby chic, exposed wood, put "artisan" all over the menu for no good reason. The bare bones/slapped with paint look of some of the walls says to me less interior design and more just unfinished/crap. There's not much adventure on the menu – fish and chips, breakfasts, and of course, the burgers. Gotta give a nod for some sourcing though, sausages from George Payne, fish from Hartlepool, among others.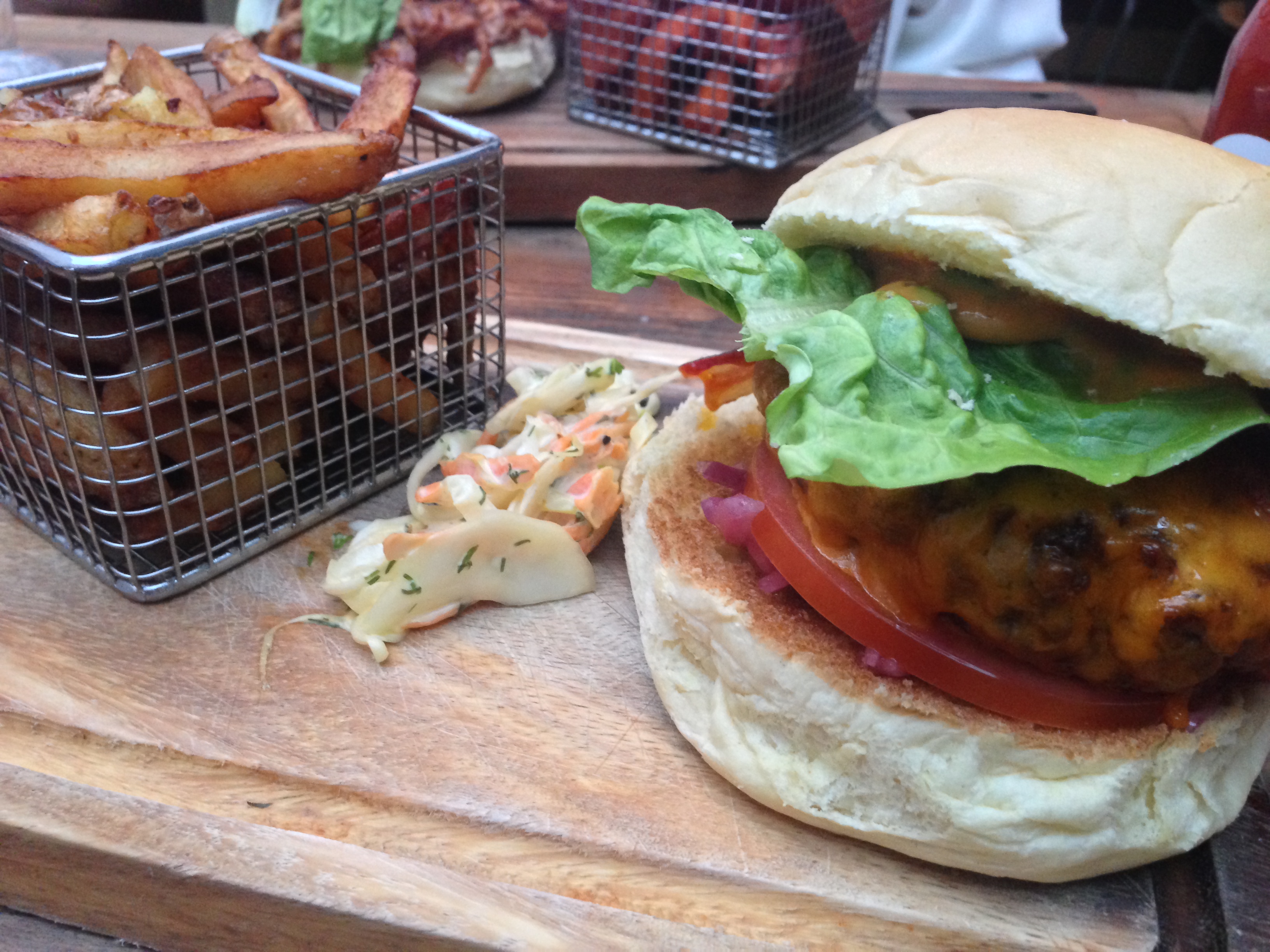 Anyway, we're just here following the burger hype. Despite being called one, the bun doesn't compare to the fluffy brioche effort of The Fat Hippo. It is massive though, and served medium rare, which is great, but at some points in the centre it crosses the line from being a hot, juicy burger into just raw mince,  which wasn't the most pleasant, and like TFH, it fails to get that requisite char on the outside.
The meat is generally a bit pappy, though it is massive and cheesy, and the house sauce evokes not entirely undesirable memories of a Big Mac. There is a spoon of slaw randomly plopped on the – you've guessed it – wooden plank, which is really quite good. You can get chicken burgers etc. and while normally they'd get a free pass for being cheap, the Hippo is priced much the same. Take it out of your student loan, I suppose? We resist the cocktails served in jars that contain jam, though on a sunny bank holiday Monday, can imagine that the place is probably a bit more "in character".
We also had the pulled pork bun, which in fairness was spilling out with soft, juicy meat, but it was a bit tinny and metallic in taste, and had some big inedible fatty bits in. Fries are skin on & tasty, but pretty flaccid. Sweet potato fries/wedges are a highlight, but the partner BBQ sauce is cherry cola sweet. Sensing a pattern? We were going to go for dessert, but once we finished our food we were left for a good 45 minutes with the waiting staff just milling about, and then again waiting for the bill, so left pissed off.
In a hurry to return? Nope. Will be back at The Fat Hippo for sure, though. It's burgers all owa at the minute, there's also new boy Burger Stop looking promising on the Quayside – no bad thing, given the quest for the best burger in NE1 goes on (and on and on). Where do you suggest?
Food hygiene ratings: Not yet rated
Contact: http://www.jamjarjesmond.co.uk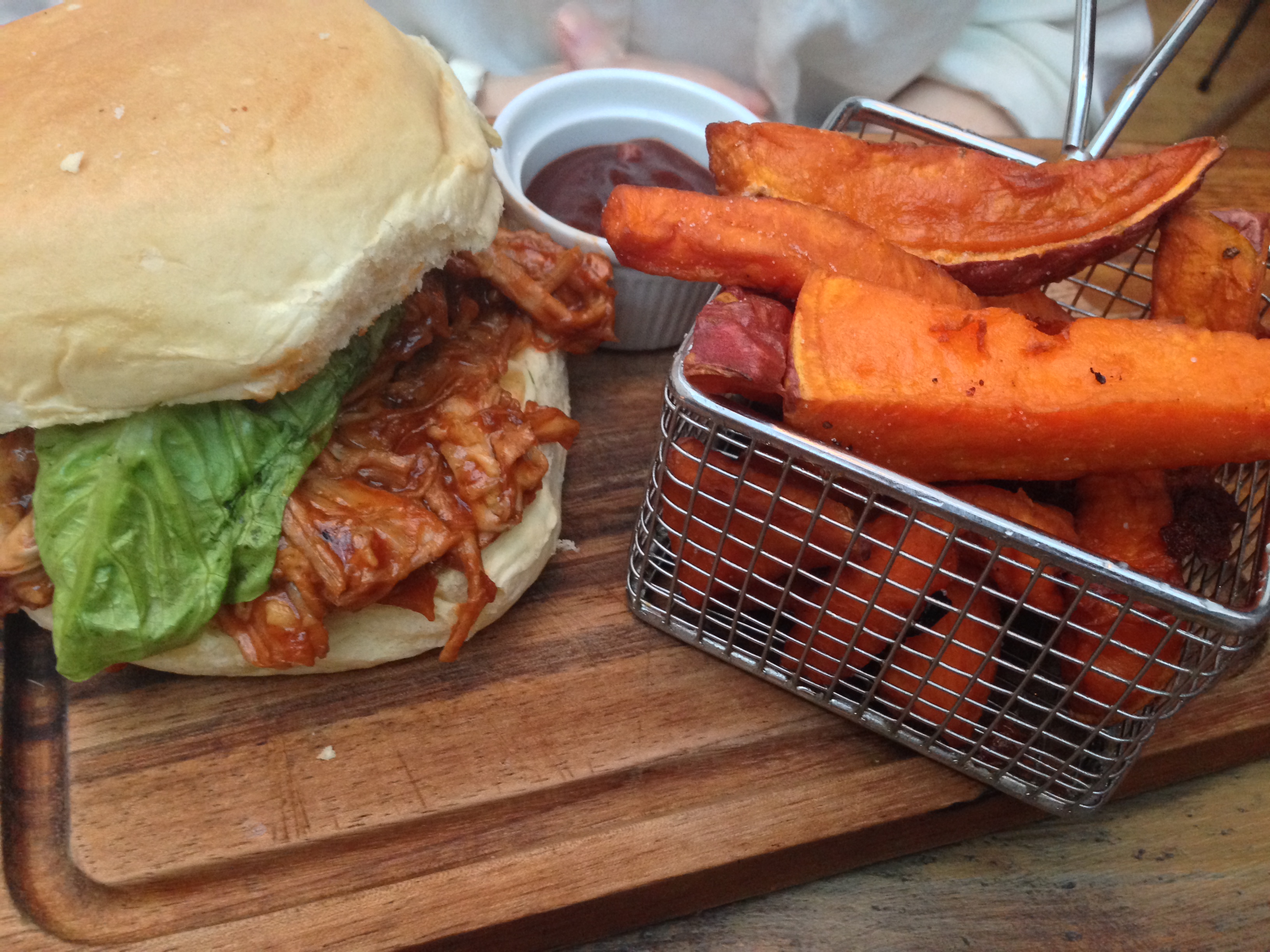 Newcastle Eats no longer supports comments directly on posts, instead, why not fire up the discussion on Twitter, Instagram, or email me directly.