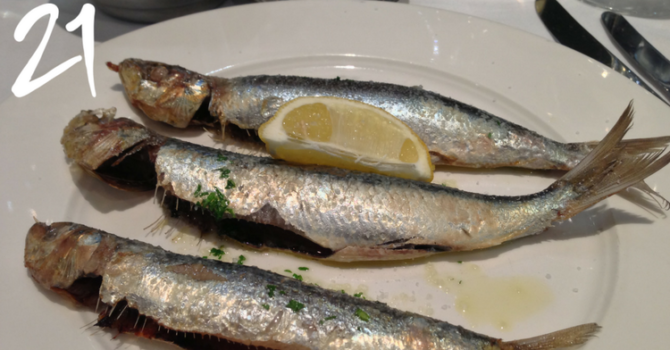 If you've been following this blog for any period of time now, you probably know what this is going to say, so maybe just look at the pretty pictures then have another trip down to the Quayside and enjoy the food, because Café 21 is still easily one of the best places to eat in Newcastle.
The flagship of five restaurants owned by local food hero Terry Laybourne (MBE no less), Café 21 has always flown the flag for the North East food scene, winning a multitude of awards, and even having a Michelin star at one point in it's now twenty-fifth year.
Celebrating Ms. Eats 29th birthday, we get on the cocktail train early and then go for a set lunch, £20 / 3 courses, which is definitely at the higher end of the scale for Newcastle, but 21 Group restaurants are the safest choice going –  you know you are going to get assured quality, hence they have remained popular for so long.
Having stopped chasing the Michelin man many years ago, and now billing itself as "a classic modern bistro…about eating handsome food in comfortably stylish surroundings", the restaurant is much like the service – efficient and relaxing without ever feeling too formal or stuffy.
As with it's sister restaurants, standards are set high, and everything just adds up – the (complimentary) bread is gorgeous, the butter is soft (rock hard butter must be our biggest pet hate), moreish chocolate coffee beans come after your food, and nothing seems too much effort for our waitress. Yes there is a 10% service charge, but when it's obvious that everyone involved is well trained/whipped, you don't mind paying it at all.
We start with morteau sausage on puy lentils (above). Breathtaking flavours for something so apparently simple. When "modern-english bistro" can just mean "small portions", the three barely-pink sardines on for our starter is generous, and as fresh as you can get. Sourcing of quality ingredients is top of the pile here.
The wine list runs on for pages with some serious bottles for connoisseurs, but most are priced ~£25 and lots are available by the carafe – why doesn't everywhere offer this? It's hard to choose a bad wine, and even the house is better than you see in many nearby restaurants.
Some may see it as a criticism that the menu rarely changes, or just evolves at a slow pace, but this does mean that every single component on the dish has been thought about, tried and tested, and just works.
Our pork loin dish (above) is a good example of this, just a perfect, non-fussy, bistro dish that has been honed and honed and adds up to more than the sum of its components. The pork is beautifully cooked as you'd expect, and the black pudding gravy scattered with bites of caramelised apple are divine. A la carte mains start at £15 and are simple, but all of a similar calibre. Also one of the few places you can get steak tartare, or a properly done steak.
The excellent pastry team put out some superb desserts, but they are pricey, with most £8+. Cracking value on the set lunch though, our poached rhubarb with gingerbread ice cream and light as air marmalade pudding & custard both manage to satisfy the desire for something sweet without ever going into sugar coma territory.
Three courses, carafe of wine and coffee comes to £64. Not a cheap lunch but still an accessible way to try out one of our best restaurants for the everyday diner. We are looking forward to Café 21's next monthly(ish) special event – especially as a recent supper-club was Wagyu beef themed…
Obviously a hit for Terry Laybourne, and long may it's reign continue, Café 21 has been around for a while with good reason. Consistently good cooking, and a spot-on restaurant "experience". We'd love to know what the future holds for the 21HG – after all, we were recently surprised to realise that The Broad Chare had only been open for 18 months, when it's now the de facto standard for good pub food. Newcastle is sorely lacking a good one – so perhaps Patisserie 21? Mexican 21?  BBQ 21? Either way, we might as well sign up for direct debit and wait with baited breath…
Contact: www.cafetwentyone.co.uk
Food hygiene rating: 5/5