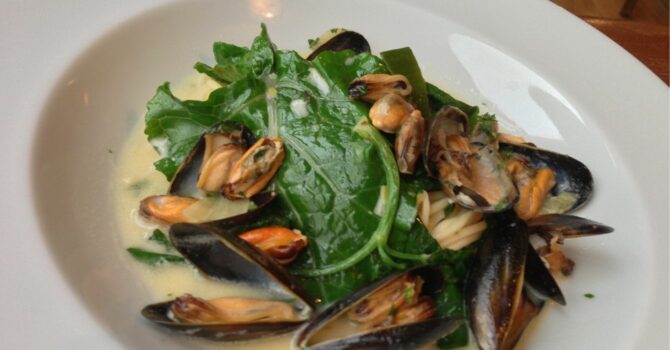 Miss you, David Kennedy restaurants/Artisan.
Update: the restaurant went through a lot of iterations before finally closing in it's final form Artisan in 2019. Sad times!
Since becoming "David Kennedy's Food Social", the former Black Door Brasserie (NE2 1AN) has shifted focus from fine dining to a simpler notion of "beautiful, locally-sourced food presented to it's best advantage". To further cement this notion, some daily specials are available, such as a £9.95 Tuesday steak night and a vegetarian special on Wednesdays. We headed along on a Friday night to try out the "two fish and chips and a bottle of wine for £20" deal.
Since the change from Black Door, very little inside has actually changed, both interior and staff-wise, which is a good thing, as we had some great food at the former Black Door. The restaurant room is a cosy place to be, a bit like a trendy Manhattan apartment – with a blazing fireplace, and local art available to buy on the walls. Service is equally as attentive and slick.
We skip on cocktails (though from past experience, they are good) and to whet the appetite we have baba ghanoush, hummus, and grilled pitta (£3.25, pictured) and from the new tapas menu, bhaji of vallum onions and curry mayonnaise (£4.25, pictured). Firstly, the bhaji is one of the best we've ever had, including those from any Indian restaurant – bite size pieces keep them crunchy, and the flavours are incredibly deep and complex. Amazing, especially with the curry mayonnaise – though we would have liked a little more of this.
The baba ghanoush is also sweet and full of creamy aubergine flavours, and despite not being the world's biggest fan, the hummus is super tasty, and not at all gritty or bland. The pitta breads could have done with an extra minute grilling, but both dishes are ideal for sharing and nibbling.
The wine offered with the deal (two choices of house red/white/rose) is a good Montevento pinot grigio (normally £14.95), and is really light and drinkable, served in frosted glasses, ideal for white fish. Exceptional value, given the cost.
Food does takes some time to come out from the kitchen here, but is nothing worth complaining about, especially when it's good –
Beer battered north sea fish, homemade tartare sauce, thrice cooked chips (normally £10.50, pictured above) arrive steaming hot and looking fab. Loads of fish, crispy skin and key to the whole dish is the amazingly crispy batter – it's not too thick and retains it's crunch. Equally good are the chips which might be second only to The Feathers Inn – that ideal blend of crispy coating with fluffy white insides. Proper chunky chips, a filling dish – though we do order a side of bashed roots (£3) which are Food Social to a tee – simple ingredients cooked with some love – a tasty outcome.
Tartare sauce is probably the weakest element – less mayo more capers would be nice here. Also absent are mushy peas, which would be a great addition to what is classic fish and chips. It does amount to a massive portion, really can't complain about value for money.
The dessert menu is very reasonably priced and full of homely classics (bread and butter pudding, sticky toffee), but we are way too full to take advantage. On an earlier occasion we have rabbit pudding (pictured below) and steamed coley, as well as oxtail (RECOMMENDED), and belly pork. All are full of big, earthy flavours, again, demonstrating the concept of good quality but simple ingredients, cooked beautifully.
"I used to hanker after a Michelin," says David, North East Chef of the Year 2007. "I thought that was the be all and end all and that after that you had made it. Now all I want is a successful restaurant."
In that case, congratulations, and we will certainly be back for more. Good stuff.
Scores on the Doors: 5/5
All information correct as of 07/11/2011
Fish and chips and bottle of wine for £20, Friday nights only, check foodsocial.co.uk