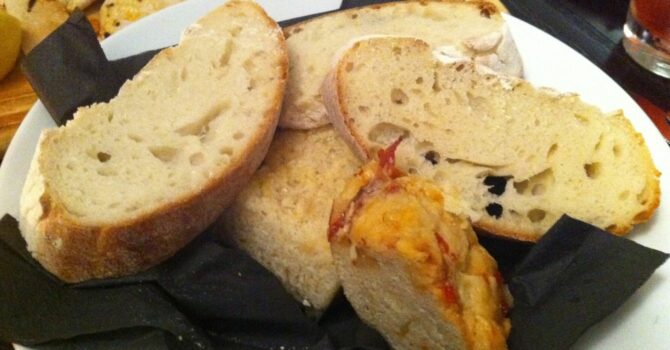 Update: O de V is now CLOSED and Southbank Grill is in its place (yet to visit) – Update #2 this also closed and the restaurant is now River Beat **
Disappointingly bland.
We heard good things about O de V from friends and family; if not from the foodie press, and it's location made for a perfect hideaway from this Saturday evening's rain on the Quayside.
From the outside, O de V (NE8 2BJ) is fairly inconspicuous, and someone really needs to knock down the old Baja and Buffalo Joe's and start again, but inside, the restaurant looks pretty enough, clean lines and smart furniture, and photos of the quayside abound. As soon as we enter we're asked if we have a voucher (classy) – and our initial fears are that they have spoiled themselves with voucher overuse, devaluing their a la carte prices.
We're seated and presented with a large wine and cocktail list – I go for a bramble (£6) which is middle-of-the-road.
The "Taste of Italy" menu is fairly limited at about five pizzas and pastas each – not always a bad thing, but there are a few(!) other menus to choose from, from which we ordered freshly baked bread and focaccia (£2), and chargrilled flatbreads with hummus, guacamole, smoked rock salt, crushed chillies and olive oil (£3.50, pictured). Both arrived warm and decently presented with rocket, butter, and olive oil/balsamic vinegar reduction.
Unfortunately, the focaccia is barely befitting of it's name. Stodgy, wet in places, and (unmentioned on the menu) spiked with chorizo. Pretty disappointing. Similarly, the chargrilled flatbread appears to be just chopped up pitta bread. The butter is distinctly margarine – nasty.
Accompanying hummus is average, and the chilli oil gives some level of flavour, but the "guacamole" is one of the worst I've ever had; sloppy green mayonnaise would have been a more accurate description. Portion sizes are good, and the staff are pleasant and just chatty enough, however.
Arriving hungry means we eat the bread anyway, and hope for better things from the main courses – pizza picante (£12.95), and linguine gambaretti (£12.95).
Initial impressions are good – my pizza arrives piping hot and obviously freshly made, and plenty of prawns in the pasta. Unfortunately, the base quickly becomes soggy, and at first bite – this pizza is completely devoid of any flavour. I can only guess that cheese, tomato, and toppings are all of poor quality. A massive disappointment, especially given that it's the most expensive pizza I've seen in recent memory.
My partners pasta looks and fares a little better; there are plenty of large prawns, and the pasta is cooked well enough, but again, it just has very little taste. The whole thing emerges very greasy, without a real sauce but being covered in the same chilli oil on the pitta breads. Very little veg/substance to the dish other than the pasta and prawns.
While we could have maybe managed desserts (they did have our favourite, sticky toffee pudding), we make for a quick exit.
Perhaps their steaks fare a little better and if this is the case, then I suggest they drop their "taste of Italy" menu and concentrate on being a steakhouse. However, if they can't do pizza or pasta, I'd be reluctant to go back to try anything else. We certainly can't recommend you pay 13 quid for pizza or pasta of this quality. Especially when we have a review of our favourite pizza in Newcastle coming up soon…
Visited on October 8 7PM
OpenTable: No
Gourmet Society: Yes
Scores on the Doors: 3
Contact: http://www.o-de-v.co.uk/
All information correct as of 10/10/2011.