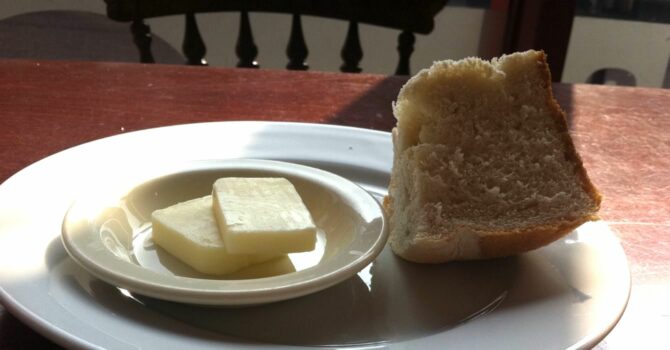 Quick brunch is mostly a hit.
Update: Oldfields is now closed and doesn't seem to be coming back.
Oldfields (18 Claypath), promises "real British food, simply prepared using the finest, local farm-sourced seasonal produce, at good value". Having visited on two occasions, I probably can't argue with that.
After a pretty good meal at Oldfields in its former Dean Street/Side location in Newcastle, I took the first opportunity to visit the Durham site. Even if it's a shame that Newcastle doesn't have this restaurant anymore (rumours of large debt are hopefully untrue), it's good to know that Durham can still provide a "real, British" menu.
A Friday lunch time visit meant I was seated and served quickly, and offered (warm) bread and (real) butter, which is always a good sign.
Inside, the restaurant is pleasant, full of wood and "weathered" charm, with pictures and information about local suppliers; Joe Simpson beef, veal from Darlington, and Durham cow blue cheese. The small details are appreciated. While it could be better placed than on on one of Durham's less glamorous side streets, it's nice enough to be away from the multitude of chain restaurants a couple of minutes away.
My "sandwich" of poached eggs and spinach with hollandaise sauce on toast (£5.50) arrived quickly and looked fantastic (see above picture).
It was as good as it looks. The eggs were perfectly poached, spewing golden yolk when cut into, and the hollandaise sauce was not too rich, but dripped over the creamed spinach, and soaked into the toast (which was more like an English muffin). As expected, simple, hearty food, done well.
The same could not be said for the side of straw chips, which were barely deep-fried, uninspiring, verging on soggy. Disappointing, especially as other side dishes appear to be of a better quality. Perhaps this is a lunch time anomaly?
The portion was just enough for a fulfilling lunch – I was in and out within an hour – great for a business lunch.
I didn't have a chance to view the wine list, however, Oldfields always offers monthly guest ales, amongst which was Wylam Gold Tankard (£3.30) – a classic local choice, light, golden and refreshing.
Unfortunately, Oldfields did not comment on their 1-star rating from Scores on the Doors, which is worrying. Despite this, if Oldfields can keep to its promise of "real British food", I'm sure i will return to sample their two-course evening special menu.
Scores on the Doors: 1/5
Contact: oldfieldsrealfood.co.uk