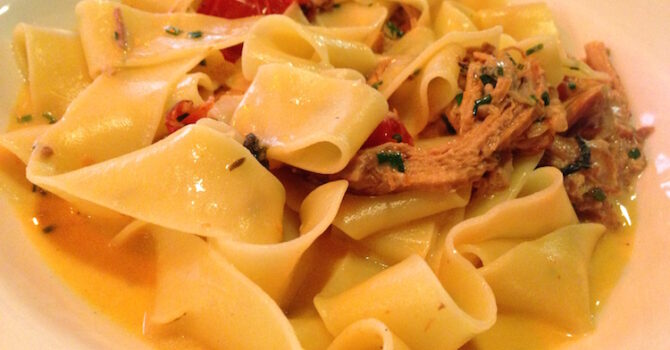 Update: Pasqaulino's is now closed although it's not too dissimilar to DatBar which now lives there.
It's always canny to find a decent independent restaurant in Newcastle as, to be honest, anything that isn't Zizzi, Bella Italia, or Strada is a bit of a bonus on the high street. You might not know it, but trendy Pasqualinos (NE1 6BR) is actually part of a small chain run by the Geordie Italians responsible for every decent Italian in town that isn't Caffe Vivo Paradiso, Popolo, Intermezzo, Alvinos, Secco, Don Vito's and 9Bar.
Much like the "Enzo" Ferrari, Pasqualinos is named after Papa, and is really the flagship restaurant, which, considering a £100k investment in a new kitchen, is no surprise. To our delight, the kitchen now boasts our old favourites, a proper wood stone oven, and a Josper grill. These are good things.
We're big fans of lazy afternoons with a carafe of wine, cheese toasties and arancini outside at neighbour 9Bar, as well as some of the other venues in this GeordieItaliano dynasty, so Pasqualinos, also loaded with being the Theatre Royal's resident restaurant, has some big boots to fill.
We've been many times since its launch only a year ago, and things have changed quite a bit – traditional Italian fare is out, and pizza/pasta is in…
Beef shin ragu, £6.95. Nearly always a winner, this is no exception – plenty of nearly melted, truly succulent beef, great fresh al dente pasta – and complimentary sourdough bread (hooray).
Pizza margherita, £6.95. Their massive mural proudly claims it as "Newcastle's best pizza", so is it? Well, no, but it's very good. Thin crusted, proper chewy corniccione, and first rate toppings including some super sweet san marzano tomatoes fall just short of achieving greatness due to a bit of a sloppy, soggy "puddle" in the centre. Even our first few pizzas at the magnificent Cal's suffered from this – so hopefully something to learn and improve on.
Creme brûlée. We took on an excellent version of this recently, and this one just didn't match up unfortunately. Not enough gratifying *crunch*, but is packed with vanilla beans and comes with a canny little crunchy biscuit. Ice creams are apparently home made so we would try those next time.
Pulled pork parpadelle, £6.95. The creamy mascarpone compadre to the tomato based ragu above – silky smooth ribbons of pasta, rich and plentiful pork with a subtle fennel hit and a savoury sage finish. Looked initially like a stingy portion – isn't. Loved this.
Pork croquettes, £4.95. Think 9Bar arancini. Crispy coated pork balls stuffed with the same pork from the parpadelle make a chewy but moist centre, and the citrus/fennel combination cuts through the fatty meat beautifully. Like the Italian sausage spuntino next door – fennel makes everything porky better.
Beef carpaccio, £4.95. Unexpected great little dish. The combination of the salty beef with sweet, earthy beetroot and crunchy walnuts is a joy. More like this please.
The bar is well decked out with the likes of Brooklyn, Symmonds and plenty of Italian specialties, but they are pricey, with a pint not less than £4. Similarly pricey wine will also up your bill somewhat, so if good drinks is where you're at – stick the the bar next door for some quality reasonably priced cocktails.
When there are so many "Italian" restaurants in Newcastle that haven't so much as sniffed an Italian olive oil, it's a bit of a shame that actually-Italian-owned Pasqualino's have decided to change their menu theme from more traditional Italian dishes to those British favourites of pizza and pasta. Luckily the pastas are simple but well done, and there's not a hint of pineapple anywhere near a pizza, but you can see from likes of the some of the dishes here and at 9Bar that the more traditional dishes are great and popular. Guess you have to provide for the masses, which is a shame as that Josper could be used for some lovely fish/MEAT slabs.
Still, Pasqualinos trump most of the other Italians by offering 2/3 courses for no more than a tenner-ish each, so give it a try next time you're at the theatre (check you out) or have a hankering for pizza/pasta which is way, way better than the ridiculously over hyped Francescas, or the sad 395 Pizzerias of the city.
Contact: http://www.pasqualinos.co.uk [closed]