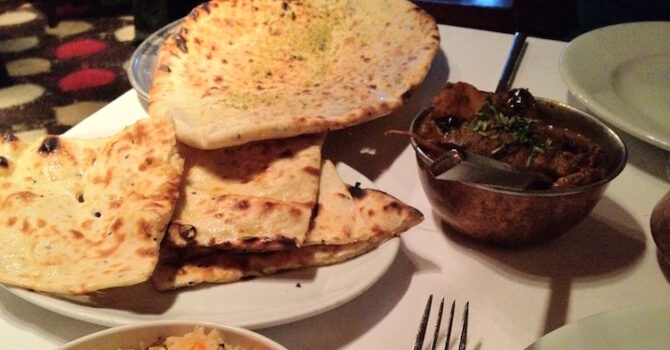 First-rate modern Punjabi food.
As a self-confessed curry addict, I had been waiting for years to visit Sachins, and after a couple of amazing curries, I can safely say it certainly lived up to its reputation and expectations.
Sachins (Forth Bank), has apparently been around for over 25 years, a mean feat for any restaurant in Newcastle. While their location just behind central station might not be the most glamorous, the inside of the restaurant is modern and distinct, but not overly flashy, as some of these modern takes on classics can be. Booking was easy and accommodating, and the restaurant was welcoming upon entry — if perhaps, they could do with some more parking spaces and sometime in the future like many restaurant and food establishments are seeming to do, include the installation of a restaurant kiosk so customers ordering is made easier.
Having previously sampled Sachins, expectations were high. They have excellent staples on offer both at a take-away location in Fenwicks food hall, and at last years EATNewcastleGateshead event, where I got to try their chicken tikka masala, onion bhajis, and chicken tikka, which were seriously impressive.
We visited on a busy Saturday evening, where the small restaurant was full and in fact overflowing out to the bar area. We had a short wait, which gave us the chance to peruse the substantial (overwhelming to some?) menu, which offers many unusual options; don't expect to see a post-Bigg Market lamb vindaloo here.
We decided on Sachins banquet for two (£43), which was excellent value and more than enough food for two. We will no doubt return to experience something a bit different from the "spice trail", which also looks tempting. The wine list was fairly sizeable (not least for an Indian restaurant), and reasonably priced. We settled on a refreshing pinot grigio (£16.95). We notice the restaurant is playing generic pop music – slightly disappointing given how most customers are usually accustomed to (even enjoy) some local beats.
Seconds after sitting we received (not complementary unfortunately) poppadums and pickles. These were folded and spiced, again, not your run on the mill crisps, but certainly good, and as ever, a great warm up for the main event.
Service is speedy but does not make you feel rushed, so with perfect timing, our starter of sachins tandoori arrived, an assortment of five tandoori cooked meats, served on a bed of crispy fried onions. The near-burnt onions were fantastic, but the attached side salad is more of an afterthought and is ignored. The smoking platter it arrives on is a feast on the senses, as it sizzles, pops, and smells fantastic as it comes through the restaurant. The meats themselves are great, as is everything cooked in the tandoor oven, smoky and succulent. The meats are obviously carefully marinated, as the many spices come through, and are not overpowered by heat from the chilli. A good start.
The set menu offers lamb rogan josh and burgh makhani, but the staff kindly obliged our request to change out the murgh makhani for something spicier,murgh march masala, which the owner tell us is a "hot one"!
The rogan josh was fantastic, deep and complex, and had a great texture for dipping the plain and peshwari naan breads — certainly a cut above your local takeaway curry. Of particular note was the lamb, which was in large, soft chunks, and probably some of the most tender i've ever tasted. Real melt in the mouth stuff here. The chefs obviously have taken a classic dish and refined it to the point of perfection here — one of the best rogan josh I have experienced.
The murgh march masala was a surprise, and not a curry that either of us had had before. It was runny, vibrant and hot on the tongue, though not overpowering and a good contrast to the deeper thicker rogan josh. Again, the large and many chicken goujons were deliciously tender and succulent. We both commented that we preferred this dish, as it seemed to be the perfect "classic curry".
A side of vegetable sabji was offered, which was fine but nothing too exciting; mixed spiced vegetables, serving only to distract from the curries. Perhaps offering bombay aloo or similar would be perferable here. Just enough pilau rice for two was included, again, served fluffy and not overpoweringly spiced with clove, like some rices can be.
Sachins naans, as previously tasted from Fenwicks, are very good, particularly the peshwari, which is sweet and beautifully spiced, lovely by itself or ideal for mopping up the remnants in the bowl.
By the time coffees arrive we are sufficiently full and already planning our next visit. Sachins delivers a simply wonderful experience – I can only hope similar restaurants in Newcastle can raise their game and deliver at a similar level.
Visited on Saturday 12th March 2011 8:00PM.
Scores on the Doors – 5 Stars
Contact: www.sachins.co.uk