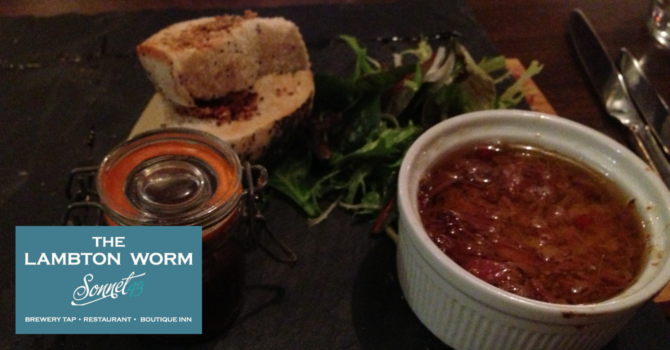 Does the worm live up to the tale?
It's unusual that many times we're asked "where's good to eat in Newcastle", and one of the first answers always tends to be in a pub. Sadly, if you go a little further afield than the Quayside, "proper" good pub food is much harder to find – something which the newly refurbished Lambton Worm (DH3 4AJ) hopes to change.
Following a new owner and £500k makeover, the legend of the Worm hopes to live on as "The Lambton Worm – A Sonnet 43 Brew Pub & Restaurant". Certainly the makeover has paid off – entering the pub through its Union Jack coloured door, it's all very agreeable, with just enough personality showing through – but you can't get away from the fact it's owned by Sunderland leisure giants, Tavistock Leisure – make of that what you will.
At the bar. the six Sonnet 43 beers are front and centre, with a "you can't help but try them all" platter of taster-friendly 1/3 pint glasses, bit of a bargain for less than six quid.
Echoing the Broad Chare, a wide range of pub snacks is available – with three types of scotch egg, pork scratching/pies, and even oysters. Browsing the menu pre-visit, we lusted after a smorgasbord of these snacks to start, but were told we couldn't have them in the restaurant area, which was disappointing.
Instead, we blaze through starters of rarely-seen and super succulent potted beef (£4.95) – delicious despite the all too common problem of not being served with enough bread, and the below breakfast stack (£4.45). Great local black pudding and a nice idea/spin on a full english, but c'mon guys, put a hen's egg on it! Cutting into a tiny quail's egg and finding it's not even runny just smacks of trying too hard.
A fair test of anywhere is how they treat their beef, and thankfully the steak is super-juicy and decent value with "thrice-cooked" chips and a good béarnaise sauce. Also on grill is a rib of beef for 2, optimistically priced at £52, as well as burgers, fish & chips, and other pub classics as well as a few more left-field dishes – like stone bass, feather blade, trio of Gressingham duck, or our choice, braised lamb shoulder on scouse (£14.95).
We probably believe that all lamb stews are inherently beautiful, but this one is actually quite canny. An absolute monster portion, the stew itself has a rich deep flavour, and would be a welcome sight to anyone looking for a pub grub feeding. Also, credit where it's due, all the meat seems to be sourced from very local farms, and these "food heroes" are proudly dotted about the menu – thumbs up. We also like the provided beer match for every dish – a definite easy route into drinking more beer in our book.
Our dessert underwhelms. Billed as "deconstructed rhubarb crumble", we envisage a chef who has seen a little too much Masterchef, with a square of flapjack, smear of crème anglais, and some molecular gastronomy style rhubarb blobs. What we get is this:
So rhubarb crumble then. The crumble topping is canny, but the stewed rhubarb hardly conjures memories of this – and the custard is unmistakably Birds. Maybe we set our expectations too high for £4.95 – change the name, guys.
Like the food, service is also a bit up and down, which is hopefully just a teething problem. But we leave otherwise stuffed, and will definitely make a return visit, even if just for another couple of beer platters, and to get hold of those scotch eggs!
Contact: thelambton.com
Food hygiene rating: Not yet rated