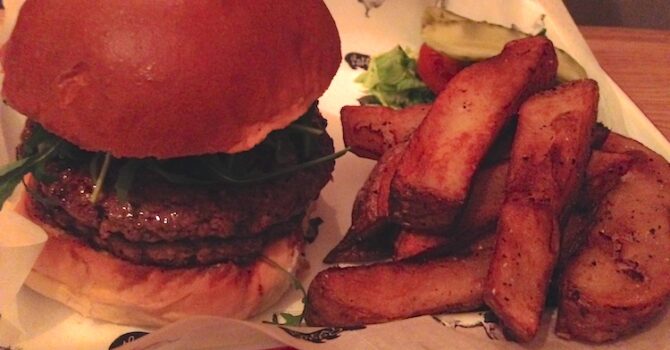 Since leaving the student lifestyle behind, I've tended to avoid the Jesmond branch of The Fat Hippo like the plague. Totally the target market, but there's only so many students wearing their pyjamas, "doing" a hangover brunch that I can take. Osborne Road, man… Especially in  the cramped little converted front from that is the restaurant. Hey ho.
Maybe due in part to their now monthly residency/cash cow at The Boiler Shop Steamer, they've expanded into  a central Newcastle location. Brave though, as it's  another "doomed" location, the former home of many been-and-gones. They've done alright with the interior though, as I can imagine there's only so much you can do with the cavernous stoney space under Grey Street, and managed to keep the menu quite focussed. It's burgers, and deep fried things.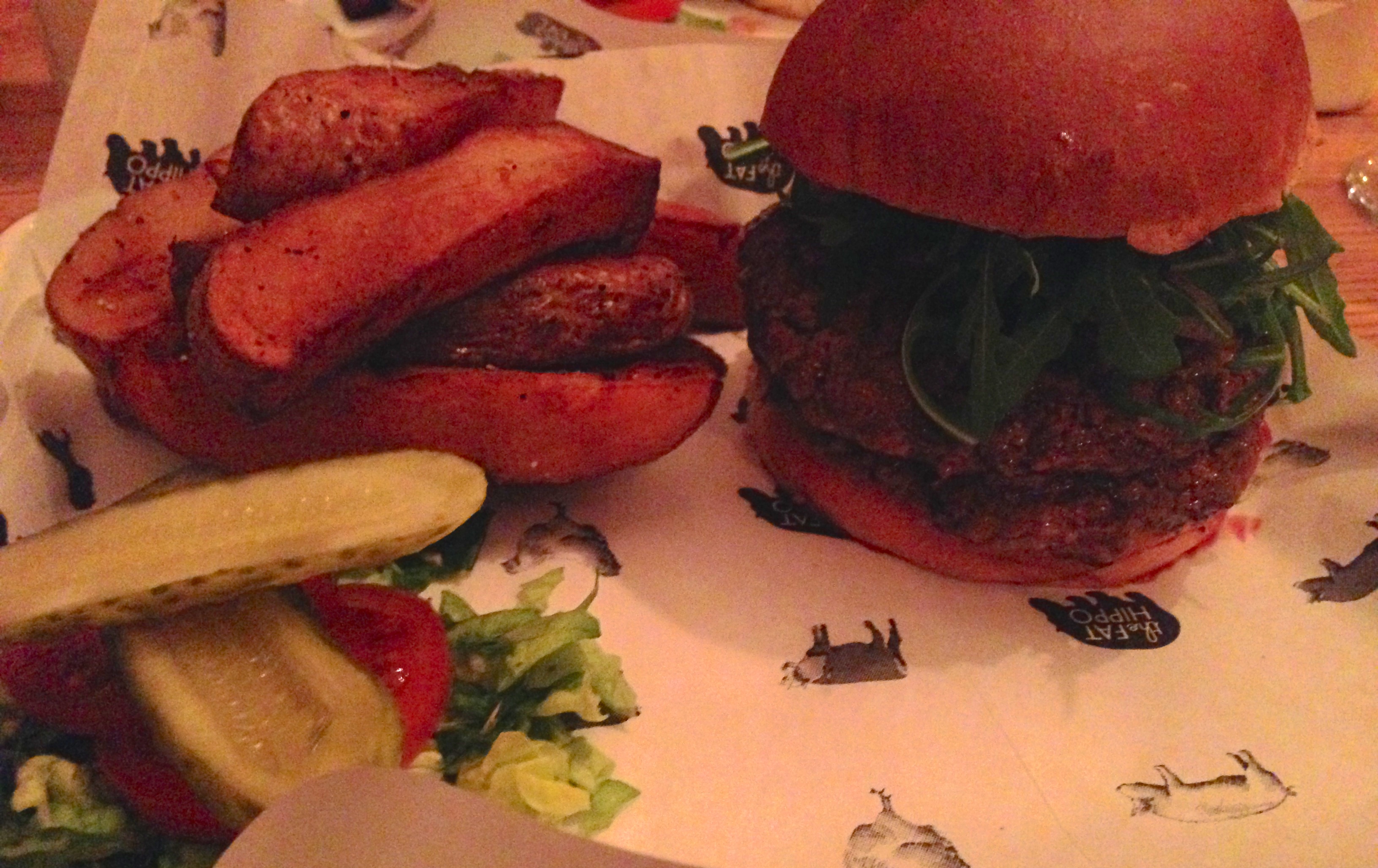 We went on opening week, and started with deep-fried pickles –  a bit thickly cut for me, but tasty and retaining their batter nicely all the same, and some  "dirty skins" (both £3.50). What more to say about deep fried potato skins: high profit margin, high cholesterol, high satisfaction. They're loaded with (deep fried) bacon, and fat hippo mayo sauce, we could have quite happily left full at that point. But then the burgers… They fall firmly in the "dirty" burger camp, as opposed to The Broad Chare/Bridge Tavern's "posher" efforts. I'm sure everyone and their granny has had one by now?
Plus points for the brioche bun, which is like a shiny pillow that just about stands up to the meaty juices, but the patties, under seasoned? They're well balanced in terms of contents, but I just feel they'd be better, like they are in the Jesmond Hippo, as one big fat patty rather than two little ones. They're each kinda the thickness of your Maccie D's burger, which doesn't leave enough depth to get a charred outside while keeping a rare-ish interior, so we settle for "just-cooked". Cheese melts beautifully and gets everywhere, and if you so desire, you can get one in a doughnut (it's not a cronut), or with pork on, or even peanut butter, which is actually pretty good. There aren't many better burgers in the city.
The "triple-fried handcuts", well, just give us the option for fries, please? They're perfectly alright, but heavy, and always hold just a bit more fat then you'd like. And as far the side salad, OK, there's a lone pickle, but it is sad, limp, and utterly pointless. Our service was really friendly, and drinks prices weren't insane, but not really amazing choices either. It's another appearance for those blue and white enamel tins that are bloody everywhere, and your burger comes in a tray, but they're not daft, they've priced it very well. Get a burger for seven quid, or two courses for £9.50. I didn't see anyone managing one, but your £11 will also get you a dessert – ice cream, waffles, brownie, etc.
Relieved of £27 with two drinks and two wet wipes later, we didn't have to eat for the rest of the day, which I imagine will make most people leave quite satisfied. It's not perfect by any means, but a damn good burger all the same. I get the feeling if this was anywhere but the North East, it just wouldn't fly, but given the appetite for the "best burger in Newcastle", a little competition  can only be a good thing.
Contact:  http://www.fat-hippo.co.uk
Food hygiene rating: Not yet rated.