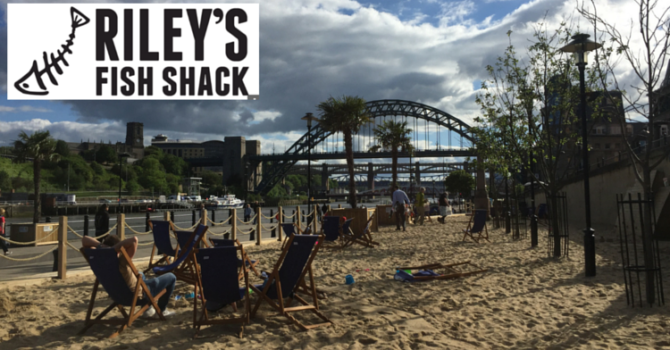 Another reason to love the Quayside ?
UPDATE: Riley's Fish Shack on the Quayside closed late 2017, but lives on at it's Cullercoats home
Riley's Fish Shack has been around for a while now. Adam & Lucy Riley started off carting their street food around the festival circuit, and went on to become some of the brains behind the Boiler Shop Steamer. Following a successful Kickstarter last year, they took up residence in a more permanent (and beautiful) location on King Eddy's Bay which has been uber-popular with the (frankly under-serviced) Tynemouth locale.
Seizing the 20-odd ºC evening last night, I went along for tea – and ordered way too much scran ?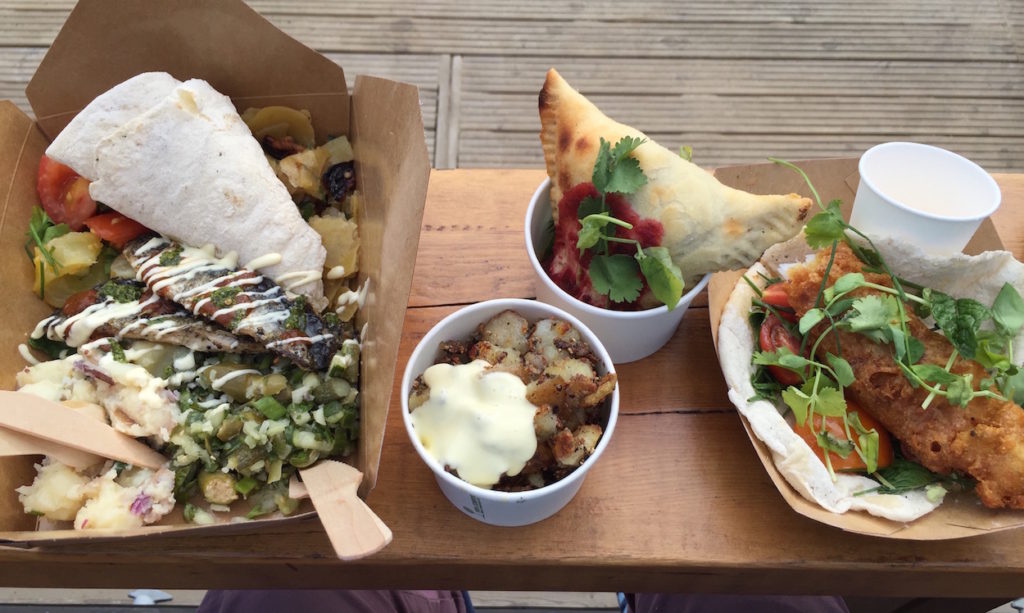 The menu essentially reads: fishy things on bread with salads. There's "micro-wraps" (there's nothing micro about them!), empanadas, and "big fish" plates. It'll be pretty familiar to anyone who's been down to Tynemouth, as is the Quayside "shack" – think home-made feel, shipping containers, high stools, and a massive oven. It's not really comfortable to sit for any length of time, but there's obviously space constraints at play, and frankly I'm amazed they got planning to stick it on the Quayside Seaside.
It's easy to plump fancy designed restaurants/bars in stunning locations *cough Botanist*, but they rarely "fit". Riley's have nailed it here.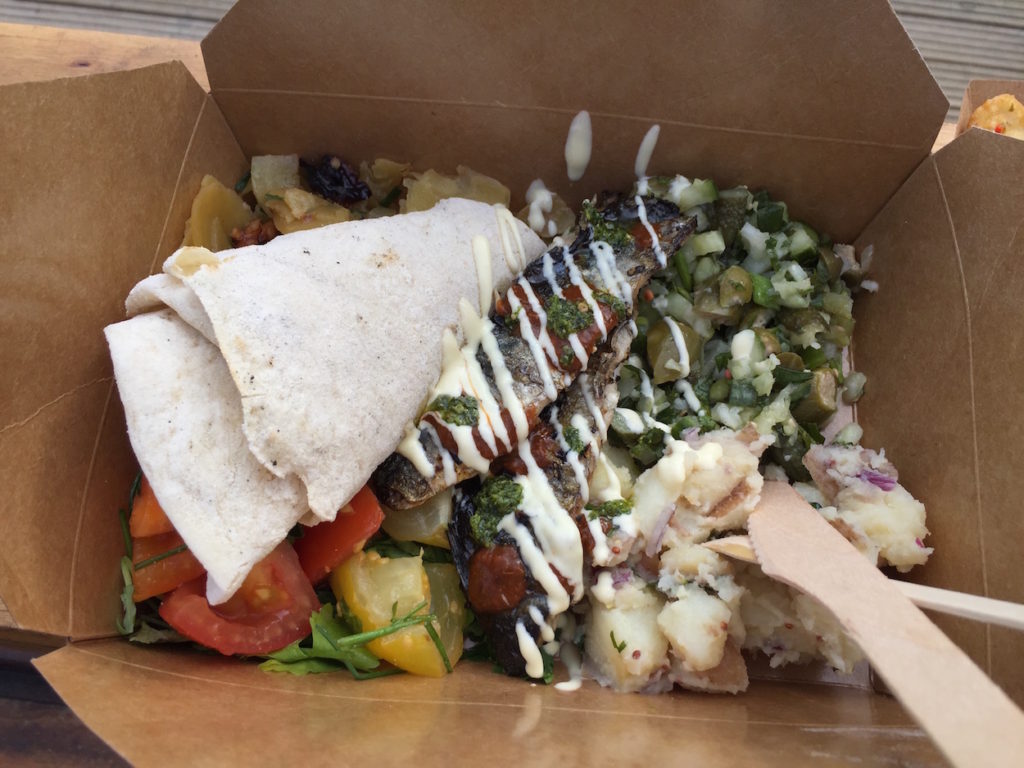 The bait…well everything was fantastic.
It's really good value too – the mackerel wrap (above) was only six quid and would be more than enough for lunch. Perfectly charred mackerel stayed juicy, smoky and soft. There's tons of fresh herby salad with tomatoes, and my favourite, the caper, gherkin and other sharp bits pickle. There's potatoes too, and bread. Phew. Mega box this.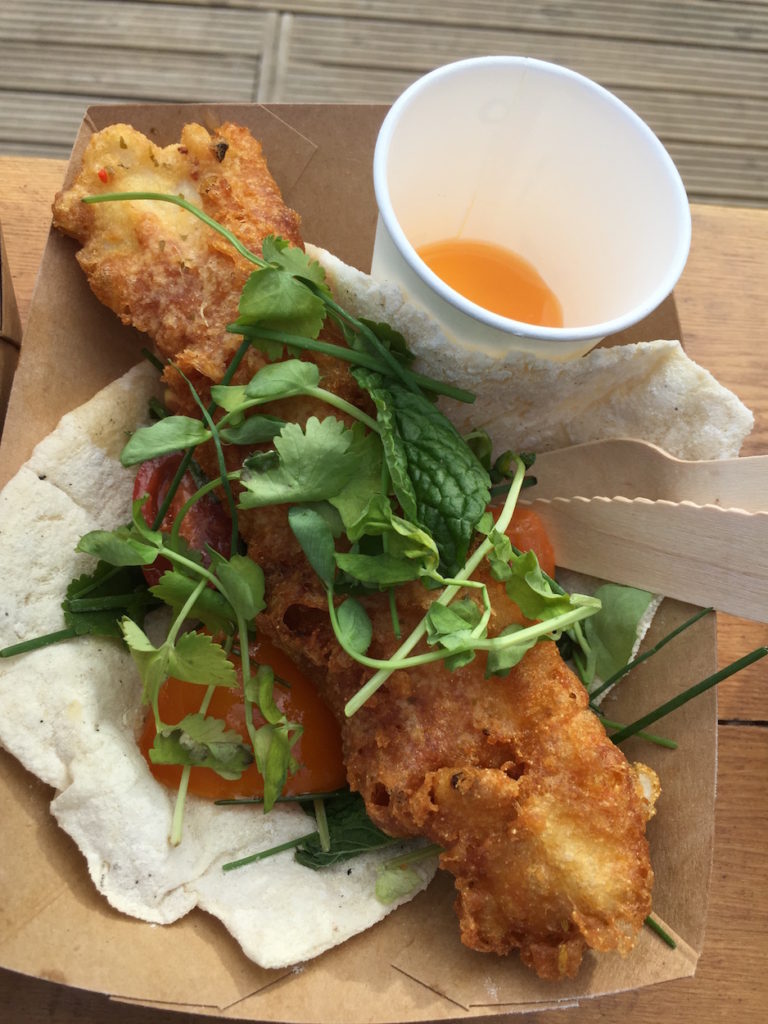 Tempura hake (not really tempura but bloody well battered) sits on salad to form a "micro-wrap". These are great – simply super fresh flakes of fish and zingy minty and herby salad. My only beef lies with the flatbreads which are overly floured and are just a bit basic – more of a wrapper than a genuine accompaniment. Also, I don't get why the dressing sits on the side; slosh that on and you're only gonna end up with a soggy wrap.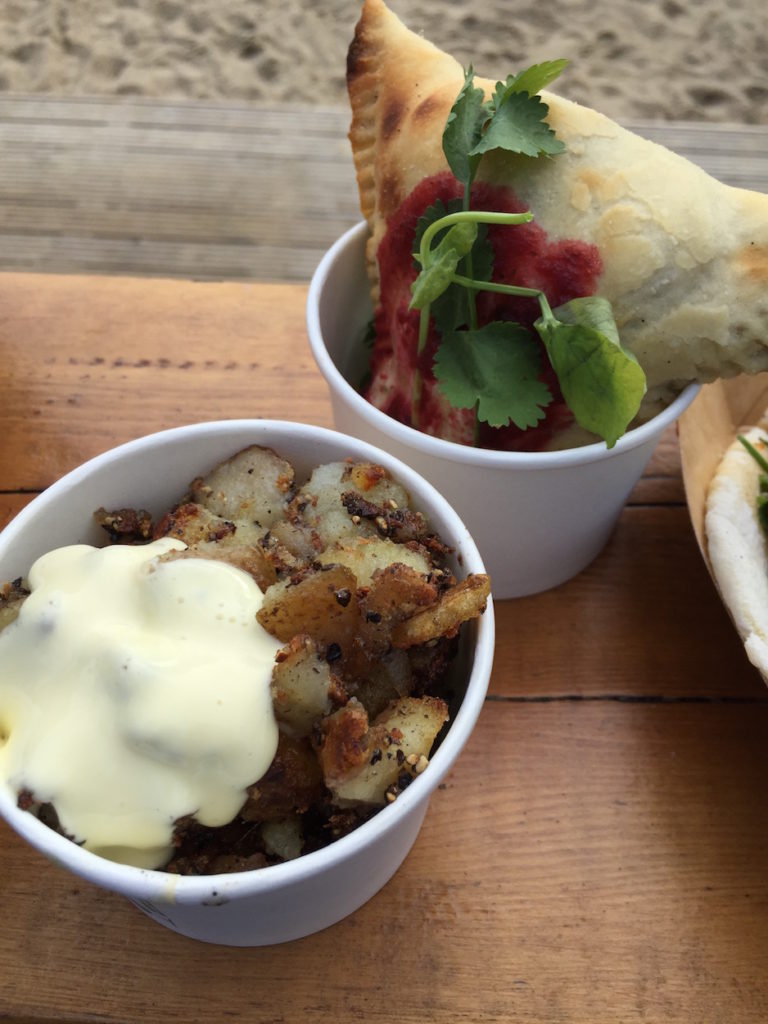 By the time I got round to the empanada I was running out of steam. This one was beef and oyster – rammed with sloppy savoury filling, but there's also monkfish cheek and salsa verde which sounds de-lish. Again, it'd be a meal on it's own as it comes with a pinch of salad and a beetroot and horseradish puree. It's all just really rustic and simple, but done well.
Herby potatoes offer a blend of soft and mushy carbs, with then the occasional crunch of a proper gnarly bit. I don't think the sauce was really necessary – when they get their alcohol license (Friday 24th!), a pot of these with a pint of Hickey the Rake would be bloody marvellous on any summer's eve. There's breakfast too, and desserts come via Gareth James' excellent brownies.
Now Tynemouth & Cullercoats beaches defined my childhood, but in many ways I prefer the Quayside view. I mean, look at it. Go on, click on it.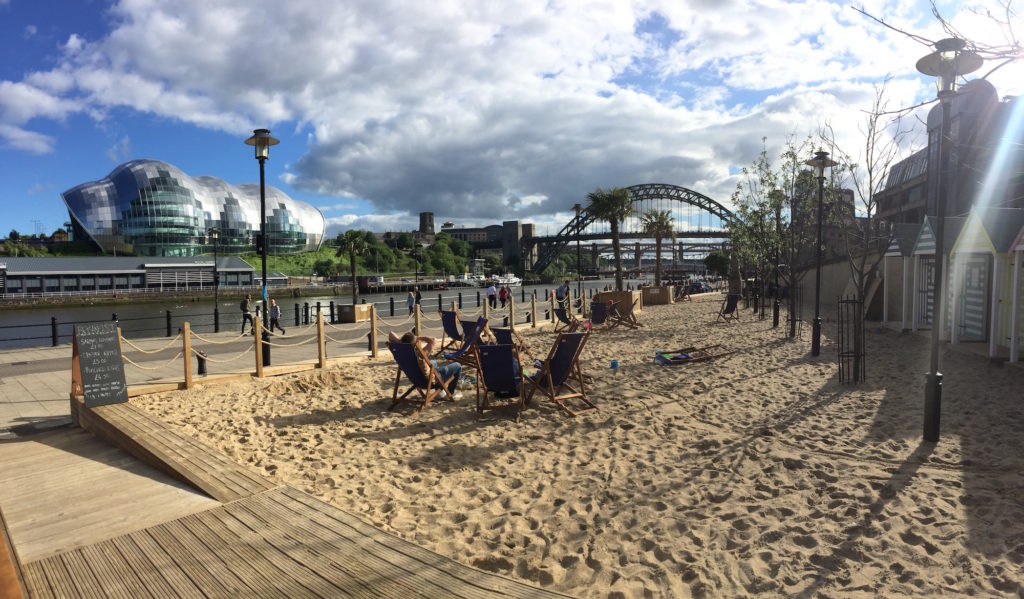 Surely sitting fifteen feet from the Tyne makes it one of the most desirable restaurant locations in town? I can't imagine it works the same in December, but on a gorgeous evening like tonight there's not many places I'd rather be.
Anyway, when I boot off about people evangelising about fucking Five Guys, This Is What I'm Talking About. I spent seventeen quid on my tea immense tonight – the same as you'd spend on a burger, fries, and shake from there, and jesus, the quality is incomparable.
Make hay while the sun shines guys, and get down to the beach ??.
Contact: via Facebook
Food hygiene rating: Not yet rated