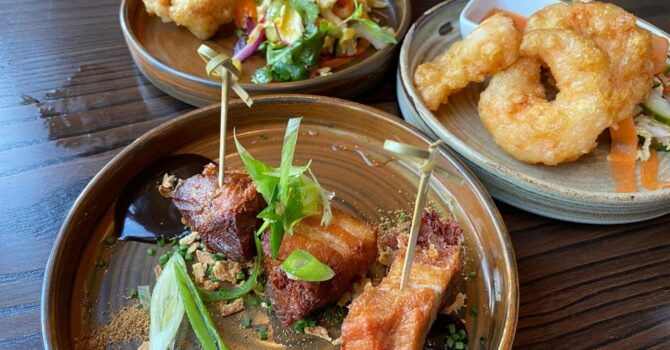 "Obey the laws of great food & drink"
…shouts River Beat (Pipewell Gate, Gateshead, NE82BJ). It's been around for a few years now, and I've meant to feature it on here since I first went along to the launch shenanigans and had a chance to speak with owner Andy Drape. Formerly of the similar-but-different Electric East, he's taken on the former police station, now a sizeable Quayside-facing restaurant focussing on Asian-fusion-esuqe tapas.
And I mean, put a restaurant anywhere in the world, on top of bloody Eldon Square or whatever, but looking onto the river and the Tyne & Swing bridges, that for me will always win ♥️
To be fair, it's not the easiest site in town. Anyone who's known Newcastle's restaurants for any length of time might remember former unsuccessful tenants, like the terrible Southbank Grill, and O de V come and go, and before that, in another era altogether, La Riviera.
But nowadays, it's neighbour to By the River Brew Co. which just has to be a good thing for the restaurant (and the whole desolation of Buffalo Joes/Baja situation). Between world class brewery, being close to the Hilton hotel, and even some kind of halo effect from House of Tides, it's clearly meant that long-term success is viable for a business here now. It's crazy when you think of the change in the Quayside even over just the past 5 years. All good.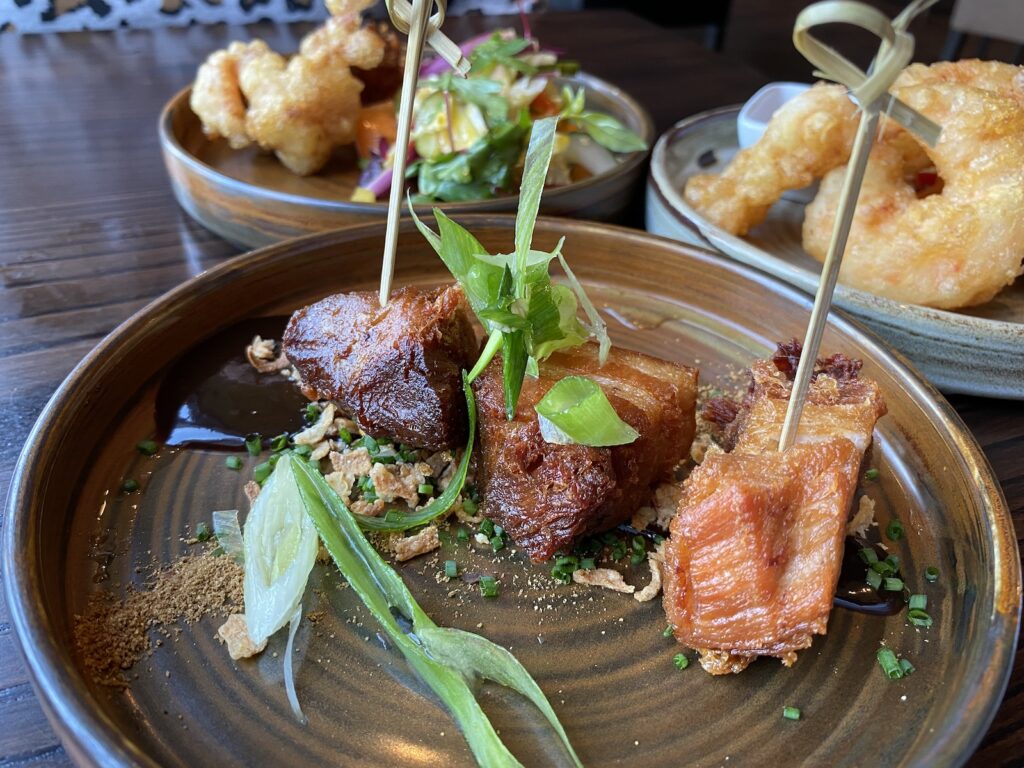 Emotion shouldn't come into it, but for me it's hard not to want owner Andy Drape to succeed. Guy is so hyped about the place. His cooking, and for me an impassioned plea from a restaurant owner for success is worth a million in press launches, pointless press releases and 'influencer marketing'. But you'll not hear that from the other influencers who got their free meals here, of course 😉
Food was 50% off for their January offer, which is an absolute bargain. Our bill for the below should have been ~£75, and came to £36 with a couple of drinks. Recommendation is 3 tapas each which was just about enough to leave us full for the afternoon, though YMMV.
It covers staples like beef rendang, spring rolls, and chicken satay, as well as more more interesting items like a dedicated vegan tapas selection, dim sum, and thai basil pork. If you can't find something you like here, you're probably dead.
Here's what we tackled: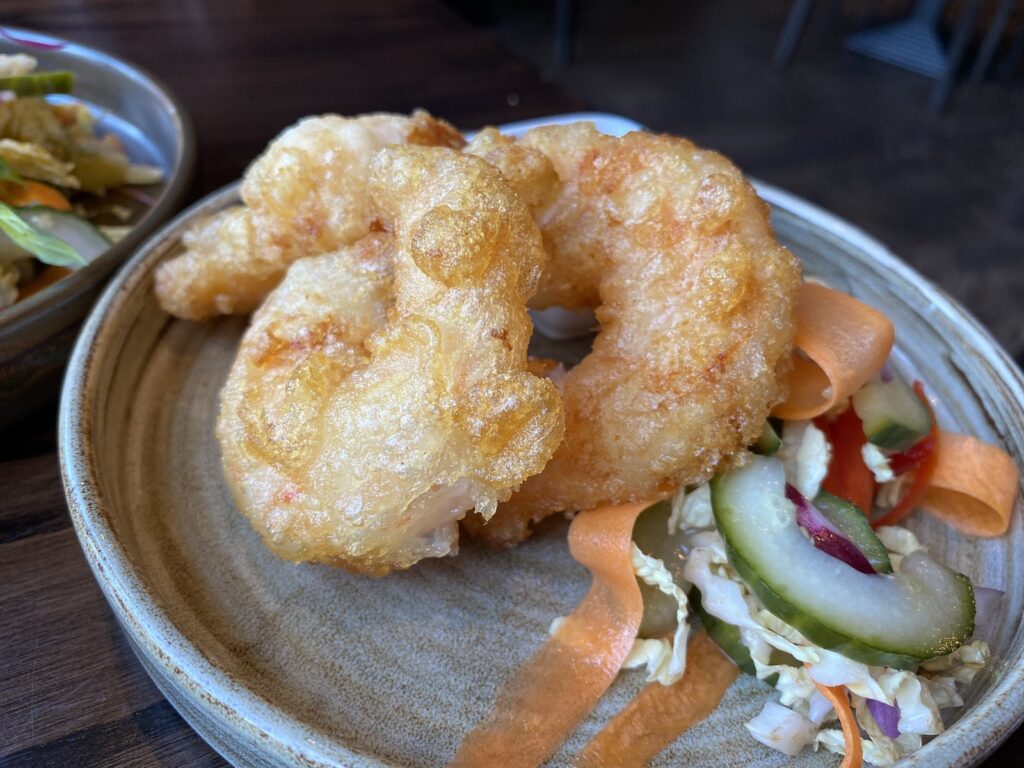 Tempura prawns (£7.5) were among the best examples of these we've had in a while. Not the most 'tempura', skirting the line of being just 'battered', but full of sweet flavour and with the signature crunch-soft bite you'd expect. And, Italian restaurants who dress things like this with a miserable piece of rocket beware – the accompanying Thai salad was beautiful in it's own regard.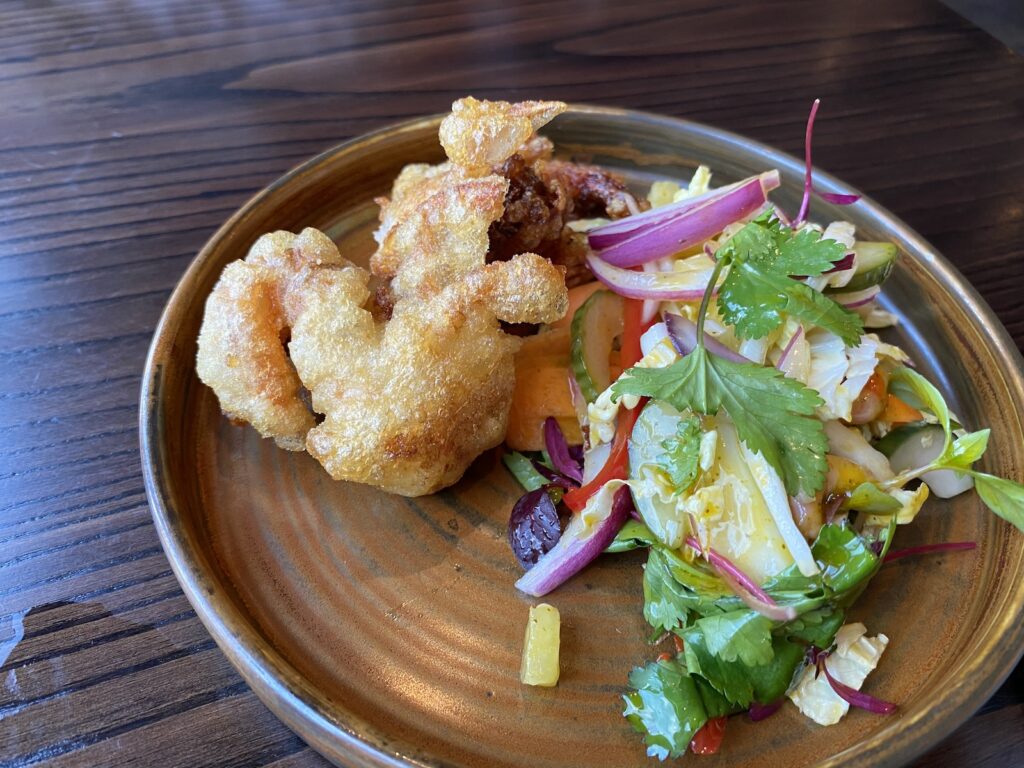 Soft shell crab (£7.5) again featured a twist on that salad – this time with mint, pineapple and a sweeter and punchier dressing. The crab itself was decent – though I'd take the (weirdly) more flavourful prawns over it.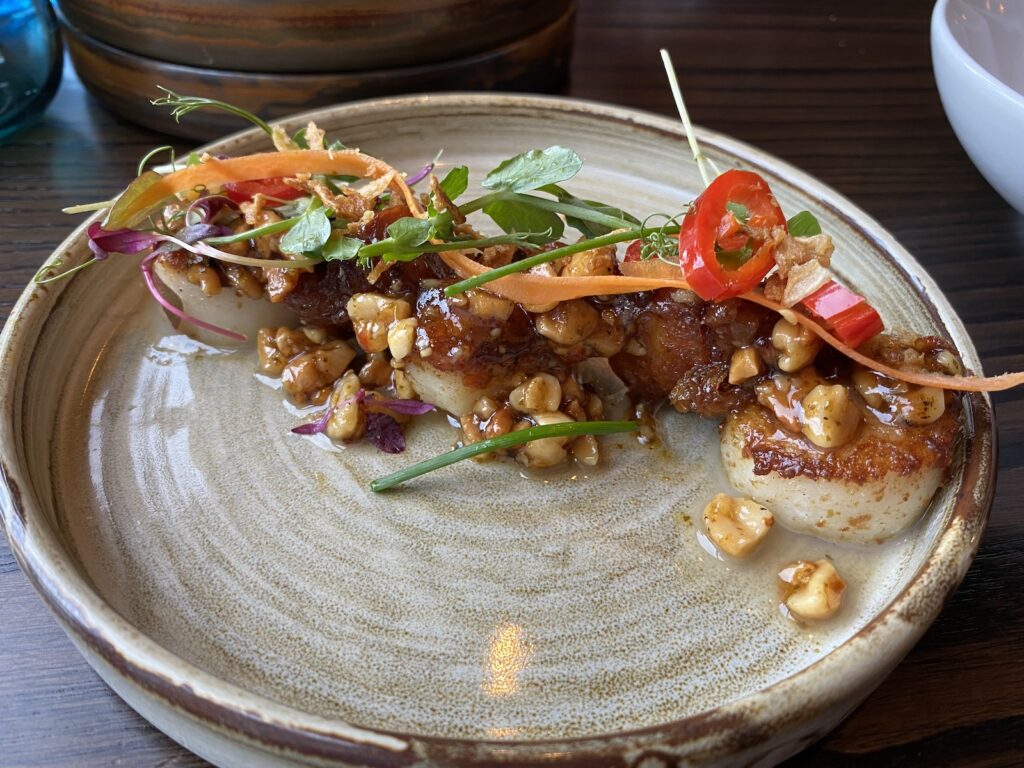 Pork belly and scallops (£11.5) is one of the priciest things on the tapas menu, but it's sticky and sweet scallops, so fair enough. Tried & tested with pork belly, here braised very long and slow with a sticky peanut caramel to bring the whole thing together. A bloody lovely dish. Also available (see top photo) as just three perfect nuggets of roasty, sticky, fatty belly which were everything you hope for in a bite of pork.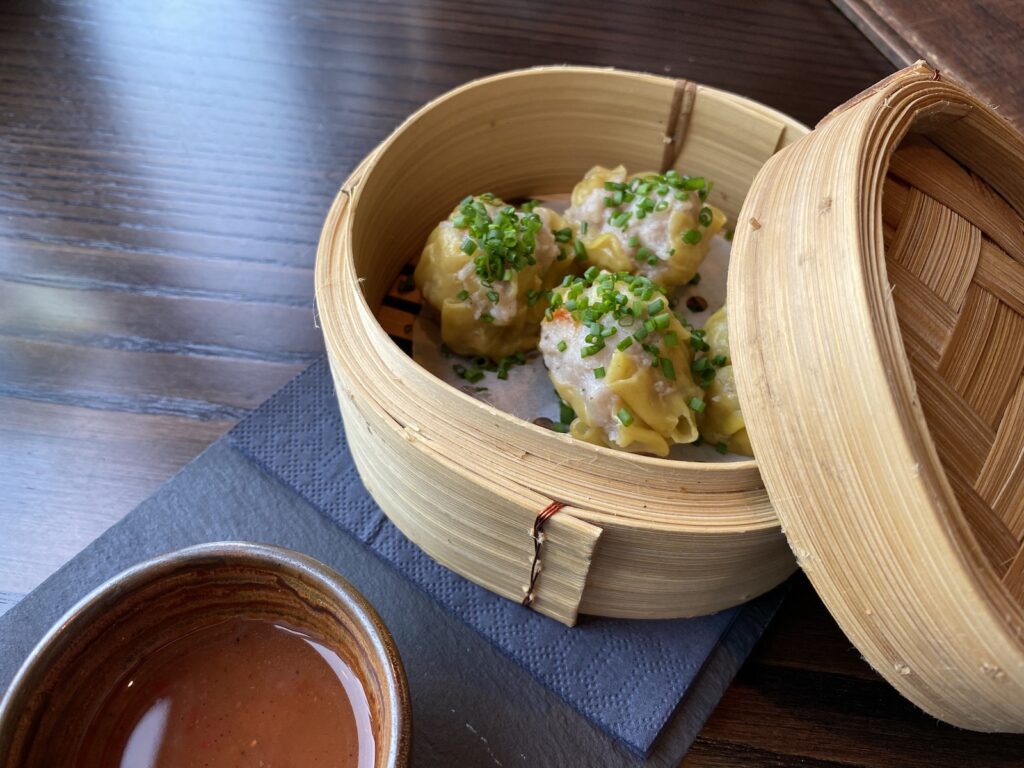 Pork & prawn dumplings (£7.5) didn't blow me away. Well made, and as with all of these other dishes, comes with an incredibly pungent and spiky side sauce, but lacking that OOMPH burst of flavour you expect. You feel like you could sit and nibble away at a dozen of these, but before you know it, your scant amount are gone and have left you a bit meh. About 25 individual 'tapas' on the menu, so find your own favourite, be that satay chicken, salmon poke, or lamb bao (which we forgot to order 😥)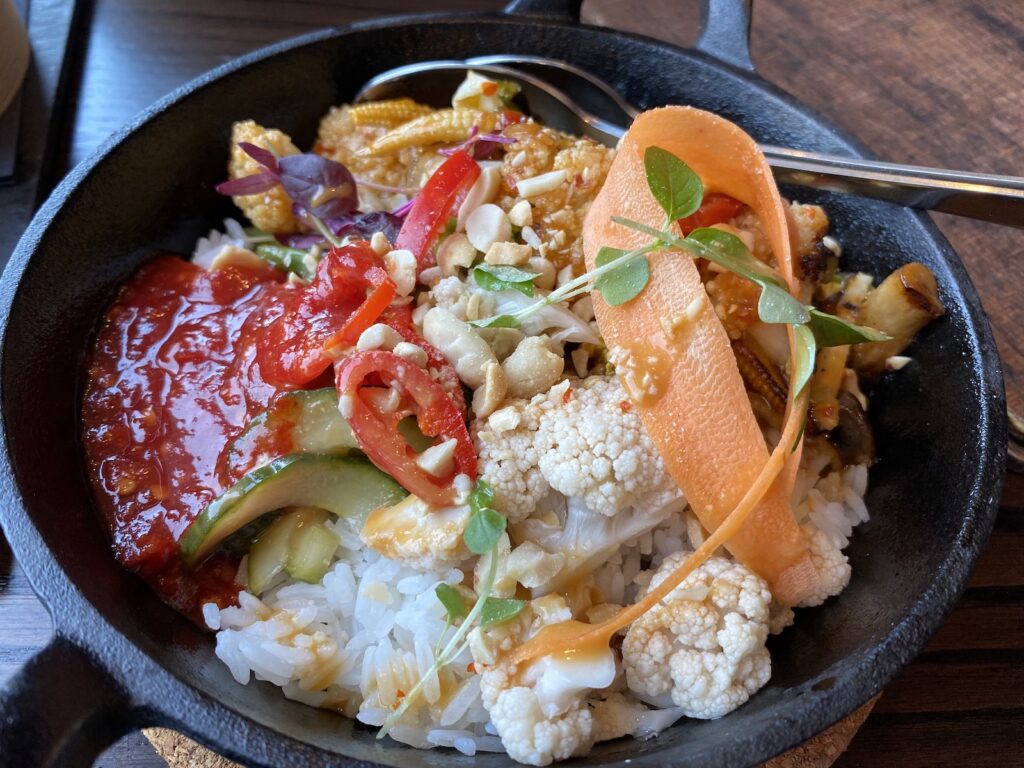 Bibimbap (£6.5) was a stonking, if not entirely authentic 'filler'. Pickled veg kept it light, with a take-your-face-off chilli sauce, and enough hot/cold, crunchy/soft, spicy/sweet interest to make every mouthful tickle your tongue.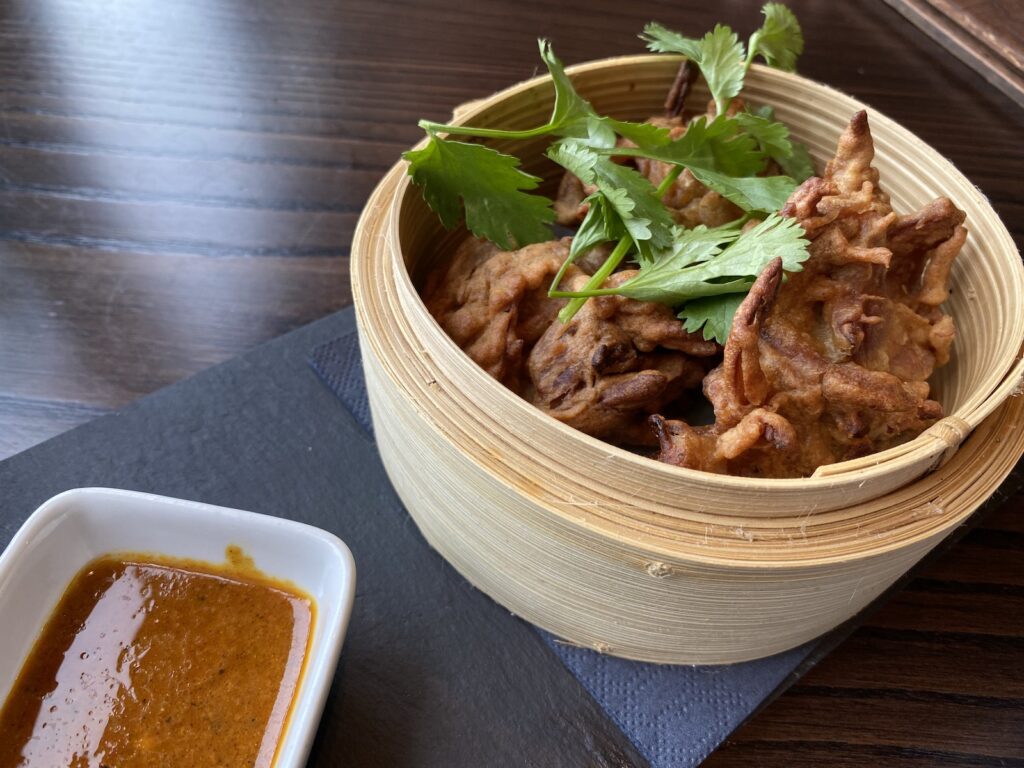 Finally, fennel & shallot bhaji (£6) weren't quite as good as I expected, really quite dry and fluffy. Maybe I was expecting more 'Indian-style' which I appreciate is another game altogether. Sour vindaloo sauce accompanying these though, oh boy, that was good.
For now, you've just missed the January offer, but there's a few other good little deals they have on all throughout the year. But if you're yet to visit River Beat, you've got no excuse. Think: what you expected bloody Chaophraya to be like before it disappointed you, but on the Tyne, independent, and a bit more challenging to your tastebuds. Come here and support a proper local business, and one that's doing things with a requisite amount of panache,.
You'll like River Beat.
Contact:riverbeat.co.uk
Food hygiene rating: 4/5