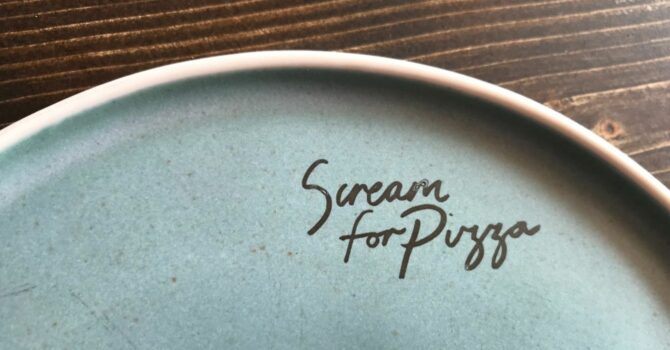 Pizza ?
The Scream for Pizza (21 Starbeck Avenue, NE2 1RJ) girls are the latest in a lengthy line of street food aces who have taken the jump and opened a fully fledged-restaurant. While for some it's a little unusual/hasty, the Scream team have been owning this game for number of years now and a restaurant always seemed on the cards.
And their stint at HWKRMRKT seems to have gone well. I've def had my fair share of those huge slices, and who hasn't taken in that Quayside view with a pint and a Brooklyn Bee down at The Free Trade Inn on a Wednesday night.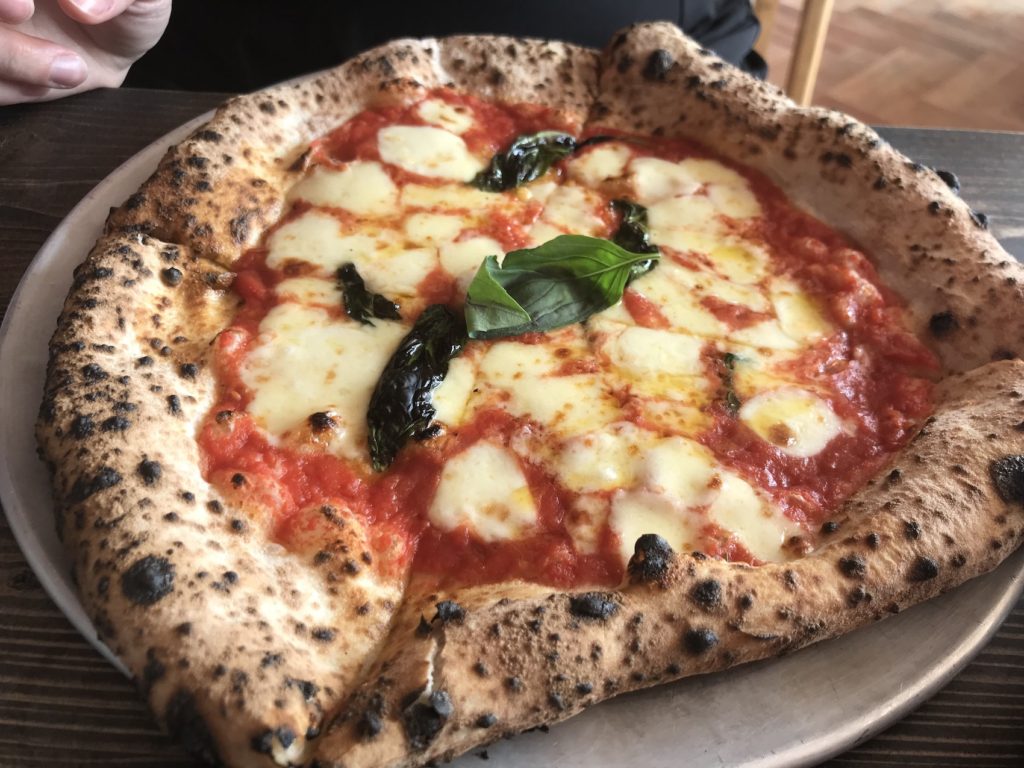 They've wisely opened in Sandyford – home of canny Aidans Kitchen, the recently Good-Food-Guided Harissa, and not a million miles away from the ace Ouseburn food & drink scene. The fit out is bare bones to say the least – exposed brick, lots of glass, mismatched chairs, outdoor seating, nailing that laid-back informal vibe. Service is quick. It's casual dining better than any of the pizza chains can do. And hooray, it's mostly reasonably priced, too.
The core pizzas you'll have seen and probably had out on the road. From the purists favourite 'Wor Margaret', Oatly-creme-fraiche-based vegan pies, to the out-there crab thermidor. There's a fairly small range, but just enough to keep you coming back for another. Pies start from a bargain £6(!) but head right up to £15 for some of the jazzier toppings.
One way they're keeping you wanting more is The Collab. Within the first couple of months of opening, we've had the Scream for Pizza x Barrio Comida Mexican-inspired pizza with guac & lime, as well as a Acropolis x Scream for Pizza gyros & chips topped creation. It's a smart move for both brands involved, and one I can only see getting more and more popular. There's a Hepple Gin event this week, and every time I see a new one, I think 'hmmm, I want that'.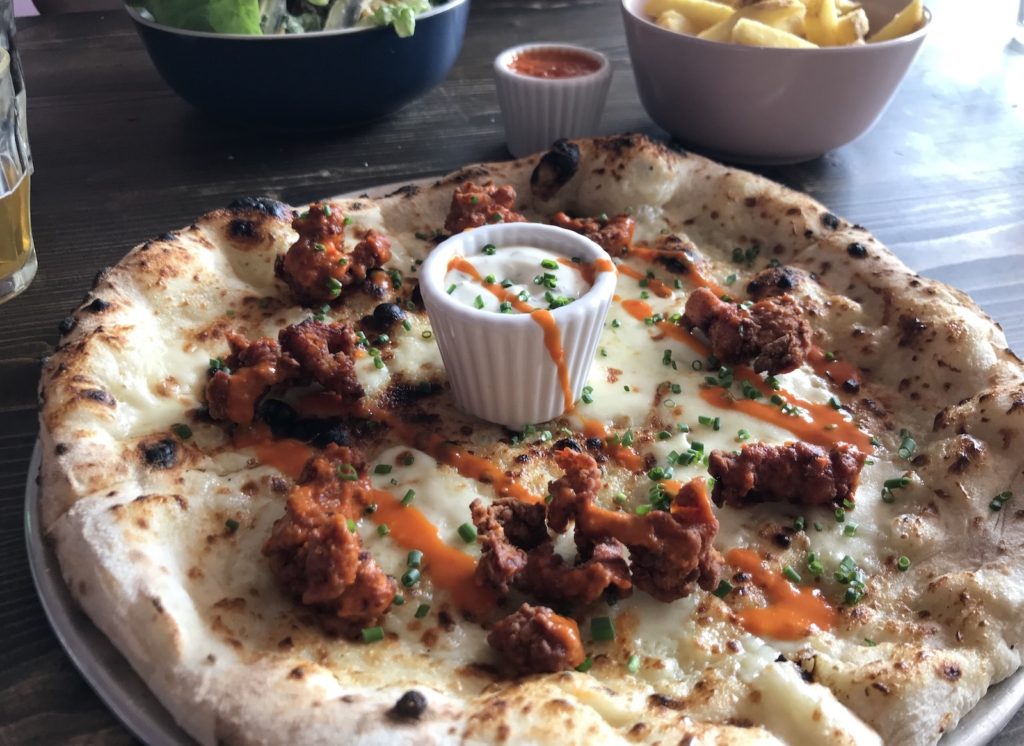 This one was with Fat Hippo – buffalo chicken, ranch dressing, a gentle hum of blue cheese baked into the cheese sauce made it all the more pleasant. Not usually my cup of tea, but they're not shying away from a bit of playful creativity. I'm gutted we missed the lobster mac and cheese (starter) last month, that looked like a treat.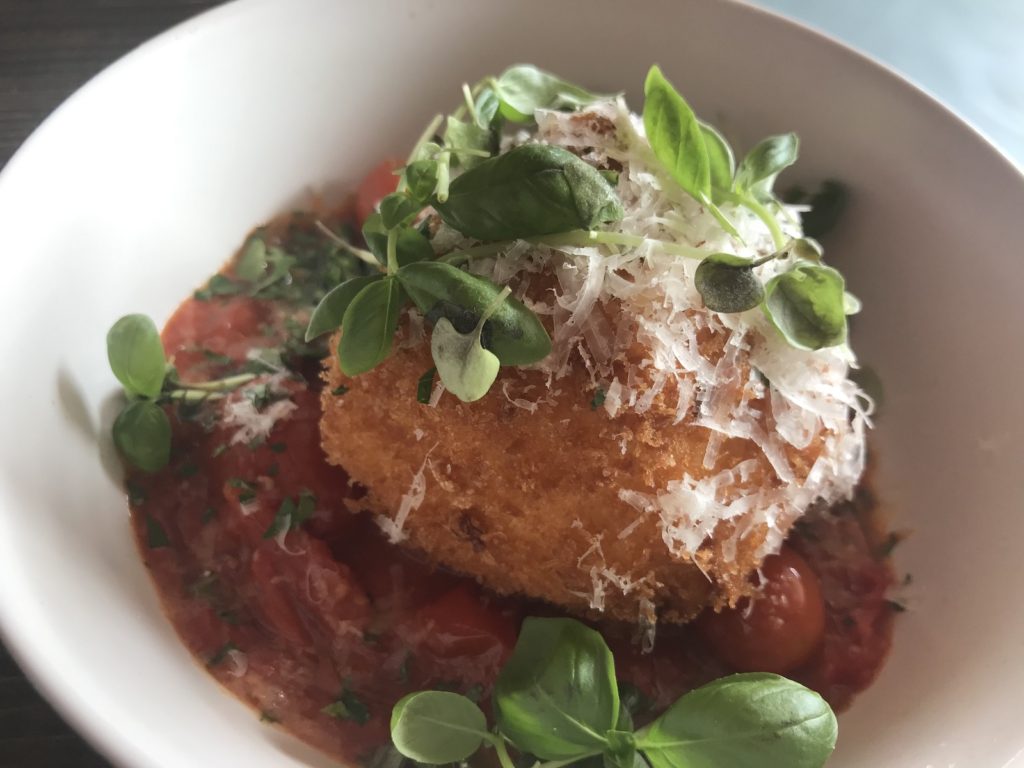 The best starter we've had here, maybe the Best Starter of Summer 2019 was this fried buratta. Totally unnecessary, but y'know, it fills that primal desire for filthy food. Deep fried cheese, oozing cream, and the arrabbiata sauce it came with was pretty damn solid as well. I'm not sure if they're finding their feet looking for signature 'always-on' starters, or it's gonna be a case of weekly ever-changing, but keep your eyes out on social media to help you decide.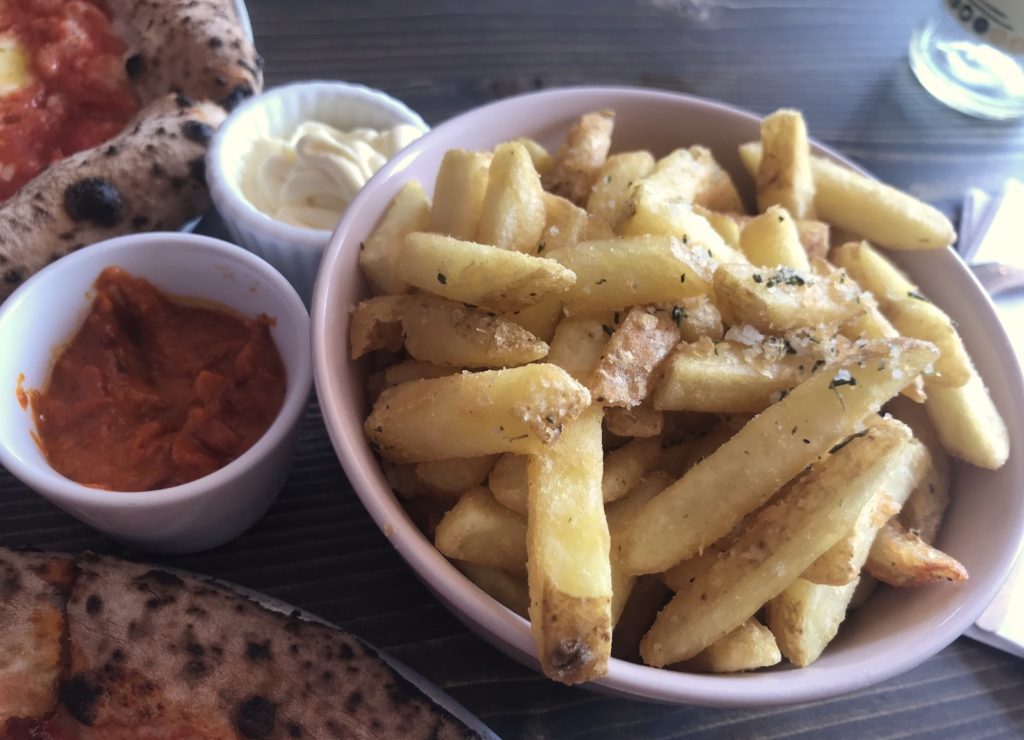 Everyone gets the fries – £4 – but plentiful and sweetened by one of their mostly-great dips. The vodka bacon has an unusual savoury tilt that you keep wanting more, then there's nduja mayo, garlic confit, and your usual dippers + parmesan + lots of salt. I always carb-overload regret getting fries with a pizza, but damn they're hard to resist. Wines are better than average, with couple of Italian beers, and the softies are v tasty if a little ££.
Much of the non-pizza part of the menu is bread-oriented, which can get a bit bloaty. It's hard to resist the 'things on bread' dishes, especially when bread is of the Northern Rye variety. But there's a few exceptions – this was a punchy and filling caesar salad, with optional chicken, croutons, and anchovies.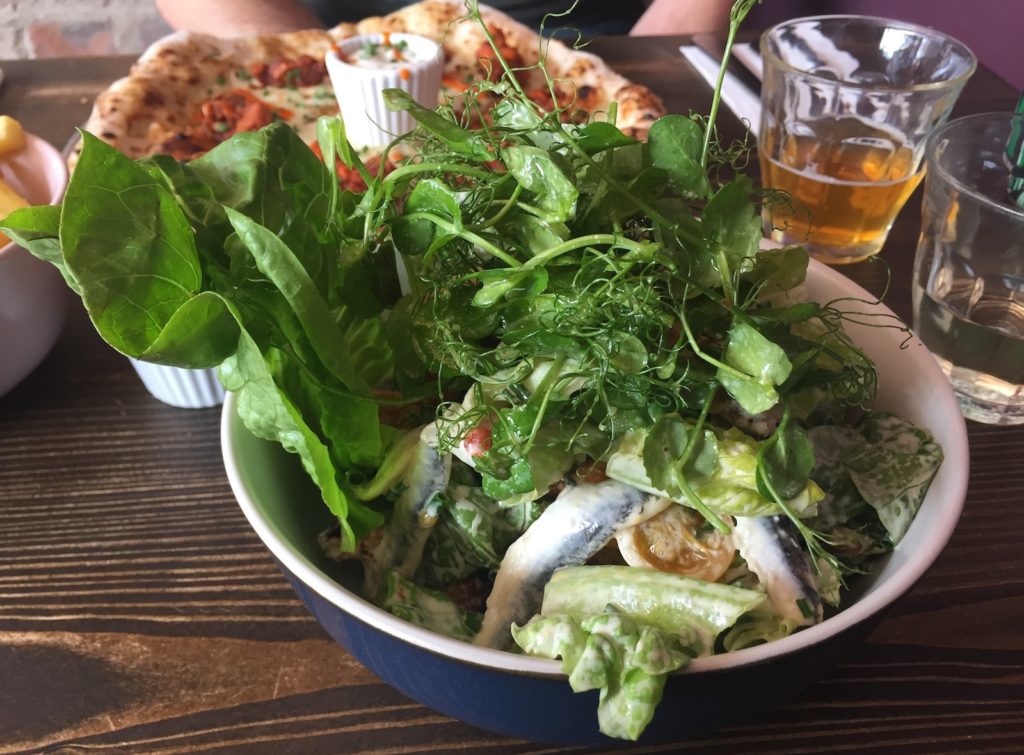 The pizzas… they're great. You likely already know & love them.
When the girls first started out I found the dough quite sweet and cake-ish, but over the years it's become a challenger for one of the best around and generally a much, much stronger offering. They've got some robust flavour in the dough, and they're being cooked nice and quickly with some good leopard spotting and chew. On the whole, a little mean with the toppings, which range from your standard buffalo mozzarella, and a delightful chilli honey, right up to your clams and Charlotte's Butchery meatballs. All spot on, I'd just like a little more.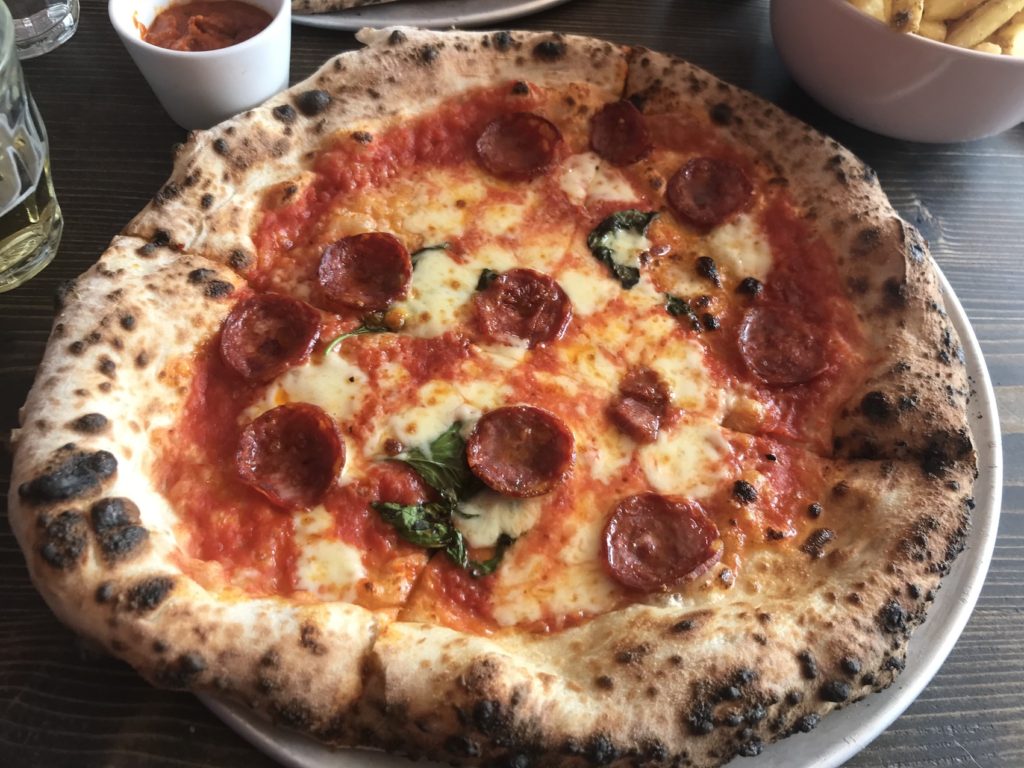 The all-encompassing pizza oven is doing the biz, but in our experience, the cooking of the pizzas is still a little inconsistent. From the one above, which looks what they are calling peng these days, to this one which is a bit of a mess in comparison.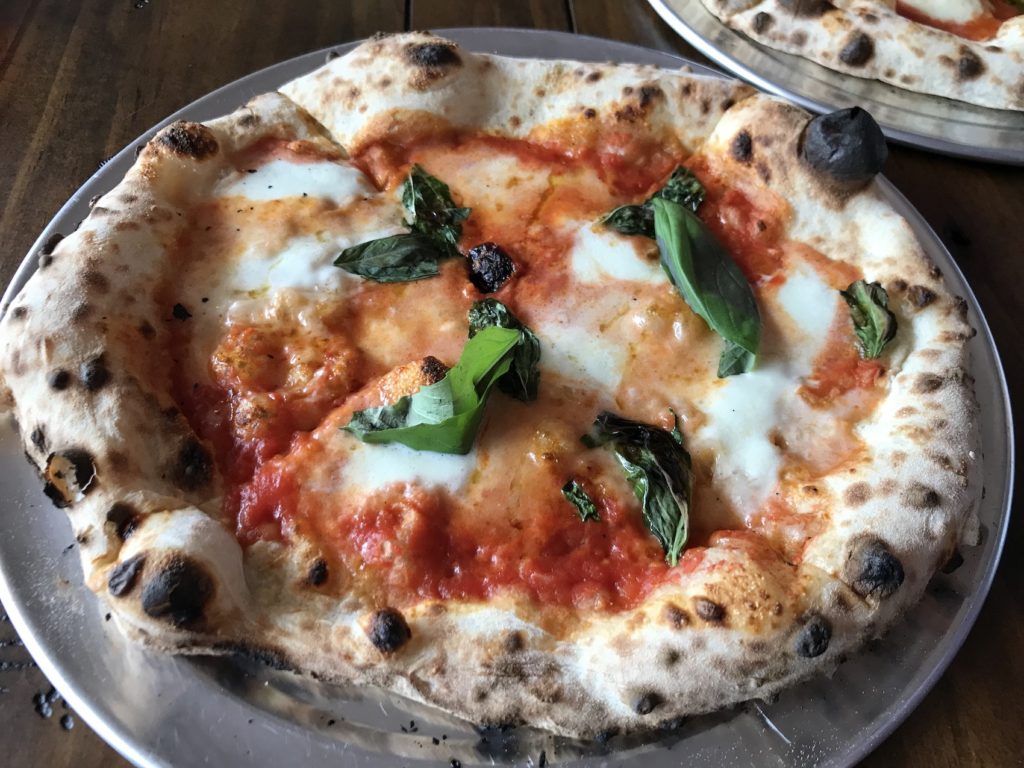 It almost looks like it's come out of a different oven altogether. Still tasty mind you ??‍♂️ but occasionally off when it comes to crust:sauce ratio.
By the time you get a starter, fries & pizza, it's gonna fill you, so we've only managed dessert once. Again, more bread, but this fried dough with Paul Young chocolate sauce & a beaut of a light Kahlua cream ? was well worth the extra calories. Proper indulgent, and not half as heavy as it looks.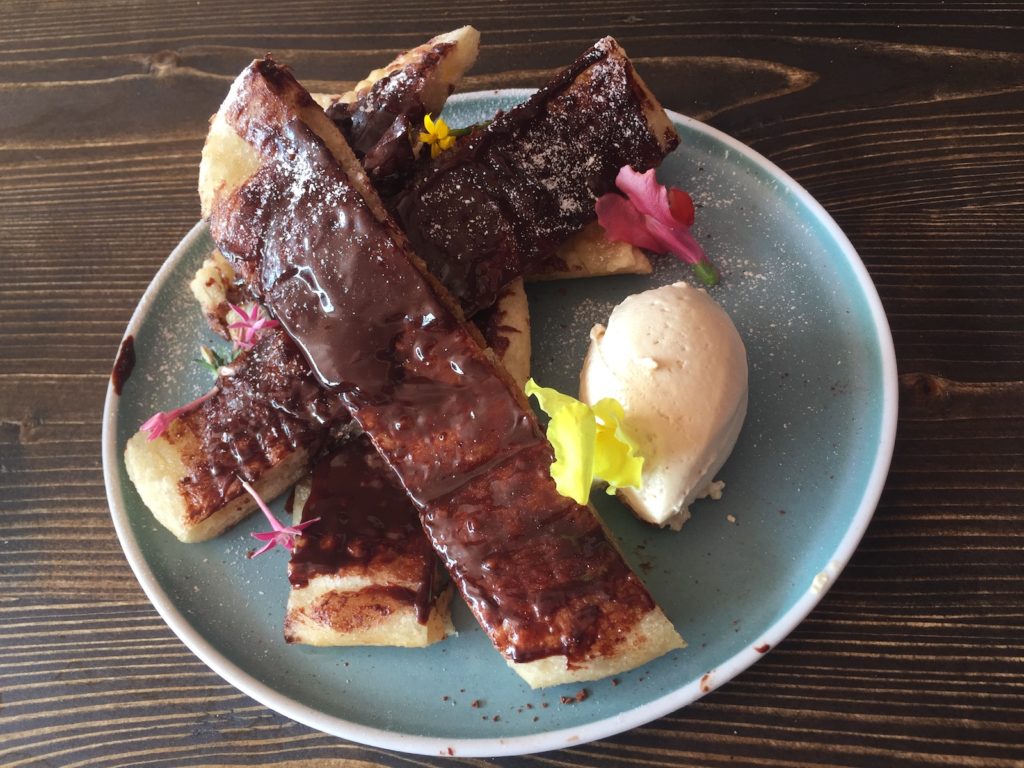 So the inevitable comparison with Cal's Own – I'd just say the core product is different. I don't think Cal would do a carbonara pizza for example. You'll spend a lot less here, which is a big plus point for me, and I imagine a lot of people generally. We've escaped on two pizzas, fries & drinks for two for about £25 which makes it a no-brainer.
From here, I'd expect to see the Scream For Pizza gang go from strength to strength. They've already got another gig going down at the recently refurbed Market Shaker – which is an outlet for their 18″ NY-style pies, and I wouldn't be surprised to see them take on another site. At the end of the day, the core product has to justify it, and the Scream pizzas are up there with the very best in the North East. For the pizza purists, not quite as good as Cal's Own and the VPN game, but you're guaranteed an enjoyable feed here, with some playfulness, plenty of variety, and pizzas which always make you go "?"
Contact: via Facebook
Food hygiene rating: 5/5