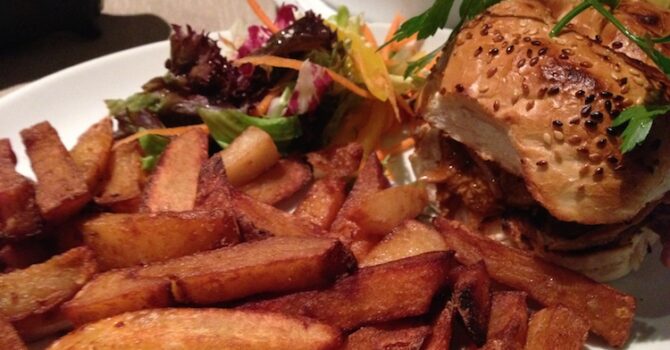 **Update – Southbank  Grill closed in 2014, and now houses River Beat**
This is our local restaurant. Just down the street. We've walked by it so, so many times, and yet, we've never been. It has hosted many, many other restaurants. Remember O de V?
It looked sort of interesting before it opened. Meat, check. Hipster logo, check, "Purveyors of fine food"… But this is where restaurants come to die. It's a shame, because in theory, it's a great location (NE8 2BJ). Large, airy, great riverside view, outside cocktail bit. But, I can't help but feel the efforts have all been a bit half-arsed.
Curiosity finally got the better of us and we went via a Livingsocial voucher, which softened the blow a bit. Starter (potato skins), pulled pork for two with house fries and salad (£14). can't complain for that, right?
Just like with O de V, we were greeted with "do you have a voucher?". I'm no expert, but this can't be a sustainable business model, amiright? Despite it being "happy" hour, there were two other tables in. So we get cocktails b1g1f. They're OK, but not worth the normal £6.95 sticker price.
Potato skins are surprisingly crunchy/decent, in a "haven't eaten that since we were last in a £3.95 Italian restaurant" way. For dipping, garlic sauce echoes university kebab shops, while the BBQ isn't bad, just overly sweet.
The pork arrives. In a bit of a sorry bun. Incredibly hot. It's OK. I had presumed it would be syrupy sweet, but it's not, it's mostly nothing with a slightly metallic undertone. The chips are homemade/edible but kinda greasy. The salad, and the mac and cheese (£3) we ordered on the side just make me feel a bit sad. They do ribs and steaks, but for "purveyors of fine grilled food", we would take some persuading to come back to our "local". A typically £46 bill comes to £24, and we shuffle off to the Bridge Tavern.
Anyway, we were honestly a bit late to the pulled pork party of 2012, but are making up for it this month, having had it about six times already. Here's my decent recipe for it, which is just better. If you wanna contest that, come round and have some, it's mint.
Pulled pork (serves 8-10 decent sliders)
About 1.6-2kg bone-in pork shoulder. It was worth spending a tiny bit extra for it at Charlotte's Butchery for better piggy flavour)
Rub/sauce: Smash together 2tb smoked paprika, 3ts salt, 2tb brown sugar, 1tb ground pepper with 1tb (any) oil. Add whatever you like (thyme? oregano?) but I like to keep it simple, and tasting of pork. Massage in. Better to marinate overnight, but fine to whack straight in the oven.
Get a good roasting tray, pour in 250ml apple juice, a quartered onion, and add the pork, wrapped well in tinfoil. Roast for five hours or as long as you bear the smell in your kitchen. Uncover and crisp up the crackling for 45 minutes or so. Leave to cool down for a minute and shred with fork, mixing in with the roasting juices. Try a forkful, and marvel in the porky loveliness. Finishing on the BBQ would take it even further. It's better the next day.
Barbecue Sauce (makes 300ml-ish)
Properly caramelise 1 finely diced onion, 3-4 cloves garlic and 1tb brown sugar in a frying pan. Add and cook out 1ts smoked paprika. Add 30ml cider vinegar, and as much worcestershire sauce as you like. Reduce a little, then add 100ml tomato ketchup, cooking for another 10minutes until saucy. Stir in 1ts of coffee granules, and tabasco if you want a little heat.
Bread buns (makes 12. Recipe adapted from Blackfriars)
Sift 470g strong white flour, and 1ts salt into a bowl. Separately, feed your 1tb yeast with 1ts sugar, and 280ml hot water. Leave to foam for 5mins, then add 35ml rapeseed oil. Mix all together, then knead for 10 minutes until you have a lovely smooth dough. I like it fairly sticky. Prove until doubled in size, or in the fridge overnight. Knock back and form gently into twelve equal-ish balls. Leave to rise again for 20 minutes while the oven pre-heats to 220. Glaze with a beaten egg, and sprinkle some sesame seeds. Bake until golden, and feeling firm.
Coleslaw (makes a big bowl full)
Finely shred 1/4 each red and white cabbage, or substitute with celeriac. Slice 1 fat carrot as thinly as you can, or use a veg peeler to get long strands. Add to a colander and toss with 1ts salt, 1ts sugar, 1tb white wine winegar. Leave to soften over the sink for an hour. Then squeeze out any liquid and transfer to a bowl. Finely slice 2-3 spring onions, and add 1ts wholegrain mustard, 1tb parsley, and stir in 3-4tbsp mayonnaise. Best fresh.
Toast bun with butter, add coleslaw, top with pork and squirt on sauce. Dribble it all over, and have another two for yourself.
DIY Cost: each ~£1.80. Saved you a few quid there. Put it in the House of Tides savings pot.
Contact: https://twitter.com/southbank_grill
Food hygiene: 5/5
Correct as of Feb 2014.