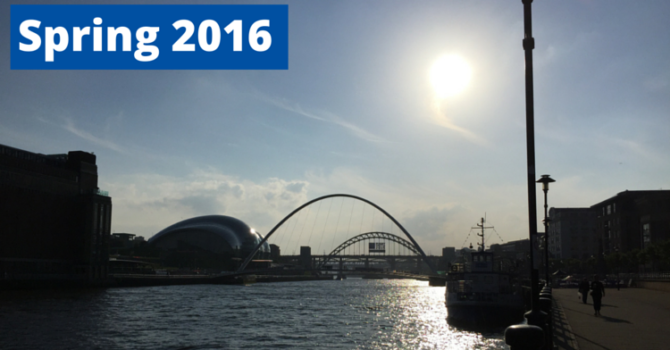 This year is flying by!
I haven't had time to write a full post, y'know, BEEN BUYING A HOUSE and all that, so I've wrapped up all of the other bits and bobs we've been eating this month. Be warned – lots, and lots of chains…
Need I say more? The king of NE pizza has built his new base in Jesmond, and is now open. Holy jesus.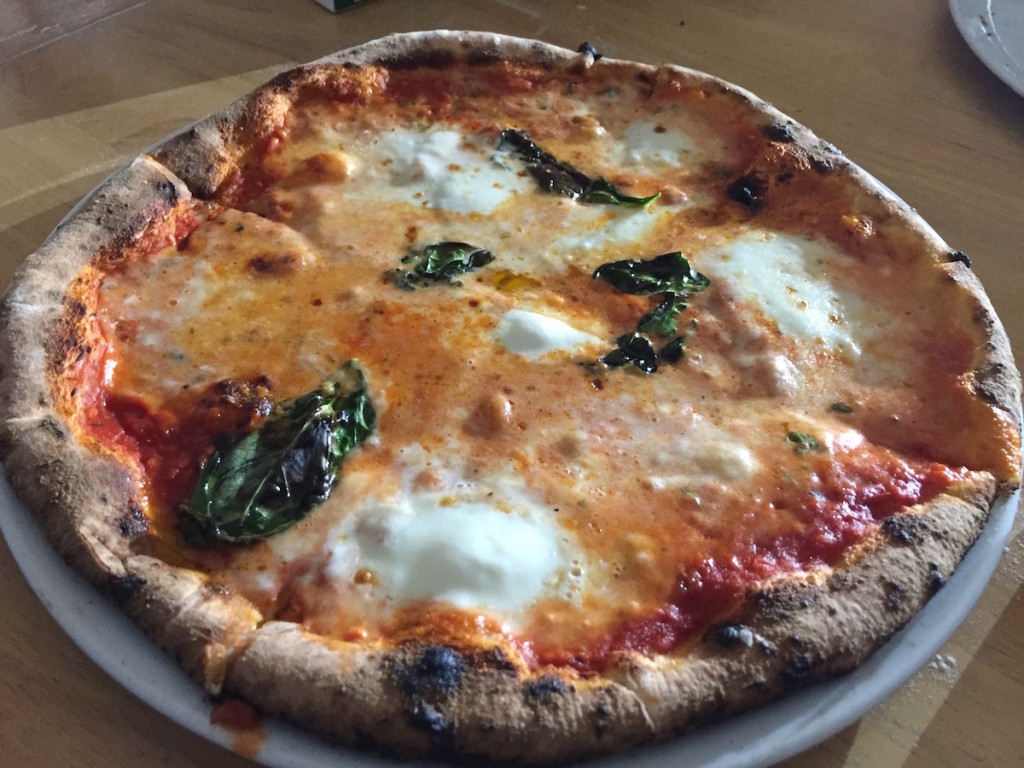 We went along for a pre-opening sneak around last month, and more recently to the opening shindig – let's just say Cal's got some ambitious plans and the huge restaurant is gonna see some surprises. As for the pizzas, they're just gonna get better and better and better. Hopefully popping along next week to try more of the menu, but you just know it's gonna be the absolute business.
Barburrito Opening*
The Metrocentre new bit opened this month, and tons of new restaurants followed. We got checked out pretty much all of them. Barburrito – the thirteen strong chain of (you guessed it) Subway-style burrito restaurants is one that I used to hammer all of the time when I worked down in London, especially when we didn't have our own independent version, Zapatista.
The burritos are very decent, and if you absolutely have to do the Metrocentre, grab and go from here is a solid quick shout. I (optimistically) hope it forces Zapatista to up their game, being one of the better entries to the Metrocentre New Bit.
Thaikhun*
Next door, expectations were low for this one, but it was actually really enjoyable.
Thai food – let's leave behind the authenticity argument for one second – is relatively underdeveloped in Newcastle. I think you get the mix of "I've been to Thailand and had all that food for like 70p y'know" gap-yah people, and then me, who just enjoys the food. There's gimmicks galore – a cocktail came served in – yes – a cardboard box, and then some starters on a Jamie's style elevated table – but the core flavours were canny, tasty, and reasonably priced.
Interested to see what their "high-end" (their words) sister restaurant Chaophraya looks like when it comes to The Eldon Square New Bit in summer, and they give us a 'come back and get 50% off' thing, which I'm actually looking forward to doing, unlike…
Update: Already closed! Didn't last a year. The neighbour to, and really, the new Turtle Bay – still yet to tackle that one opened last week. Despite some of the tosh you might read about it from the local press, not a single one of the tasters we got did anything to convince me that I'd return anytime soon. We tried lots of things in dough, some super-soft but mostly flavourless grilled chicken, some not very nice at all rubbery 'doughnuts'. But hey, got loads of free cocktails, so of course it was so amazing™.
Nowt special at all, but if you're looking for a Viva Brazil/Nando's hybrid, hey, there's another chain got you covered.
Pitcher & Piano Re-opening*
It's been closed for months, and presumably they've spent a small fortune on it (and then subsequently plying everyone with free booze). What they've done is….heard that The Botanist has been successful and based their drawings off that.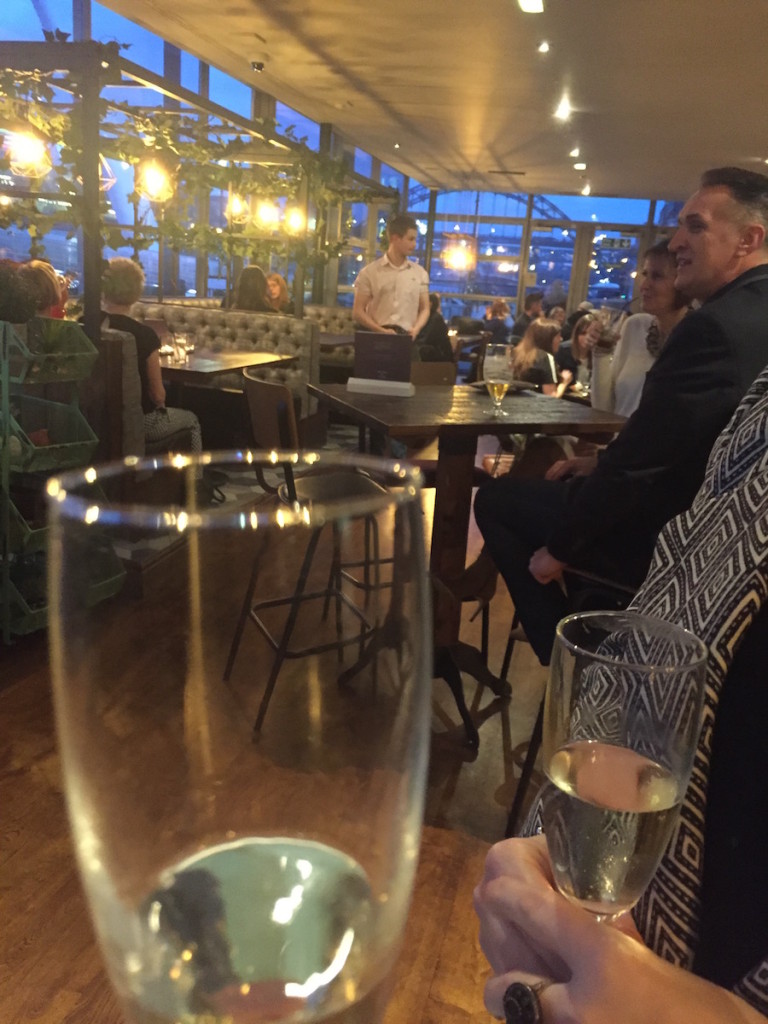 Faux wooden crates, faux shabby chic, etc. etc, honestly, I preferred it before. We got some bites – some surprisingly tasty (flatbreads), some I don't wanna think about again (fish and chips). It'll be popular regardless anytime the sun shows up, so enjoy ?
Untappd
Heard of Untappd? You've probably seen people spamming it on Twitter/Facebook – it's a social network for beer lovers ?. I use it predominantly as a tool  for discovering new beers by using ratings for beers I've "checked in" the past. It's also pretty cool for a beer nerd/stalker to see what others are drinking – and crikey, surprising just to see how much they are putting away. Only drawback? Getting too blitzed to remember to check in that hard to find double-IPA ?. Cool app, so if you can't get enough of me here, giz a follow @newcastle_eats.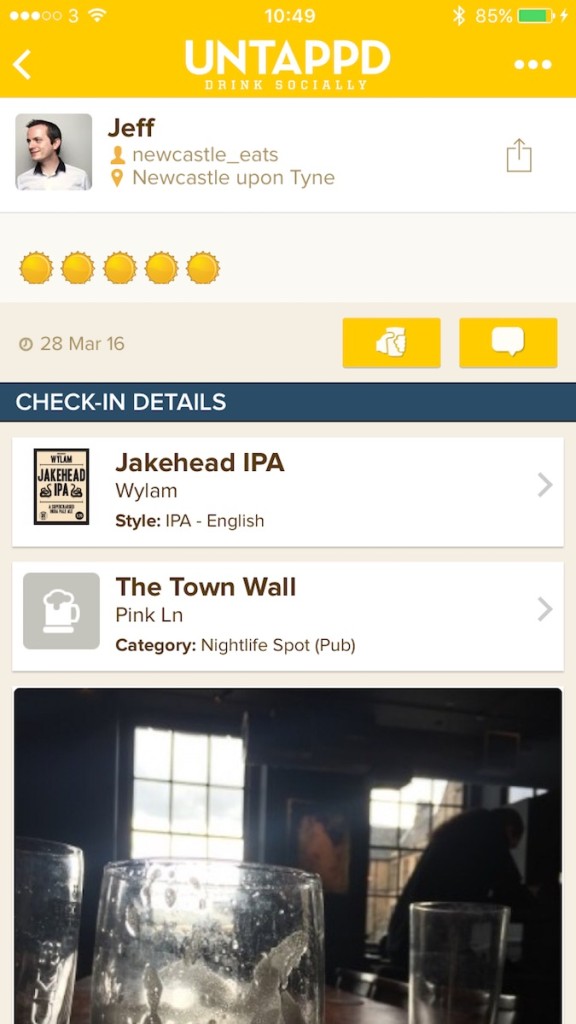 Looking forward to
Not content with taking all the dollar on the Quayside, Kenny's missus is opening Violets Cafe in the old site of Cafe Buee (and many others). Abby seems to be taking patisserie seriously, so keep a keen eye on this one. Scheduled to open in the summer.
Chris Finnigan opened his new restaurant Branches in Ponteland which looks to be another applying the 'quality ingredients cooked simply' approach. Be interesting to see how Lane7 does in his absence, but his new joint looks worth a visit.
Latest from the Ladhar Group is Central Oven & Shaker below the Hampton Hilton. Pizzas, cocktails, and beers make it sound more like another twist on Pleased to Meet You. I'm sure it's not gonna worry Cal, but it looks kinda interesting.
Hinnies restaurant is open in Whitley Bay from the Blackfriars team – haven't been yet, but social media pics look like simple but good food. Alongside the (very good) Roxburgh, OMNI on the Corner, and Elder &Wolf, is Whitley Bay becoming worth a trip?
This bank holiday weekend has us split between a Scandi food & beer fest at favourites The Feathers, and another fab looking taco pop-up from Barrio Comida. Whatdya reckon?
Less exciting: ZaapThai in the old co-op building, taking Newcastle into the realms of OK, now we've got every chain under the sun, please that's enough now.
Food Nation / Harissa Kitchen
As par too my unwavering support of Food Nation, did you know they are opening their own restaurant? It's going to be called Harissa Kitchen, so you can guess what the foods gonna be like. Expect a fresher and healthier take on The Bake, which can only really be a good thing.
I think they're still recruiting if you know anyone in the industry, and I'll give you some details on their opening soon, or keep an eye out over on their Twitter.
Lovely sarnies at The Rat Inn
Finally made a flying visit to popular Northumberland pub The Rat – and some simple but delish salt beef, and crispy & juicy chicken thigh sarnies guaranteed a return visit.
See also: proper dreamy chips. If we ever bloody get another sunny day, we'll be heading up for a Sunday lunch next. Yes, there's a proper wood fire which is lovely, but me, I wanna get in that canny beer garden ?.
Piccolino Steaks
After having said I wouldn't buy any more Groupon/LivingSocial vouchers – itison popped up, who've had some actual good places on their daily deals website. Vujon was just on there this week. Do you know how much this buying a house shit costs?! Piccolino had two steaks & a bottle of wine for £29 which seemed like a win/win, plus, they do nibbles with drinks, which is a small joy that I do not see enough of in NCL.
Surprisingly good. I enjoyed a pizza there a while back and thought it was better than most of the chain Italians, but didn't expect the steak to be so tasty. It's spoiled a bit by the fact it's sooooo frigging huge inside so you feel a bit isolated, but we enjoyed it – for the massive reduced money of course.
Anything else happening I should know about? Anything you'd like to see on here? Comments/chatter/feedback in general? Fire away x