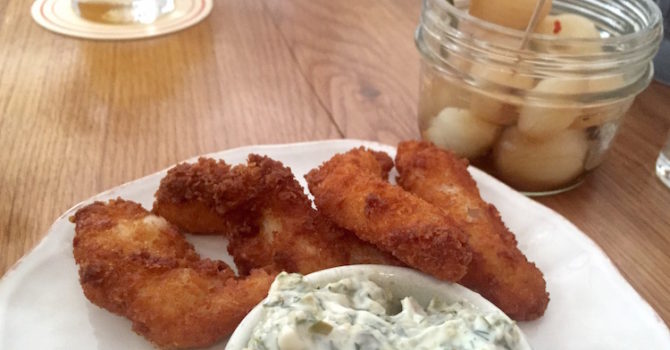 Update: St. Mary's Inn famously closed in 2017, but is back open again! Will have to re-visit to see what the craic is.
The self-proclaimed gastropub (are we keeping that word?) from the Jesmond Dene House team has been a long time coming but is finally open. Though initially very exciting chef Shaun Hurrell has now left for similarly exciting venture The Trial Shift, it's all being watched over by exec. chef Michael Penaluna so you'd expect the same high standards he commands over the JDH kitchen.
Firstly, a tip for visiting St. Mary's Inn (NE61 6BL, and indeed Stannington) – go up the A1, as blindly following your sat nav via Belsay will give you a…challenging drive. Either way, it's really not "10 minutes from the city centre" as pitched. You're making a special trip.
Once you navigate through the building site/unfinished expensive housing development, it's a grandiose building alright, a former asylum (I don't know quite what that says about the place 😂). It's all still very new – think: the smell of freshly painted wood that hasn't had time to take on any character yet, but the bar and the dining area are smartly presented and everything you'd expect from the meticulous JDH lot. The rooms upstairs look similarly minimal but tidy, too.
We got bar snacks and a couple of fairly priced drinks until some other punters joined (we were the only ones in, but it soon filled up) – pickled onions, some cod cheek goujons, and some bread.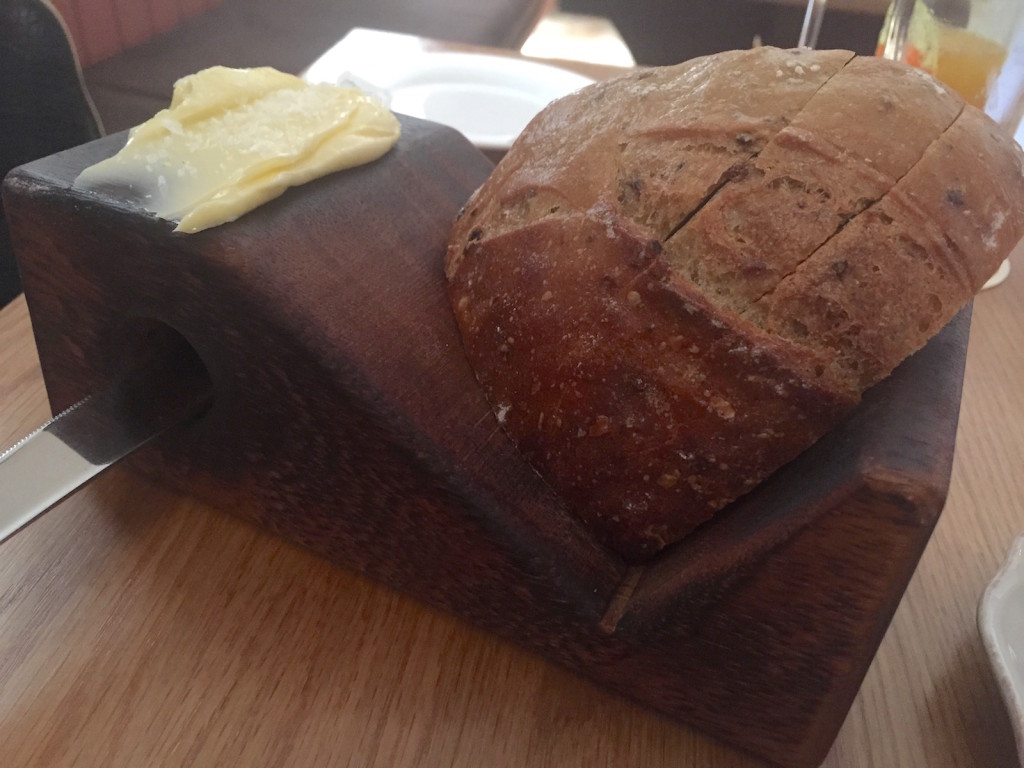 Ah, the infamous butchers block arrangement – it's gimmicky, yes, and only slightly annoying in reality – the smeared butter, the bizarre knife placement. The bread though, is quality. Canny stingy for three small slices, mind you. The butter, presumably made in house, is creamy, rich and salty, and I could have easily ploughed though another 100g worth. I s'pose my arteries will thank me.
Pickled onions were plentiful, spiked from the sweet, tangy, and warming pickling spices. Those, and the fish goujons/tartare sauce were good enough to match anything from The Broad Chare, and just as pricey, too.
Tuesday is "pie and pint night" – which is really great value for a tenner (well, £10.50). You get a choice of five pies, with mash and veg, or peas and fries.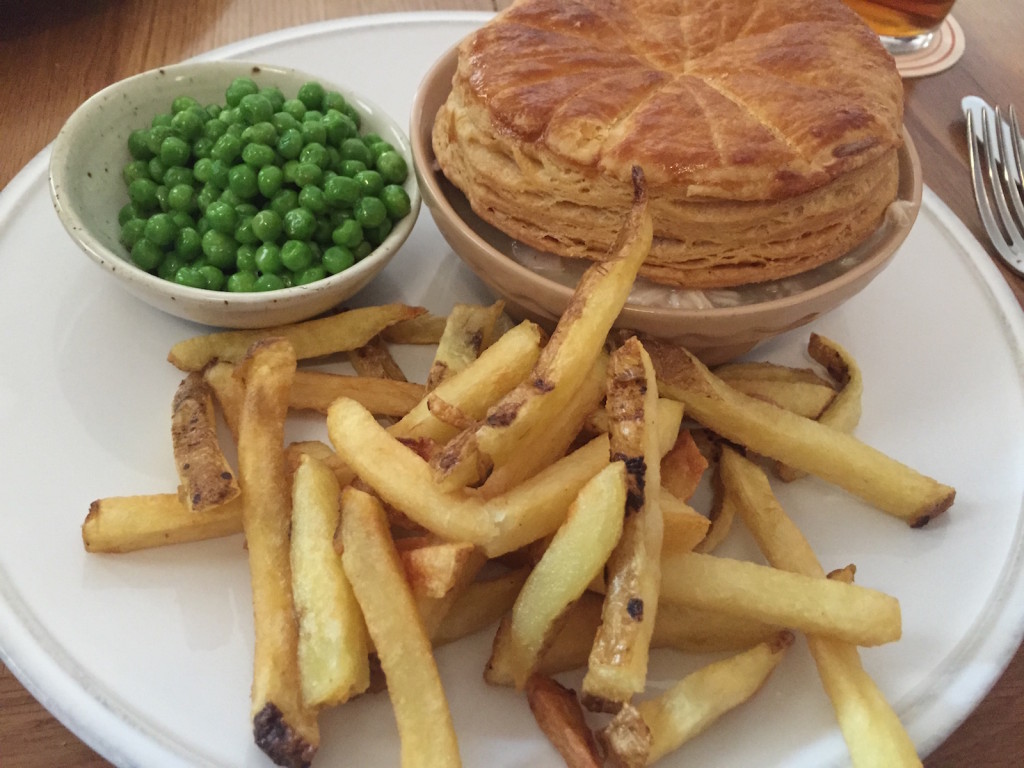 My chicken and bacon pie – doesn't look huge at first glance, but took some eating. Stuffed full of chicken and not too rich, but savoury, creamy and like all pies should be, just a joy to eat. The flaky pastry was again, homemade, but a little on the heavy side. Fries were solid and sides – very "rustic", but well cooked. Not a gram remained of the mash, which was just buttery enough, and particularly enjoyed.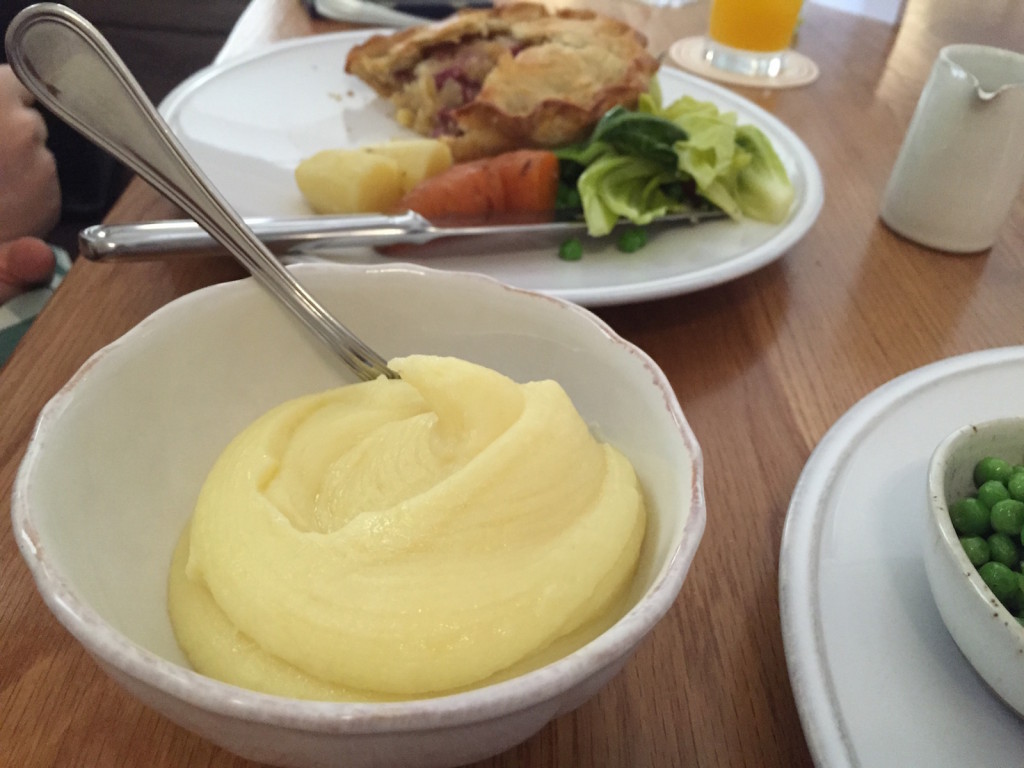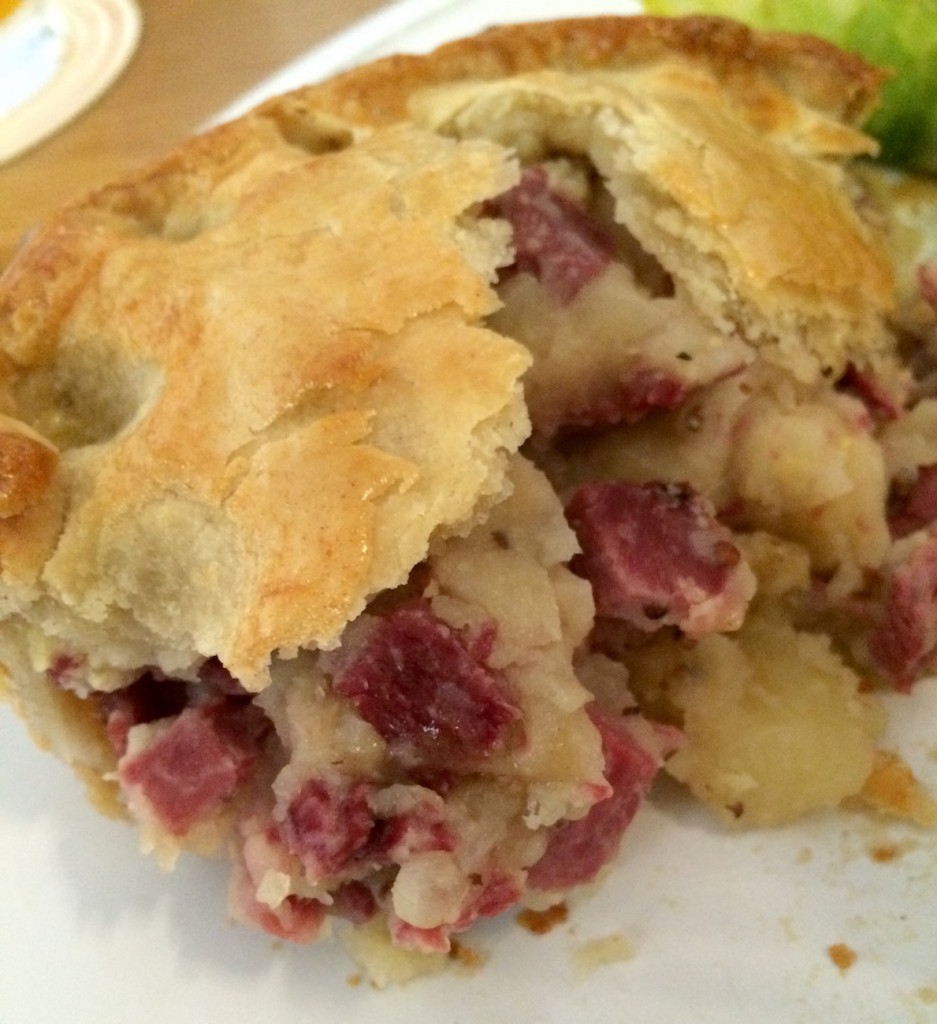 Kate enjoyed her corned beef pie but complained was a bit light on corned beef and heavy on potato. The corned beef though, as with I think pretty much everything else on the menu, is homemade, which is a big thumbs up. Gravy – you gotta request it on the side, but what is a pie if it's not swimming in a good unctuous gravy?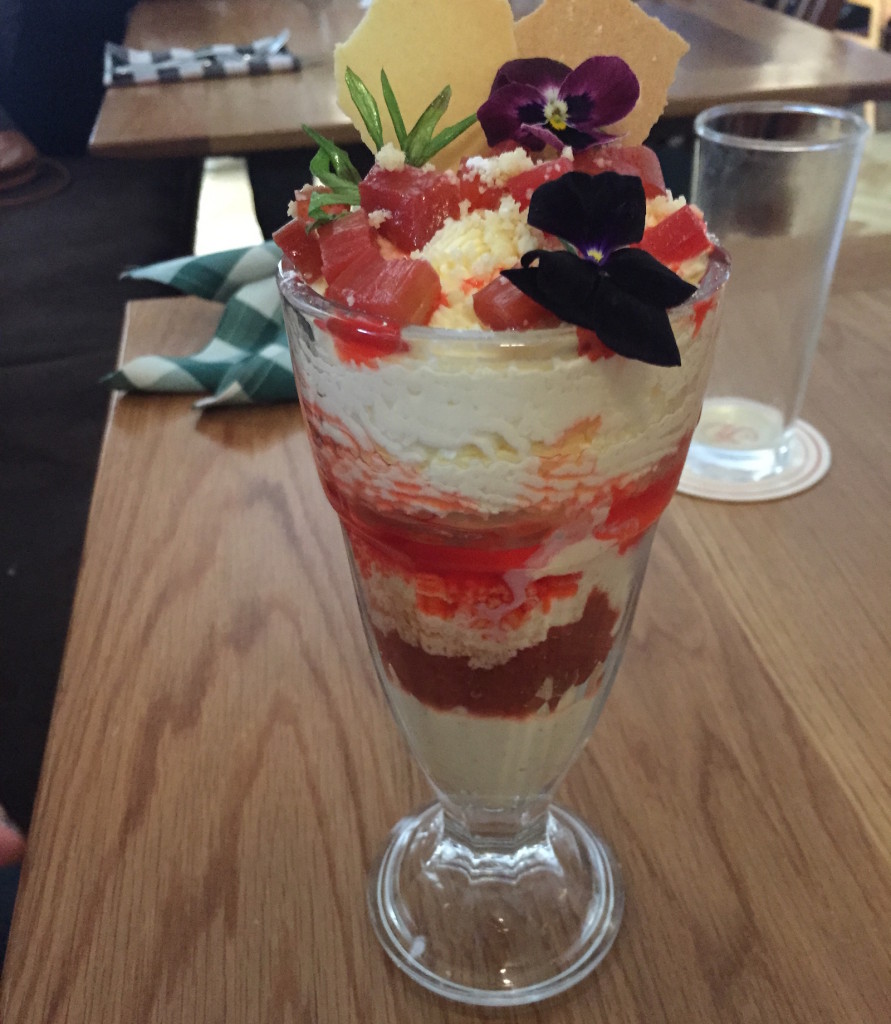 We could/should have stopped there, but finished greedily with a knickerblocker glory which was swiftly demolished. For £6.50, I kinda feel as though it was little more than really a nice tasting melange of various creams, with the innate tartness of the rhubarb, nor the herby mind-altering qualities of the woodruff not really coming through enough for me.
Pastry comes from the JDH kitchen team, and looking at recent photos of it, the afternoon tea looks to be very, very similar (and a fiver cheaper). A quick nod for the service too, which was excellent.
Despite the fact that everything on there is very keenly priced (see below), and they don't try to tap on a 10% service charge, given it's wide berth from town I don't think we'd necessarily make a special trip back to St. Mary's for anything from the grill. Though if we were passing through? Give me a go on the Sunday lunch, or everything off the bar snacks menu and a couple of nice sandwiches and I'll be more than happy.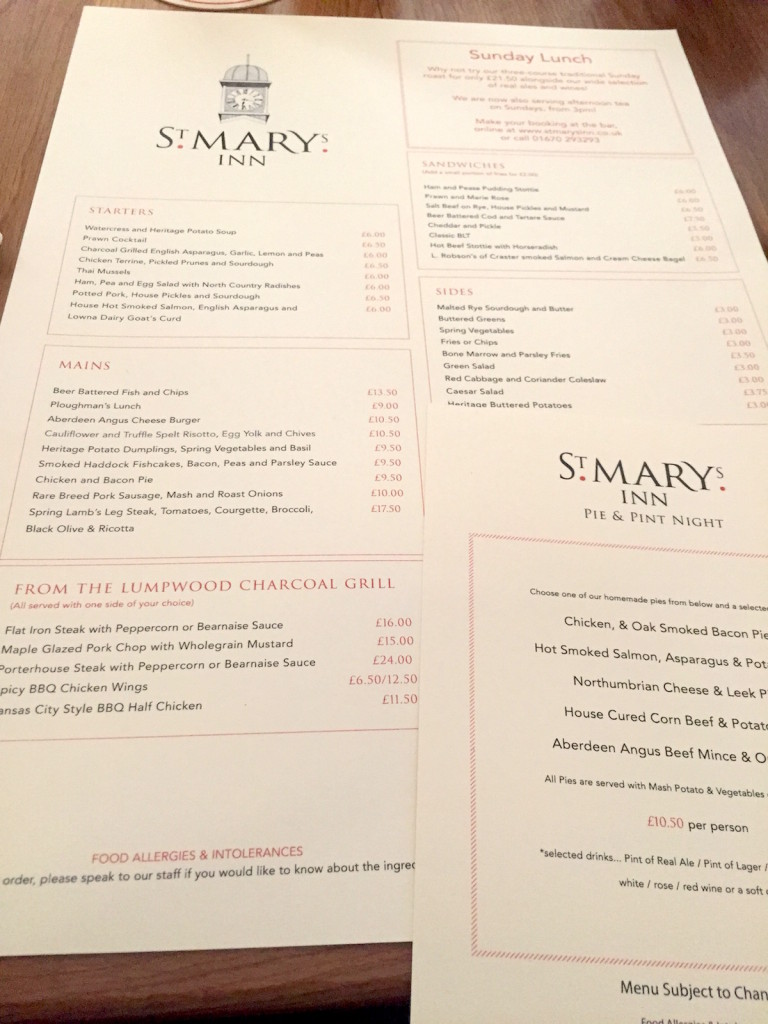 Contact: http://stmarysinn.co.uk
Food hygiene rating: Not yet rated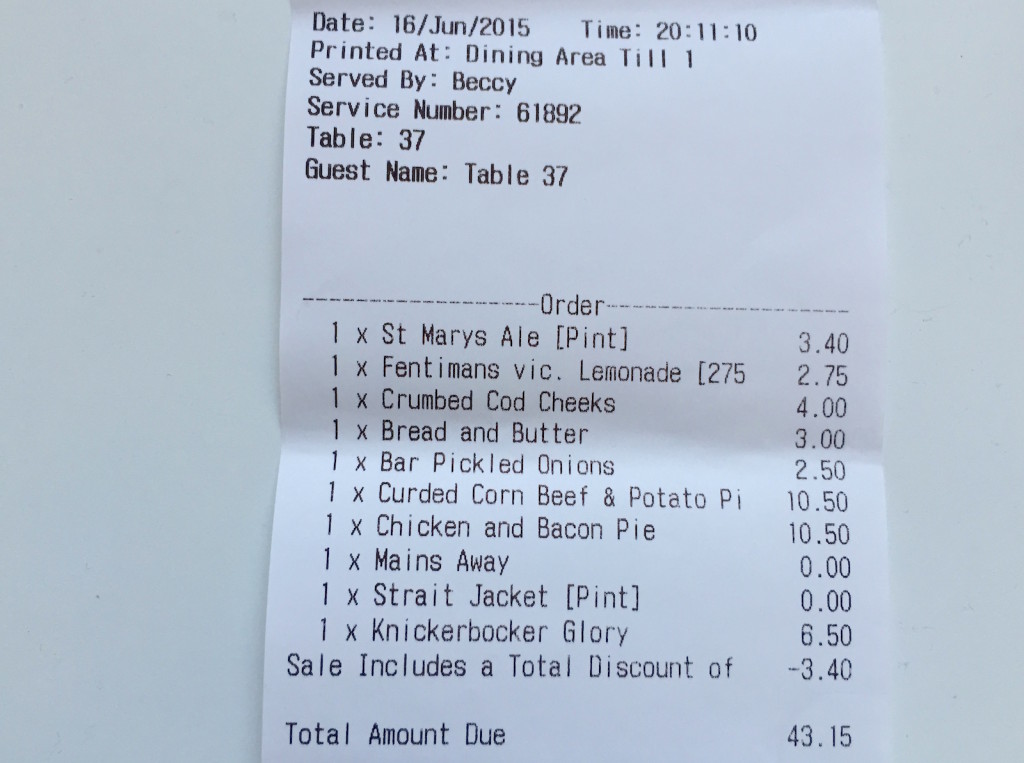 Newcastle Eats no longer supports comments directly on posts, instead, why not fire up the discussion on Twitter, Instagram, or email me directly.