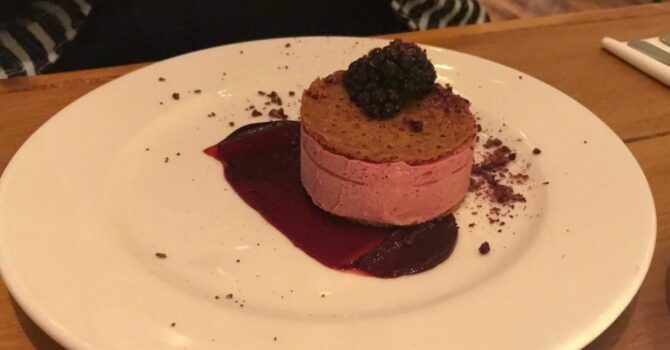 Nowt stark about it!
Starks Kitchen (205-207 Chilingham Road, NE6 5LJ) promises to 'serve fresh, tasty food using the best local ingredients'.
They've not made the cut this year, but in 2018 Starks was in the Good Food Guide as 'Reader Recommended' and much like Bistro 46, Route, and Harissa, it's surely the type of place you'd love to have on your doorstep. We've been meaning to go pretty much since the building was in it's former guise of…Cal's Own.
You can easily see the remnants of the OG pizza joint which really just gives me an odd nostalgic desire to be back in 2013, drinking warm gin&tonics and having those first few pies out the oven there. Anyway, Starks has been on the to-do list for that long, and been recommended by so many people, could it ever live up to what was here before?
Finally, we checked out the early evening menu (3c, £21 5:30-6:30) before seeing the (brilliant) A Star is Born.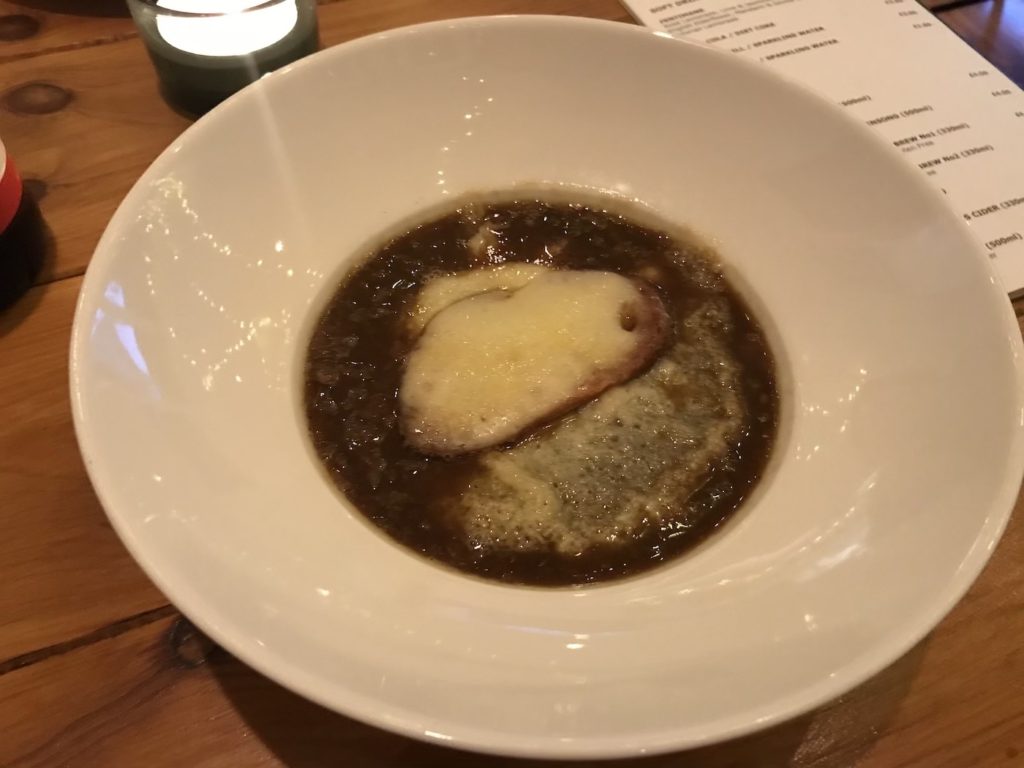 Starters were right on the money – a classic interpretation of French onion soup was about as good as it gets; rich and meaty. As it's getting a bit colder, it's hard to not love the 'soup jacket' embrace of spoon after spoon of jammy, beefy onions. Great croutons too, especially when completely saturated with that onion broth.
Tempura broccoli were perfectly fried without a hint of residual grease, but it was the incredibly fresh tom yum mayonnaise, alive with presumably lemongrass and kaffir lime that really made the dish. Lots of fried things lend themselves to 'just one more' and normally broccoli doesn't tend to be one of them, but these were excellent. Leftover mayo was unashamedly spooned directly to mouth.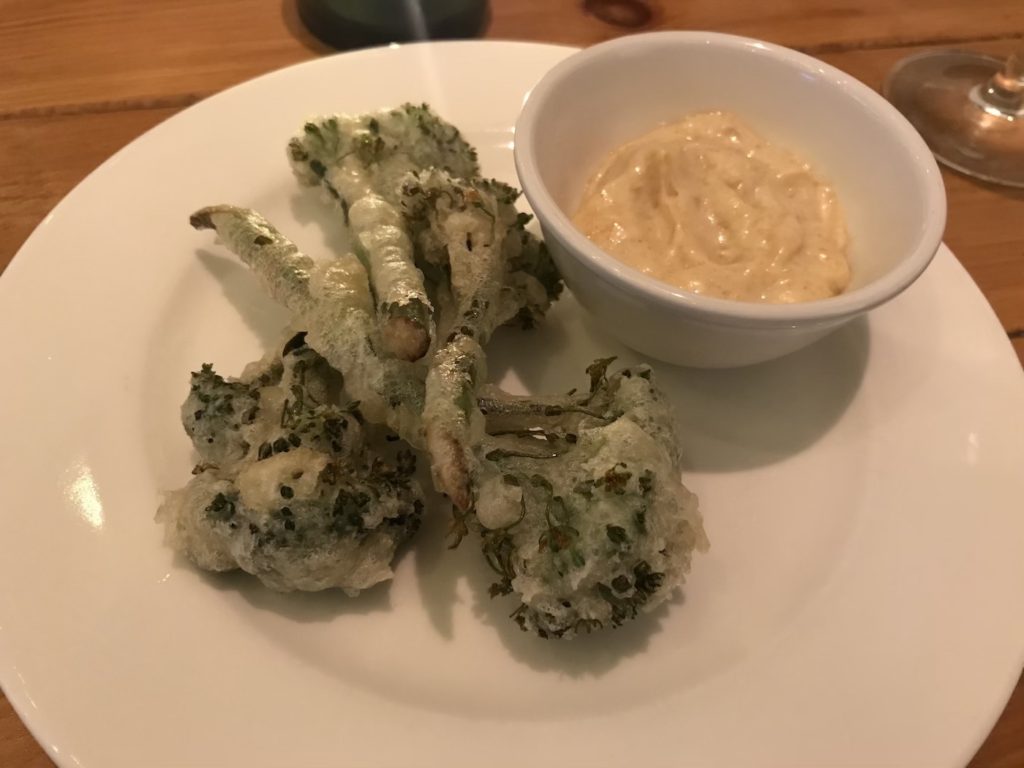 Kate's bream came with orange based-chicory, watercress and almond aioli. I think orange = cointreau in this case, which was a bit dominating for me. Otherwise, totally get the dish, crunch of hazelnut, velvety aoili, and everything needs a bit more chicory.
I couldn't quite figure out if our service tonight was by the owners of the restaurant, but was absolutely spot on. Really felt like we were in their front room, sharing tea, which is the greatest compliment. Drinks are a notch better than most restaurants, with their own take on Durham Brewery's Pale Ale having some sort of Game of Thrones reference – hence the Stark in the name. We don't watch it ?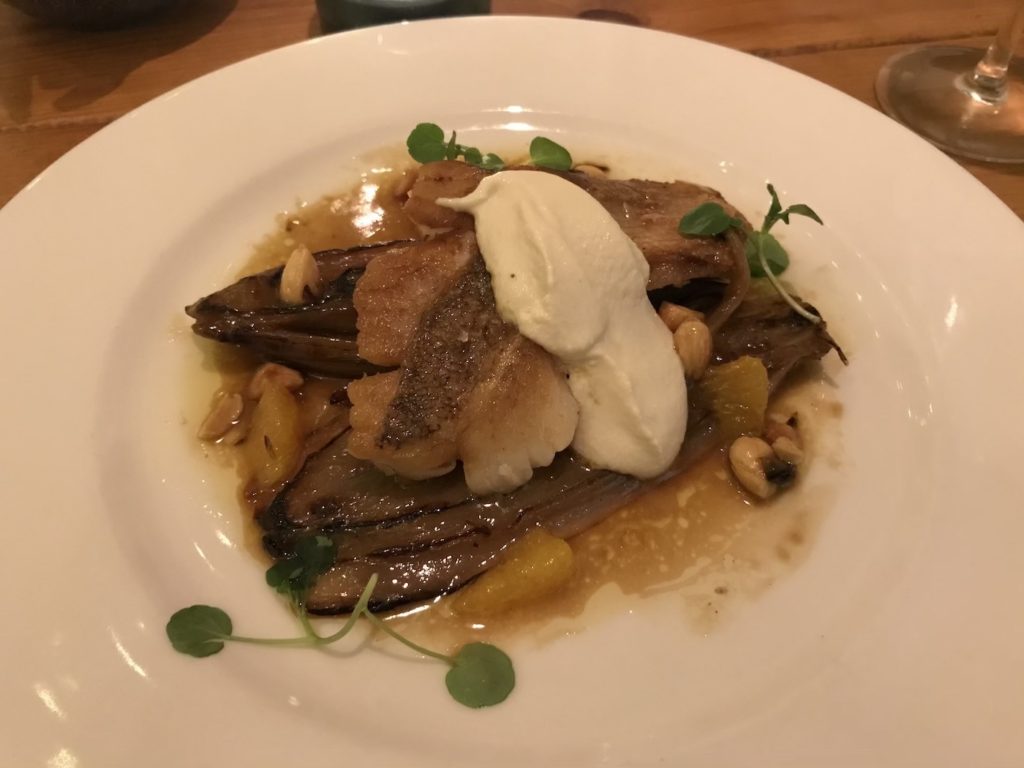 You know I'll definitely judge a place on the quality of its chips, and these were bloody ??. You just know that if they're taking this much care with their chips, you're in a safe pair of hands.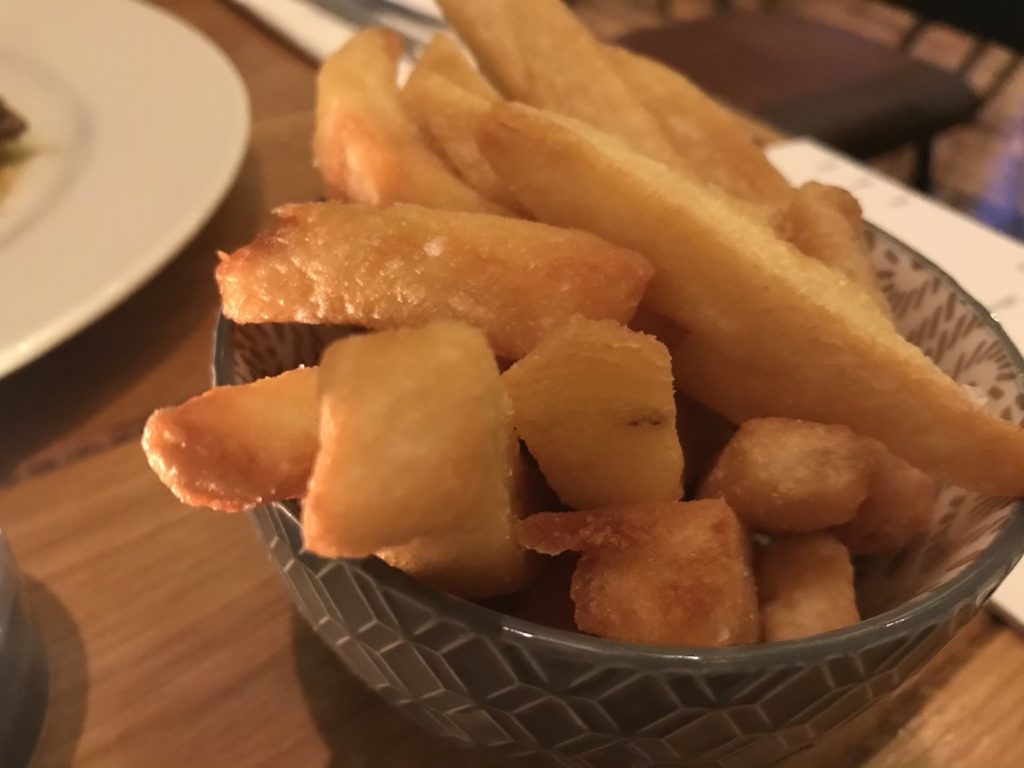 These came with steak which today was bavette – one of my favourites. Meat is proudly sourced from Charlotte's Butchery, too ✅.
Steak came drowned in 'Big Mac' sauce which I wasn't too sure about first, but y'know what, I'm down for it. Add a whopping handful of shoestring onions, charred lettuce, and tomato, and it's a kinda funny take on the McDonalds classic. Bavette is often overcooked but this was ideal and I could have eaten twice as much. A light, but overall satisfying 3 courses tonight, I felt. Without those chips though, might have been hankering for some ice cream at the pics.
A very good steak and chips overall…the smattering of cucumber cubes, I'm assuming they didn't fall on the plate, but ??‍♂️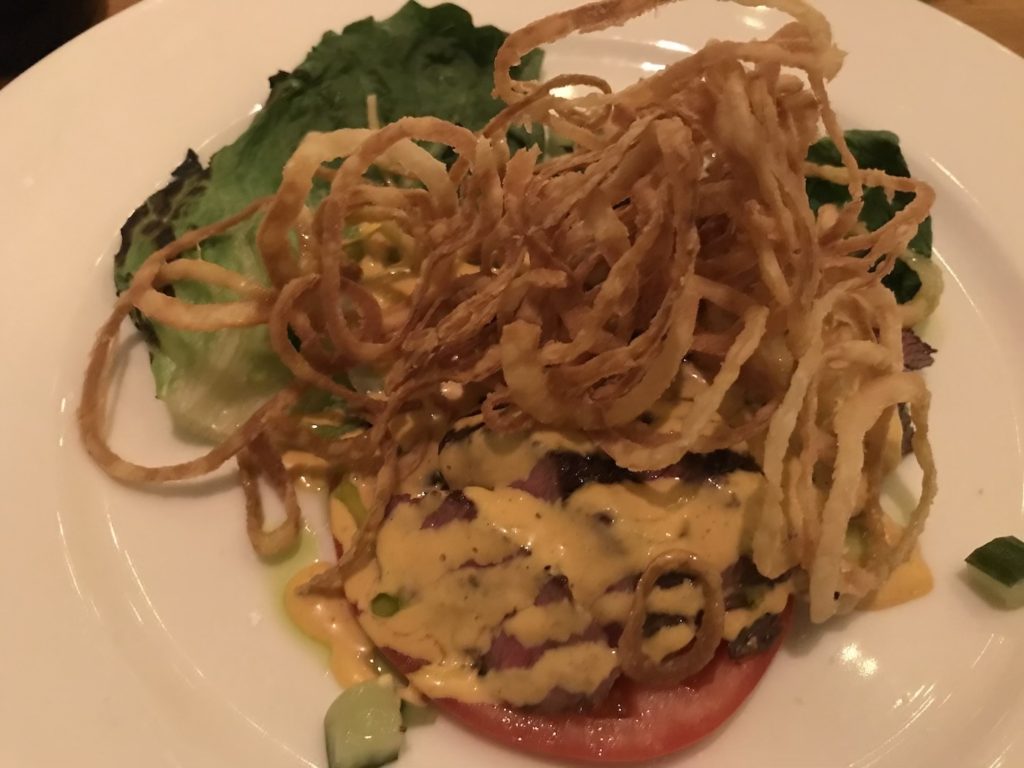 Desserts were simple but couldn't be missed – you don't see apple marigold very often, and here in a crème brûlée really reminded me more of an evening at L'Enclume than Chili Road. Think warm, creamy apple Starburst sweets. Really great.
The blackberry ice cream sandwich (top) just about pipped it though, with intensely fruity gelato-smooth ice cream and a crisp brandy snap-esque biscuit. Both very autumnal and simple but well executed.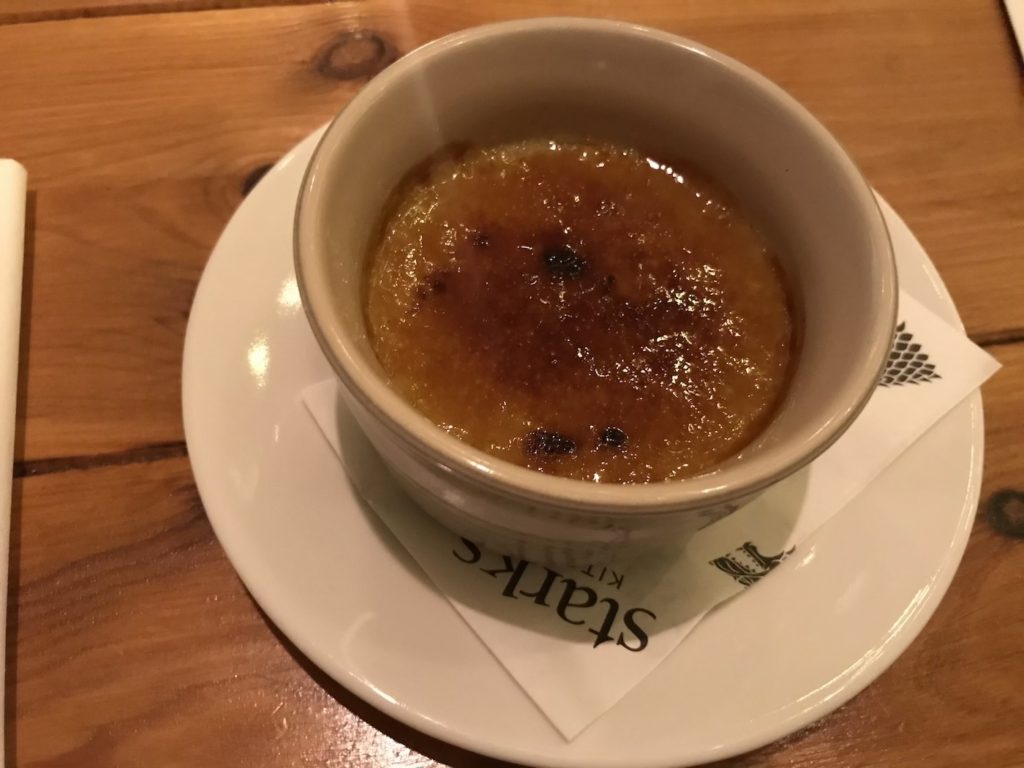 It has taken us an annoyingly lengthy amount of time to visit here, but given how good both Sunday lunch, and breakfast menus look, I suspect a return visit won't take quite so long. A proper little neighbourhood restaurant, and in the absolute black hole of takeaways that is otherwise Chilingham Road, Starks Kitchen is a real diamond in the rough.
Contact: starkskitchen.co.uk
Food hygiene rating: 5