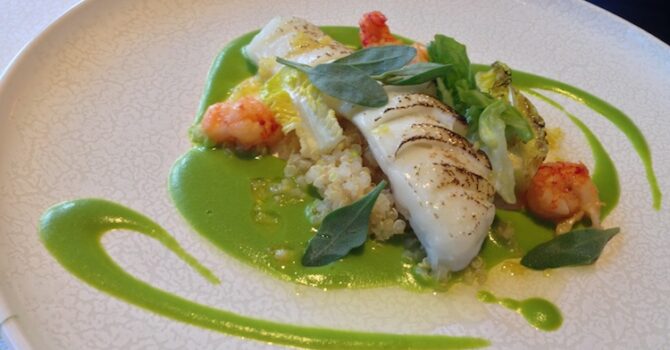 Reflecting on the last few months, and the end of 2014.
With these 5oC mornings lately, it seems as though the sun has finally gone down on summer 2014, and my those depressing dark early starts and finishes will soon be back. While I don't understand people who prefer the autumn, or it's bastardised name "fall", there's something to be said for autumnal food – and no, that doesn't mean Starbucks patented "pumpkin fucking spice" in everything. It's stews, risottos, celeriac and kale, all things gamey and fungi. That's all to look forward to, but for now, here's a quick snapshot of some of my summer highlights in eating.
Weekend in Amsterdam
While researching for my first trip to Amsterdam, it was a bit shocking to discover that traditional/authentic Dutch food seems to stop at stroopwafels, Edam, and Heineken. We weren't really there for the food of course, but the smattering of Michlin star restaurants seemed to be mainly French influenced. We checked out La Rive at the Amstel Interncontinental hotel and had the full works, but hey, when the bill comes out in €, the price doesn't really count, does it?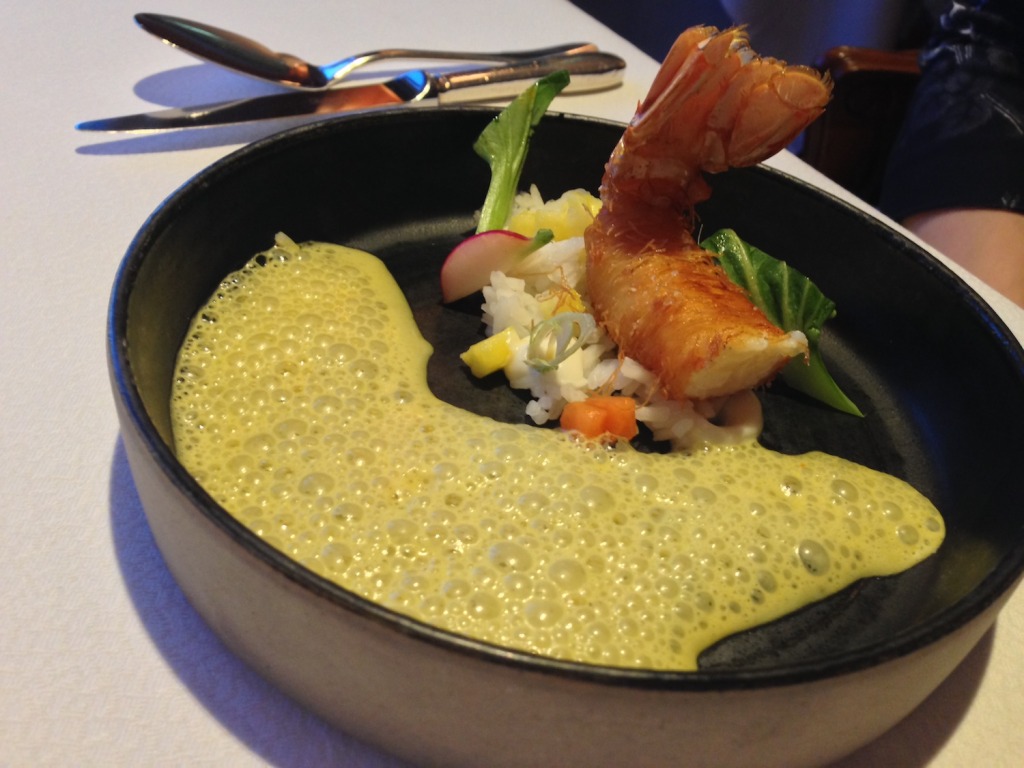 A beautiful hotel right on the river Amstel, grand, full of heritage and with a real sense of occasion, the favourite dishes were numerous including a creamy lobster dish, and this fragrant green curry. You might well be there for the hash cakes, but La Rive is definitely worth a look in for a special occasion.
Other favourites? Maoz Vegetarian is one of the biggest food chains in the world, but you'd have to go to London to find the nearest. Fresh falafel with "build your own" salad is something I welcome with open arms, so…swap you a Newcastle branch for 1000 branches of Subway and Pret?
Afternoon Tea at the Talbot Hotel, Malton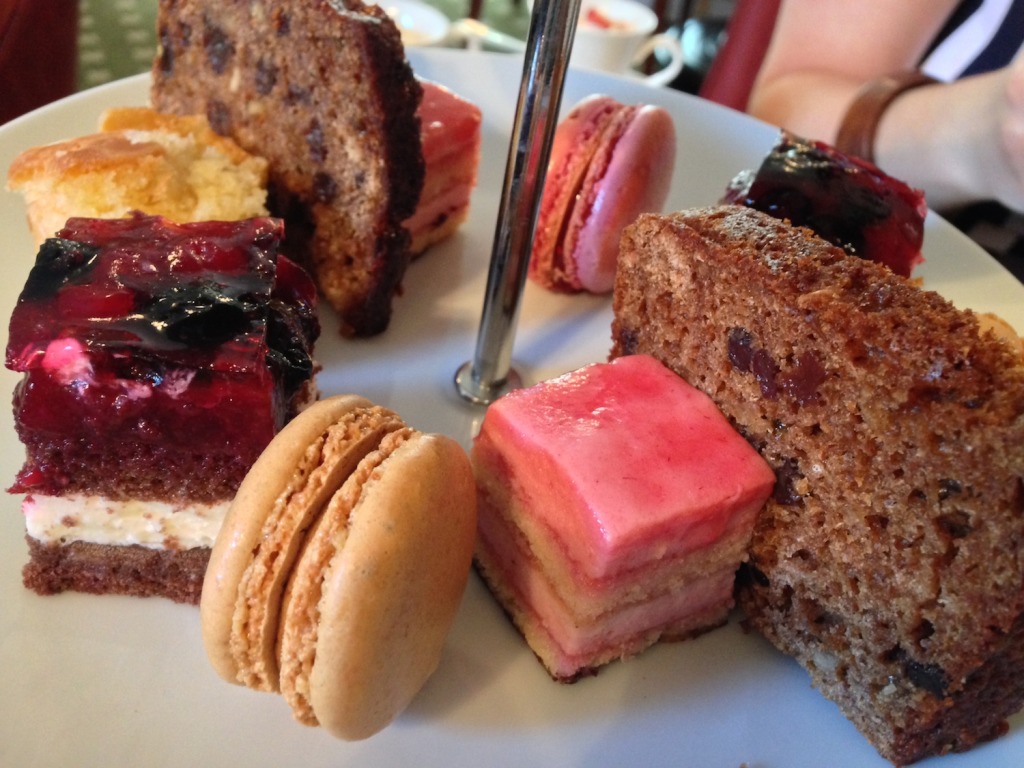 My love affair with afternoon tea is well documented, and, well, it's James Martin, innit? The Guardian review was fantastic, the hotel itself is lovely, the staff are "proper Yorkshire", but unfortunately, our afternoon tea experience was disappointing. Considering James' former days as a pastry chef,  it was pretty offensive to see "cakes from Brakes". Barring dirty tea pots, the rest was fine, but a cold, wet and insipid cake tier mean as good as the main restaurant might be, it'd take some serious arm-twisting to get me back through the door. Went for fish and chips in Whitby after, which did not live up to the hype.
Birthday Lunch at Northcote, Langho
I'm 30!  To come to terms with the fact that I can no longer call myself a twenty-something, it had to be a blow out weekend in Manchester, including lunch at M* Northcote. A faultless lunch with high after high, but choosing a favourite? This champagne poached peach with pomegranate granita was my favourite dessert of all time. Fresh, simple, and just beautiful.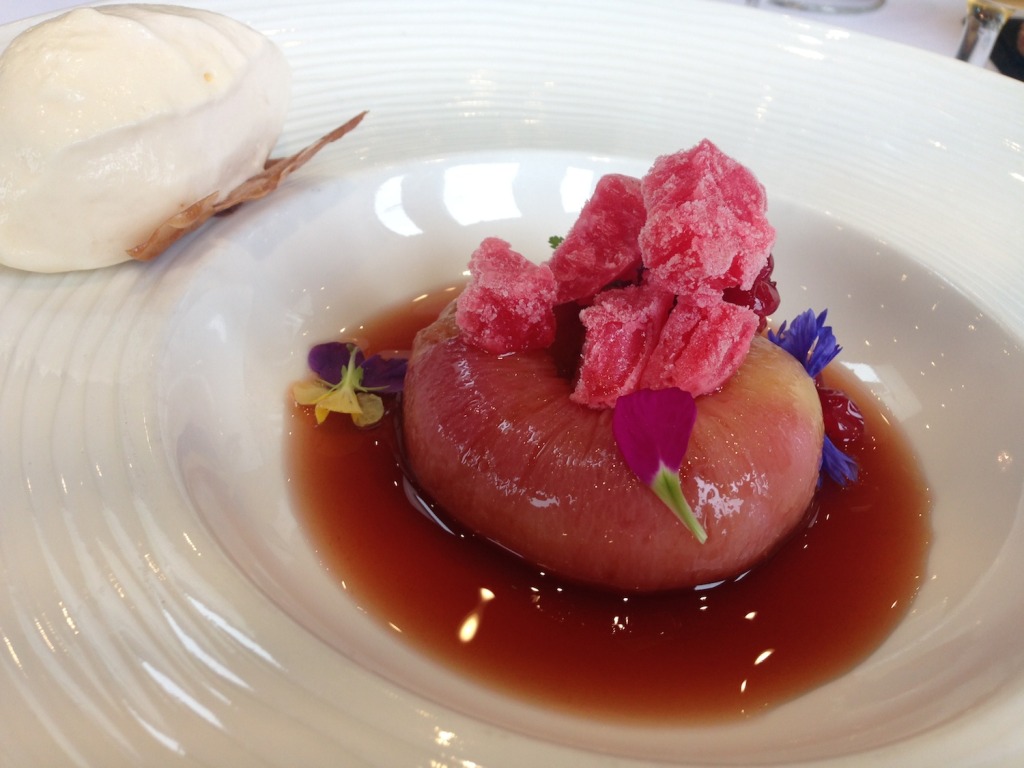 Also visited while out in Manchester – the reliably great Pieminster. Cheap, filling, and the best late night alcohol sponge there is. For someone usually dead set against chains – please bring one to Newcastle…
Pictured below: "the mothership": pie, peas, mash, onion, cheese and gravy – it's £7.95, now try and tell me you don't want to eat that.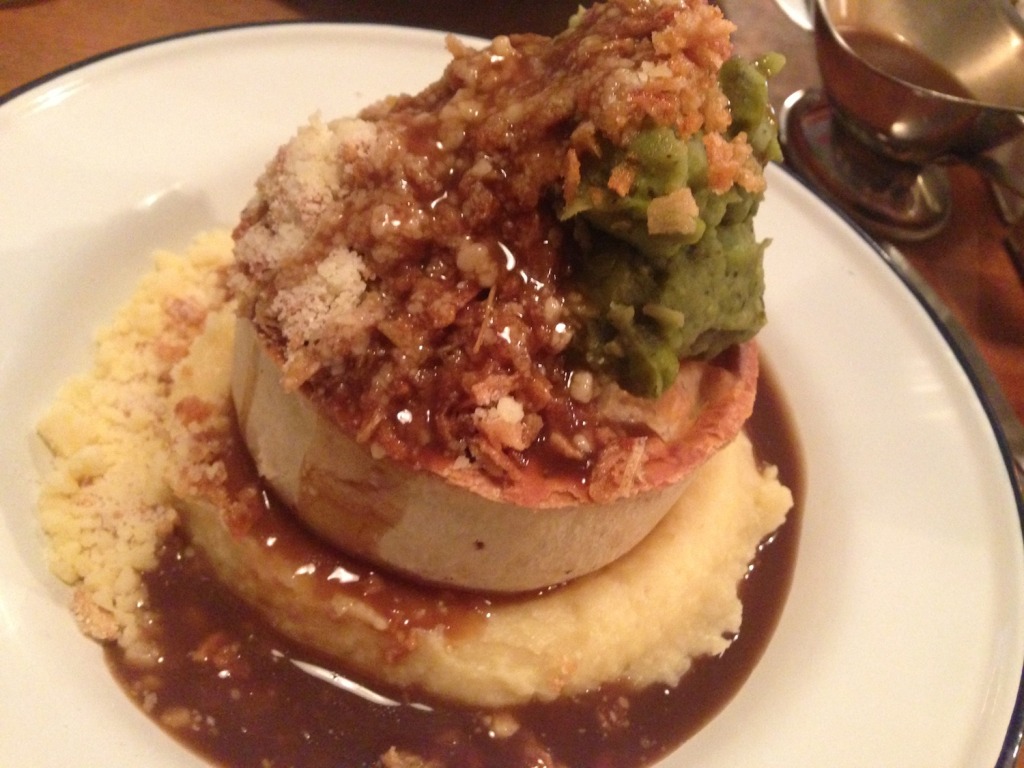 Ferry, 'Cross the Mersey
The culinary landscape in Liverpool seems similar to Newcastle in some ways: a little browse of the recent Good Food & Michelin guides threw up no Michelin stars, and a quick crowdsource for info gave no more than a handful recommendations for serious food. I'm sure there's some (send recommendations for our return trip!), but we ended up going for cheap and cheerful – starting off with almost famous burger chain, Almost Famous.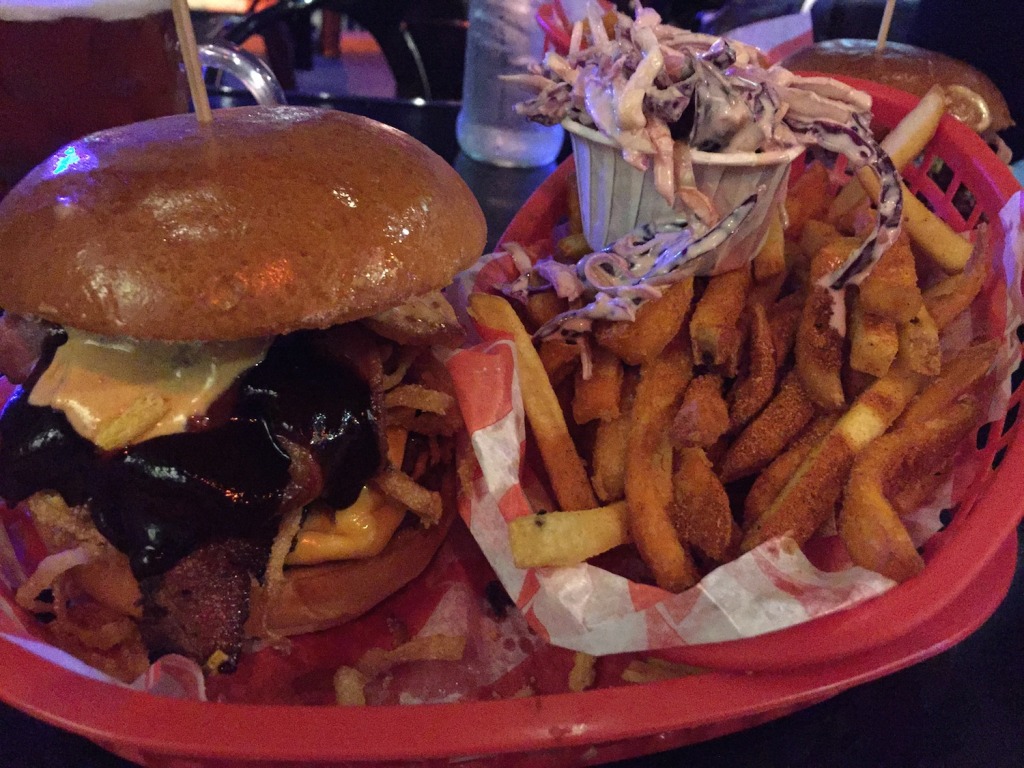 Jesus Christ, I mean…look at it. "Burgers only" in a trendy setting is something that many in Newcastle have tried, but rarely succeed at. These guys have absolutely, 100% nailed the "dirty burger" – easily the best I've ever had, and priced realistically too (River Phoenix burger + fries & coleslaw above, £10). Actually salivating at the thought of going back.
Also, enormous but proper heavy pancakes from Moose Coffee, and superb bread from Baltic Bakehouse. You gotta really try and find those gems worth the twenty minute walk out of town and onto an industrial estate for…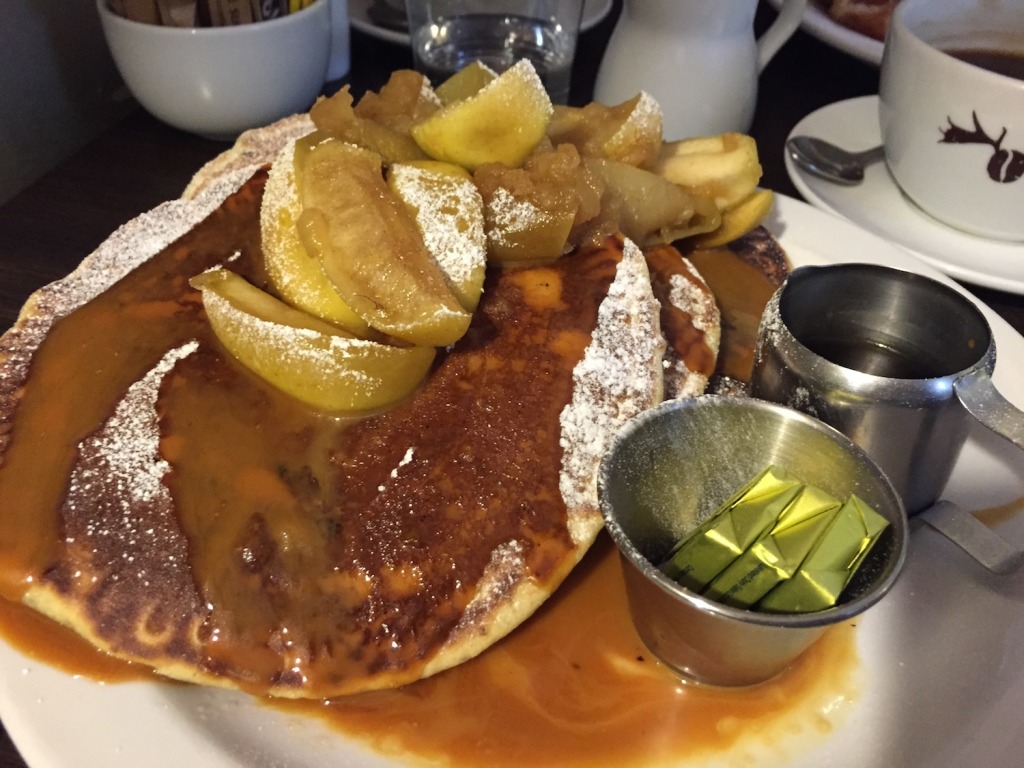 So back to Newcastle, where's next? Bierrex looks to be no doubt be fairly reliable and will no doubt "out-trend" Hop and Cleaver. Top chef acquisition means St. Mary's Inn will be visited for a feasible alternative to the Broad Chare. Let's just forget about this Miller & Carter thing, and who knows, we might even finally splash out on House of Tides some day. Where've you been?