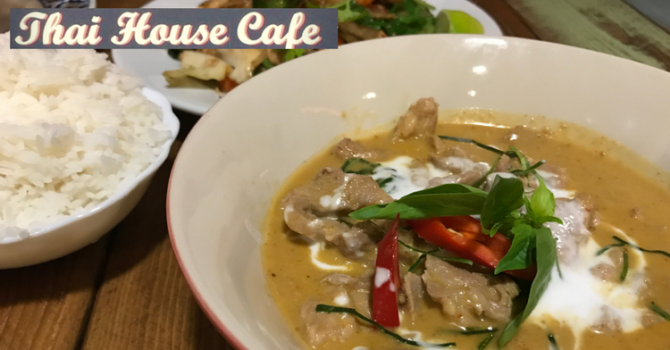 More like this plz.
Thai House Cafe (93 Clayton Street, NE1 5PZ) is another one of those indies that popped up almost overnight, and doesn't do any promotion, but sits there quietly, being really quite great. I thought it was definitely worth a shout out, as other bloggers coo over Chaophraya, and whoever else has the huge marketing budget. It's a bit sad that most people will "give Chaophraya a go" because of where it's located, but not even have heard about this place.
It's well, rustic inside – bare wooden pews, no decoration or gimmicks other than your trad Thai condiment covers. Absolutely zero frills. The sparkling lights of Chaophraya this is not – you'll more likely see the nana in the back clattering away at the wok and bashing all the herbs out. And playing the 'rustic' trump card – it's still cash payment only. It's actually a refreshing change from the clip of some of the places opening up in the last 12 months which are fancy first, and food as the footnote.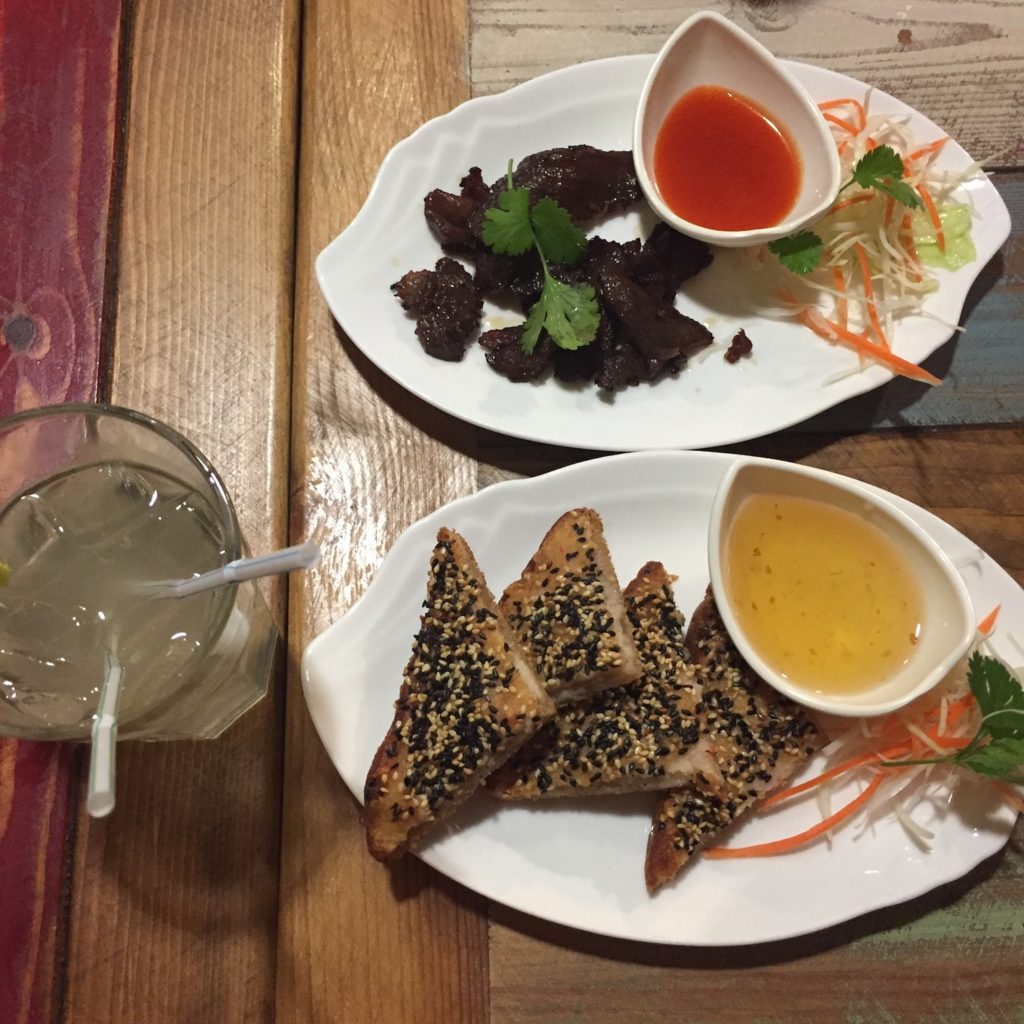 The menu is large, (I've gone to the liberty of including it at the bottom of the page as you'll not see it online) and spans Thailand and then some – curries, noodles, soups, and everything in between including, for the brave – chitterlings. Maybe next time.
To be honest, we often dodge starters (all £5.50) because main courses are large. But these prawn toasts were by some way the best I've had in Newcastle. So thick, crunchy and stacked with prawny lushness. Dipping sauces manage to be both a bit wet, and a bit gloopy, but I can let them off with that. Deep-fried crispy beef was extra-soft-but-chewy and super tasty, but maybe a bit of a tight serving which is weird as mains are really quite generous on the meat quotient. There's also ribs, tempura veg, or you can get your tom yum soup etc. as a smaller portion.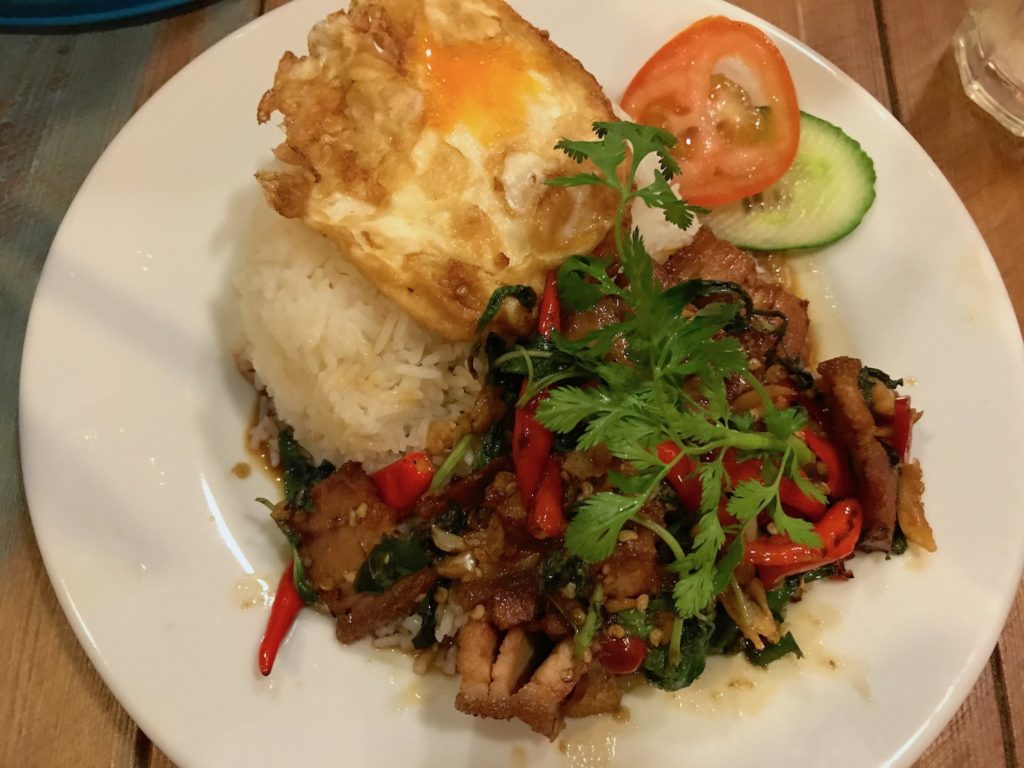 My favourite this evening was this phad ga paw rad shaw (£9.95). The staff will double-check that you can handle it "IT'S SPICY!" and indeed it did melt my face off, in a seriously good way. Really deceptively basic – it's just tasty as hell.
I've not got on well with pad thai in the past, but this one was a cracker as well. All the right bits present and correct, and balanced just so that you can't stop eating. I think it's about 8 quid, so you'll not see many better feeds than that. And where everything goes right here is Thai basil – love that stuff. It doesn't have that claggy feel that we found in similar-but-not-the-same Zaap Thai.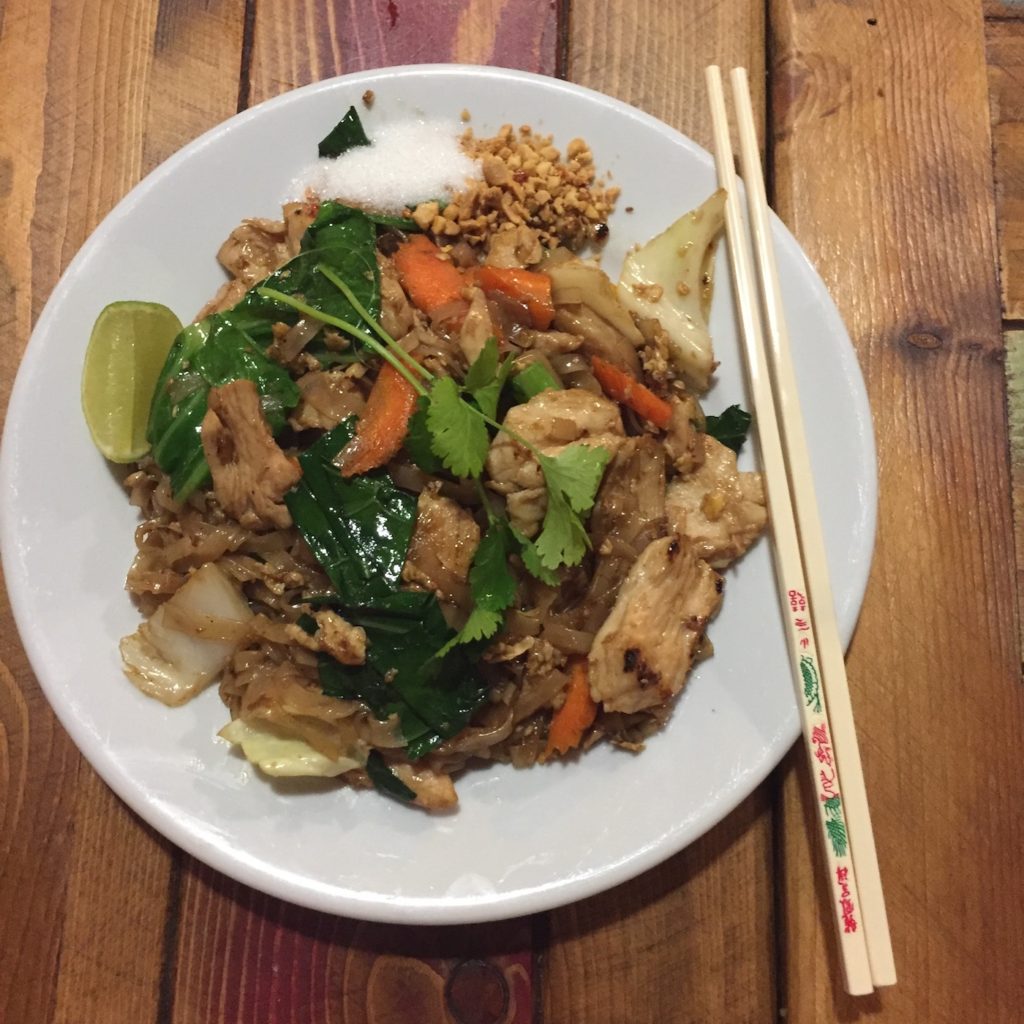 All the mains hover around a tenner – bit more for king prawns, and another £3 for rice or noodles. You don't need them, but a main with rice will fill you alright. This beef massaman had that classic Thai blend of sweet, sour, salty and spicy just right, though they (as with all 'proper' Thai places) can be a little heavy-handed with the fish sauce. Crispy bits in the form of peanuts and onions keep it interesting.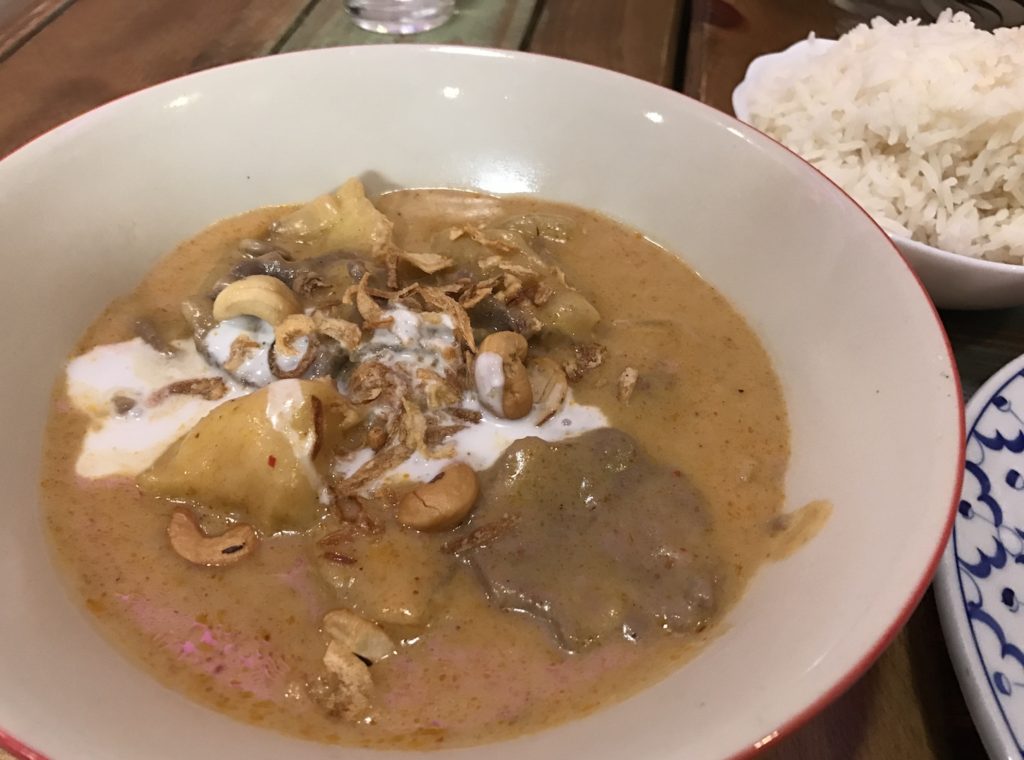 Red seafood curry was plentiful in gently poached squid and other bits as well as searing heat, and kept me full for the rest of the afternoon. If you're a relative Thai-newbie – and those menus can be somewhat imposing – start here with a creamy bowl of slurpy noodles and you'll not go wrong. Whether it's a green curry, jungle curry, or whatever else you fancy, they all start with a solid spice paste – the kind you can't be arsed with at home – but make all the difference.
Service does the job – with no fannying on, and again, a real focus on the food which makes a change.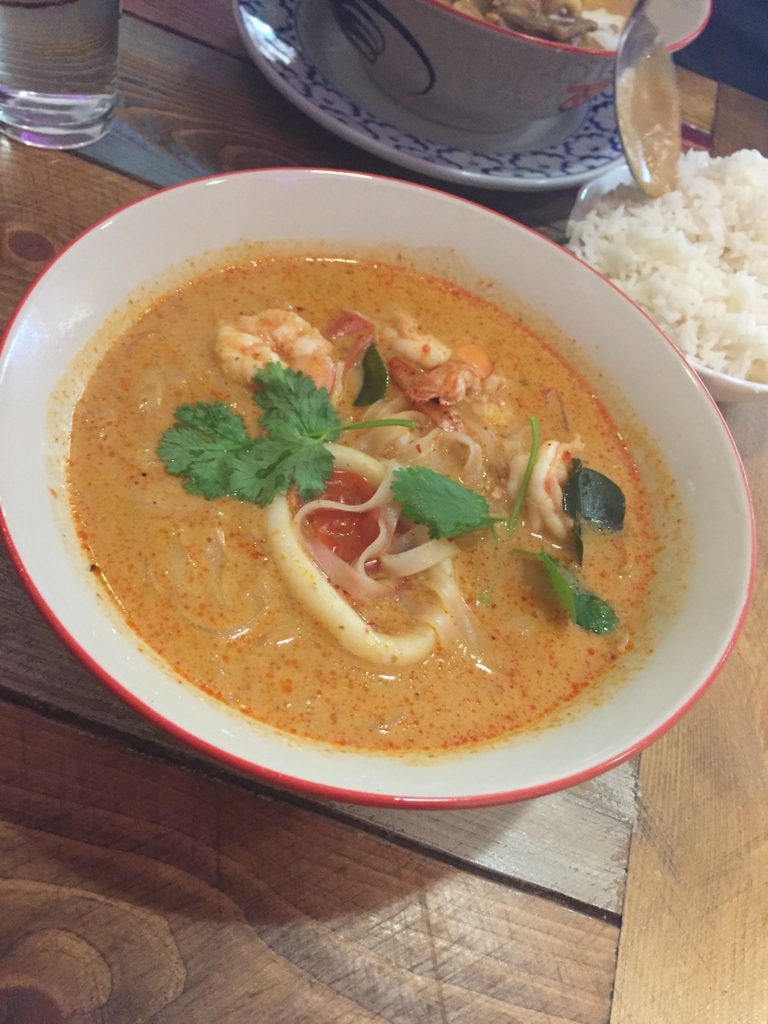 We've never managed dessert or even seen the menu because those mains are whoppers, but it's all your usual thai stuff. There's now some Singha beer but that's it for alcohol, and no BYO option. But try the Thai lemonade for something a little different – it does help temper some of the heat ?
It's a doomed site, the home of several restaurants which come and go overnight without much warning, so make the most of it while you can. That said it seems to be popular most of the time, which is awesome, as Thai House Cafe is (for now) a bit of a hidden gem that Newcastle needs more of. Hooray for the decent Thai places!
Contact: via Facebook
Food hygiene rating: 3/5
Thai House – The Menu