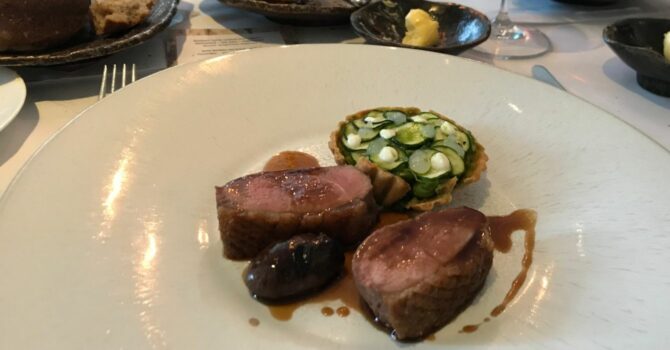 My kind of spa day involves duck hearts and Chateauneuf du Pape ??‍♂️
While we've been down to Seaham Hall (Lord Byrons Walk, SR7 7AG) specially for the spa and for afternoon tea (which btw, is excellent), The Dining Room (formerly Byrons) has remained one of those 'looks nice, but I've got bigger fish to fry' kind of places. Destination dining. I still haven't eaten at Rockliffe for much the same reasoning. Boutique hotel restaurants can be pricey and bijou.
It's got a long history, from Lord Byron to Kenny Atkinson's M*, and is again in this year's Good Food Guide, so you know it's quality. And much like many other solid restaurants we've been at recently, you can get a good vibe of what's happening in the kitchen over on the Chef's insta. So as much as I'm trying to avoid #ad / #sponsored posts in 2019, the opportunity to try The Dining Room at Seaham Hall gratis proved too good to resist.
My meal was an invite-only type affair in the private room (not actually The Dining Room) so as ever, I won't comment on the service, and take with a pinch of salt. The Tattinger was very heavily laid on and I was quickly and merrily sozzled. Thoughts on the food do retain some clarity, and as ever, honesty.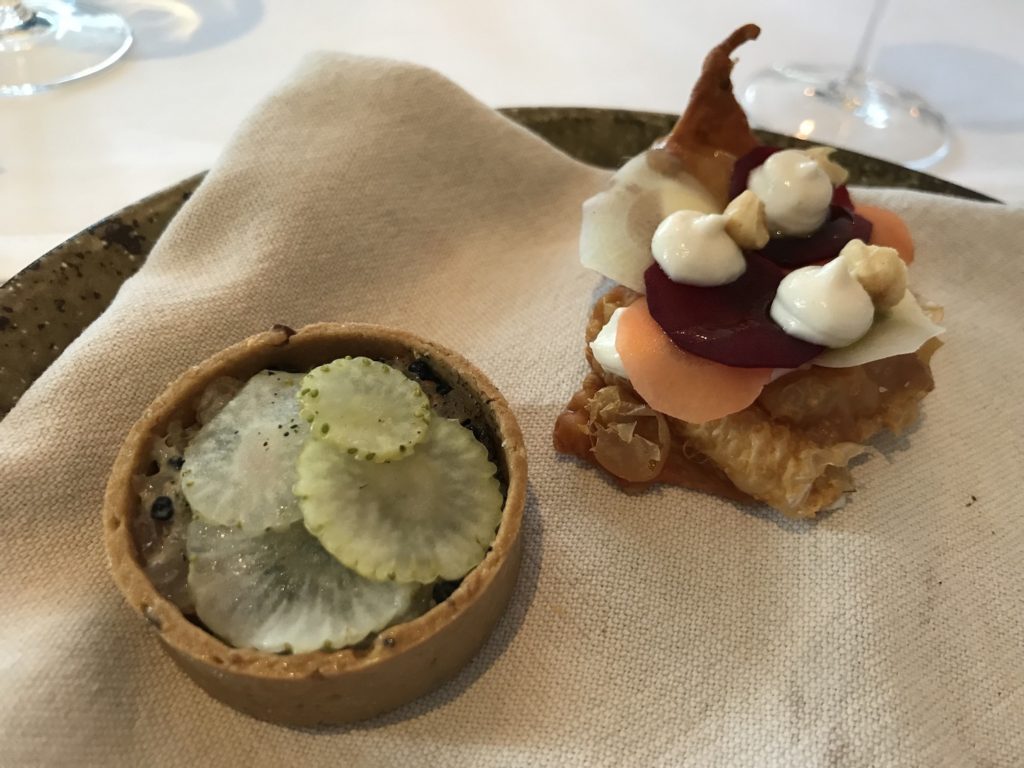 We got an intro from chef himself, and there's no faulting the provenance of ingredients – it's mostly local-ish. Menu also changes every few days, which especially for a hotel is good going. Things kicked off with snacks and bread, both much better than expected. You can see from how crispy that chicken skin is that  you know I should have asked for more.
And bread didn't last long at all. A murky beige individual boule of a fine sourdough with some nice tang and the saltiest butter. But most of it went in this super rich lamb sauce ??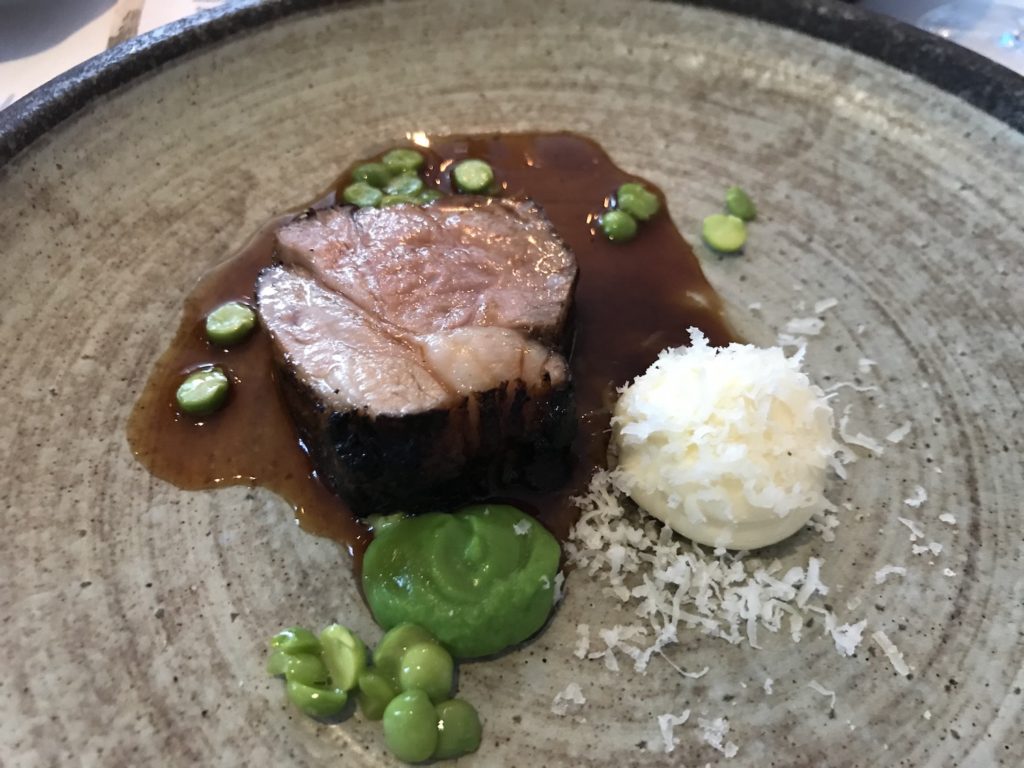 Straight off the bat, the best course here for me. Lamb cooked over embers, and this is what you hope for when BBQing lamb. Slight crunchy char on the outside with tons of natural smoke around a butter knife soft piece of meat. Peas an obvious garnish; elderflower not so much, but lovely all the same. A perfect bit of lamb for me, if on the small side – even as a first course. The fruity Sangiovese they matched this with is £35 and would be my pick too.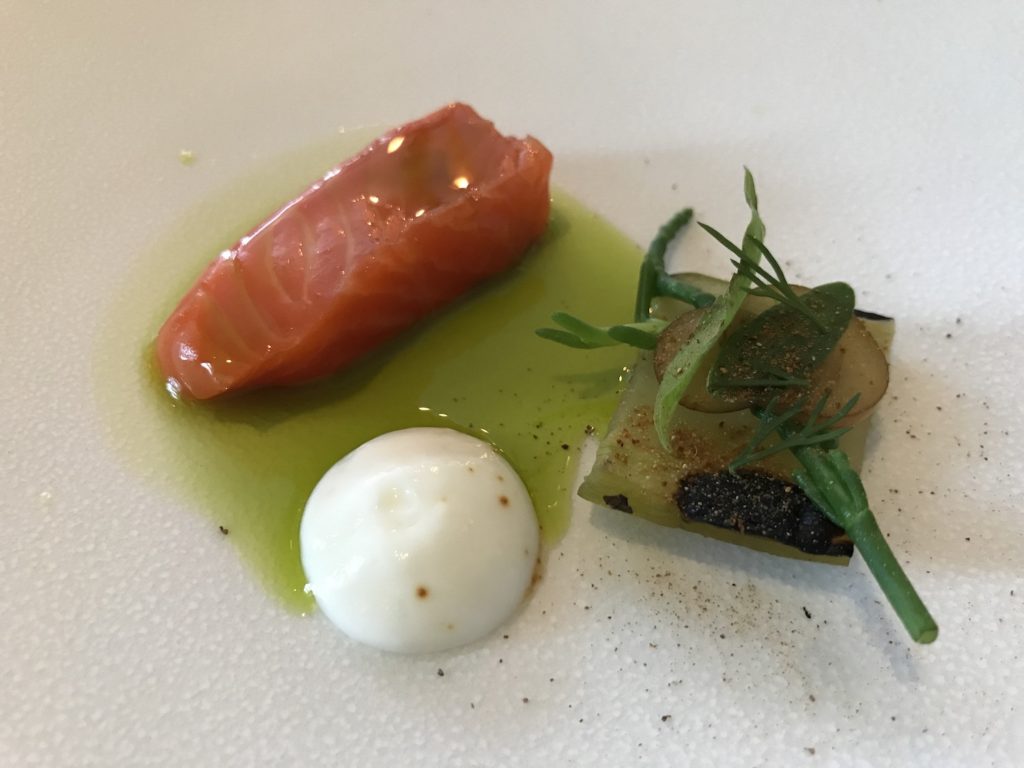 Whitby sea trout didn't make me drool with excitement, incredibly light in texture, freshness, and unfortunately flavour. (Sous-vide?) soft fish, but even grilling cucumber didn't really bring any powerful flavour to the party. Buttermilk helped, but the advertised fir pine was nowhere to be tasted, which that might have zinged the whole thing to life.
Duck was more like it. Served with a heart and a canny little veg tart. Mine was bashed, which is a bit sloppy really.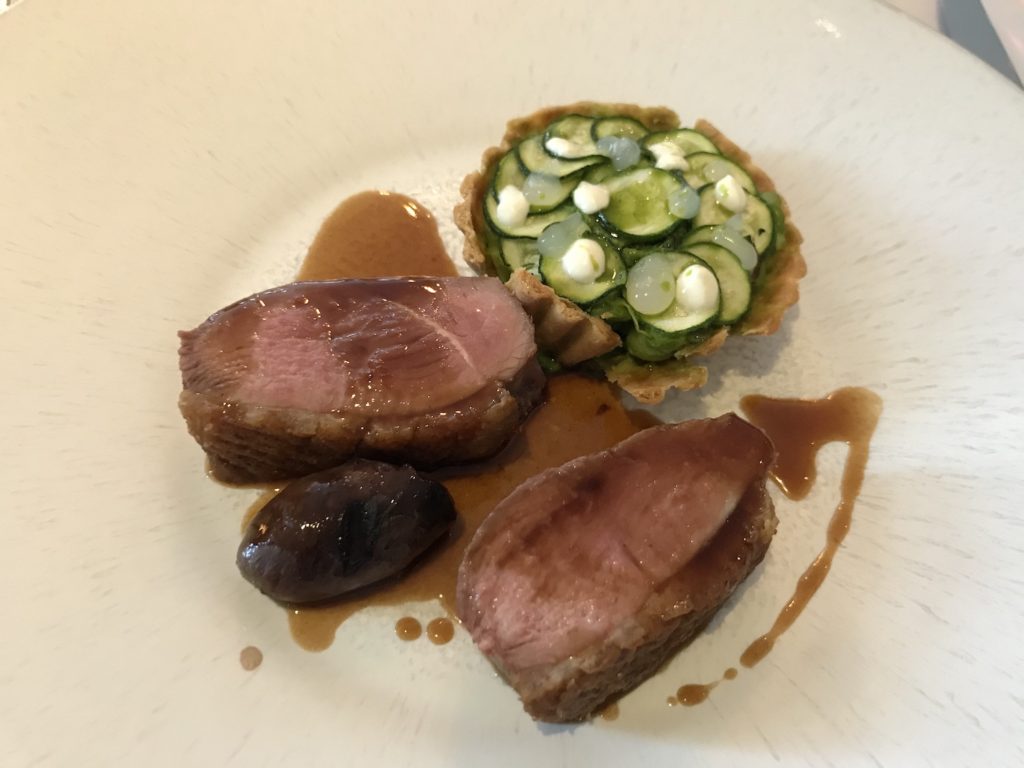 Again, absolutely can't fault the textbook cooking of the duck which had heaps of semi-gamey flavour presumably from the salt-aging. Even better was the wee veg tart (I'm guessing courgette, lemon, mint, asparagus?) which was supremely fresh and completely cut through the rich duck. A satisfying course, especially when you're treated to a Chateauneuf 'Les Granieres', both a beautiful wine and a beautiful match – £75 from the wine list. Didn't get to see non-wine options, however the wine selection is extensive (if a bit safe), and though you can go BTG from £7, an average bottle will be upwards of 30.
Desserts were great, kudos to the pastry team.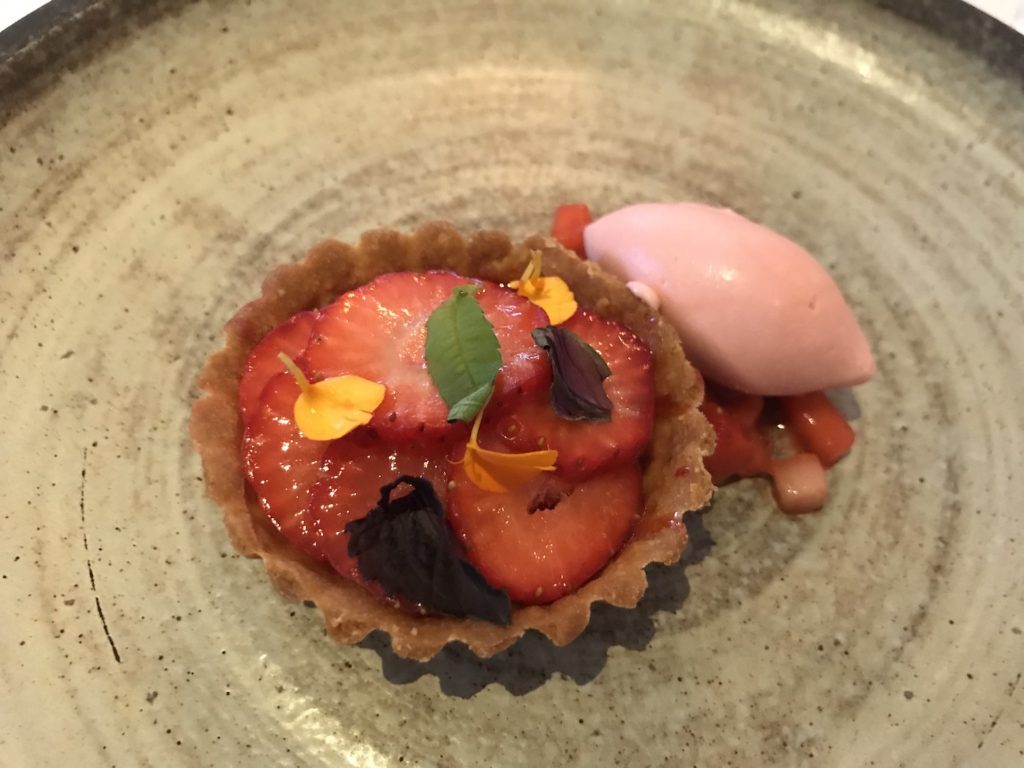 This strawberry tart was such a pure expression of strawberry. For such a light looking dish, this packed a helluva punch of the sweet Scottish berry flavour. Great snap on the thin pastry too. Strawbs & cream obviously a classic combo, but I feverishly wolfed down this take on it and enjoyed every mouthful.
What followed didn't look like much, but again was surprisingly great. Sour and sweet Hereford raspberries with yoghurt and rose were made texturally interesting with shaved sourdough. A little bit similar to the strawberry dish but a satisfying pair of desserts which I could have eaten twice as much of again. Really good. Zingy, summery, not too sweet plates of goodness.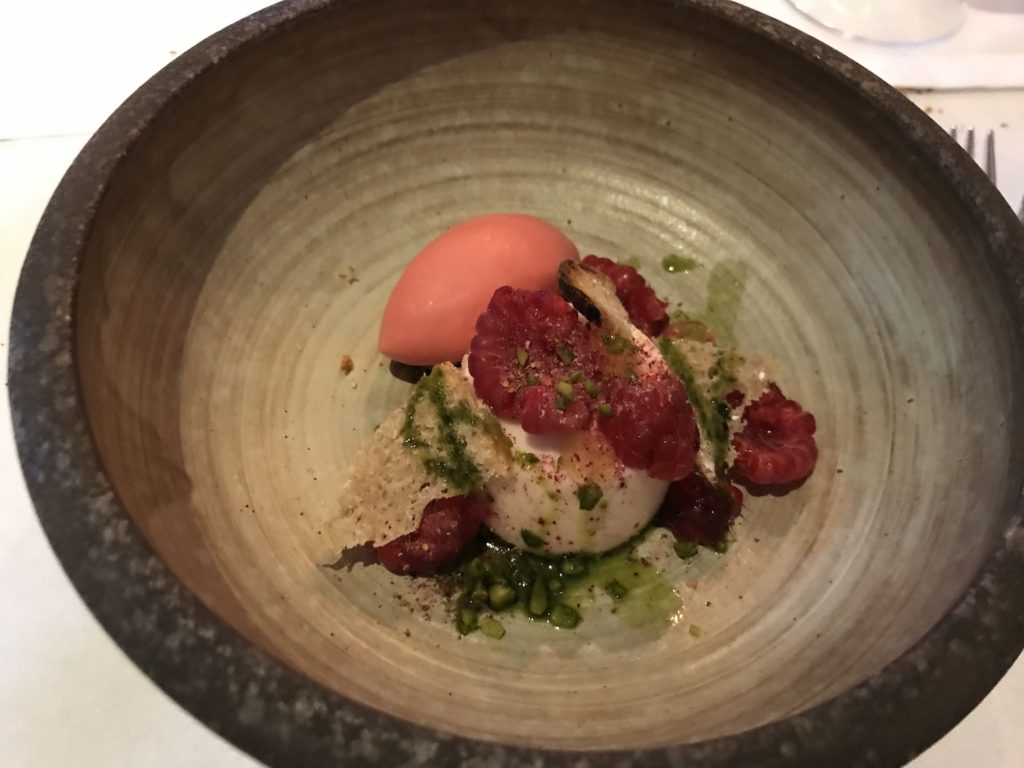 I really can't knock chef Damian or his team's cooking, and I've absolutely no doubt you'd enjoy anything off the menu but have to mention: captive audience, hotel dining, pay a little more because you have to. Even at the spa restaurant next door, the cheap as chips pad thai is £16.
But if you're staying over at Seaham Hall for a wedding or special occasion, then The Dining Room will surely delight you with great flavours and pleasing, adept cooking. I'd just caveat that with as long as you can handle the room rates, you'll be fine with the menu prices. Fill up on that sourdough!
Contact: seaham-hall.co.uk
Food hygiene rating: 5/5
* My meal and drinks were complimentary in return for this post, and some social media posts.
* As this was a post which was sponsored by Seaham Hall's PR company, they've also provided you with a special offer: Until 19th July, buy 2 courses and get the 3rd free by quoting 'blogger event'.