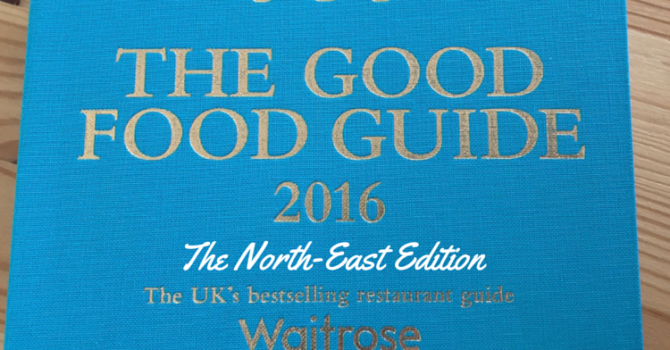 Where's hot and where's not
So Waitrose were giving out free copies of this year's Good Food Guide last week, before it launched to the public, and even before it got to restaurants. Chefs asking me what their scores were was slightly bizarre – I thought they would be told in advance. Anyway, I managed to snag one with the shopping, which was a lot better than getting some nectar points.
It's obviously much more interesting reading/planning for making those city-trips darn sarf. There is, of course, a whole section – one hundred and seventy-two pages – dedicated to London, and usually we're consigned to a hard-to-find page or two featuring "the usuals". But now we have M* The Raby Hunt, House of Tides and all that jazz, we've actually got a few entries worth shouting about. Wahey! People always ask me where my favourite places to eat are, so now, I'm just gonna push them here.
So here's all of the 2016 entries for the NE area. Number in brackets represents GFG's "cooking score" where 10 is perfection:
Tyne & Wear
House of Tides (5) "finely tuned concept-dining on the Quayside"
The Broad Chare (4) "big-boned British pub food" [Top 50 Pub]
Café 21 (4) "stylish Quayside favourite"
Jesmond Dene House (4) "pretty plates of smart, metropolitan food"
Peace & Loaf (4) "quirky restaurant with ambition" [New Entry]
Artisan (3) "clearly wedded to seasonality" [New Entry]
Blackfriars Restaurant (3) "modern food where medieval monks dined"
Irvins Brasserie (3) "cherished all-day brasserie with serious food"
Eslington Villa (2) "galvanising modern cooking"
Caffè Vivo [Local gem]
Colmans [Local gem]
Latimer's [Local gem]
Six [Local gem]
The Staith House [Local gem]
Durham
The Raby Hunt (6) "remarkable cooking of subtle power" [Top 50]
The Bay Horse (4) Top 50 pub "cut-above village pub" [Top 50 Pub]
Bistro 21 (3) "appealing modern bistro cooking"
Restaurant DH1 (3) "classy cooking with a playful wink"
The Oak Tree Inn (3) "immensely appealing gastronomic oasis"
The Bridgewater Arms (1) "character, warmth and local ingredients"
Northumberland
Bouchon Bistrot (4) "proper French cooking at gentle prices"
The Feathers Inn (3) "heritage cooking in a (very) old drovers' inn"
The Barrasford Arms (2) "well-run, no-frills village inn"
The Northumberland Arms [Local gem]
The Rat Inn [Local gem]
The Ship Inn [Local gem]
Hopefully next year we'll see even more entries from up and coming restaurants, and perhaps even a restaurant or two that we don't even know about. Fingers crossed!
---
The Good Food Guide is available to buy in Waitrose for £17.99