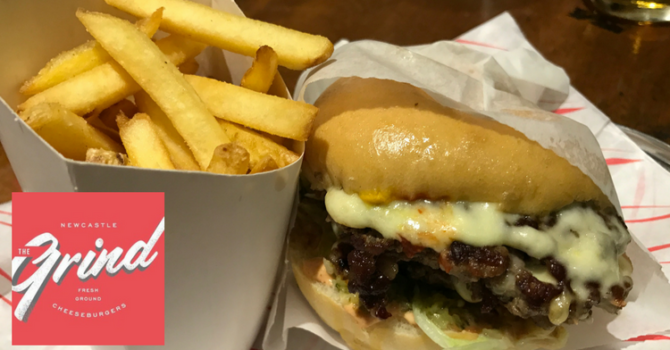 The best value burger in Newcastle?
Update: The Grind is now of course, Meat:Stack
If you've been down the Quayside market since March, you might have seen The Grind boys smashing their burgers down towards the "foodie" end of the market. They only started this year, but they're right among street food heavy-hitters like Papa Ganoush, La Petite Creperie, and Fat Hippo.
Nursing a hangover, I stumbled on them on their first day on the market and was really impressed. Since that day, they've been keen on graduating from the market, and now they've got a pop-up home at No. 28 (28 Nelson Street, NE1 5AN: it's "inside" The Grainger Market).
Shaking off a hangover & supporting @TheGrindNcl on their first day trading on the Quayside. Tasty burger, guys ??? pic.twitter.com/pTjAcMNz4W

— jeff (@newcastle_eats) 13 March 2016
It's a perfect pop-up for them. Not a word I often use without sounding like a granda, but No. 28 is pretty cool, it has a je ne sais quoi that others try to hit but rarely do. TIP: they're also doing unlimited prosecco every weekend for £20.
For me, put a Grind burger side-by-side with a 'fippo, and there's no contest. And you save yourself a quid…  It's honestly one of my favourites in Newcastle.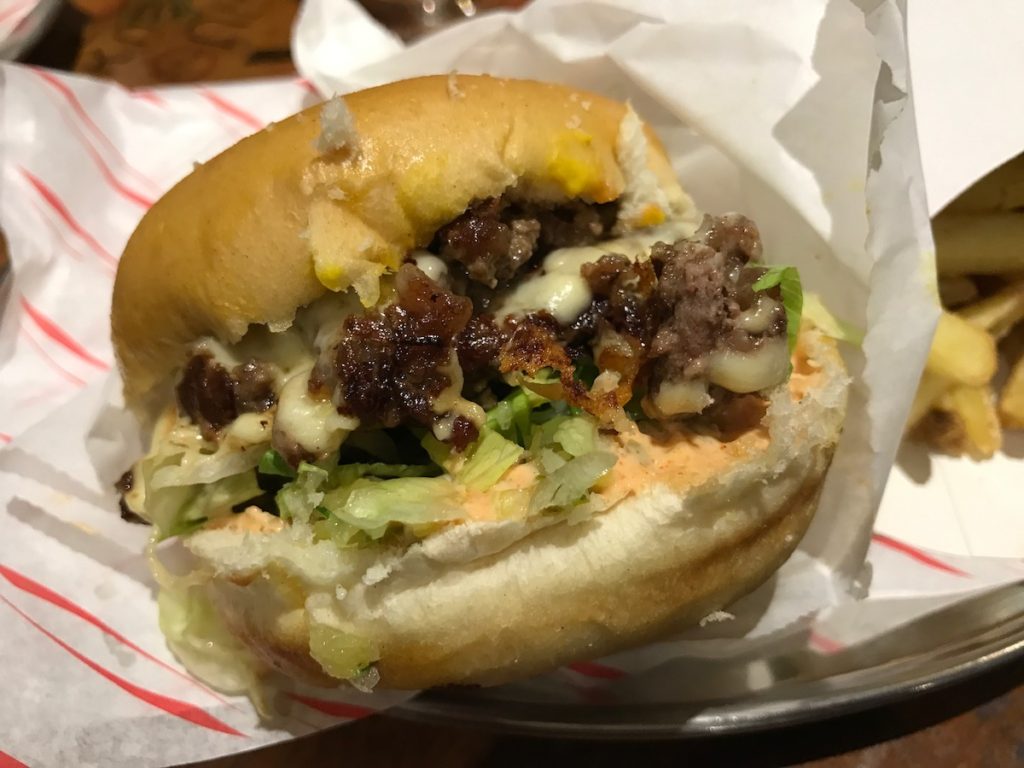 Really, really simple, smashed ground beef, cheese, bun, grilled, and steamed. Not too much messing about. Go for one of their classics, with "no-shame" rip-off Big Mac sauce. Like any good burger, it's not pretty, but hits you round the chops with a sloppy salty and savoury kiss and the odd gnarly bit of charred beef. It's feel good stuff, and in an overcrowded Newcastle burger market, it stands out.
A proper kitchen means they can do a bit more cooking now – those golden-blonde beef dripping chips were seriously good. I know that because I had the best part of four portions.
Speaking of the NCL burger scene, it's easy to drop fifteen quid on 200g of fried mince and potatoes, but The Grind are happily only a quid more here than their street food venture. Get a burger and fries for about £7 which frankly, is how much a burger and fries should be.
Elsewhere there's shakes, hot wings, and other bits, but if you've missed out on The Grind lads' adventure to date, get over to No. 28 and see what you're missing.
It's a Newcastle-based Five Guys, but cheaper and better. Go and give them some support.
*Received two free burgers & fries on their launch night. Have happily paid for several more before this, but trying to kick a few bloggers arses into gear who never disclose the vast amount of free shit they receive.