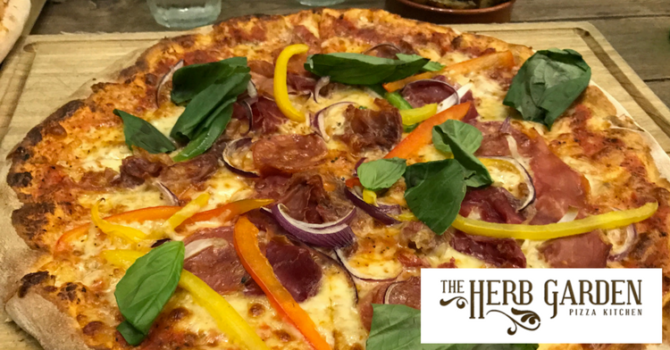 Pasta & salad over pizza? ?
Update: The Herb Garden closed unexpectedly in early 2019.
Not exactly a new restaurant in Newcastle, but perhaps the fact that I've not yet shouted from the rooftops about The Herb Garden (Arch 8, Westgate Road, NE1 1SA) tells a story.
They opened a few years ago with the now departed The Sausage Emporium, and seemed to be popular right off the bat. Was it something to do with "that" ceiling? The hydroponics on the walls from which The Herb Garden takes its name? The place gets Instagrammed to hell, which seems to be The Way Forward in restaurant openings and gimmicks. When you get as many people sharing the fixtures and fittings as they do the food – it usually means a successful restaurant, that's not doing the greatest food. There won't be any snaps of lampshades on here (or their often punched doorman/horse), but I do like their upstairs private dining bit. It's really smart, and a good shout for an intimate meal for 10+ (of which there's not enough of in NCL). It's a friendly affair.
Anyway, they seem to be doing great, so good for them. And they're now among trendy neighbours in The Split Chimp, and Box Social microbrews. If I was starting any kind of food drink business in 2017, I'd definitely be taking one of the railway arches.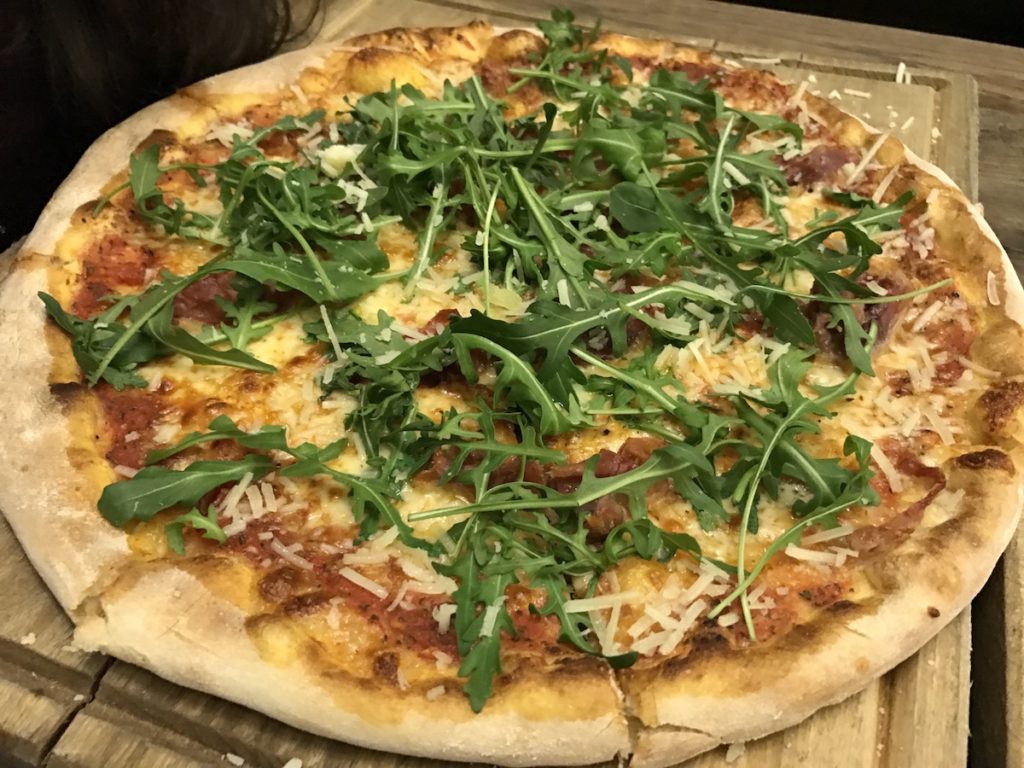 I don't know if they're trying to be a pizza restaurant, or something more, but fifteen pizzas sit alongside eight salads, and changing specials. Pretty straightforward. No bullshit or buzzwords or on the menu. So far so good.
But…. a leading pizza place it just isn't. You might recall I didn't add The Herb Garden to my "Best Pizzas in Newcastle" last year, and after another visit this Restaurant Week, they're still not up there. We got two, and either the dough is frozen, they're not adding enough tomato sauce, they're just dry as sticks, or all of these. I _adore_ pizza, and here it usually just never excites me like it should. For the people who think Neapolitan is "too sloppy", it might be more your cup of tea.
The lunch takeaway special is good value when you need pizza. You'll not beat a £5 for a 9″er and a chocolate pot, but despite the fatty meats on top – parma ham, speck, salami, pepperoni – they're just too dry, dry dry. It's partly that cracker-like base, and partly inconsistency…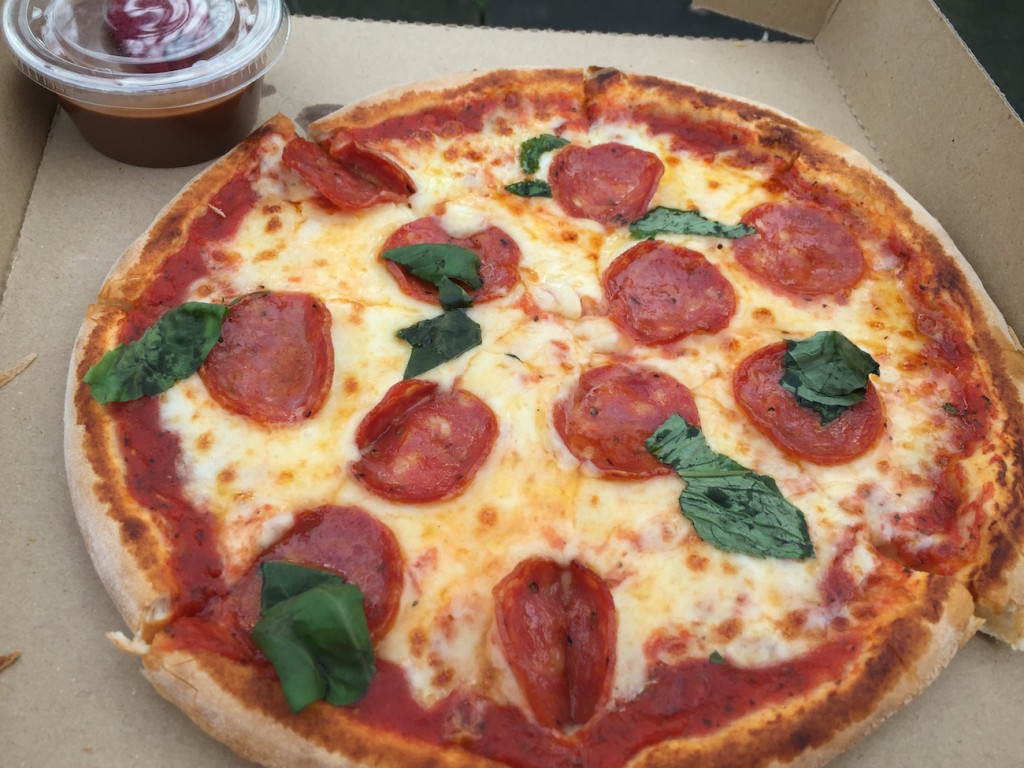 …because annoyingly you sometimes get a good one. This calzone had a much softer dough, juicy filling, wasn't ridiculously cheesy, and really pretty damn good. £14 like, and people complain that Cal's Own is pricey. Cheek of it.
A bit of side salad is a welcome bonus too – but I hope you like rocket, sun-dried tomatoes, and parmesan shavings, 'cos they're on everything.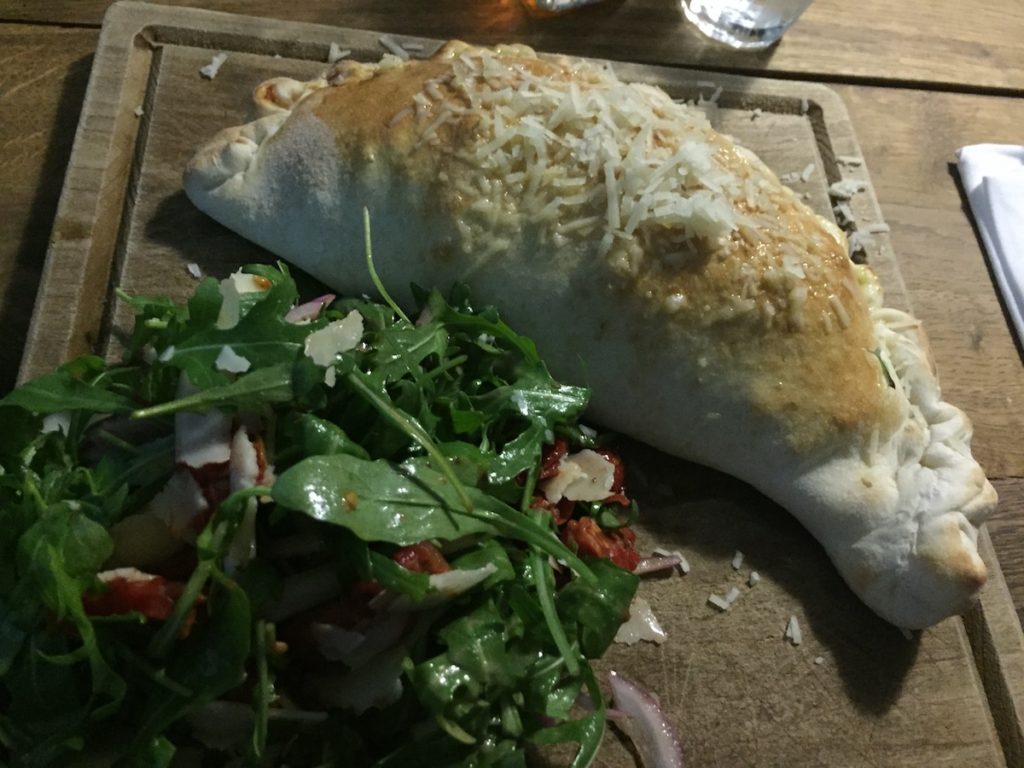 These potatoes which everyone raves about really pissed me off as well. £4 for a waxy potato deep fried and tasting of grease and not a lot else ? Everything else revolves around flatbreads and antipasti, which are all OK, but nowt special at all. There's a chocolate cake crumb dessert…served in a plant pot. Hey, if it's good enough for Michel Roux Jr…
For being a "pizza kitchen", what's much better at The Herb Garden, is their "other stuff". The salads are really well made, with dozens of components, and much more substantial than a lot of places where they sit on the menu as a glum afterthought. This one I actually loved to bits.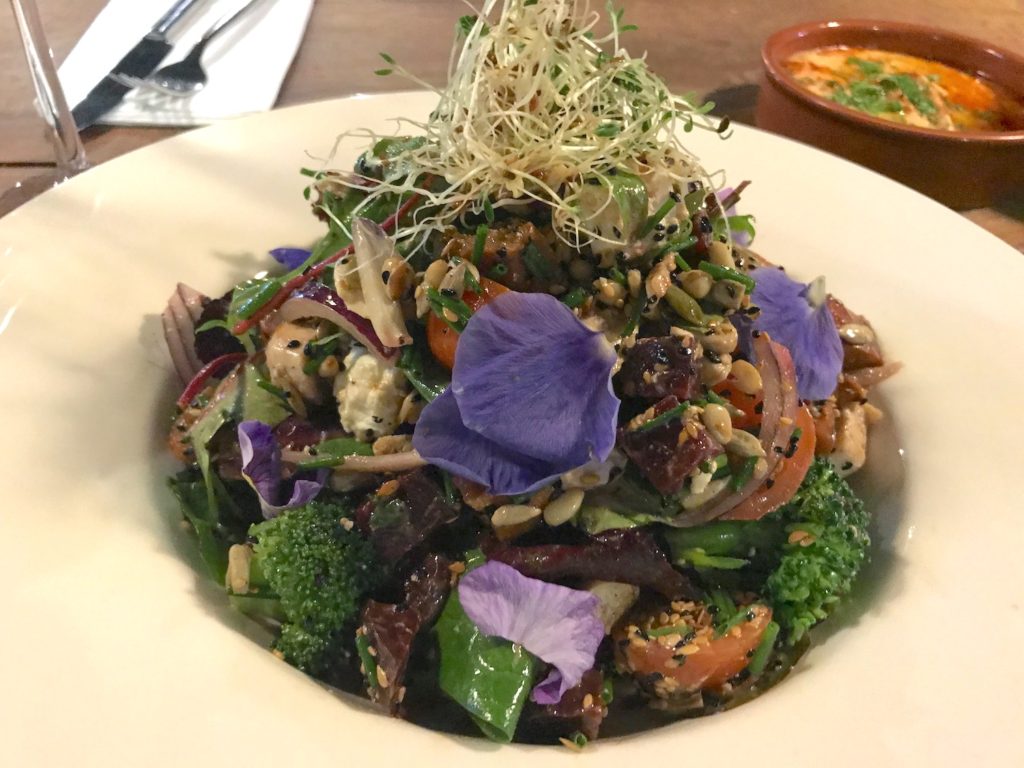 Chicken, beetroot, sweet potato, broccoli, tomato, onion, goats cheese, flowers – it sounds a bit like throw everything on a plate and see what happens, but it was bloody lovely. Huge portion too, and still kinda light – flower power chicken £14.
And I just can't get enough of their lunchtime wraps – this one is absolutely chocka with chicken, pesto and mozzarella, and for £5.95 a lunch I go back to again and again. It's salty, juicy, has that oily tang, and you can even pretend it's semi-healthy. Service (in general) is quick too, I'll give them that.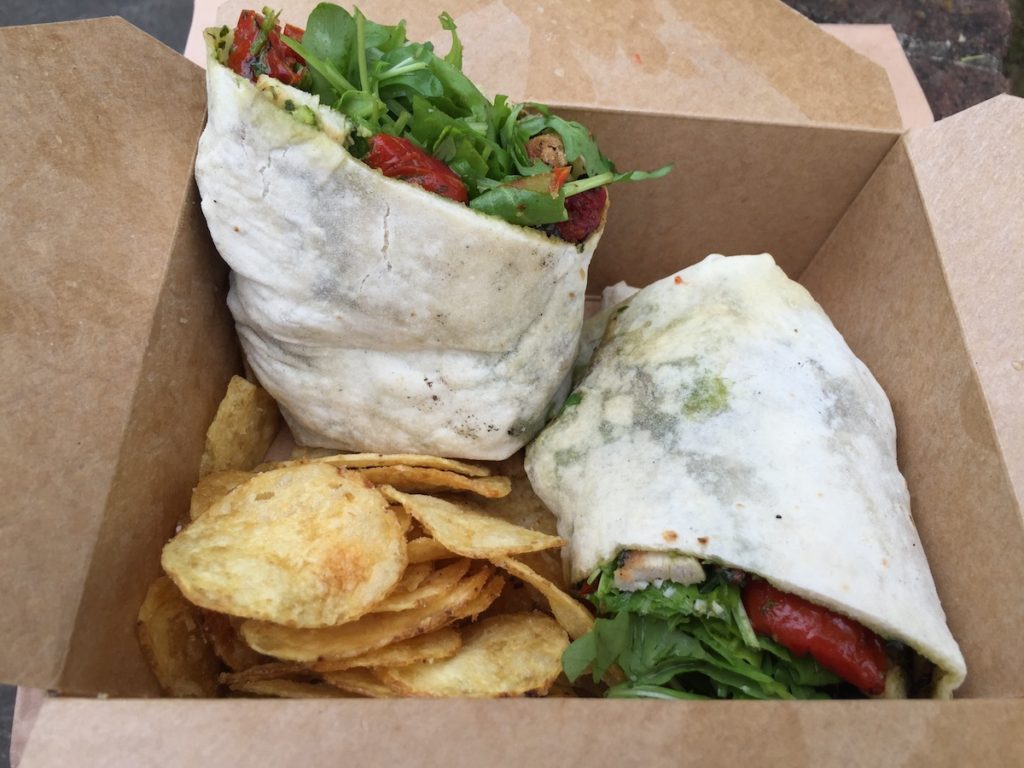 Same goes for their pasta dishes – I believe there may be more of this at their new North Shields marina restaurant, but they sporadically do a bit of pop-up pasta too (or they're sometimes on the hit/miss specials). It's always good – this was simply rosemary, parmesan, and parma ham, and for a fiver was an immense lunchtime feed. I'll ask again – WHY IS NO-ONE TACKLING THE TAKEAWAY PASTA MARKET? I would eat this every single day.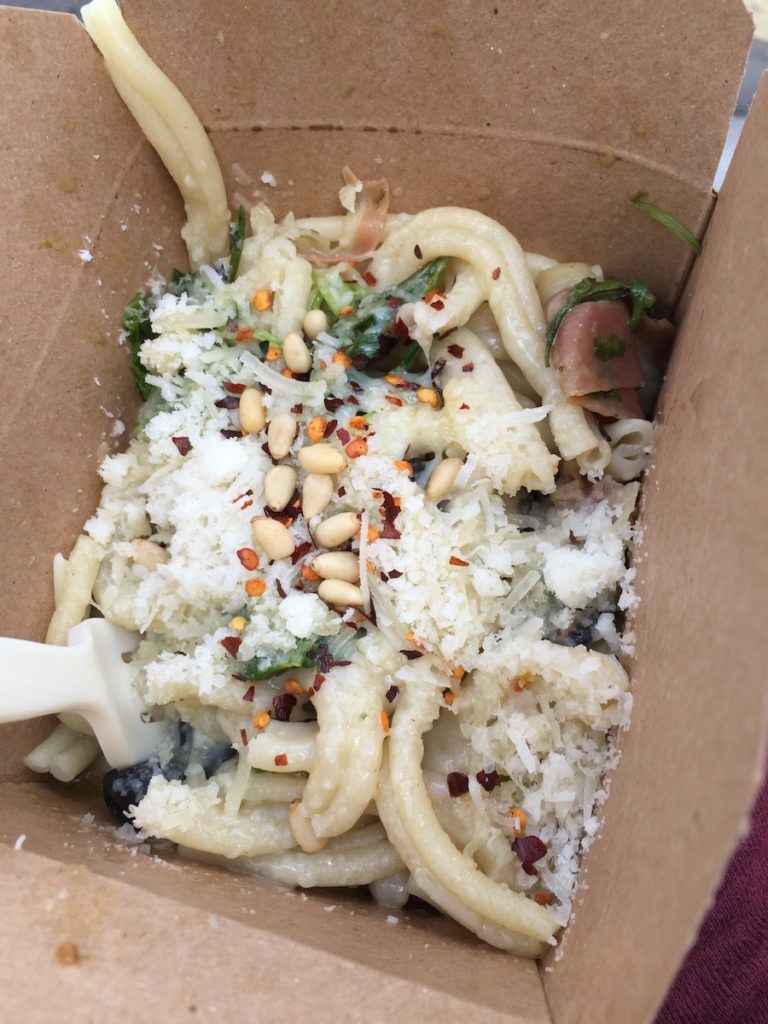 So, if you've yet to venture to The Herb Garden, make the most of your trip by dodging the pizzas, and getting the other stuff. Service is spot on, so hopefully their new gaff in Shields leads them to doing more of the things they excel at, and although I can't say I love their pizzas, it's a true Newcastle indie. Worth a trip for the NCL diner who has tried everywhere else, or an easy recommendation for a solid salad.
Contact: theherbgardenuk.com
Food hygiene rating: 5/5