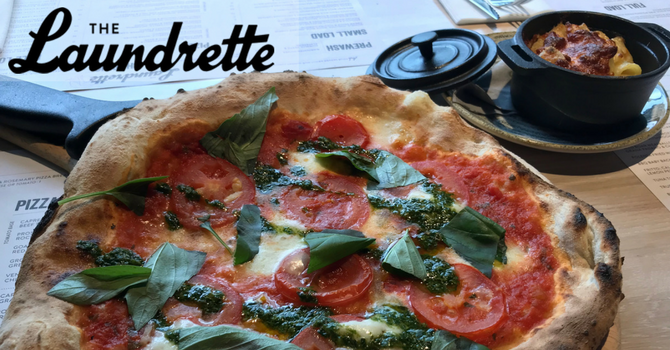 Or, The Botanist Part II, and we know what happened there…
UPDATE: The Laundrette closed in Summer 2018 after less than a year.
The construction on The Laundrette (48 Westgate Road, NE1 1TT / Opposite Central Station) seems to have taken an age, but finally opened earlier this month. It's a textbook 2017-cliché-fest, and even apes the awfully similar Botanist with an interior fake tree. But the more I looked at what they do in the Manchester bar where The Laundrette originated (more are planned) – the more I thought it actually might be OK, even if just a better take on "The Botanist" formula.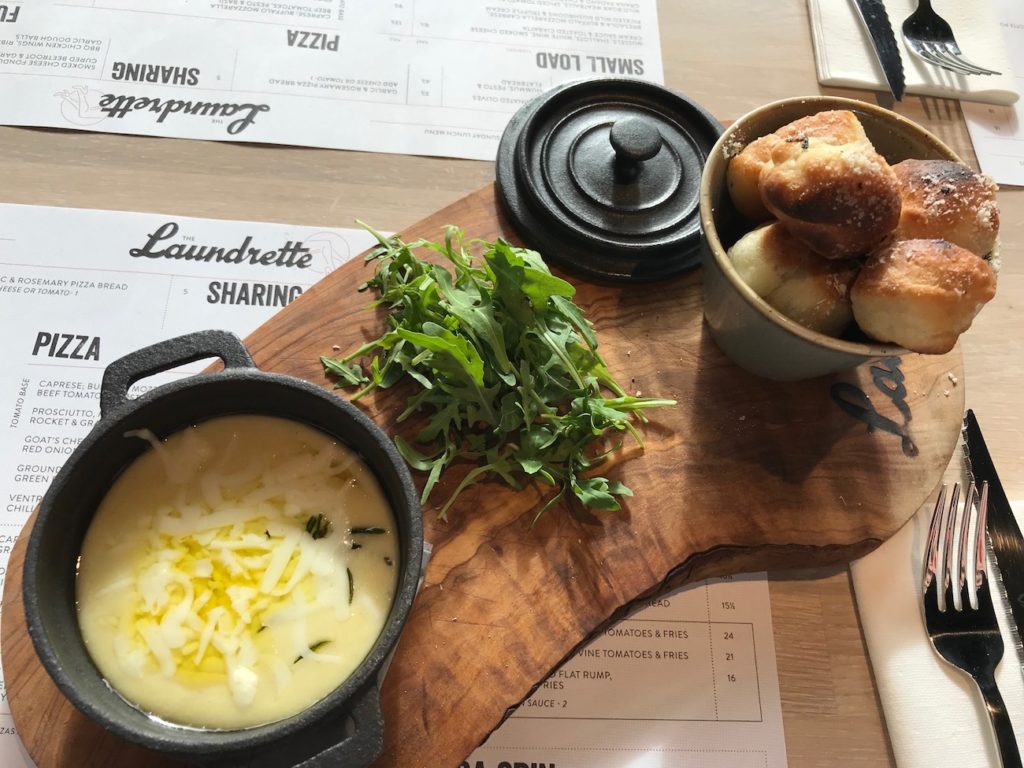 For their opening month, they've had 50% off food which makes it worth a punt – I wouldn't otherwise pay fourteen quid for fish and chips from somewhere like this when you can go to The Feathers Inn and have it infinitesimally better, for less. It says something about the nature of these places that people will pay a premium for lower standard food just because there's a gimmick, but y'know what HEY IT STILL WORKS. Expect a washing machine theme throughout, custom crockery like a cocktail served in a miniature rolltop bathtub, and everything else that people will bum on Instagram, regardless of quality.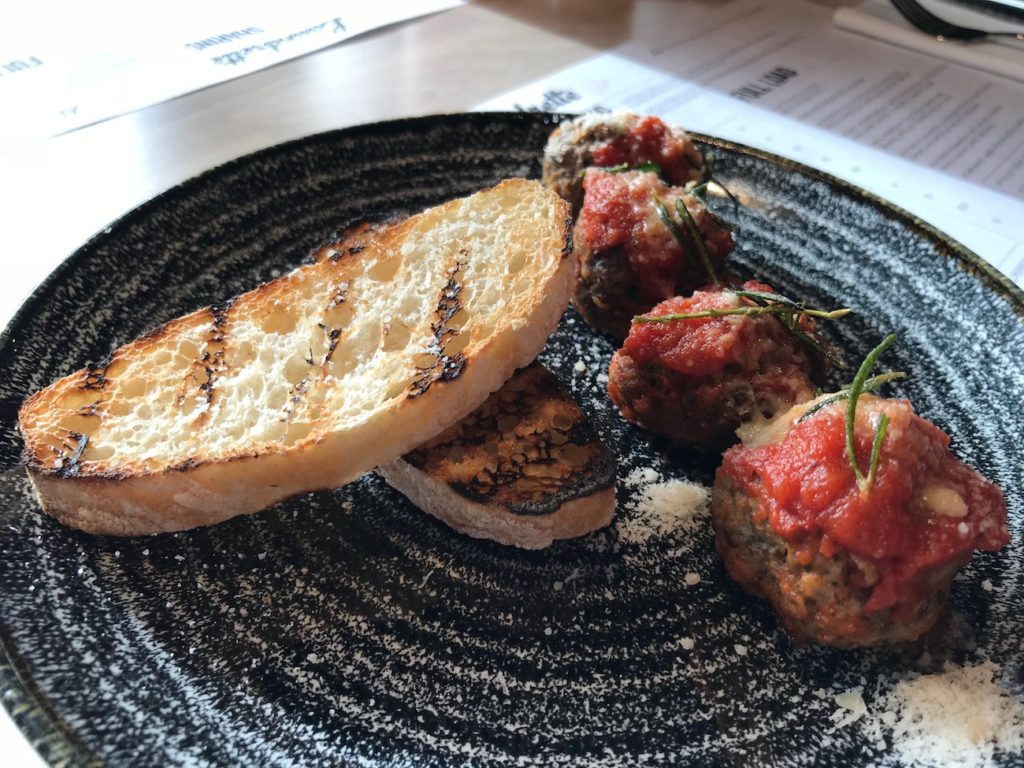 They've been open a few weeks so they should have found their feet, and indeed things started quite well – meatballs had just enough of a lick of game to make them interesting. Fave of the day was truffled, smoked cheese fondue and garlic doughballs. There's not enough fondue being served anywhere, and though it's more like melted cheese here than 'real' fondue, it's intensely cheesy, and I was sad when it ended. Don't really know what you're meant to do with the sad handful of rocket.
Mains took an age, which is fine, however Caprese pizza – no two ways about it was burnt. It wouldn't have been so bad, but both cheese and watery tomato didn't really taste of much, so it was accrid flour and a sharp hit of basil. Really gutted as you know I adore pizza and it's been a while since I've had one so bad. Given it was half-price (normally only £8), I ate it anyway, though the best the staff could offer was "sorry, that happens sometimes because we bake it directly on the stone".
…"OK"… Without getting into 'Pizza Police' territory, I suppose they'd claim to be shit at the classics, and try to upsell you to something like the bechamel-based pies, or a chicken tikka/onion bhaji monstrosity ??‍♂️
A side of truffle mac and cheese – they would have been much better off using the dregs of the fondue above, was rubbery and looked like it had split. It's a fucking dry cheesy pot of rigatoni with not much more than a fleeting sniff of truffle. Sounds great on paper, execution not so much.
Kate's burger – upgraded for an additional £4 to wagyu ? – had a good and strong beefy flavour, but the chewy, close texture and particularly large chunk of gristle give away that surely it wasn't really wagyu. Aren't there new laws about wagyu/wagyu-style product labelling? An enjoyable burger nonetheless, but not £17 worth. Still virtually frozen fries needed another 5 minutes in the fryer.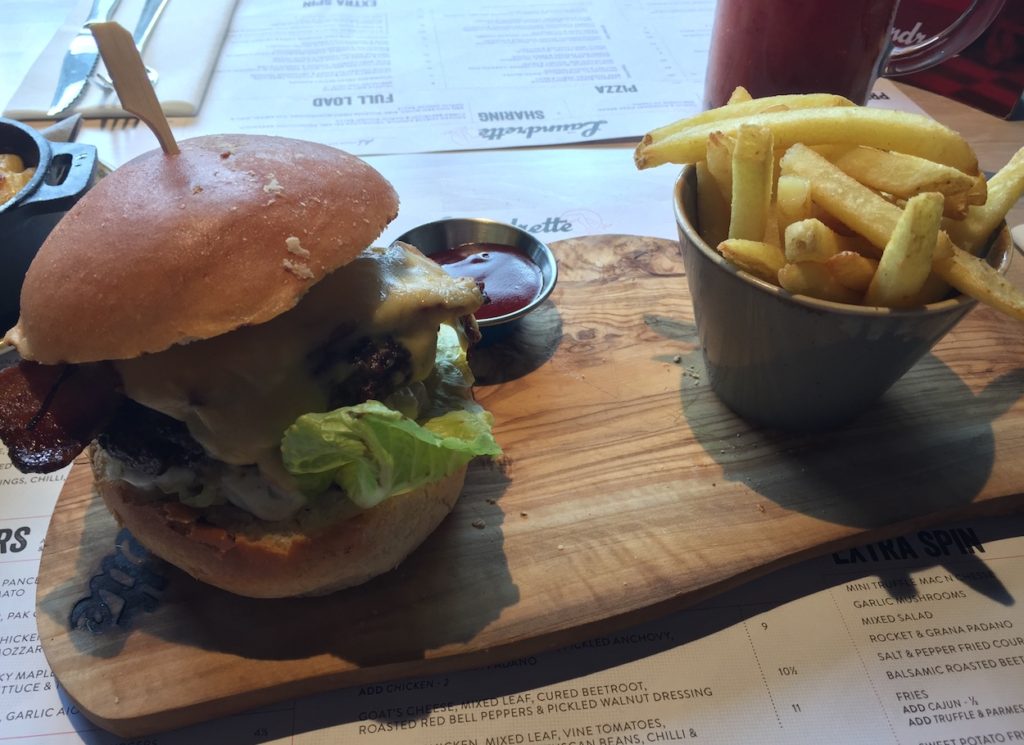 Virgin Mary was pretty good, so I'll hold out hope for the cocktails and will surely end up stumbling in here again at some point for drinks, but dodge the house "Spin Dry" lager which is your very average pint of piss for £4.50. Cocktails are £8ish so not too bad if they're decent and I'd expect it to be heaving on a weekend anyway. Whether that's good or bad, up to you.
We left disappointed. I really wanted to like it. But with a hundred better places you could eat in town, bars serving food only get one chance, and for us, it's a "won't be back".
Contact: thelaundretteuk.com
Food hygiene rating: Not yet rated