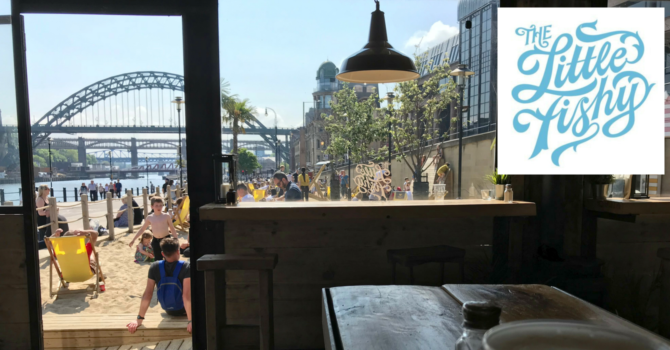 Another win for the Quayside containers.
Update: it was good while it lasted, however the shipping container venture down on the Quayside has now closed and doesn't look to be coming back.
Putting shipping containers down on the Quayside is so in at the moment. For those that missed my favourite news of last month, the Wylam guys have already started throwing upside of the tin cans in the old spot occupied by the much-missed (by me) Tuxedo Princess. Brewery, street food, shops, right under the Tyne Bridge – looks bliddy awesome, and alongside that fountain thing they're building there, the only bits of the Great Exhibition that have tickled me thus far.
Then you'll know about the Quayside Seaside containers which previously housed Riley's Fish Shack, and then the equally brilliant Barrio Comida. Riley's have since stayed put in Tynemouth, and Barrio – praise be – is off to find a full-on restaurant somewhere which is going to be my new favourite thing of 2018. Their departure left space for fish & chip traders The Little Fishy to take their turn. An interesting choice.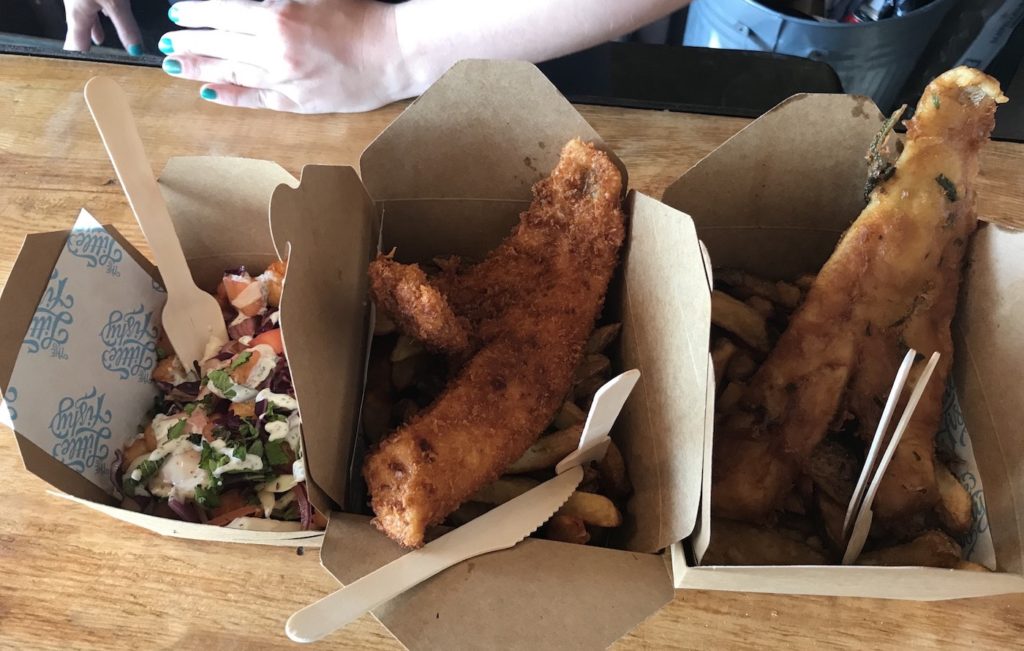 They started as a street food venture a few years back, so we've tried them several times at various events across the NE. It's usually a geet canny feed.
Really streamlined offering – it's fish, chips, and…that's it. They're not messing on with salads, or putting out for the vegans. Keep it simple, and get it right. Reasonably priced too.
I think it's a solid market as fish & chips isn't really that readily available on the Quayside, or even in Newcastle (particularly to take out) which seems silly. Then of course, there's the view. It hasn't changed, and on a hot summer's day, I don't think there's a better view from a restaurant in the world.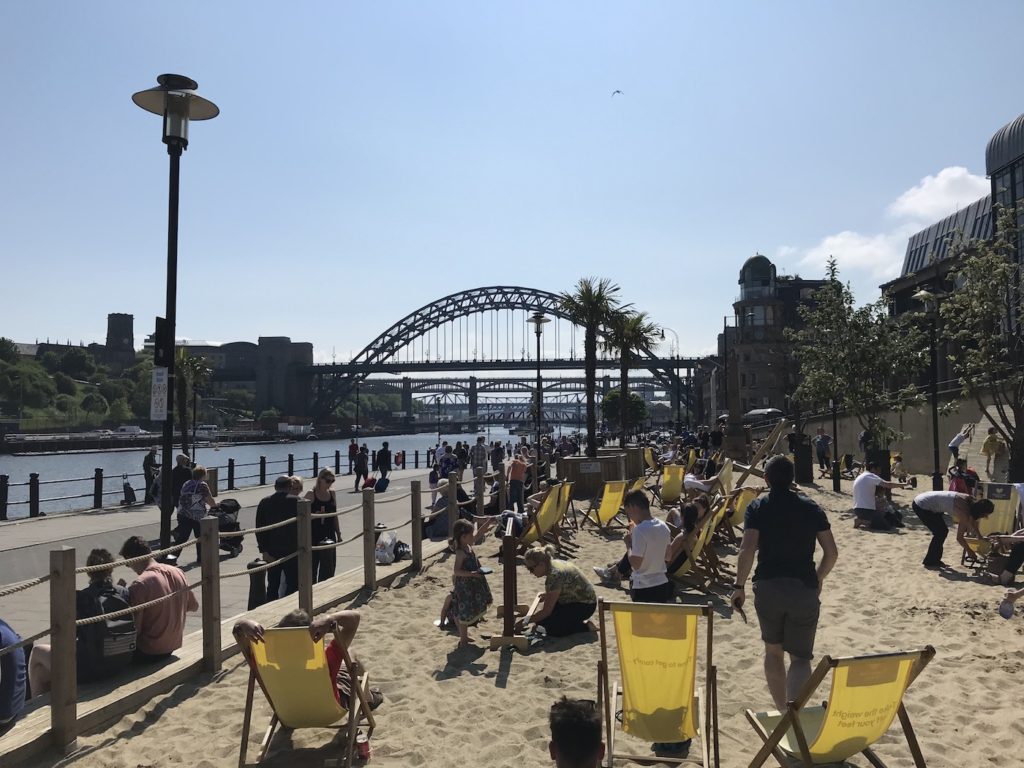 If you're just gonna do fish and chips, they better be good, and The Little Fishy has got it right. Fish is promised to be fresh, North Shields-landed, and sustainable, so three strong ticks there. It comes in various states of battering: panko, fish finger style, lime and coriander, and cajun. Given the span of some of the fillets, the £7ish price I think is very fair.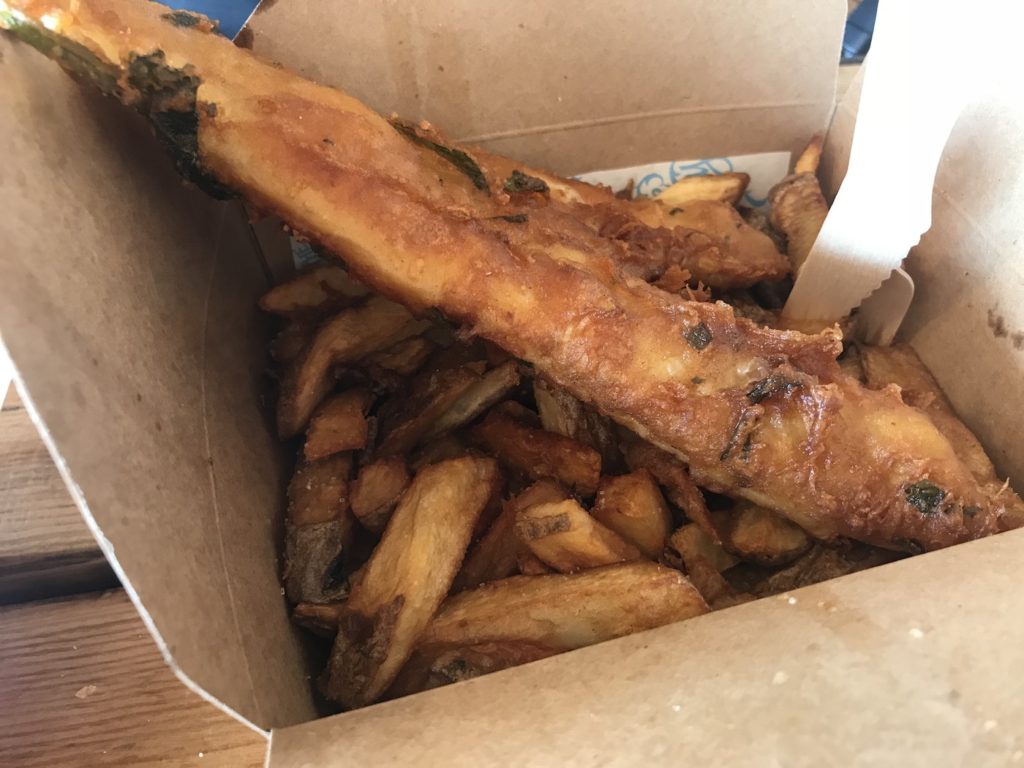 The fish is also fresh fried which really is 90% of everything you want from a good fish and chips. The batter is just about thin enough, and the lime & coriander brought a refreshing vinegar-like zing.
Chips are good an' all. Pretty heavy going – dense and thick cut, but cooked twice so come with plenty of crisp. If I had to have one niggle it's that the cardboard boxes they come in just can't cope with the size of the fish. A small box just means steam which is The Enemy of a crunchy batter or chip, and the more you dig around, you're left with a mush of chip and batter.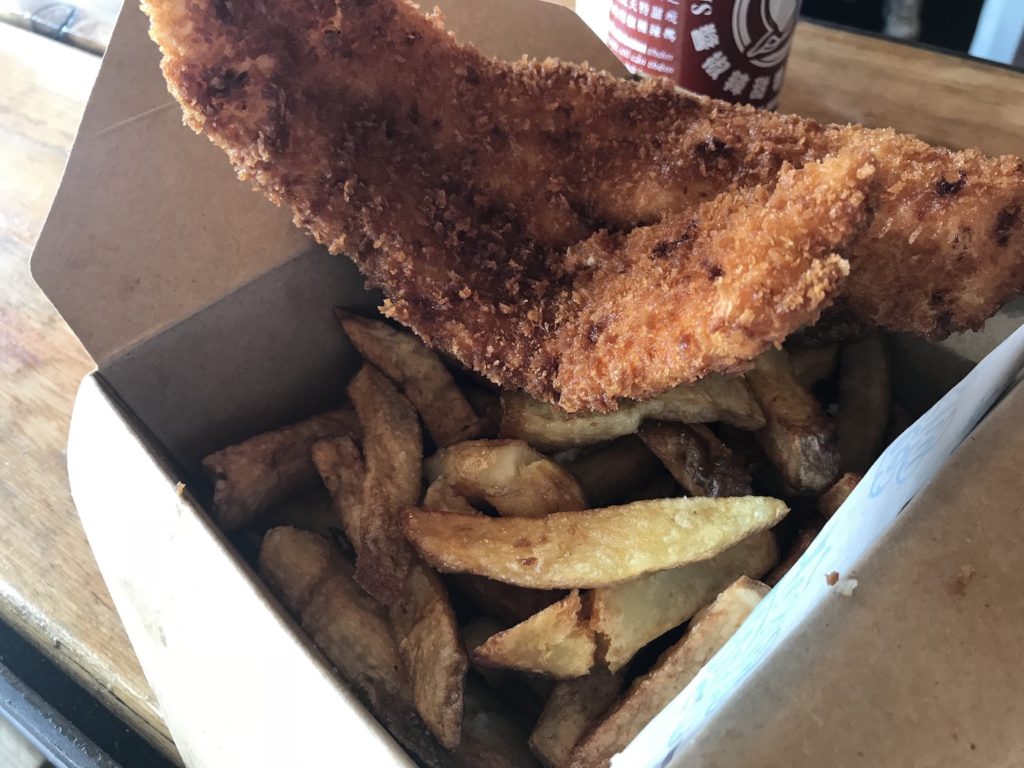 We also picked up some halloumi bites, the only non-fishy item on the menu. Pretty good as a meal in itself, I assume this is the 'keep the veggies happy' bit, more than the side dish I thought it might have been. I'd have this for lunch any day. Fairly fresh, wholesome-ish, and filling. Those little fried halloumi nuggets are as addictive as you think they are.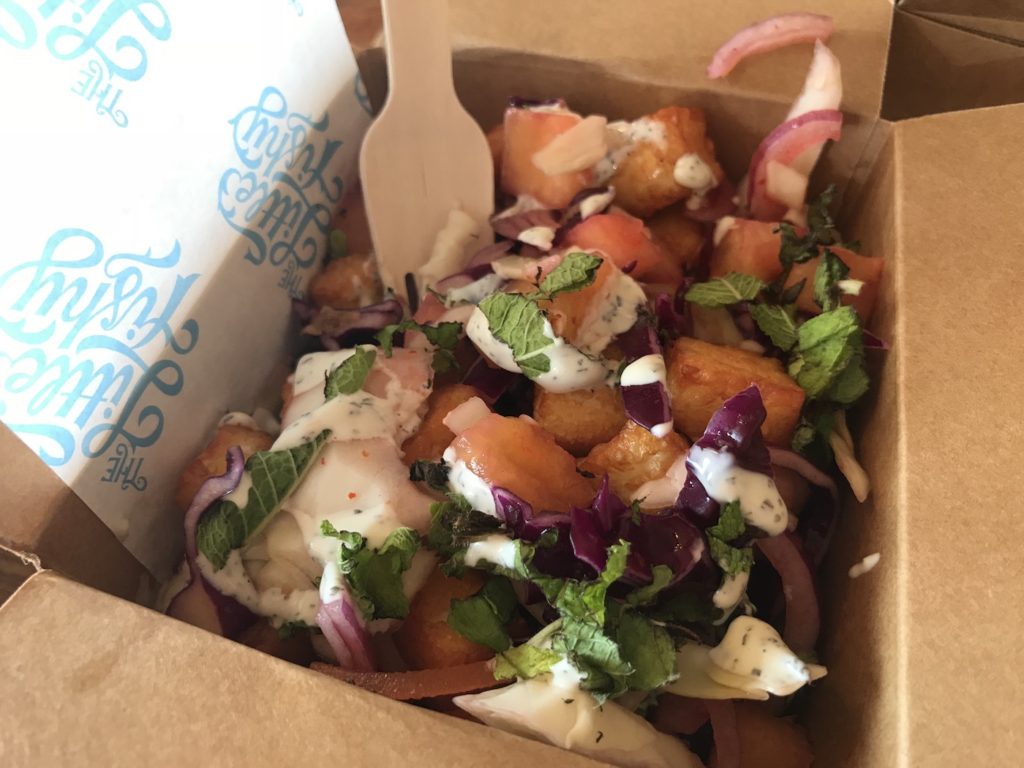 Beers by Wylam including Swipe Right and Hickey which are both solid matches for fish & chips. Best of all though is fish, chips and a glass of prosecco on a Friday for a mere tenner which is when you should be getting down here.
Pro tip: you'll struggle to find opening hours, current menu, or anything remotely useful on the website or social media, so here you go: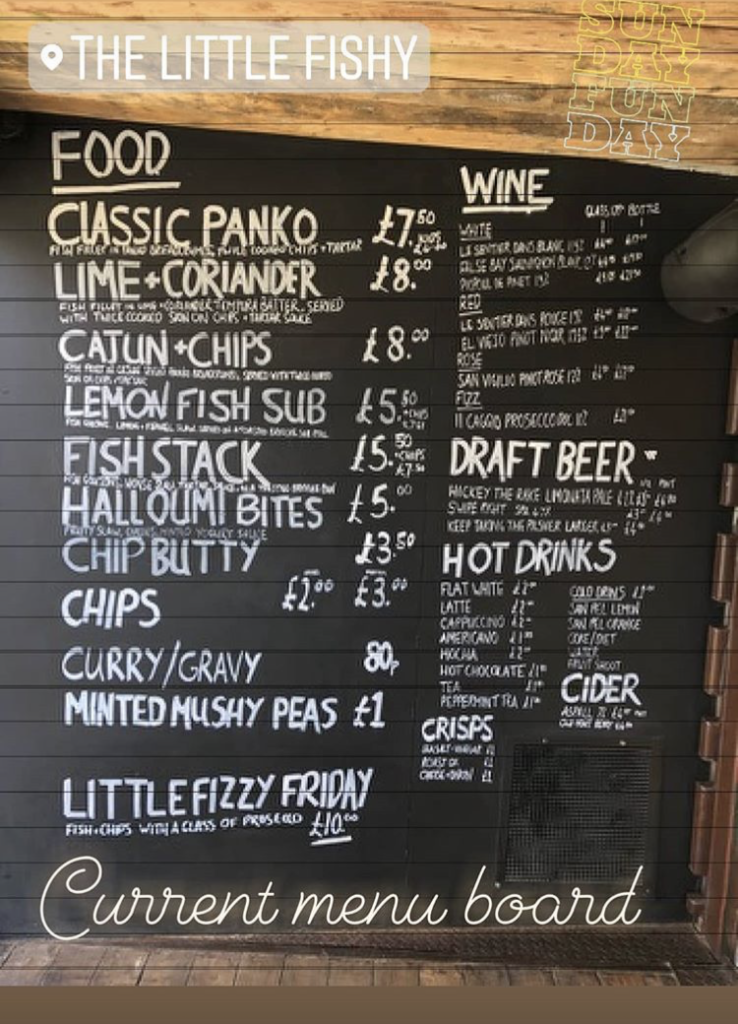 The Little Fishy is a right solid little effort, and it's great to see the old containers being used as a bit of an incubator for Newcastle's up and coming street food vendors. The core Little Fishy hasn't really changed much in the last three years, and while while there's only so much you can do with the dish, much like Riley's scran, a great bit of fish on the Quayside just feels right.
The last time we went along they were sold out by 2PM so they must be doing something right. The tenancy is only planned for 'a few month's so make the most of The Little Fishy while it's there. Especially before the Great Exhibition, when it'll be no doubt rammed!
Contact: thelittlefishy.com
Food hygiene rating: 4/5