More local gems like this please ??
The Patricia (139 Jesmond Road, NE2 1JY) is named after owner/chef Nick Grieve's granny. How canny. It's a new-ish neighbourhood restaurant, next door to Santanas, and certainly from the outside, you wouldn't think it's much. Or the inside come to think of it. It wouldn't be out of place on any anonymous street in Montmarte ??
And that's a good thing. No "look at the view" (Coast Road), no gimmicky interiors (Grey's Quarter), and no pretence. It's all about the food. The menu completely gives the game away, and when they first put out a teaser last year, you just knew it was gonna be good. There's not a thing you wouldn't order. All killer, no filler. Nick worked in Fera, and what you'll see here borrows on that, distills it, and you get 2 or 3 delicious things on a plate. In a world of tweezers, dots, and ?…spiralizers…it's an overdue breath of fresh air.
Late to the party, but I've been really enjoying Rick Stein's Long Weekend, and he said something along the lines of the simplest definition of good food being food that you just want to keep eating more of. This notion applies to everything thing we've eaten here. You just want MORE.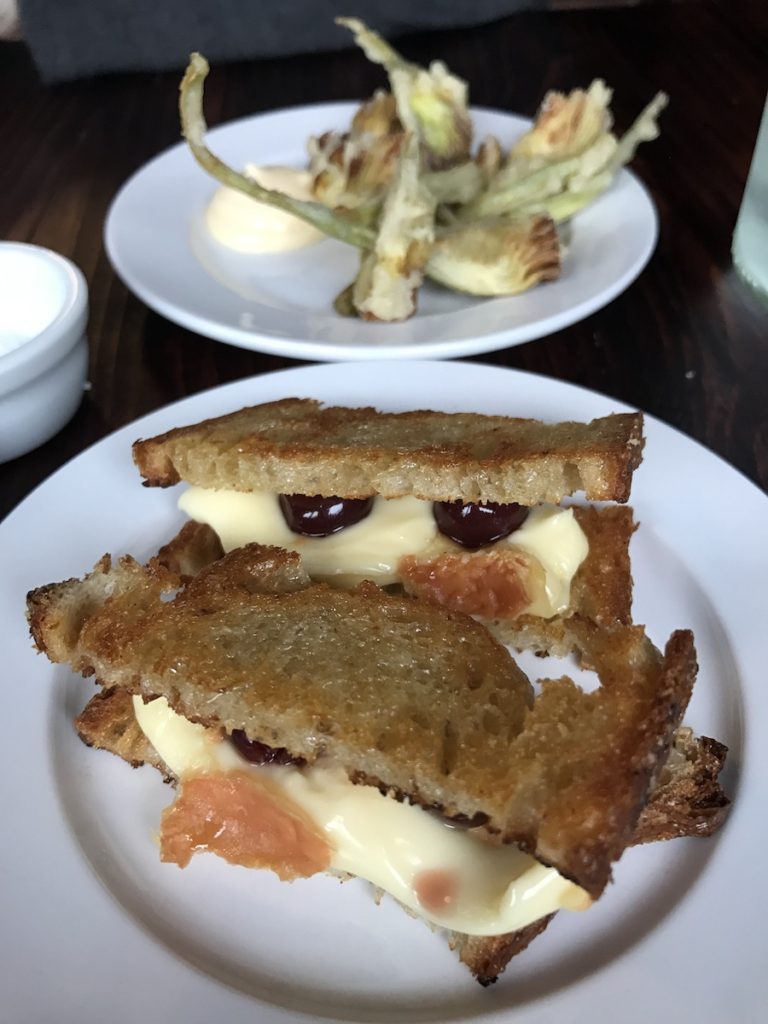 On a lunch service at least, your small places are drip-fed which is something I can get right behind. There's a load of places in the North East doing "tapas" which just means stainless steel dishes filled with breaded deep-fried shite. I believe evening service is a little more starter/main/dessert, but grazing small plates like this is for me, perfect.
Our (natural) wine was great tasting and value, and to be honest, couple of bottles of that, and a pile of the snacks would have been a merry afternoon. "Snacks" on this occassion means this likely-to-be-a-classic époisses and preserved cherry sandwich (above, £4), and then violet artichokes fried almost tempura, with a truffled mayo (£4). Absolute flavour bombs, I think I came over all Danny Dyer and deemed then "naughty".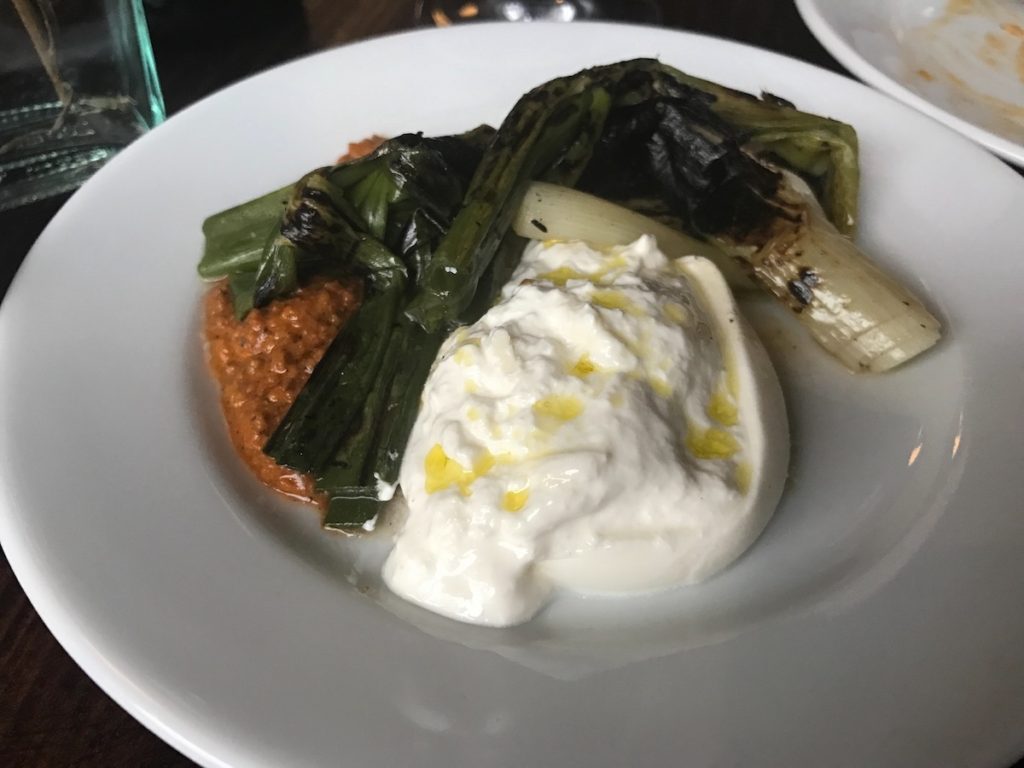 2 mins later – the pacing is great – you just don't see enough calcotts on menus. These were blackened so the smokiness offset an oozing burrata and romesco sauce (£6). Gorgeous.

These gnocchi were an absolute highlight – easily the most pillowy and tender I've ever had – that's both the gnocchi and the pork shoulder which must have been cooked for days. Same goes for the gnudi, which we've had in both sage, and wild garlic pesto form.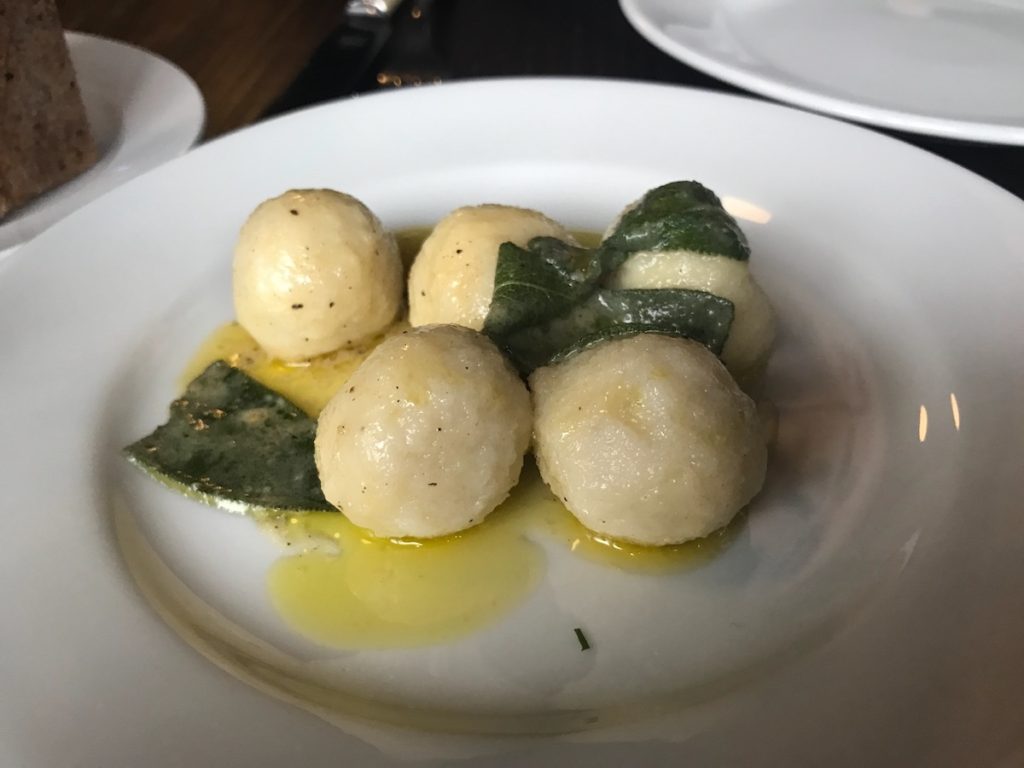 Again, they don't look much here, but these sprouts, if you haven't heard of them yet are bloody magical. I don't know how they're being cooked to draw so much flavour, but they're just Sprouts 2.0, and that's before you catch a bit of the onion jam. Then this parmesan cream blankets the whole thing, and, well it's a Must Try in 2017™ dish.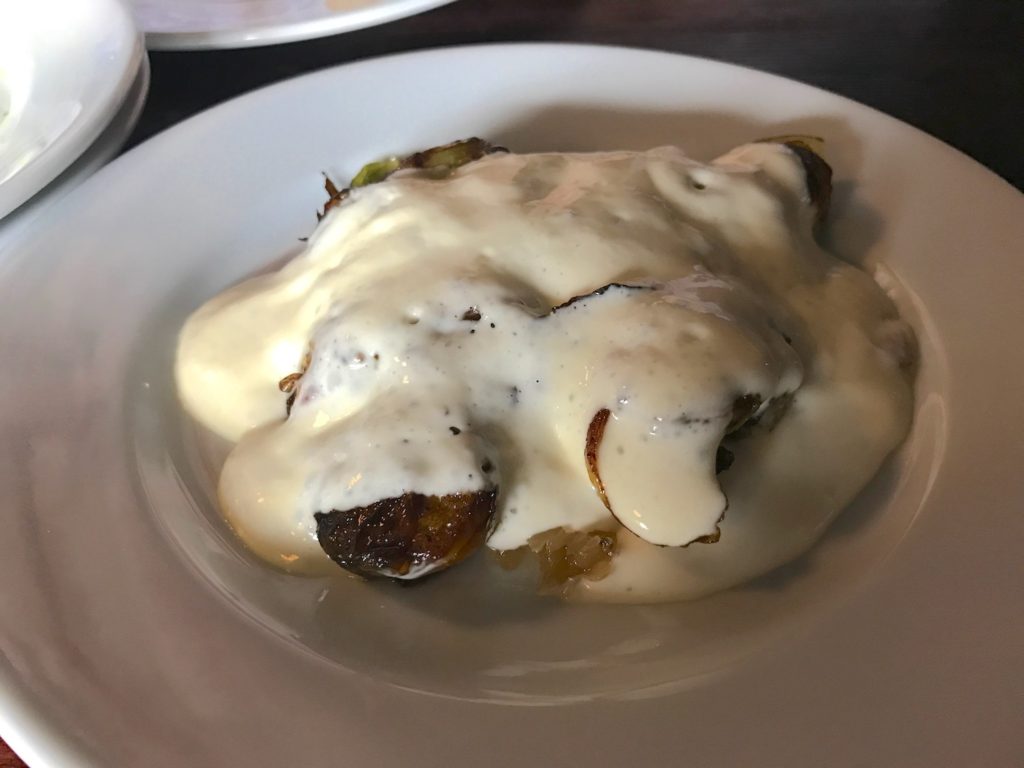 The dishes get heavier in flavour and price as you go on, and rich veal with lentils (top, £9) called for some extra house bread (equally great) to soak up all those beefy juices. It's knock-out, proper wholesome bistro stuff. Then there was this braised lamb – you can see how tender that is, with juicy turnip tops (alongside the calcotts, two ticks for trendy ingredients done perfectly). As I said, there's no fannying on, just three fucking delicious things on a plate.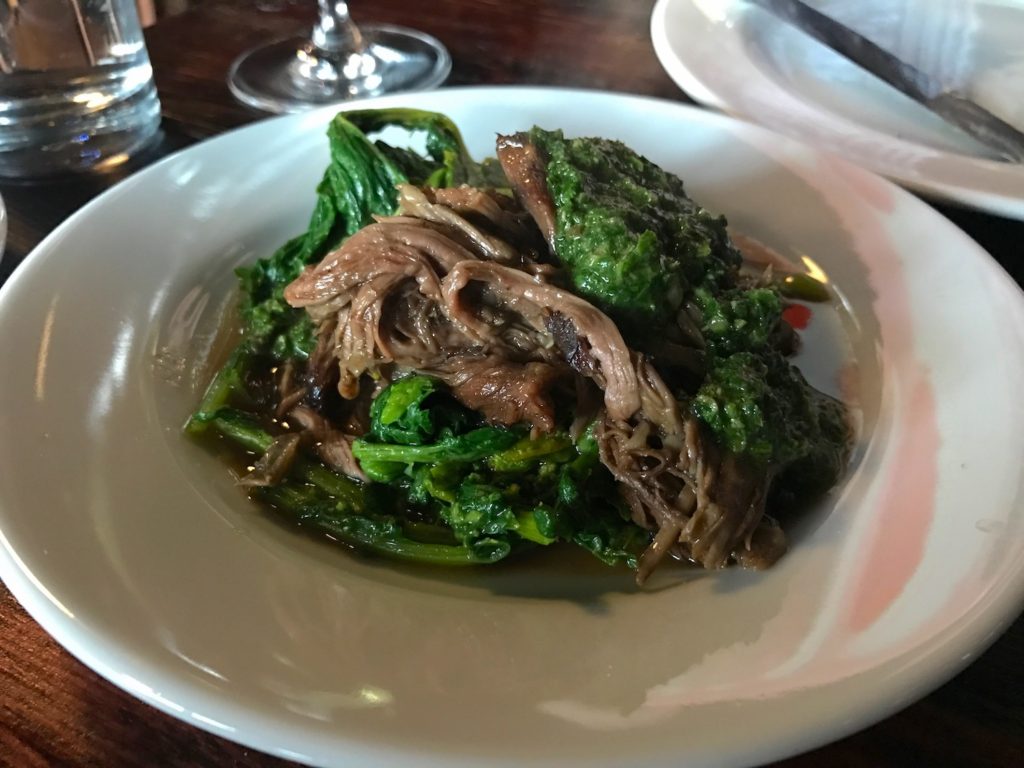 It seemed like a shame to pass on desserts given everything else was so ?? and this chocolate mousse didn't let the side down – rich, and jesus that miso caramel is glorious. There's typically three desserts at any given time, and the brevity of the menu is one of it's strengths. Order everything!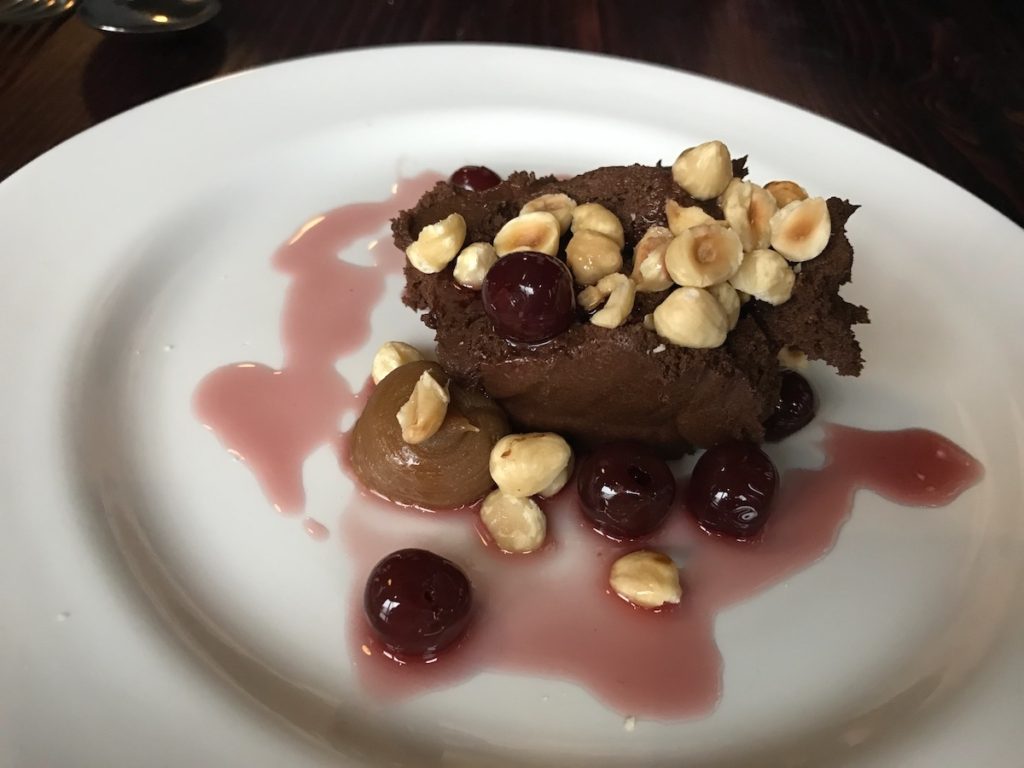 It's sharing food that just makes you happy, and pretty much fantastic from start to finish. It's why I'm still blogging, as if I can get one punter through the door here instead of Smashburger or whatever just because they've seen it on Twitter, I'm OK.
On our first visit, a Saturday lunchtime, we had the place to ourselves which was a teeny bit heartbreaking. More recently though, we overheard that the weekend was nigh-on fully booked – no doubt, in part to The Patricia scoring an ace MoL review two weeks after opening. It's almost enough to move to Jesmond for. Well, almost ?
There's not many places I find where you can't wait to come back to before you've even got the bill. But if there's one place you need to be eating in early 2017 – it's The Patricia. Absolutely class.
Contact: the-patricia.com
Food hygiene rating: Not yet rated