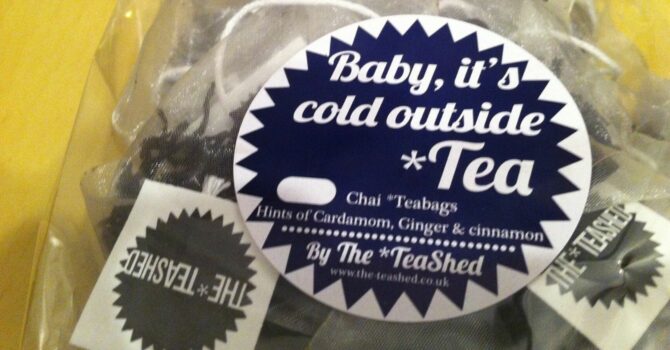 Shedloads of great tea.
Dodgy tax avoidance issues aside, coffee continues to take over the UK where Costa alone has over 15,000 units. We remain staunchly British and will rarely cheat on tea with the brown stuff unless it's for something very nice. Being proper Northern, we'll leave the coffee to them softies down South…
Luckily we have a bit of a tea heritage in the toon – the famous Ringtons is over 110 years old now, and we have a handful of smaller tea companies, like the great Victory Tea (actually a spin-off of Ringtons), Storm Tea, and now "design-led tea and homeware company, born and brewed in Britain", TeaShed.

We first became aware of The *TeaShed a few years back and were really impressed with the warming "Baby It's Cold Outside" blend. Since then we've tried all manner of teas, but always fall back on some standby TeaShed for that premium cup you need after a long day sometimes. When we learned last week that even Teapigs is owned by Tetleys, it's reassuring to find a true local independent. Young owner Jules is an inspiration, graduating from our uninspiring university (Northumbria!) and having a small business go from strength to strength with stockists like John Lewis is truly something to shout about.
Amongst other highlights must surely be their collaboration with Newcastle stalwarts Blackfriars at last years EAT Festival for the aptly named TeaShed on the Lawn. On possibly the only sunny day we had last summer, the winning combination of sandwiches provided by Blackfriars and tea by TeaShed, lazing in the courtyard was bliss. Cakes were great, particularly Blackfriars figgy pastry & jam, but getting to try unlimited amounts of new in-testing blends of tea was the main treat. Highlight of the EAT fest last year for us, for sure, and a little birdie suggests the same again for this year – so keep your eyes open for that, as well as some standalone TeaShed cafes…
Many of those blends we tried have now come to fruition – so we have a bit of a tasting session of some of the fifteen available blends to find our favourites.
Oriental Mystery – our new favourite tea is a little bit floral but fresh with flavours of rose petals and jasmine. Now we usually like a proper black builder's cup of tea and if you're the same – don't be put off, try this and you'll be hooked.
Soursop – one of the strangest teas ever! First of all, smell it – wow…it's fruity sweet and creamy flavours of "pineapples and strawberry". Really unusual but sometimes a break from your English breakfast is just what you need to get you moving at 7AM. Try it.
Speary Mint – finding it hard to describe this one other than to say does what it says on the tin: very minty tea that is super refreshing and a bit of a palate cleanser, and hey bonus – it's good for you.
Northern Brew – closest to your english breakfast tea, a light ceylon that's good for any time. The whole leaves in all of the teas really make the difference – especially when you learn that cheaper teabags are just the "dust" from the tealeaves – yuk.
Baby It's Cold Outside –  mentioned before. In the cold days of January this will warm you up best. Aromatics of cinnamon, cardamom and clove actually go great with a load of foods, and to embrace the cliche, are a hug in a mug.
Other things we like: with our order a few little packets of single sachet "emergency tea" – great idea, and these will remain in the glove compartment awaiting the inevitable bad hotel tea trolley.
It's not what you'd call cheap tea (20 pyramid bags from £3), but you you can't put a price on the way a nice cup of tea makes everything better sometimes. Whether looking for a nice builder's cup of tea, or something a little more flamboyant, you could do a lot worse than get some proper tea from The TeaShed. Catch them at various festivals throughout the year or order online where it's currently 50% off.
Contact: the-teashed.co.uk