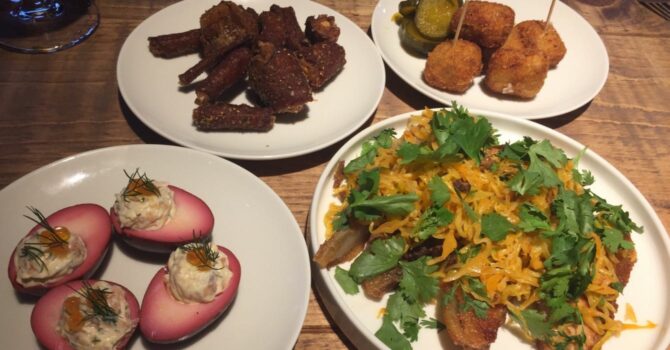 Best new restaurant in Newcastle in 2018, EASY
Are you one of those c.2018 entrepreneurs thinking about half-arsing it and cashing in on "Insta-friendly" restaurants, gimmick-laden menus, or any of the other shite thats pervaded high-street restaurant culture this decade? Pack it up and go home guys, this is how you do a restaurant.
I'm sure you'll have seen from every single social media post this glorious summer that By the River Brew Co. is "the place to be". It's the new outlet from the Wylam Brewery gods badged as part of the Great Exhibition of the North, but really, "just" a bar/mega-trendy outside space on Quayside/absolute money-printing machine. By all accounts, it should be around for four years, twelve times longer than the largely-disappointing exhibition.
It's a brewery space & taproom first, and god in this warm summer they're shifting a lot of beer. Completely understandably. It's a brilliant use of the space. And like Wylam do so well, they've got their eye on the food just as much as the drink, and By the River Brew Co. has a resident restaurant – overseen by head honcho and general top scranner Tony Renwick.
Träkol (Hillgate Quays, Gateshead NE8 2BH) features an open fire kitchen – think Pitt Cue Co., Kiln, Temper (none of which, of course, are North of the M25). It's impressive just to watch the chunky slabs of meat either being gently tickled by the heat from below, or in the case of something like the 1kg rib of beef, being engulfed by the flames. Bag yourself a table as close to the open plan kitchen as you can, and watch the (very calmly operating) chefs at graft.
You'll know from previous cooing that I'm a big fan of Tony's work at both Wylam Brewery's home, as well as further back at The Bridge Tavern. Literally still two of my favourite places to eat in Newcastle, so personal expectations were high for Träkol. Which now I've realised, means charcoal. Of course.
The menu is sensibly divided, and follows a well-trodden path – snacks, smalls, mains, and the new 'feasts'. Here's some highlights from our most recent two visits. And y'know what, they're all highlights. All killer, no filler here.
Here for example, is one of those feasts. A two part affair.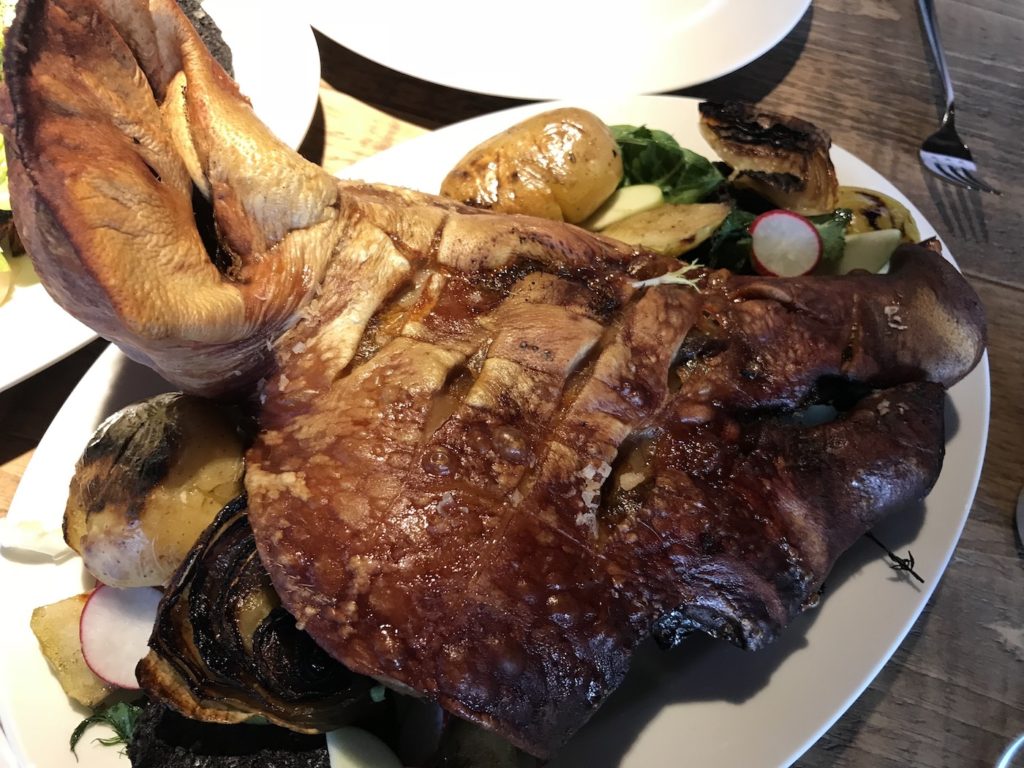 It's half a pigs head, blowtorched, and presumably has seen some fiery hours over the charcoal. It's frigging massive. Tongs are provided, and staff gleefully explain "just get in there and rip it all up". Needless to say, crunchy crackling crumbs and fatty parts of head end up everywhere.
It's a joyous occasion.
From the predictably perfect tender and glutinous nuggets of cheek, to the bits you aren't even sure of; from under the brow and behind the ears, it's pork x100. If you're turned off by a pig's head – teeth and all – get right off the fucking intensively reared, frankly disgraceful waste of pig's life bacon you probably regularly consume, or those dry shit excuses for pork chops you buy for a pound from Morrisons. This is eating meat.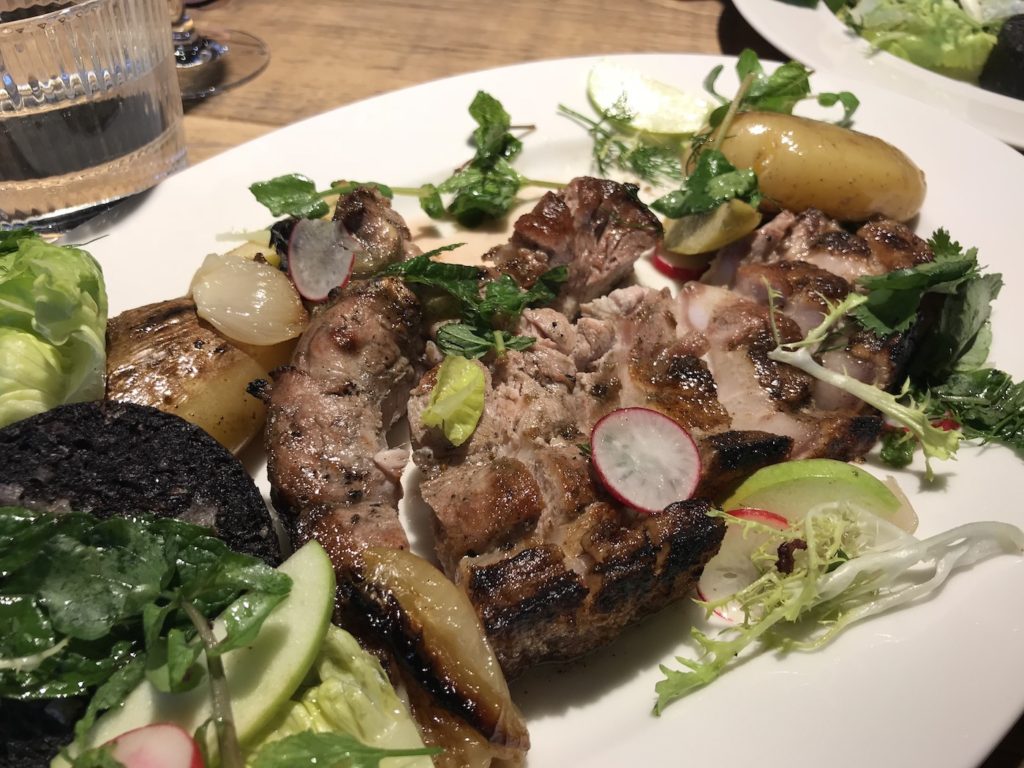 Speaking of which, the head is merely a zealous distraction from what is surely the best bit here, which is the monumental pork chop it comes with. It hasn't photo'd that well, I'm sorry. It's 1kg and tastes fcking incredible.
This is platter 2/2 of this (only) £40 dish and aside from the head and that ridiculously succulent, smoke-tinged, crispy-fatted best-pork-chop-I've-ever-had, there's also 'trimmings'. More black pudding than you can sensibly consume, grilled potatoes (more on those below), grilled and fresh apple slices, charred onion, and some token salad leaf. This is an absolutely epic dish in every sense. Get the apple sauce, and some napkins. You'll need them.
Phew. Precede it with snacks. Much like at the Bridge Tavern, lots of deep fried, lots of fat, and lots of flavour. Whether you're talking cheesy, beefy, tangy reuben fritters/pickles/mustard (£3.5) – so much frigging yes…..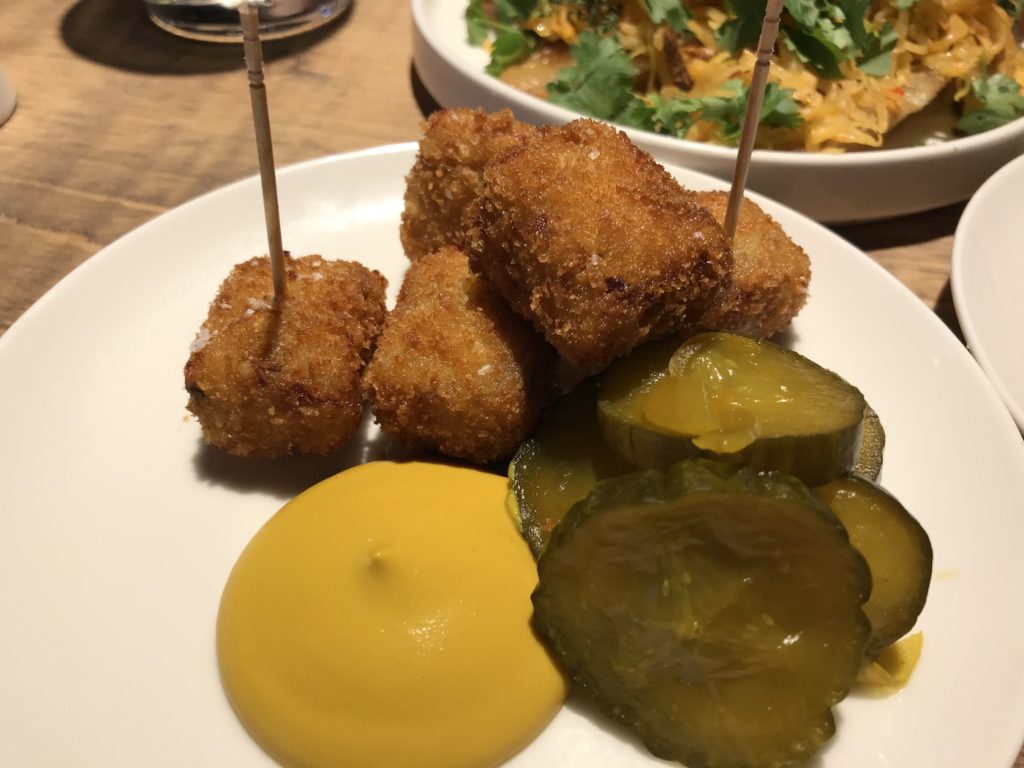 …or something as simple as crisps "not just a bag of crisps opened on a plate, these are cut and fried by the chefs". The minty pea crush on the side is excellently zingy/you can pretend it's healthy-ish. I want to make this at home.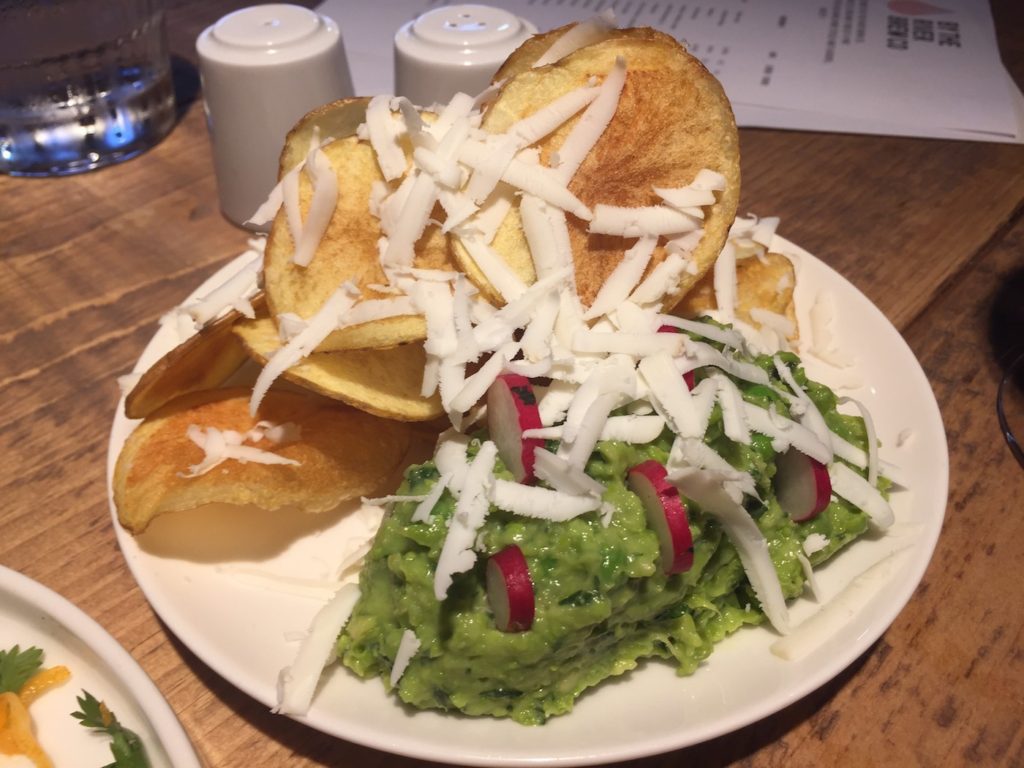 And mission spiced crispy pig's tail. You couldn't get more "nose-to-tail dining". Responsibly sourced meat too, from the lovely Block & Bottle guys! My first time having tail, and while I'd still take scratchings, ear, or a number of other odd bits over these, an interesting distraction, and a quality bar snack.
If you thought this post had peaked at pig's head, this ⬇️ Barnsley chop is the best main course I've had in 2018.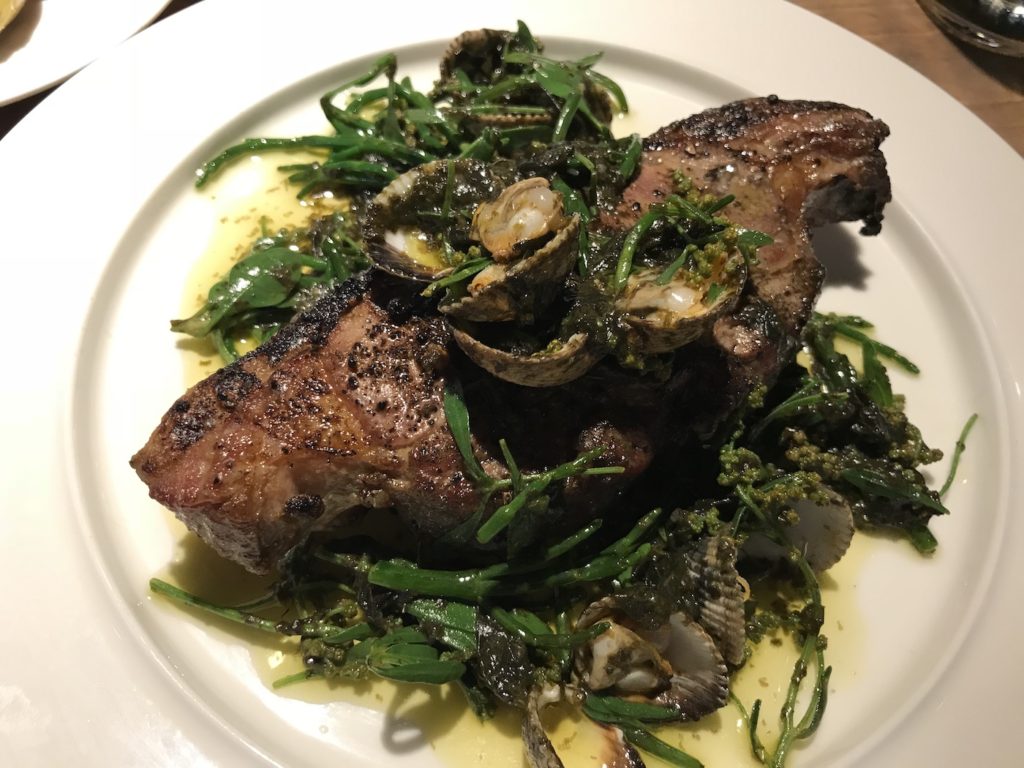 It is shatteringly good. You'll see everyone asking what it is – a double lamb chop – lapped with fire and blackened on the outside, with the most buttery flesh inside and for gnawing off the bone. It's hefty as well. So juicy, and has so much flavour, I'm struggling to think of a better lamb dish.
But what elevates it from just an incredible piece of meat to stunning main course (it's £18) is the salty seaweed butter, which there is a LOT of, and the cockles, samphire & sea veg this makes a luscious broth with. Lamb & anchovies obviously works all day long, but this is surf & turf I've been waiting for forever. If there's one thing you see on this damn site that I recommend you eat this year, it's this. Serious. Next time, I've got my eye on the whole, grilled turbot.
From "small plates" there's jowl with XO slaw (£7.5) – you'll remember this from the Wylam Brewery Taproom – I actually preferred that slightly zinger version but if you aren't porked out, there is always more to be consumed here. On the flip, those beetroot cured eggs are even better than the curried mayo ones at The Bridge Tavern. Be sure to order those.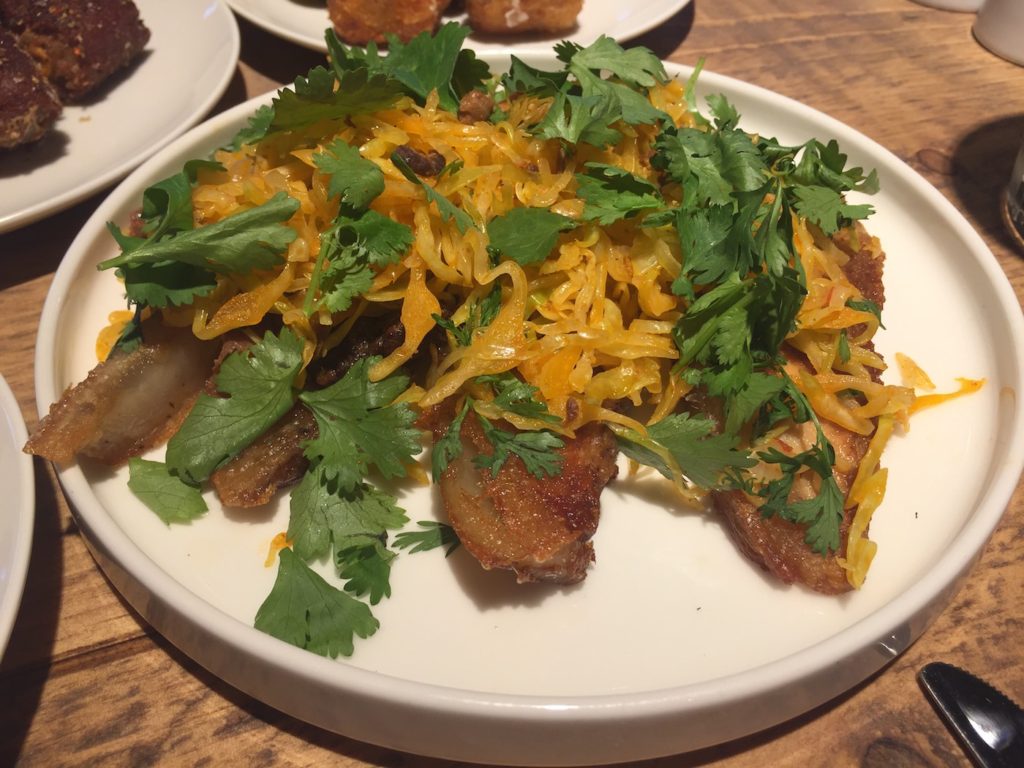 Between the glorious potato cake at Route, and some buttery & herby pink fir at Nova, we've been blessed with some good tatties recently, but predictably, these are next level. Think, potato meets pyromaniac. Smoke loves a potato, and it elevates the humble spud to what you wish you could do on your BBQ but never really managed. Behold.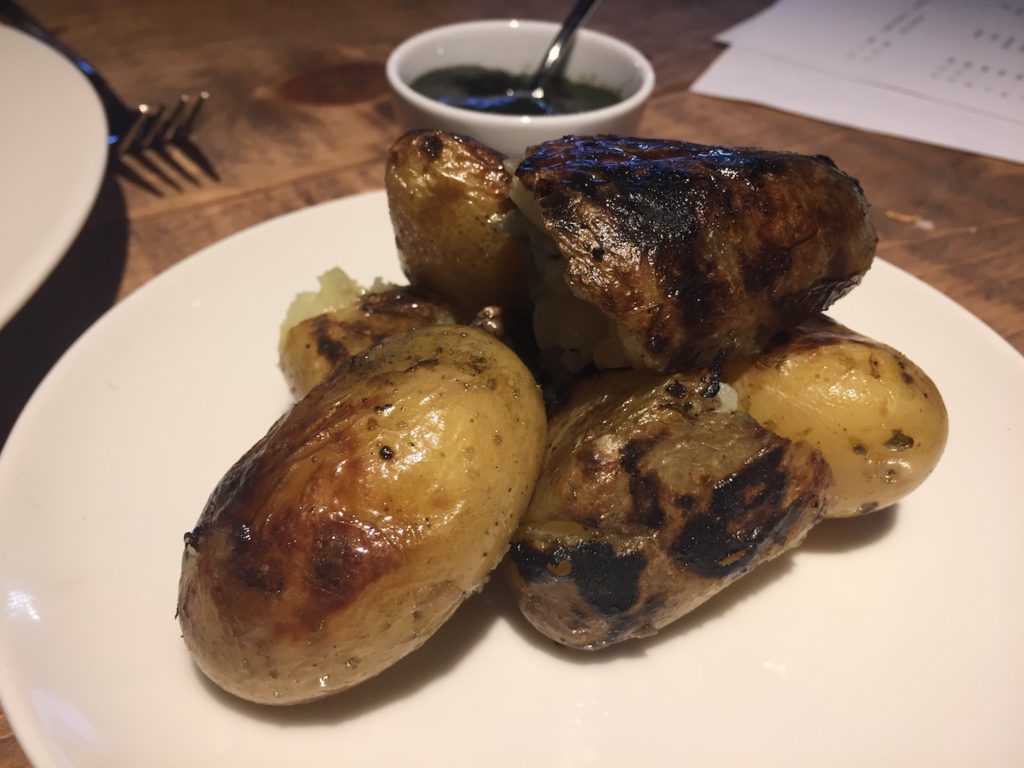 We went heavy, but there are some lighter dishes, including several ceviche. A citrus heavy and well-balanced plate of avo, toms, tender octopus in soy (£8), is mega fragrant, and lifting with coriander. Would eat again. And get this if you're going pork heavy to cut through some of that sat. fat. Or pretend to ??‍♂️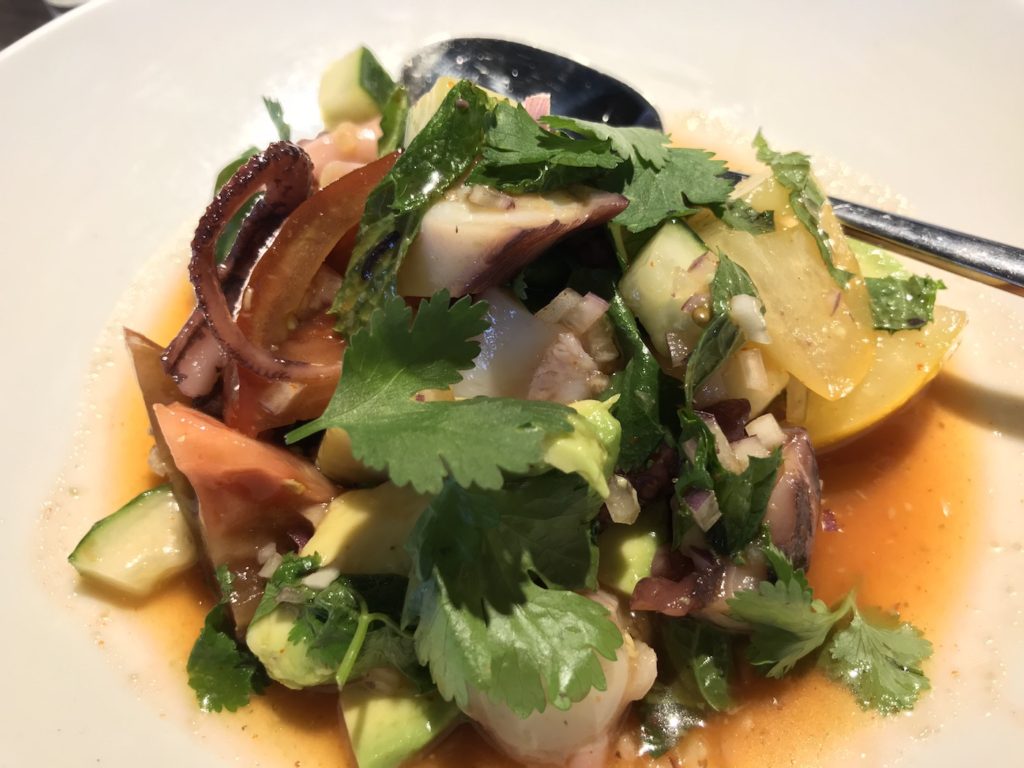 Generally, staff are bloody great as well providing table service of the excellent rotation of beers from the tap, as well as being knowledgable, friendly and helpful. There's a lot of local bars that could learn from whatever they're doing in the hiring here.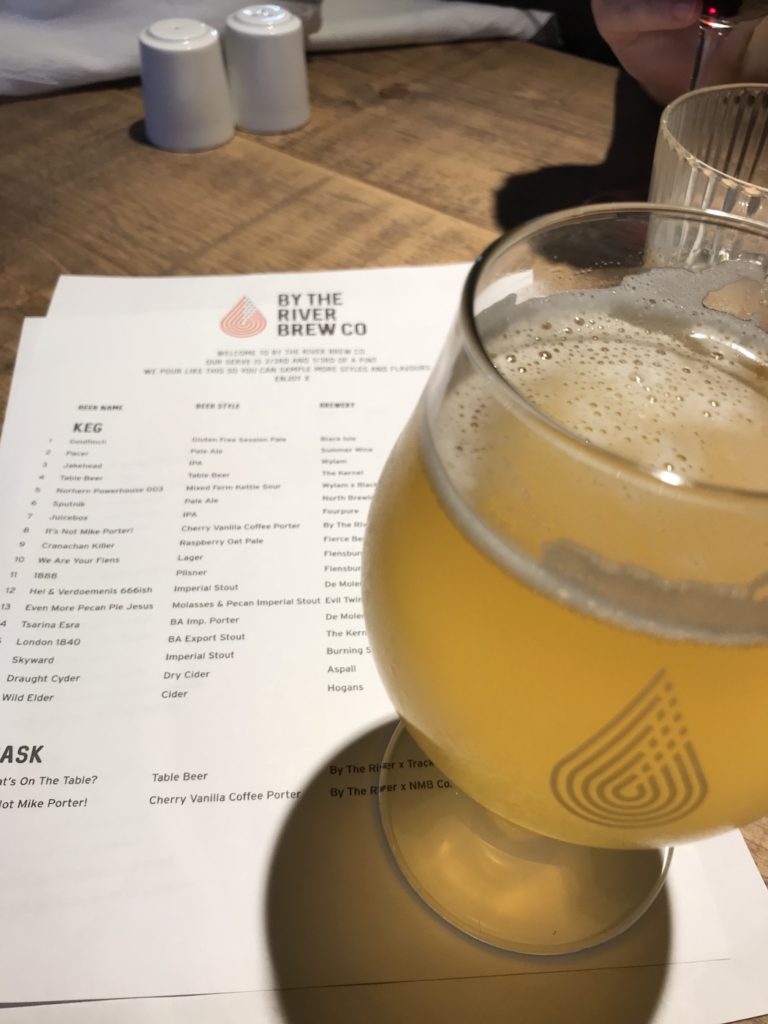 Not as the menu gives away, the asada goat, peas, lettuce and curd is a light-ish salad. The lamb is slow cooked yet crispy, and it's a whopper of a portion. If all salads were this good, life would be merry indeed. We were so whacked from the rest of the scran, Kate took some home for an excellent day-after-dinner.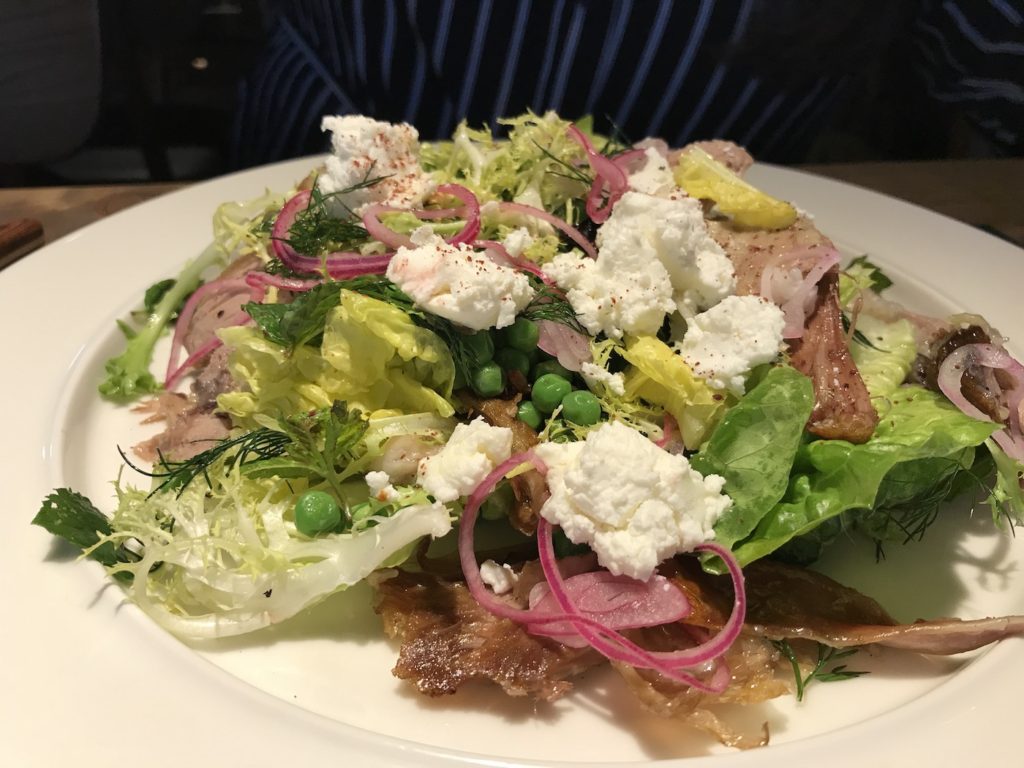 Finally, even the desserts have seen the breath of the fire, as these warm roast strawberries with a kiss of smoky ash testify. Plump strawbs, and with 'cheesecake cream' this one had changing of seasons written all over it, and was nearly light enough to end a standing ovation meal on. Or you've got chocolate sundae or cheese, but good luck with those.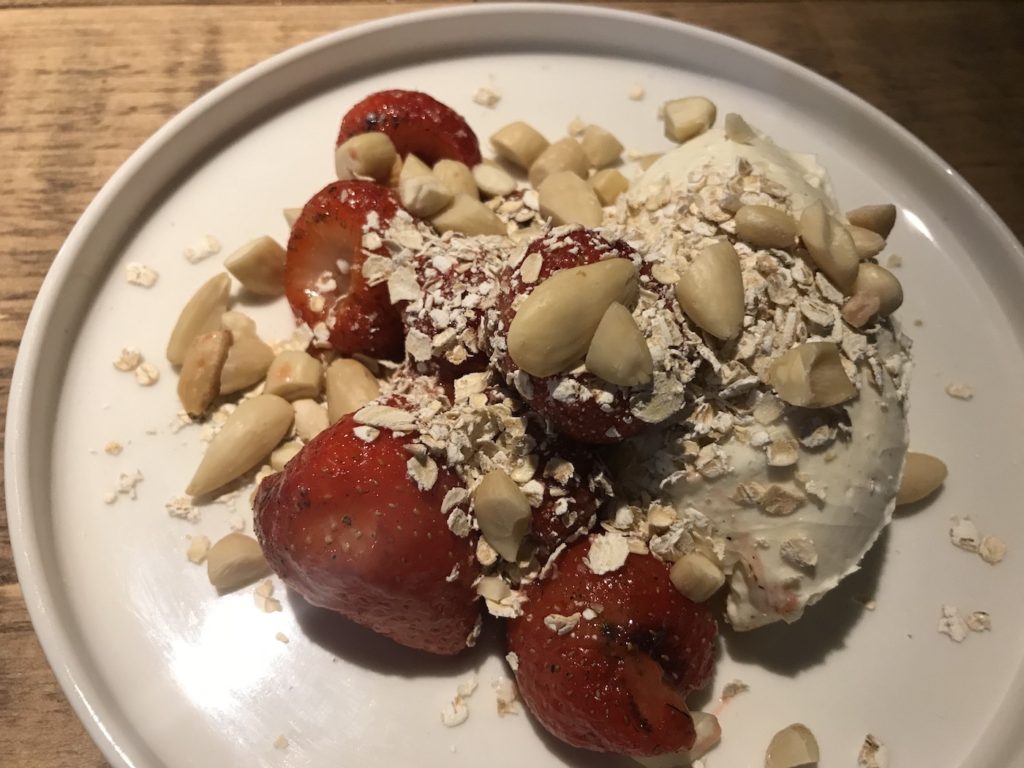 There's only a relatively small # of tables, so be sure to book. Though I guess as the weather recedes, maybe that'll be a bit easier. I do wonder if the insane popularity of the beers next door will continue long into the colder months….?
Träkol, indeed By the River Brew Co. is the rare kind of place that I yearn to be back at, and literally aim to have everything from the menu. If it's anything like the aforementioned Wylam Brewery Tap or The Bridge Tavern, regular menu changes will keep you coming back for more. Given it might not be here forever, make the most of the best thing to hit NCL in some time, and book a table. I had a feeling it'd be good, but not this good ??
Contact: https://www.bytheriverbrew.co/trakol/
Food hygiene rating: Not yet rated