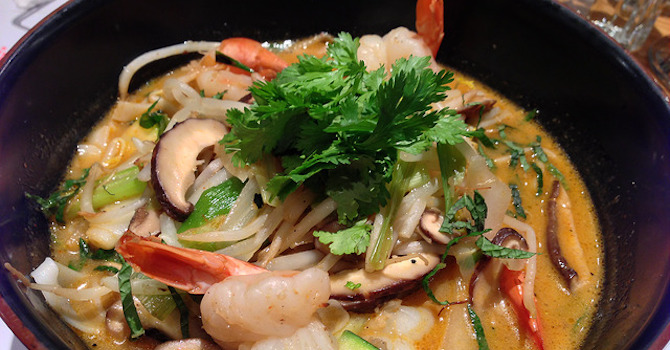 We were invited to a preview of the new Spring/Summer menu at Wagamama Newcastle a few weeks back.Which features new salads, juices, and spicy soups among other eats and treats. If the communal dining and writing numbers on your menu is your cup of tea, it's now been rolled out to all restaurants, so we'll let the pictures do the talking:
Prawn tom yum soup – coconut milk makes this not as scorchingly hot or clear as an authentic tom yum should be, but it's pretty damn tasty all the same. Packed with noodles, plump prawns (go for these over the weaker chicken version) and savoury shitake mushrooms, it's filling, gratifying, our favourite of the new dishes, and should have been on the menu long ago.
Chicken miso salad – a green and filling salad that is way better in its edamame bean guise than the fairly bland chicken version here. Loads of seeds, seaweed and green bits add up to make something with loads of oomph, but it's all a bit wet with mayonnaise which detracts somewhat from the "look at me I'm eating a healthy salad" approach. Still better than most garden/side salads you will find in chain restaurants.
Beef summer rolls – Go for the beef over the weaker chicken (noticing a trend?). Packed with meat and veggies, and wrapped in rice paper – it's a fairly filling portion you could just about stretch between two, if you were going for a cheap, fresh and quick night out – isn't that what Wagamama is about? The accompanying dip could be hotter for our tastes, but a canny way to bide some time before your main course.
Beef lettuce wraps – with real Sriracha sauce! So that's where the missing heat is. Wrap your own sous vide(?!) beef and peppers/onions in huge lettuce leaves. Pretty standard stuff on the inside and could do with some more filling but it all comes alive with a dip of the hot sauce. Pair it with one of the new juices which have some unusual flavour combinations, but they work – go for strawberry, apple, orange, and mint if you can stomach paying £4.45 for a glass. They are delicious, but that's like a wine mark-up.
Chain bashing is so en vogue at the moment (we're looking at you, Grey Street), but we were quite impressed by the flavours packed into most of these dishes. When ordering a simple salad over something like the popular chicken firecracker becomes a serious consideration, Wagamama are obviously doing something right. Worth a go when in a hurry and craving some canny, if not wildly authentic Asian inspired scran.
Contact: wagamama.com