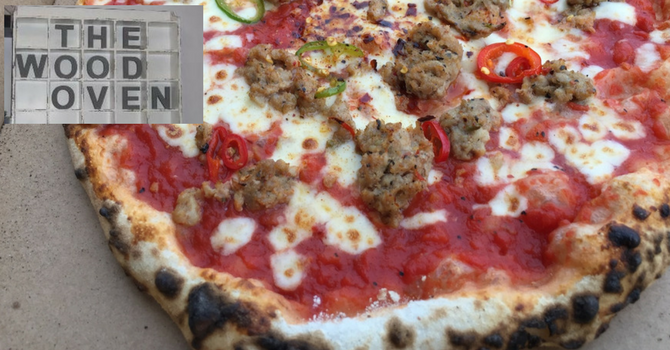 The best pizza this side of Jesmond ?
The Wood Oven (Main Road, Wylam, NE41 8DN) had flown under my radar for far too long. I mean, I've had takeaway, and a quick pizza down by the river on a sunny Summer night is lovely, but how do they stack up as a proper sit-down-order-loads restaurant?
Wylam is a 15-20 min drive from Newcastle, so not too far away. Even better, a quick hop on the train means you can stop off at The Boat House or Fox & Hounds across the road for some 'cheeky' pints beforehand/after. Pro tip: get the £10 for 2 people Northern Duo ticket for unlimited back and forth travel and make a day of it, stopping off in Corbridge and Hexham.
It's a cosy little restaurant, more front room than dining room with 10ish tables. No bells and whistles, just the wood-burning beast roaring away in the background. And nearly everything on the menu is cooked in it.
I'm sure you've seen enough photos of pizzas on here to know what a good one looks like, and well, this is The Wood Oven's margherita…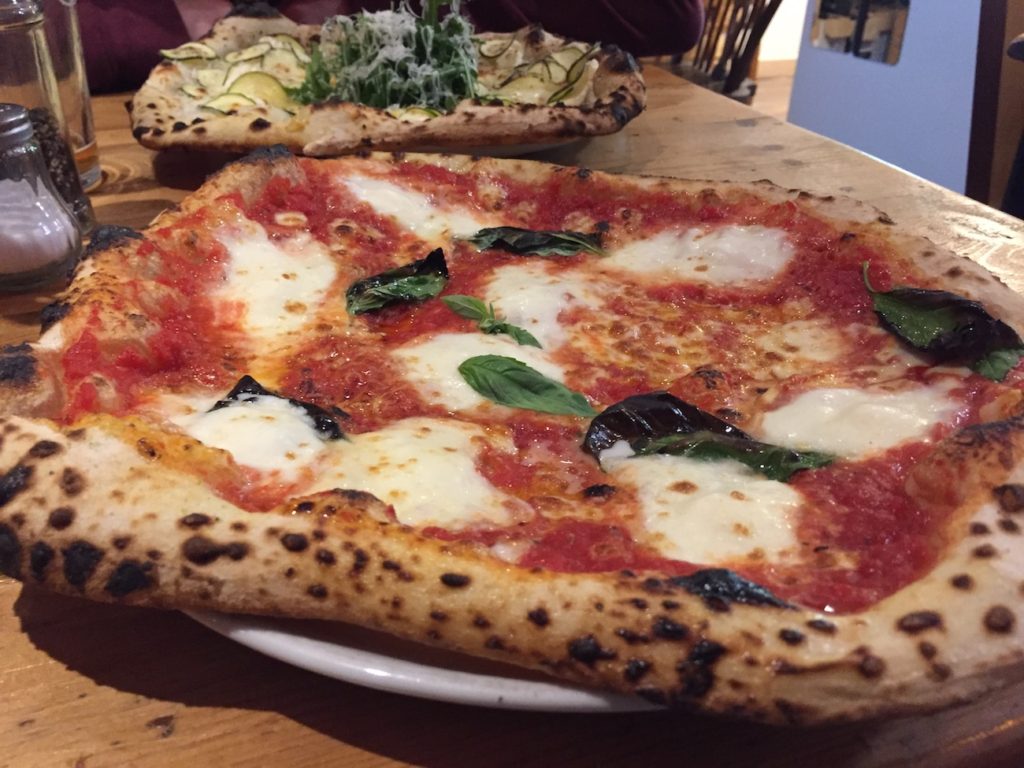 Phwoar, eh? Pretty lovely stuff.
It's been on my "Best Pizzas in Newcastle" since day one. The pies are cooked very quickly, they've got just the right balance of cheese/tomato/basil, and that crust is A+. It's sweet, tangy, chewy, crispy, and makes you feel good. I'd say it's second only to Cal's Own, which is of course, no mean feat given the raft of achievements and awards he's busy racking up. Really, great pizza.
And much like Cal's, The Wood Oven isn't just a one-trick pony pizza place. Keep an eye out on their instagram (just about the only place with up to date info – no website) at what the specials are, and you'll see they do some pretty cracking small plates too. From XO oyster and steak tempura, to homemade charcuterie, expect to see experimentation, seasonal ingredients, and something a bt more exciting than "potato skins and garlic mayo". That said, this kimchee & cheese garlic bread trumped any garlic bread I can remember – those sad frozen cardboard things you get in a lot of Italian restaurants should really be ashamed. They've got bread nailed here, so it makes sense to order loads of it.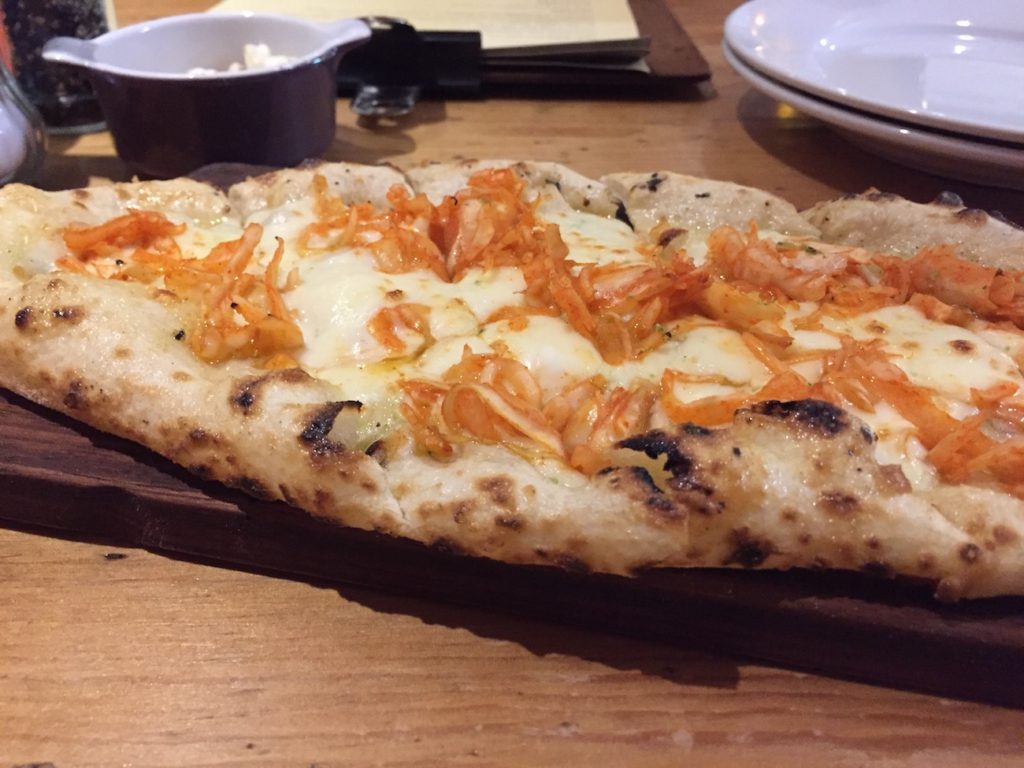 I think these are always on the menu but these fat prawns roasted in the oven, swimming in garlic butter were meaty, sweet, smoky and delicious. Comes with a few different breads too, for mopping up.
Same goes for this roast cabbage (£5.45), blackened from the intense heat of the oven, served with braised red cabbage, as well as (I think) a black garlic emulsion and a sesame cracker. Not my usual order, given the strength of some of other things on the menu tonight (wood-roasted flatiron steak for one…) but it was bloody lovely.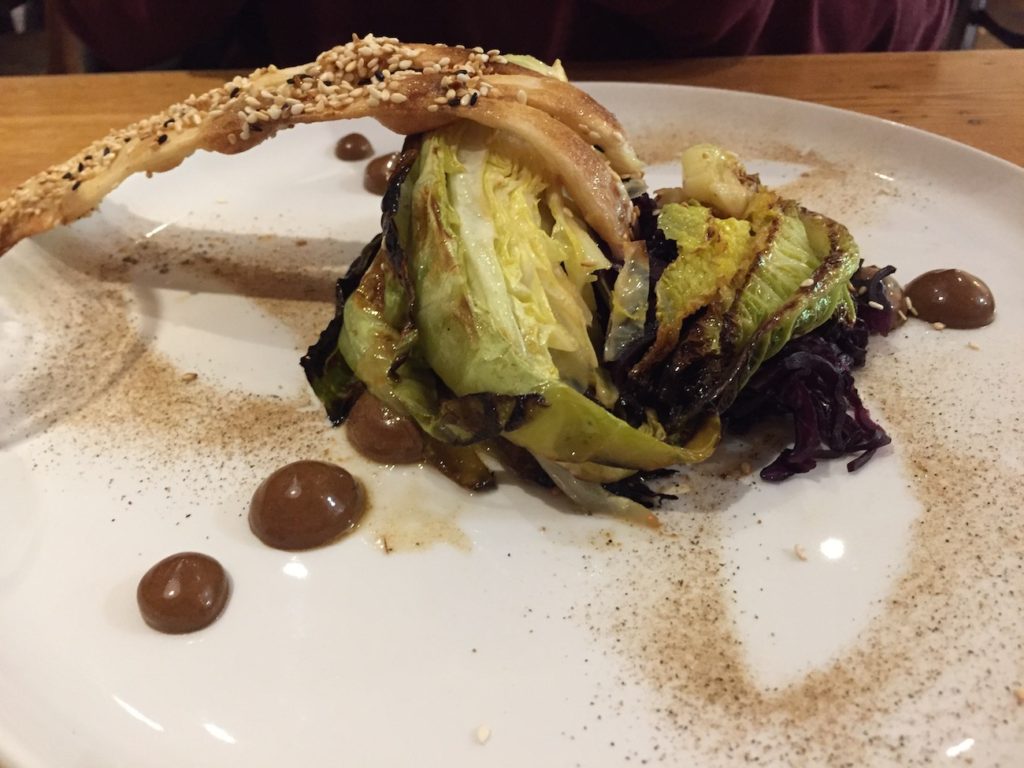 While the pizza police purist in me says nothing is ever going to beat a margherita, this courgette and preserved lemon number was equal parts creamy, tangy, and intensely cheesy. Probably one of the best white pies I've had. Others include nduja, pepperoni, home-grown veg, and specials of varying interest like this weeks sprout kimchi with béchamel sauce.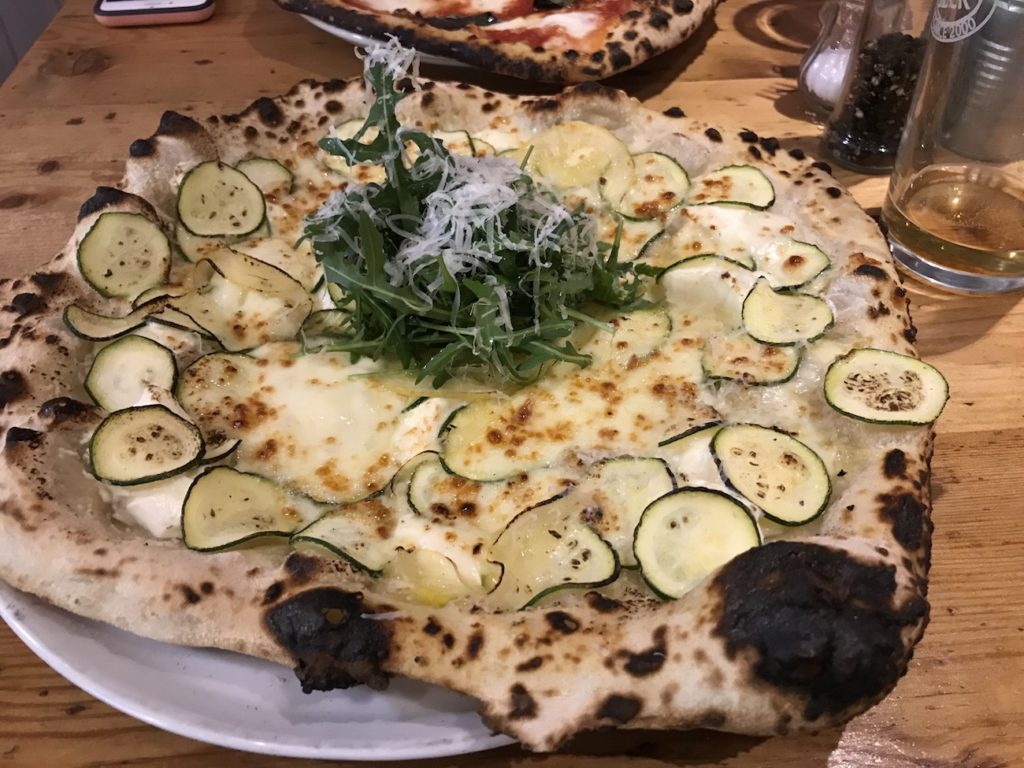 This was a fair whack of food, and we were sad not to be able to even attempt a pud – both steamed ginger pudding, and the pannetone cake sounded v tempting. Other 'nice things': some savoury popcorn while you order (I think this time, with olive powder, but varying daily), and some Haribo with the bill. It costs them barely anything, but it makes you love the place just that little bit more. More like this please, and less of "tag us with #SomeStupidWashingMachineHashtag" on the bill.
There's local beers (Allendale Pale is, FYI a cracker) and a short-ish wine list which is fairly priced, and the service, as you can expect in such a small restaurant is warm and friendly. With limited opening (5pm and later everyday) its best to call ahead, or expect takeaway which to be fair is a win-win.
With top-tier pizzas and other scran to match makes The Wood Oven one classy little local restaurant which I wish I had on my doorstep. Get yourself out to Wylam.
Contact: via Facebook
Food hygiene rating: 5/5