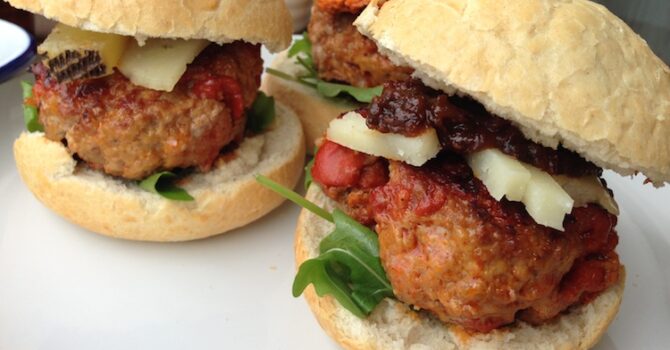 Let's face it, it has now been 48 years of hurt, and England aren't going to win the world cup this time round either.
You wouldn't bet against Spain though, European, champion's league, and current world cup holders. In association with Waitrose, I've made some Spanish-influenced burgers to ease the pain while Silva, Alonso and Juan Mata dance their way through the England defence. Get some mates round, serve loads of these up with a few beers, and everyone will love you, even if we do bottle it on penalties. Again.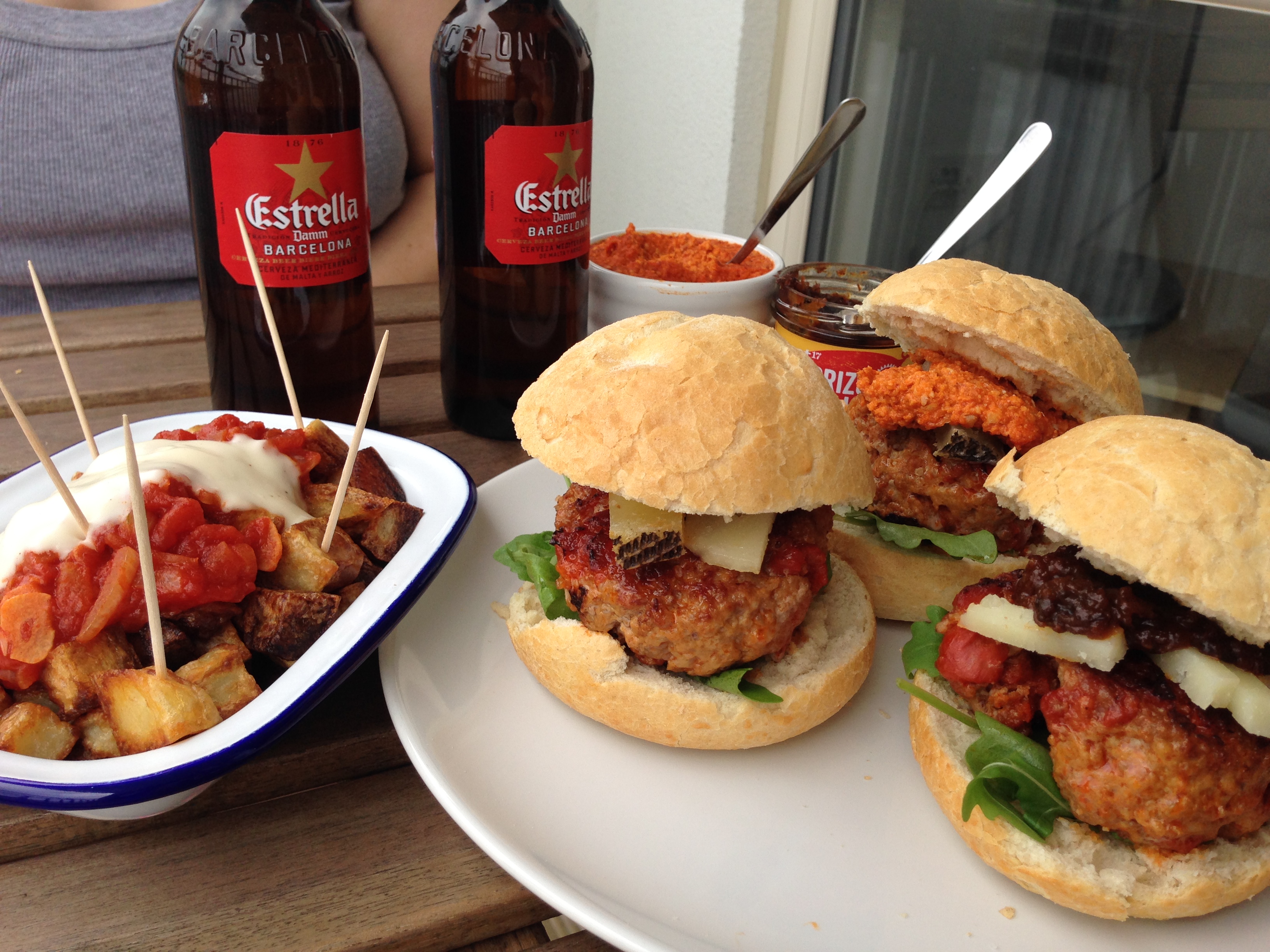 Easy Patatas Bravas (for 6)
1.5kg potatoes (floury or waxy on preference)
2tb oil
tomato sauce
1 large onion, finely chopped
2tb Waitrose Spanish EV olive oil
4 garlic cloves, grated
1 tin of chopped tomatoes
2ts smoked paprika
2ts red chilli flakes
salt & pepper
aioli
100g best mayonnaise
juice of half a lemon
2-3 garlic cloves
salt & pepper
1ts your favourite mustard
Patatas bravas is one of the most popular tapas dishes in the UK for a reason – it's just posh chips, isn't it? It goes great with burgers, and seeing as that the pork & chorizo are quite fatty, we'll roast the potatoes here instead of deep frying. Healthy, aye?
Peel and chop your potato into 1in cubes and leave them to soak in water for 5 minutes or aside  until you need them. Heat the oven to 200oC and add the oil to a baking tray. Dump in your potatoes and toss them to ensure they all get coated with the oil. Roast for 30-40 minutes, turning them half way through. Salt and drain off on kitchen paper, but they won't stay warm or reheat, so only cook when you're ready for your meat.
For the tomato sauce, sauté your onions and garlic until softened, then add in the rest of the ingredients. Allow to simmer for 15 minutes or until your potatoes are ready. To make the aioli, simply add all the ingredients to a bowl and mix well. Refrigerate the aioli to firm the mayo back up a little before serving. Top the potatoes with a good dollop of both just before serving, and sprinkle with some chopped parsley which in the excitement, I forgot to do.
¡Viva España! Burger (makes 6 at ~£1.50each)
500g Waitrose F-R Lean Pork Mince
1 pack Waitrose cooking chorizo
50-100ml worcestershire sauce on taste
1ts smoked paprika
100g manchego viejo
Waitrose wild rocket leaves
Best buns you can get
Relish to serve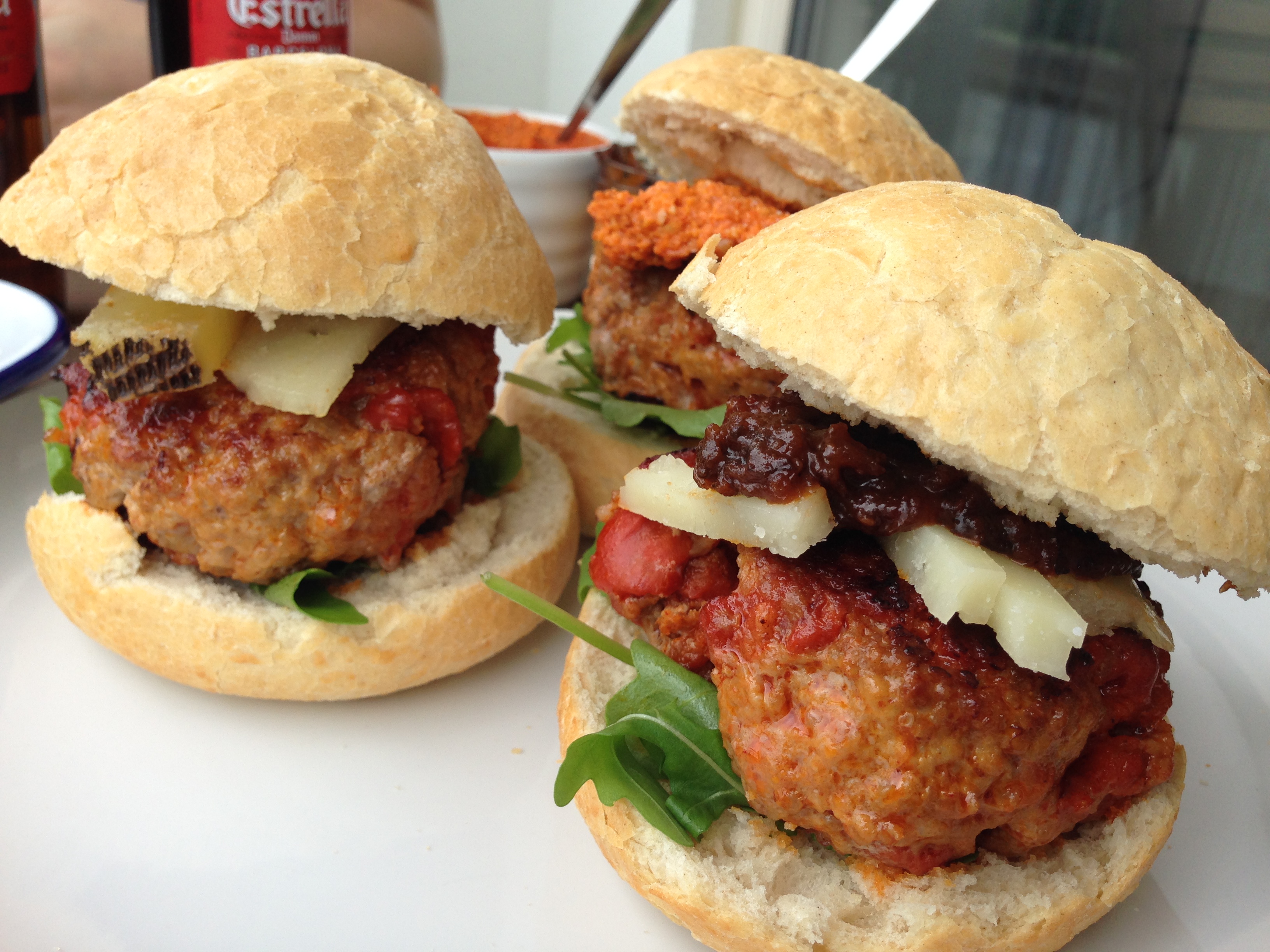 Prepare the burgers in advance so that all you need to do is heat up a pan just before serving. Chorizo and smoked paprika is probably my food heaven, and there's plenty of both here. Bonus: it's nice and fatty so keeps your burger juicy.
Remove the chorizo sausage from the casings and pick it apart a little. Add to a mixing bowl with the worcestershire sauce and the smoked paprika. Mix well with your hands, but try not to break down the mince too much.
Take small handfuls and form into a patty shape, depressing the middle with your thumb. Leave these in the fridge until you need them (or they should freeze well). Your hands will be red and meaty, so wash them!
When it's time to serve, get a pan nice and hot, and fry the burgers in a little oil for about 4 minutes per side, turning once only so that a nice char develops on the bottom. Top with some sliced manchego cheese after turning. Manchego isn't a great melter, but will soften and sweat nicely. Grill your buns; I prefer something with a bit of crunch rather than brioche rolls which fall apart with any fatty juices. Add salad leaves and your burger, and top with your romesco sauce for the full spanish experience, or as I did here, with some chorizo jam (£3.49 – lovely stuff).
Romesco sauce is a traditional Catalonian sauce typically served with seafood or chicken, but it also works well as a sweet relish for our burger. Roast your pepper until a bit blackened and remove the skin when cool. Set it aside while you add the rest of the ingredients to a food processor, except the onion, garlic and tomatoes. Saute these in oil until softened slightly, then add to the processor. You might want to chop your nuts up a bit unless you're sure your processor is up to the task.
Blitz until you get something like a thick gazpacho, then add olive oil to loosen it to your liking. It's nice with nearly anything warm or cold and will keep in the fridge for 3-4 days.
Romesco sauce
1 romano pepper
1ts smoked paprika
1 slice white bread, toasted
2 tomatoes – skinned and desseded
1 small onion
2 garlic cloves
50g almonds
25g hazlenuts
EVOO to taste
Plate up and dig in. These are best served outdoors on a sunny June afternoon with some cold Estrella Damm – England won't win, but enjoy the tournament!
See the full range here feat. some other great bloggers.
raw burger patties
easy patatas bravas
burger ingredients
romesco ingredients
This post was produced in association with Waitrose who provided me with the ingredients for my burgers.