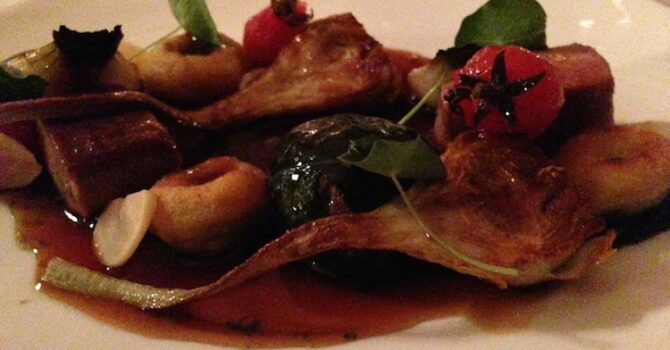 Driving through "The Wynd", and into the grounds of Wynyard Hall (TS225NF), it's hard not to be jealous and impressed by the man$ions which would make Darras Hall blush, but remember – it is only Teesside. It serves you well to remember these epic estates as they give you an idea of the kind of clientele that get to call this place their "local". They might not have too much trouble paying the bill, but in times of austerity, we can imagine the prices at Wynyard will scare off the average punter. Of course a captive, affluent customer base attracts a premium, but the quality of the food has to stand for itself. So does it?


Famously a "wedding" hotel, it would be easy to think Wynyard Hall is too focussed on mass catering, and three AA rosette cooking can all too often be a synonym for "chasing a Michelin star". A quick peek at the menu shows head chef with a great CV Alan O'Kane is definitely trying to impress. The ingredients are premium and plentiful, and the cooking is technical and not afraid to take some risks. Take the "Master stock pork belly, scallop, pink grapefruit, Kimchee, shrimp & duck egg mayo, and Chinese black vinegar"? Aye.
We'd usually go for the house menu which offers three courses for £31 – on a par in every way with it's nearest competitor Jesmond Dene House, but today is for splurge. A la carte prices are about one step up from Café 21 and the like: think starters for about £12, and mains for £25ish. They've interestingly dropped the tasting menu, which we find a nice change of pace – sometimes 25 plates of one bite wonders can be a bit daft.
You do though, get canapés and breads – which are all great. Crispy chicken skin slathered with pate, deep fried whitebait & malt vinegar, and a melting cheese gougere all leave us hankering for just one more delicious bite. We eat these on the outside terrace, which when it's warm is just stunning. Overlooking the magnificent lake and grounds is the perfect place to catch the last of the English summer and sip back a drink or two. The wine list is extensive and covers just about everything you could look for, and is reasonably priced with house choices from £24, but do go skywards after that. Driving in. we go for single G&Ts at £8.50ea – ouch.
Moving inside, the entire hotel is quite "wow", and it's hard not to be impressed by the grandeur of it all, especially the main Wellington room restaurant where ridiculously large works of art stretch up to even higher ceilings. It is opulent and over the top, but doesn't have the tacky look of say, Close House's Argent D'Or. It's easy to imagine being extremely comfortable by the huge fire when that is roaring in the colder months too, and there's a piano player on a weekend.
Breads come out and are also grand. They aren't topped up, at least not without asking, but salty, shallot bread is paired with, wait for it, bacon butter. We can die happy just gorging on some of that.
Fish then features heavily on the menu, and we go for the "crab, carrot & walnut variations, quinoa". The crab smells fresh and fantastic but we find it's lost amongst the nut flavour, which is just too overwhelming for it. The blackened mackerel, tofu, dashi, oyster mayonnaise, brown shrimp & sea vegetables fares the same, with the crisped jet black skin on the mackerel coming over too bitter and just stomping on many of the other flavours. The sweet little brown shrimps, and grapefruit are beautiful though, and the more of them you eat, the better and better they get.
Service is impeccable throughout, and we are made to feel very relaxed/like Sir John himself, though slightly off putting is that on this Thursday evening there is only us and four other diners in the restaurant. It kind of stifles the atmosphere down to a whispering conversation level, or you could spin it and imagine it's your private dining team of fourteen chefs cooking just for you like we did.
Our pick of the day has to be this lamb dish – roast saddle, braised neck, broccoli, wild & pickled garlic, lamb fat gnocchi, salsa verde, confit bliss tomatoes, violet artichoke(!) The lamb flavour is huge, and the meat literally falls apart with the gentlest of prods. The accompanying salsa verde freshens up the plate, though this is a definite gravy & meat lovers dish, and will tick all the right boxes for a carnivore. We'll take a bowl of the lamb fat gnocchi on the side as well please.
Our other main, Alan's "signature dish" of curry scented sea bass also hits the mark with a not overbearing curry flavour which runs through everything on the plate. Perfectly cooked sea bass sits on giant cous-cous, and is a surprisingly filling plate. Cauliflower bhaji gives some crunchy textural contrast – blissful really, though again we find the mussels can't really stand up to the curry flavour.
Desserts all sound pleasant, and we loved the idea of salt-baked pineapple, dark rum muscavado puree and coconut, but it comes across better on paper than on the plate. While we could bottle up the the sweet and sticky rum sauce and slather it on everything, the pineapple is tough, and we feel would be better served hot.
Similarly, we ponder over how the "peach melba" may be served, and can only come up with "deconstructed". it doesn't disappoint on that front, but fails to be more than the sum of it's beautifully presented parts – overly simple peach and raspberry. Neighbouring pain perdu, though, are cinnamony cubes of bready loveliness.
At a la carte prices, we could only justify going here as a very special treat – but of course that's what it is, and given the fact it's in the middle of nowhere, you kinda have to indulge and stay over in order to best enjoy a few bottles of wine. We absorbed ourselves in the luxury, and enjoyed the peace and quiet, but can't help but think this wasn't particularly a meal that would stay in our memory forever.
Visit for a wander round and perhaps "take" afternoon tea and decide if it's your proverbial cuppa. Oh, and it's a word which is bandied about way too often these days, but the hot tub in the spa looks amazing. 
Food bill: £89ish exc. drinks
Contact: http://www.wynyardhall.co.uk
Food hygiene rating: 5