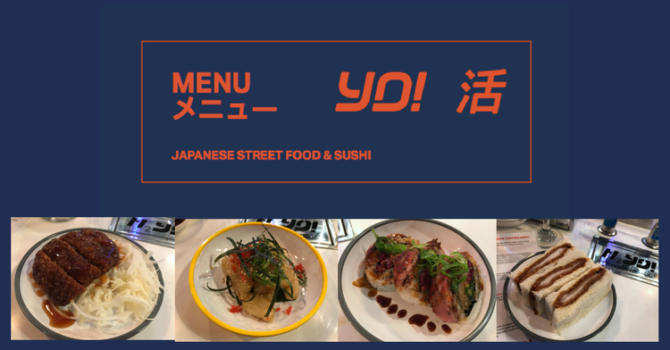 Not just sashimi ?
I'll always approach PR invites to 'new menus' at chain restaurants with some trepidation, but the times I do get a takeout from YO! Sushi, I go back again and again to the the katsu curry. 2 additional katsu dishes on the new menu drew me in to this one… so here's those, and 5 other dishes from the updated YO! Sushi 2017 menu.
Bullet-Train Katsu Sando
Probably representing a shift from true sashimi and the kind of stuff you might get in those 3* Tokyo restaurants towards more British-friendly flavours, putting katsu chicken in a sandwich sounds like something I would do at home. While I'm not sure about the claimed Tokyo-street-food origins…?…someone can prove me wrong on that one…it's chicken katsu in a sandwich, so of course it's good. I'd probably return to rice next time, but for the katsu fiend – worth a diversion.
Fruity Beef Katsu
Oh katsu again. This time the twist is beef, and though I wondered what cut they'd use to keep it tender, it turns out it's made from minced beef. Which keeps it really super juicy, but it feels just that little bit wrong. It's still katsu(-ish), so I love it in its own way – just can't shift that hint-of-Italian-meatball flavour. And I reckon a better accompaniment would be anything that isn't white cabbage.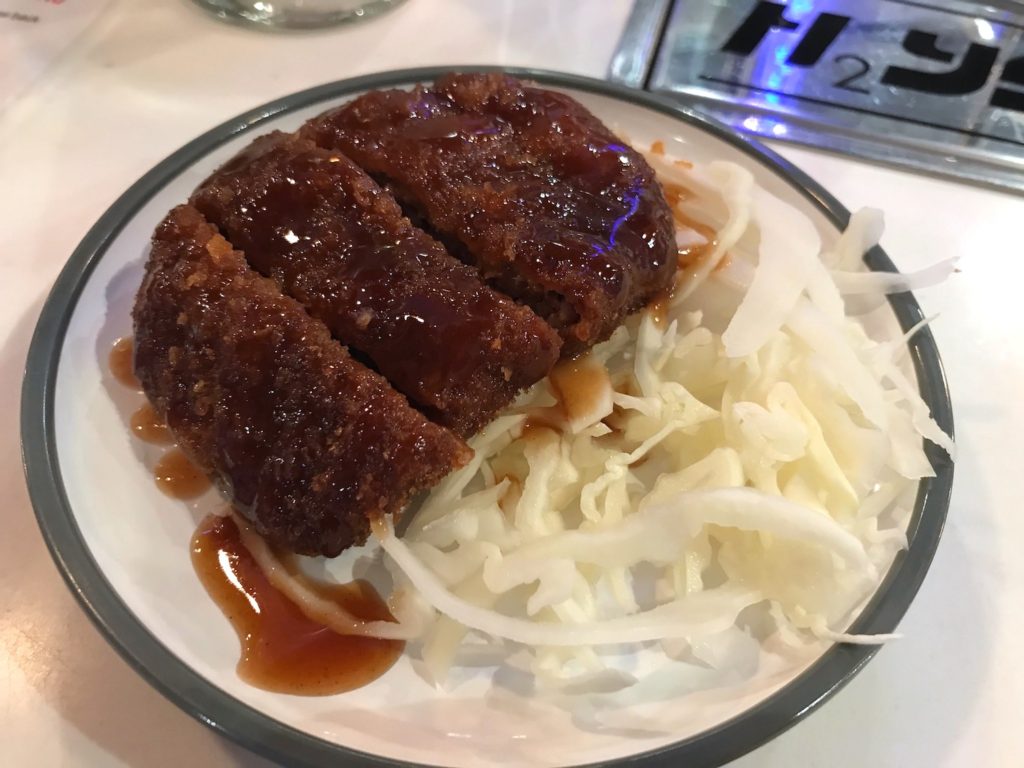 £4.30 / Rating: ????
Sweet & Sour Cod Nanbanzuke
One of the dishes that you could see hanging round on the menu – it's fried cod, sweet and sour style. It's a bit more sweet, less sour, but it's still a satisfying pile of nuggets. While the smaller pieces don't allow the cod taste to come through, the chunkier bits had a good balance of batter, meaty fish, and that lactic tang. Moreish, and we ate more pickled ginger than is probably healthy.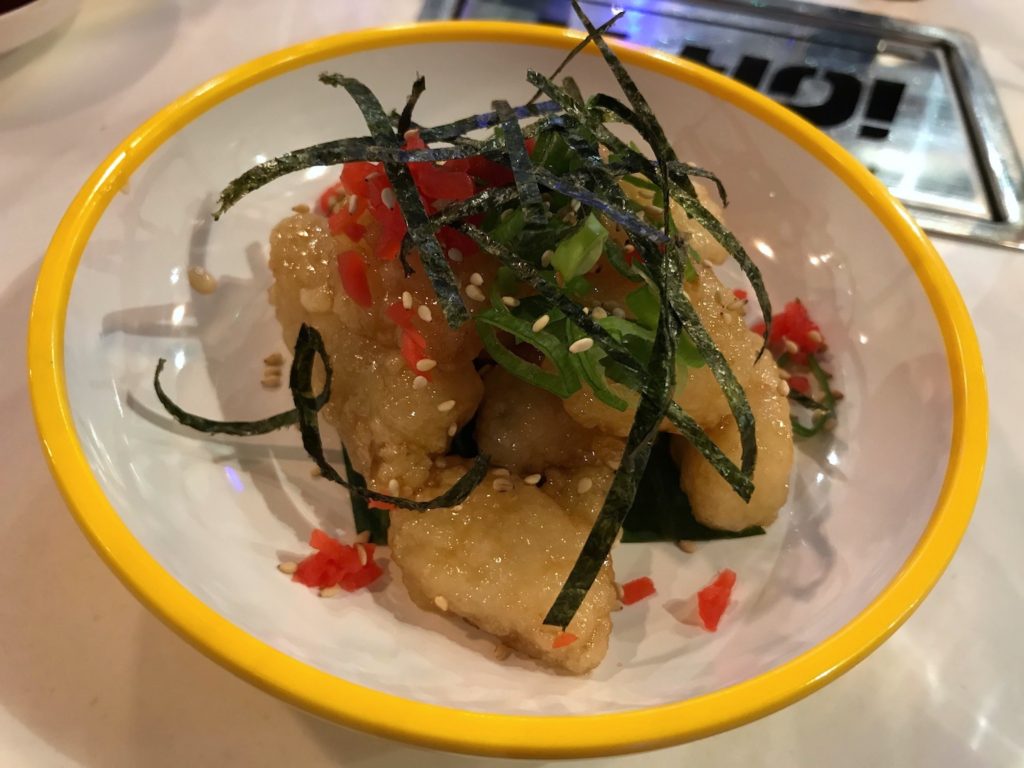 £4.70 / Rating: ????
Izakaya Pork Teriyaki
My favourite of the night – pork teriyaki is often bastardised, but this was obviously cooked for a long time, and uber savoury. Melt in your mouth layer of fat, and succulent sweet pork, it ticked all the boxes you want from a simple teriyaki. The egg, which could have been a lovely little side bonus, didn't match up to the pork which was a shame.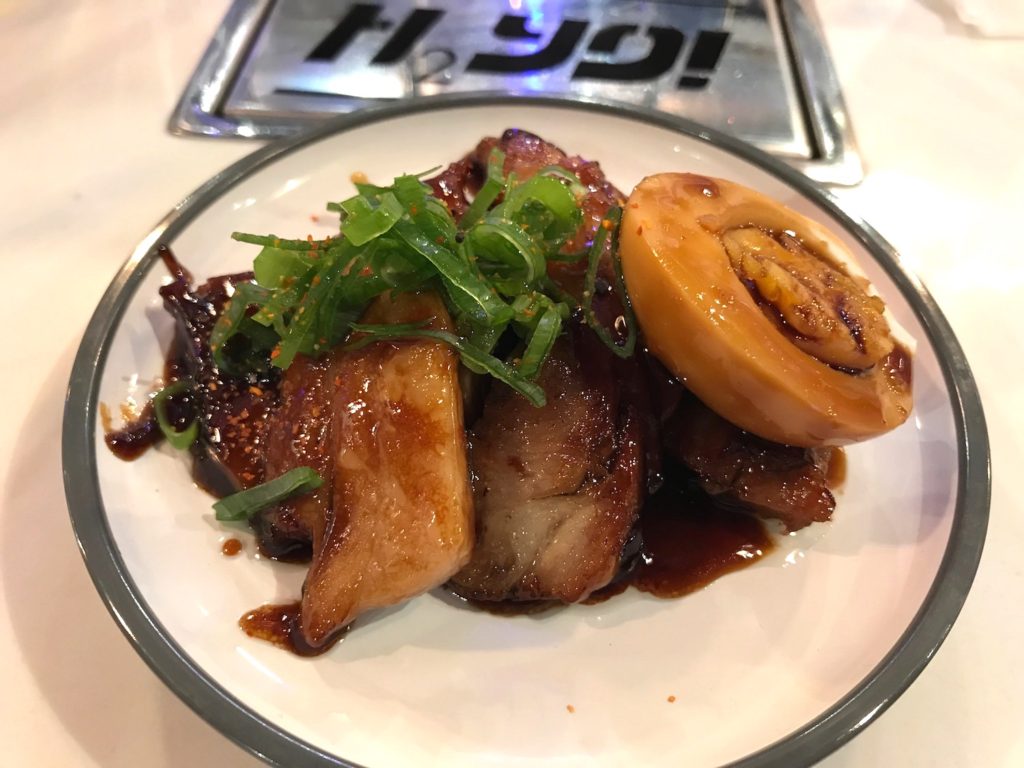 £5.40 / Rating: ?????
Osaka-Style Squid
One salty thing too many on this one. Katsobushi, squid, mayo. Maybe it was the luck of being the fourth deep-fried dish of the day, but it's all very rich, and that's coming from a die-hard salt lover. Annoying too, as the squid was done very well, and you get loads of it. I'd give it another bash, but it's be alongside some lighter dishes. I mean you come to Yo! to try and make a healthier choice after all, right?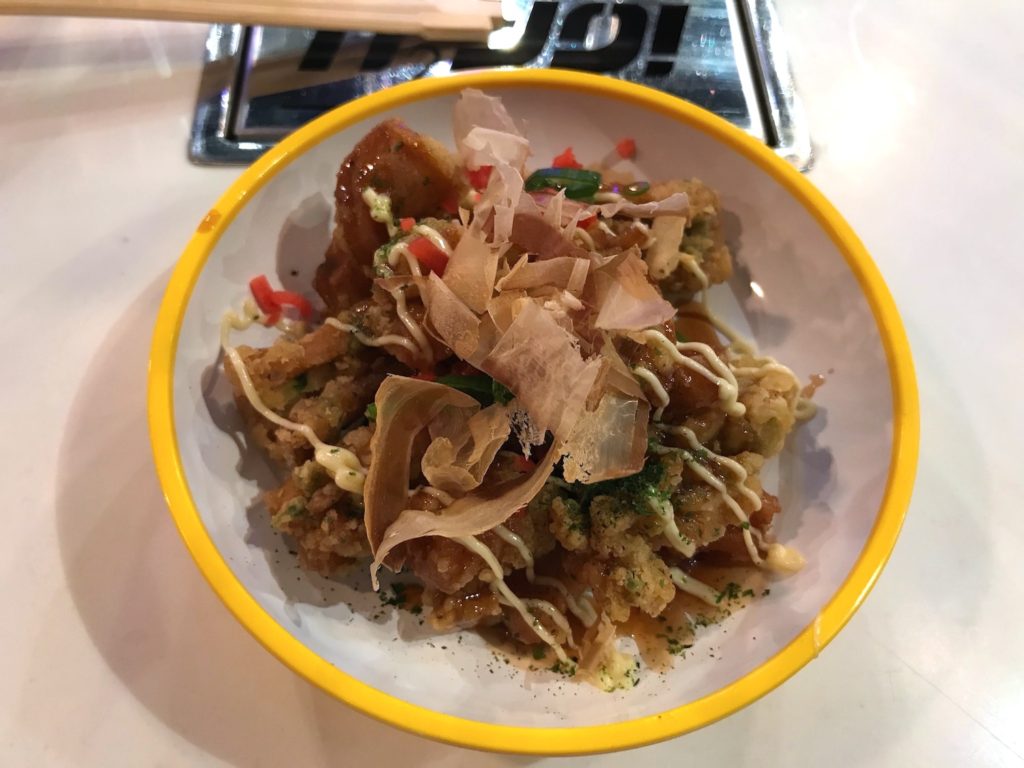 £4.70 / Rating: ???
Seared Beef & Pickle Roll
Almost forgetting that Yo Sushi was at one point more about the rolls and nigiri than deep-fried things. But it's virtually impossible to eat beef like this without it falling apart, the pickles didn't deliver the acidic punch needed, and this could have been a sushi roll from anywhere really. Stick to the dragon, spider, or salmon skin rolls unless you really fancy that beef, which to be fair was nicely rare.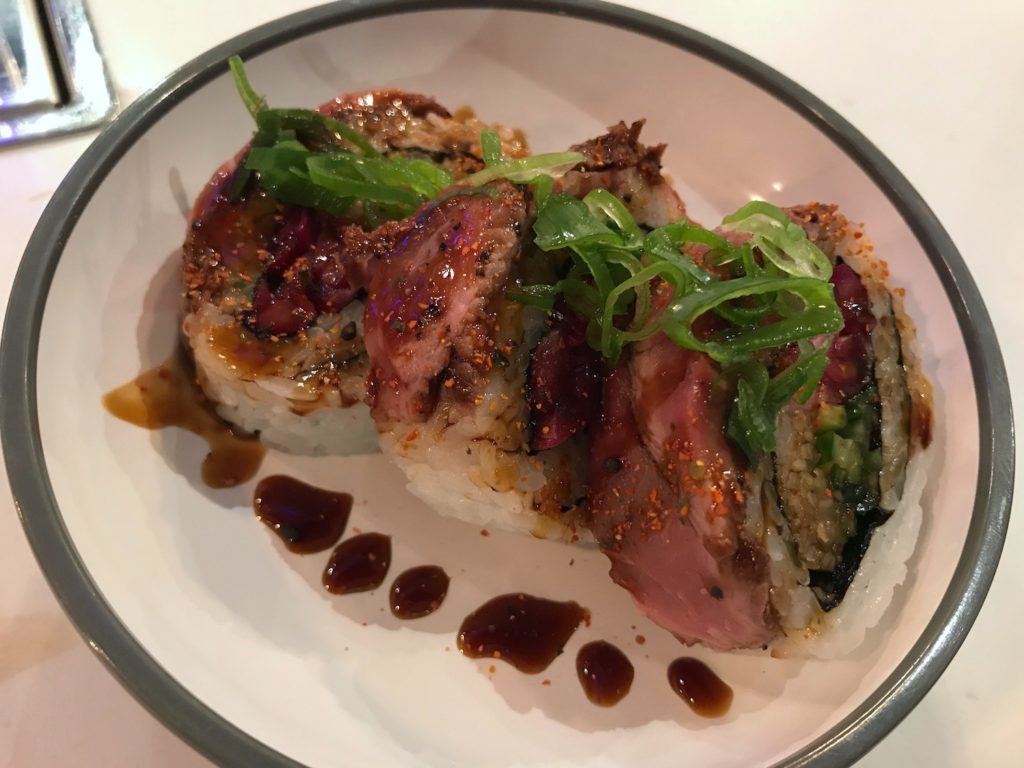 £4.70 / Rating: ??
Tokyo Banana Cake
It's a banana cake with cream. A light(er) option at 145kcal, but it's nothing to write home about other than a very soft, banana-flavoured sponge. Get another sushi dish instead, or….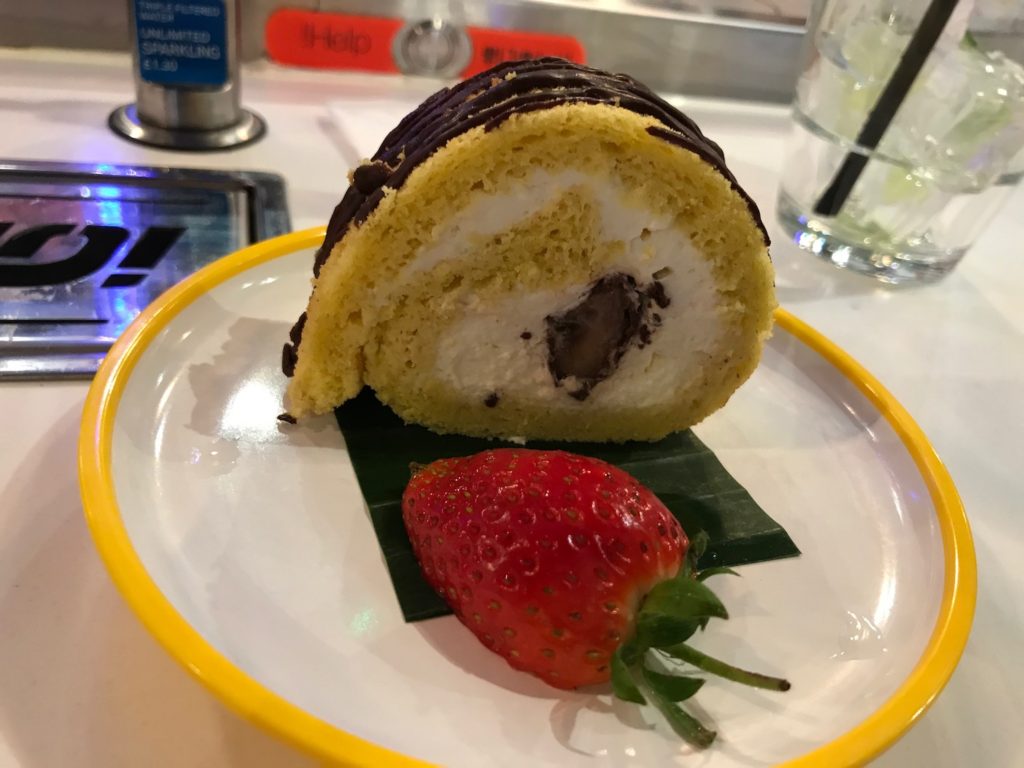 £4.70 / Rating: ??
…one of these. Discounting the standard Asahi and Sapporo, Yo Sushi is the last place I'd expect to see a quality beer. Which made this Hitachino Nest (£4.95) all the more worthy of a sup. White ale flavoured with coriander, orange and nutmeg, it's a spot on match for some of these dishes, blasting through the richer, fattier ones.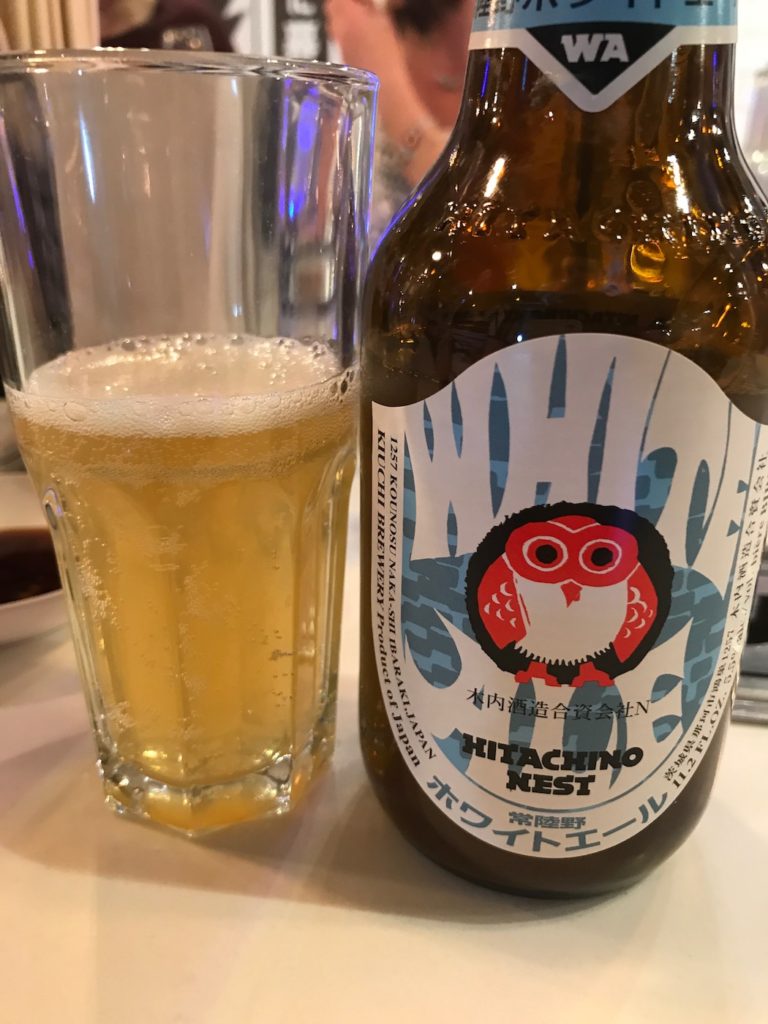 Shout out to the service too which was excellent, and though you'd expect that for a PR event like this, I usually find that's the case here. What do you think of Yo! Sushi's new-ish Grainger Street branch?
Contact: yosushi.com
Food hygiene rating: 5/5