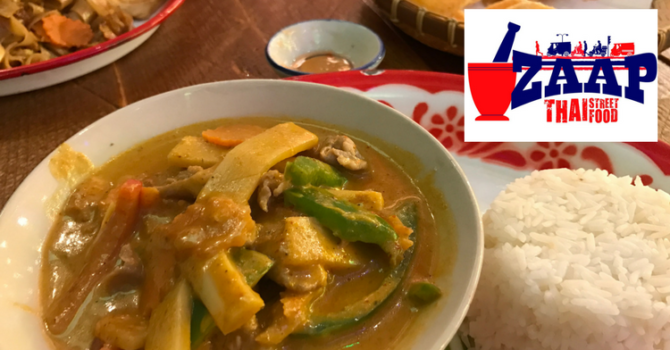 Fake-Thai wins me over 🇹🇭
I didn't really want to like Zaap Thai (117 Newgate Street, NE1 5RZ). When I saw it was opening, it seemed like yet another style>substance place – if you've ever seen a pic, or been in the place, you'll know what I mean. What they've done, much like Thaikhun, is try and up the authenticity factor by absolutely ramming the place full of faux-Thai tat. Neon lights, street signs, the clattering of busy woks…you can eat your meal inside a tuk-tuk/table hybrid if that floats your boat. Pretend you're in Bangkok, not next door to someone being sick right outside of TigerTiger…Right?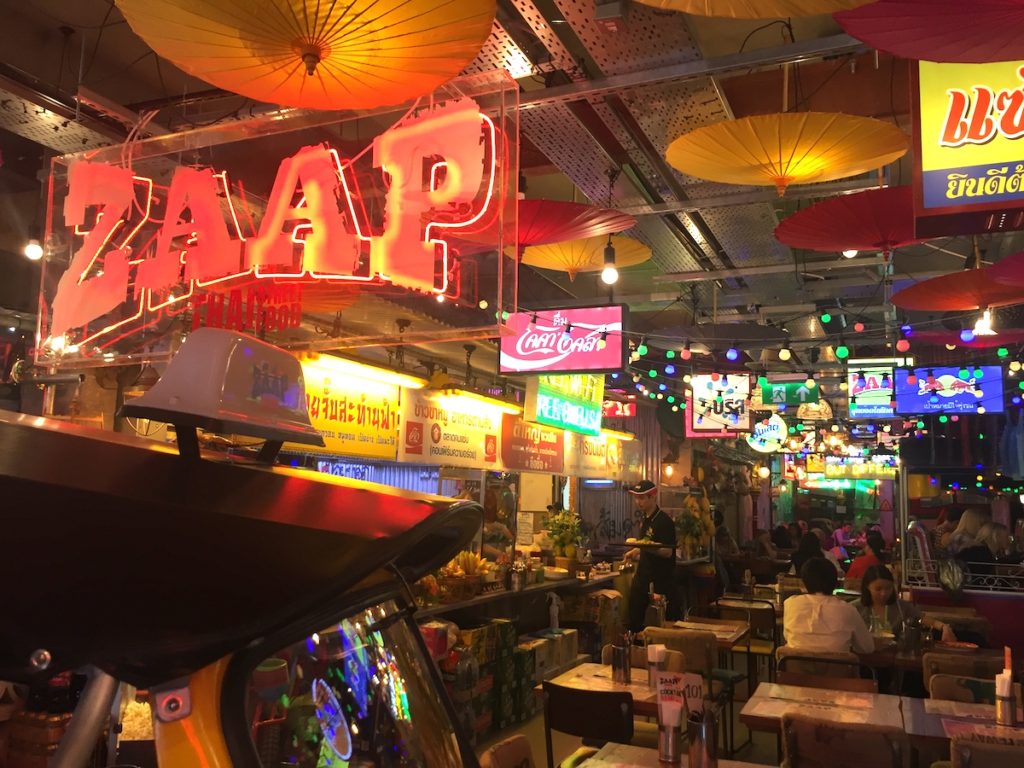 That stuff doesn't tend to impress me, but on this occasion, Zaap Thai has charmed me with it's solid scran.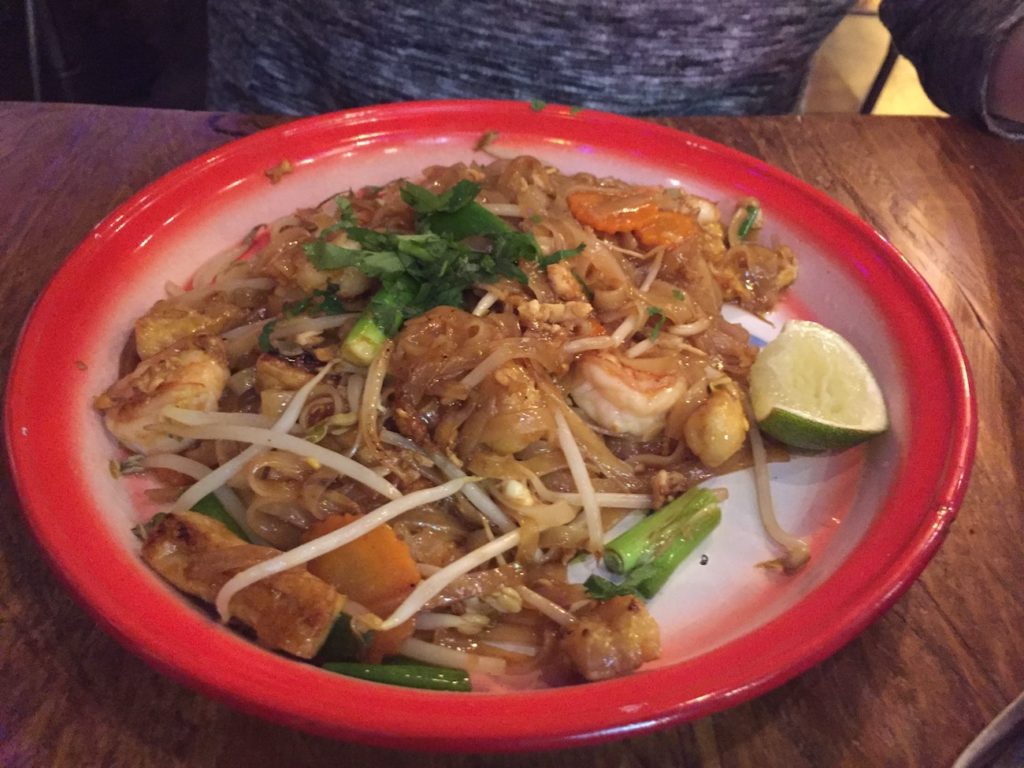 There's two other restaurants – Leeds & Nottingham, so it's not like a Frankie & Bennie's size chain, but it's part of Sukhothai – fairly well regarded restaurant group. And it's a textbook Thai restaurant rollout, big menu, all-Asian-ish-heritage staff, some Thai food and some from further afar.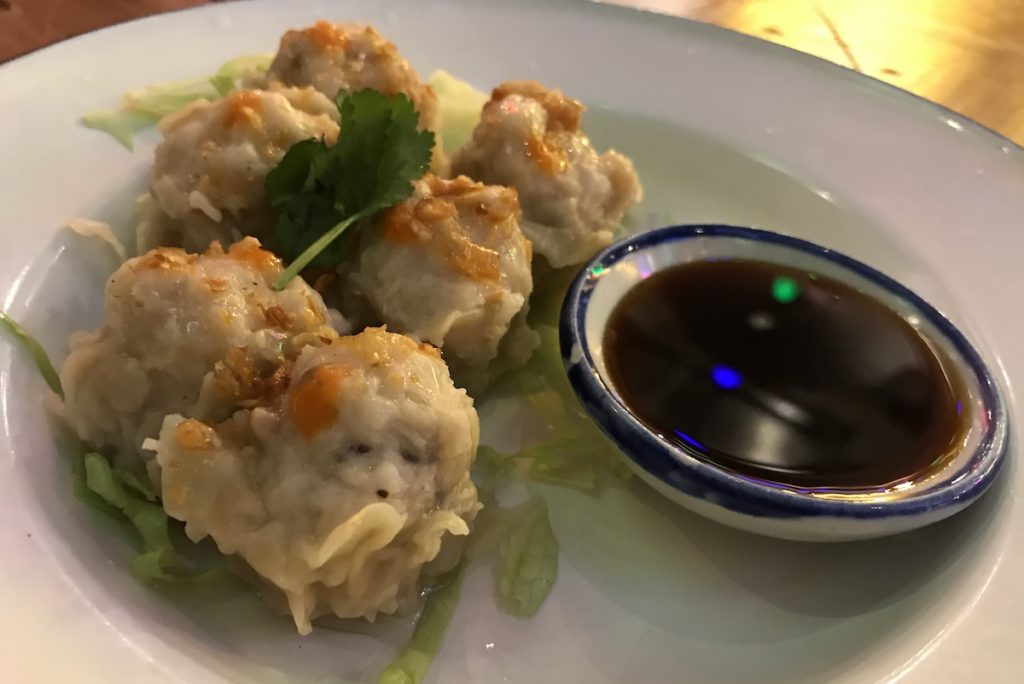 At the end of the day, the foods gotta be good though, and it is. I'm not going into the authenticity argument, again, but nearly everything we've had here, I would probably re-order.
It's all really well priced too – you can escape with 2c for 2 people for less than £30 which is one of the reasons I think we're gonna see more and more places like this in general. A good, cheap feed.
Starters mostly hit the mark – marinated pork neck skewers striking the right balance of soft and chewy, and sour and sweet.  Dumplings are mostly pretty good, especially the savoury little chicken/prawn nuggets. It all sits on shredded iceberg lettuce, which can do one, but it's tasty stuff that you just hoover up. Bit of a distraction from the (better) mains, but tasty nonetheless.
Thai red curry (top) had a blazing heat, and though it didn't have that extra depth of flavour that you get from somewhere like Thai House Cafe, it was only £8 inc. rice which you can't argue at. "Things with noodles" are occasionally a bit claggy but generally zingy with lots of lime juice and fish sauce, and mostly really enjoyable. Accesible versions of classics like pad Thai, and more mysteriously named items – "rice with crab", etc. but they've never been anything to grumble about.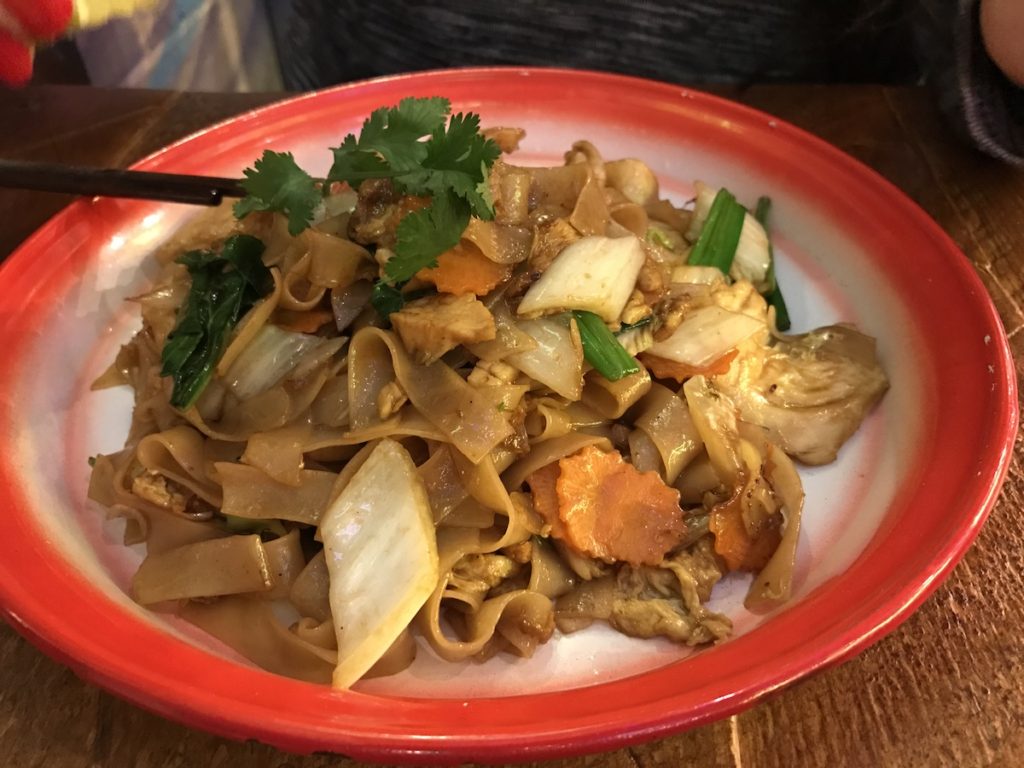 The whole calling it street food thing pisses me off though. Obviously Thailand eats outdoors, and the street food is both ridiculous value and amazingly good. But I don't even think you can take away here. Hey ho.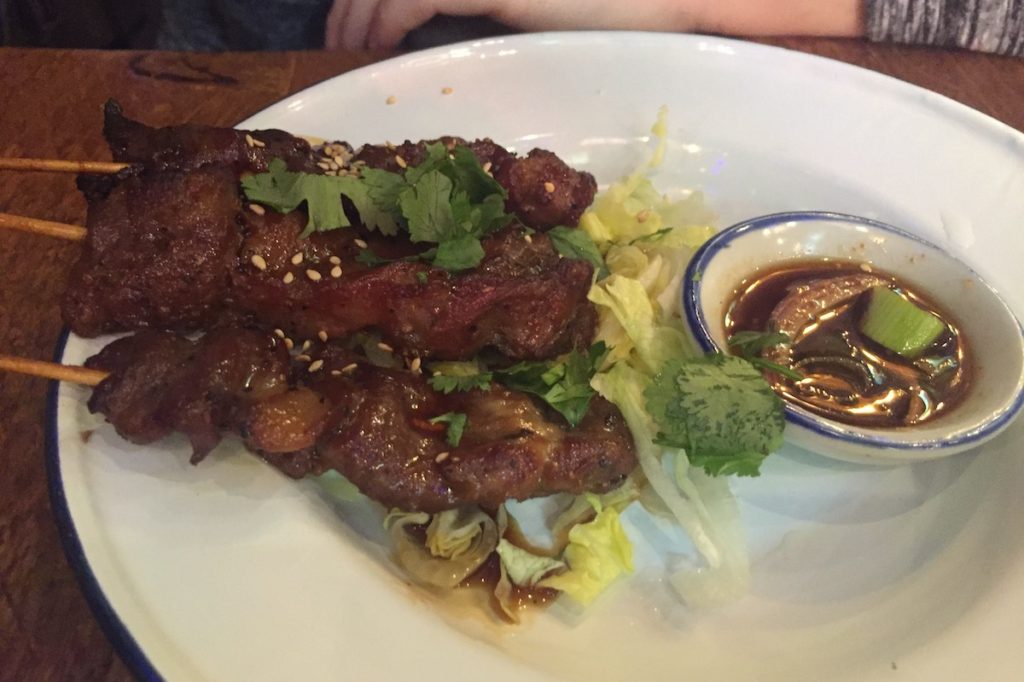 My favourite – sorry I can't even recall what this was -it's got Thai basil, it's got boiled egg, it's got pork mince. The flavours are fresh, spicy and clean, and for less than tenner, it's what you're here for really. It's not pretty, but unless you've slaved for 24hrs+ over a decent stock, you can't just knock it up at home.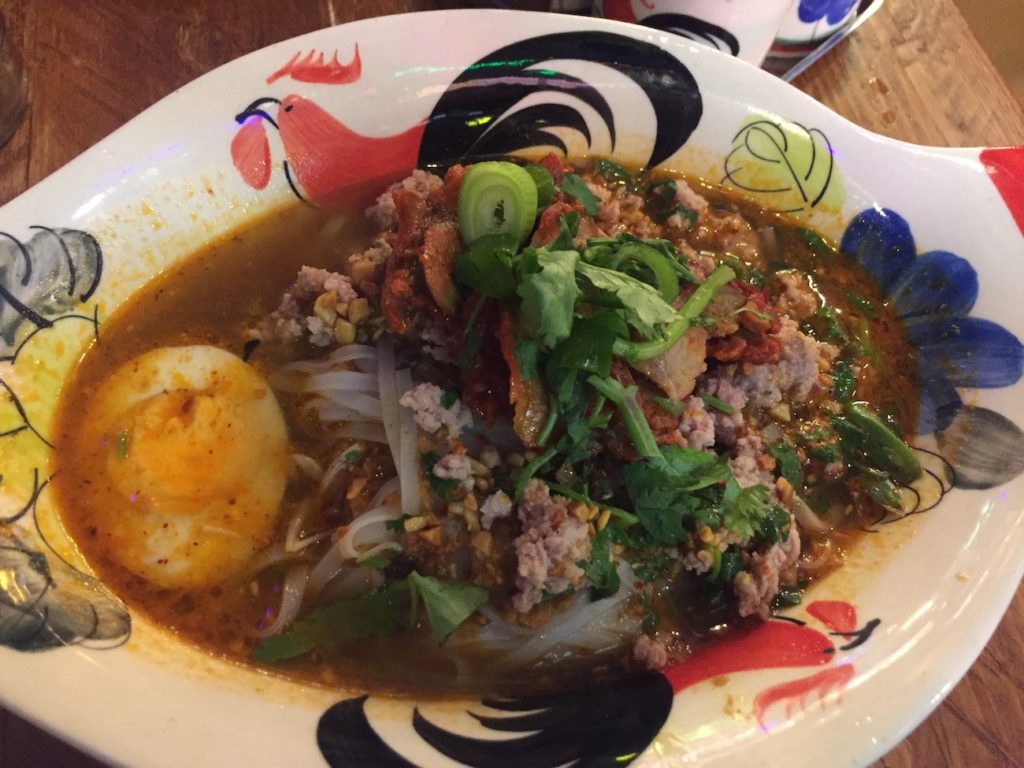 Service is very quick, so it's a good shout for in&out in an hour food. Drinks – I can't say I'm a Singha fan – maybe it works in the blazing heat of Bangkok, but nah…I can't get on board with it. Probably best off dodging the £18 token selection of wines, which leaves you with some softies. Same for the Thai-ish desserts, I just can't really find a one with bothering with. Your mileage may vary.
It's probably bears zero resemblance to anything from a Thai street food vendor, and I'll always prefer Ko Sai and Thai House Cafe for their takes on Thai bait. But I can't help but keep coming back when in need of a quick spicy fix. Forget you're on Newgate Street for an hour, and just enjoy some cheap, tasty scran. And bring on more Thai options in NCL!
Contact: zaapthai.co.uk
Food hygiene rating: 5/5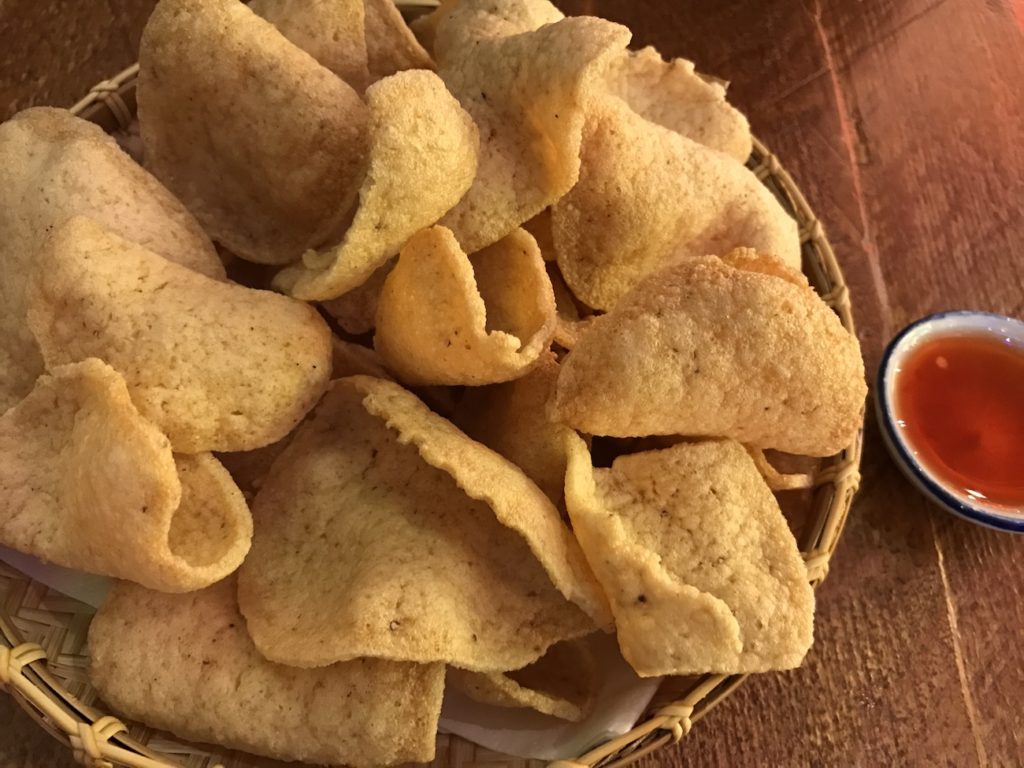 Newcastle Eats no longer supports comments directly on posts, instead, why not fire up the discussion on Twitter, Instagram, or email me directly.